Events at the weekend – centring around what appears to be a team effort to halt any challengers to theRangers attempts to win the Scottish Premiership – where not one but two title rivals were waylaid in their efforts to challenge by way of Willie Collum's selective sight issues, should be met by a challenge from the clubs it impacts most upon.
So far Hibs and the media – okay one journalist- have had their say but as usual there has been the sound of silence from Celtic, as once again we turn the other cheek and await the impact of the slap on that one also.
We of course know there is little to no transparency when it comes to football governance, finances or anything else in Scottish football, it is very much a closed shop.
The problem with this particular closed shop is we appear to be one of the keyholders. That is why there is no appetite from Celtic to stand up for ourselves and why we should expect little defence when it comes to perceived or otherwise notions of bias against our club.
With that in mind is there any point hoping a Five-Way Agreement complicit board will involve themselves in any questioning at all of anything that impacts Celtic when we have a board operating hand in glove with a rival across the city and the governing bodies. That ship has long since sailed.
And so, the recent growth in the Celtic Trust's shareholding, an ever-increasing subscription base and the funds it collects on a consistent and growing basis becomes more important than ever.
Imagine a Zoom board meeting for a moment. Would there be concerns over the team performance? Possibly.
Would there be worries around the recent protests, even a wish to identify the protagonists? I'm sure if they thought they could rid themselves of some nasty radical ultras then almost certainly yes – after all when it comes to direct action the board have form when it comes to punishing our own, it just doesn't transfer so easily beyond the confines of our club. It certainly dents the ego when you are being chided by your pals on the first tee and the 19th hole.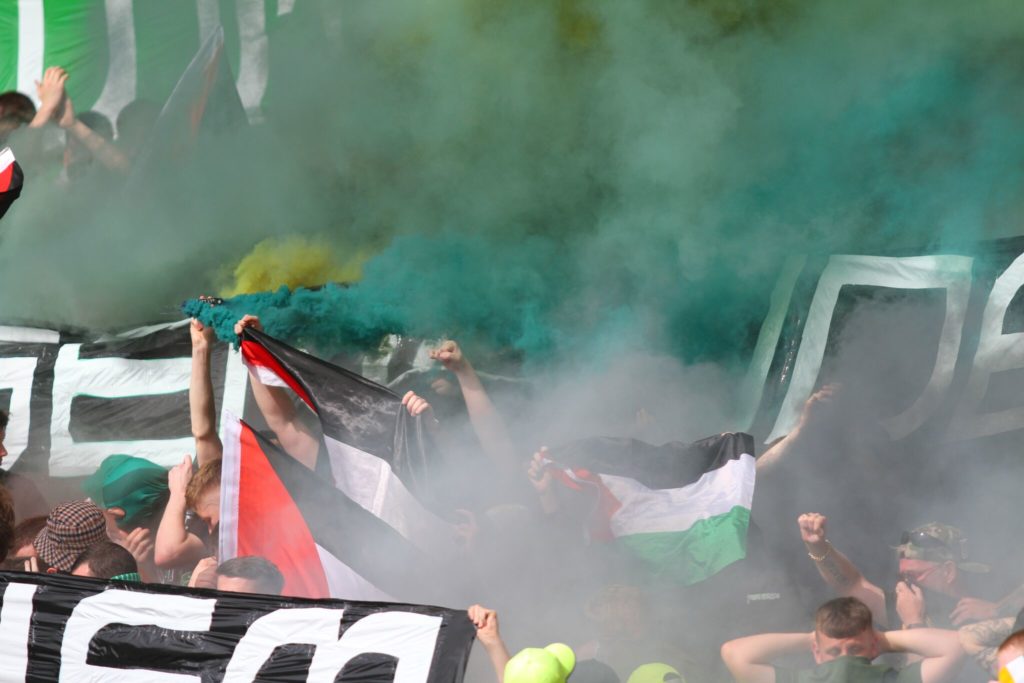 But what would be at the top of the agenda for this Celtic board if you were in their shoes what would you be most worried about?
You can bet the real threat to the status quo and an ability to go about their work with limited scrutiny would be more of a concern than thrown barriers and 'Sack the Board banners'. That all very short term and can be ridden out. Friends in the media can be called upon to create a public countering when that happens.
The mobilisation of a Celtic support however that is a different matter. As such the Celtic Trust and without doubt a wish to know just how many members they have now compared to a few months ago would be the worry, what their plans are and how they could influence would also be high on the agenda.
The requisitioners and their Resolution 12 efforts were problematic to a board whose business model is evidently based on a strong Ibrox rival, a constant thorn in the side. But the group was small in number.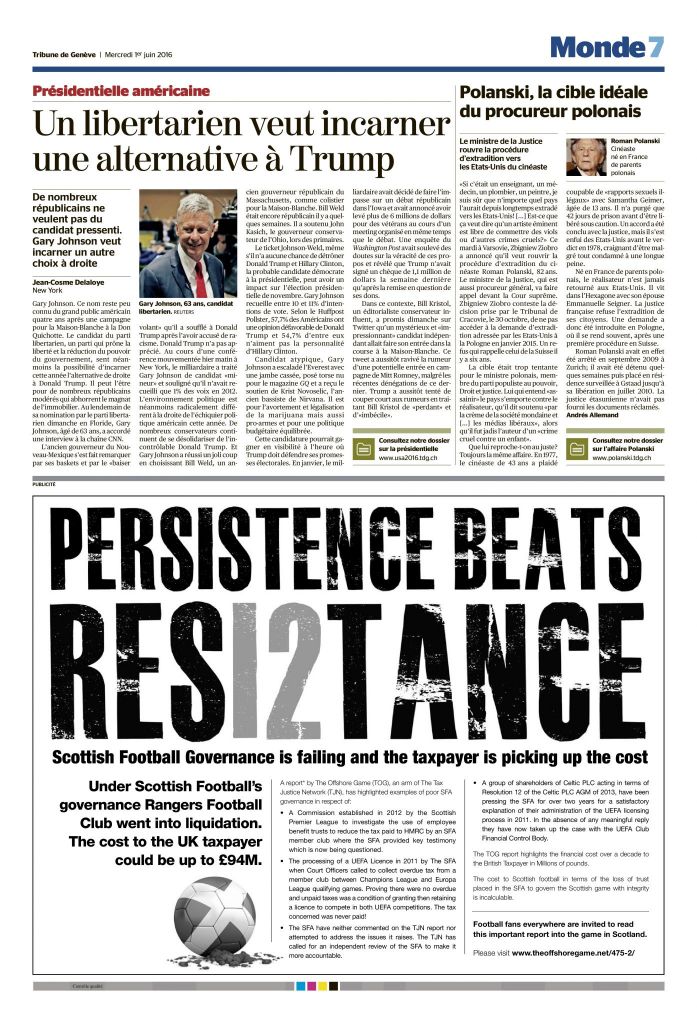 In the end, alongside a perceived notion amongst the board that there was little real appetite amongst the support, they believed they could undermine, send the shareholders on an expensive wild goose chase and ultimately the threat of genuine scrutiny would subside.
Could they do the same with the Celtic Trust and an ever-increasing membership? The current PLC board is in place because the last one underestimated the Celtic support's intelligence, it's unlikely the current incumbents wouldn't learn the lessons from history.
That's why it is vital as Celtic fans we find a vehicle, where as a support we can group together and find strength in numbers.
The Celtic Trust and those within it would certainly be the first choice of many, whilst others such as myself are yet to be fully convinced. And a big part of that hesitancy is the transparency around their approach to the residual effects of Resolution 12, whether they intend to continue to hold the board to account, whether they will ring-fence or raise money to ensure legal avenues can be explored and funded, and whether they intend to lobby the club to push for much needed and soon SFA reform, preferably before we reach the same situation as we had in 2012. And given the way one member board is behaving financially at present that moment is fast approaching. For Celtic to be complicit in a continuation myth last time out could be seen as an error of judgement, to be part of a sequel would be criminal in the eyes of many of the support.
If the Trust make a public proclamation to hold the board's feet to the fire and fight for reform in the corridors of power – and outline how they intend to go about it, then I'm sure their membership and coffers would swell immeasurably on the back of it – and in turn their shareholding and influence.
To do that however would also have to be met with a willingness to answer questions raised publicly with an equally public response, where an open debate could be engaged with rather than confined to individuals sending questions and receiving answers. The whole point after all about debate is to open the floor and hear everyone's answers and views as they in the end form your opinion. To polarise that debate is far from healthy.
With this in mind The Celtic Star plans to ask David Low, the Chair of The Celtic Trust to answer questions we will put to him and we will publish his answers on here in full.
Correction: we have 22,000 ordinary shares! Buying them so fast we can't keep up! https://t.co/ycngY9blA4

— Celtic Trust (@TheCelticTrust) December 17, 2020
It has been clear in the last few days there have been moves to limit, even close down debate. E-Tims.net have been vocal in their views and have been met what appears exasperation by The Celtic Trust, with while on other Celtic platforms aside from the Celtic Trust, those perhaps perceived as a little more board friendly, there have been moves to close the debate and delete posts with resultant claims that any discussion on Resolution 12 is not now permitted. Remarkable really, quite extraordinary.
Whether that is due to current board support on that Celtic platform, or even direction from within it, or the fear of old ground being raked over, it's too difficult to say, but it's not a good start when it comes to transparency, open and frank debate. Though it may well indicate a board shifting uncomfortably at present and reaching out.
As such the Celtic support need to know they can trust the Trust, that they can deliver the much-needed mobilisation of a support that can at least put pressure on a Celtic board who believe the tactics of divide and conquer that have worked for eight years can continue unabated.
The events at Ibrox on Sunday are minuscule in comparison to Five-Way Agreements, Continuation Myths and the deflecting of shareholder well evidenced questions, but they were indicative of a governing body who know they can go about their work without challenge from Celtic and that cannot be allowed to continue.
The Celtic Trust are mobilising, their numbers are growing and there are many more willing to join. Many of us ready to buy into it, simply wish to know that the work of the requisitioners can and will continue, but with the strength in numbers, finances and the legal leverage that can purchase behind it.
We only seek assurances that the Celtic Trust and its membership can really hold this board to account and subsequently and genuinely attempt to influence the overdue and necessary reform when it comes to football governance in Scotland. Confirmation the Trust will pick up the baton and carry on the battle that will ultimately lead to such reform is now vital.
Scottish Football is heading for a replay of the events of 2012. As a support we know we cannot trust the Celtic Board to have our backs, we need a togetherness to challenge in the months ahead. Could the Celtic Trust be the vehicle for such influence? I believe they can and hope they can outline and soon such a commitment.
Niall J