Early on in his Celtic managerial career, Jock Stein realised that he would have to win the propaganda battle over Rangers, and anything that he could do to make a point about Rangers, he would not neglect. The Scottish Daily Express, in particular, was blatantly pro-Rangers. It would be one of Stein's greatest achievements that he managed to "knock them off the back pages" and within a year or two of Stein's takeover in 1965, Celtic took over more and more column inches in all newspapers. It is simply one of the things that a Celtic Manager simply must do.
Stein had two weapons in his armoury. One was his own personality which involved courting journalists (not all of them – Peter Thomson of the BBC ("Blue Peter") was seldom made welcome at Parkhead), inviting them to Celtic training sessions, giving them tea and biscuits, calling them by their Christian names and feeding them stories on quiet days all with the aim of keeping Celtic in the news. All this was in total contrast to Rangers' Scot Symon – a dignified, well dressed, aloof, even snobby, middle-class sort of chap who tended to ignore the Press.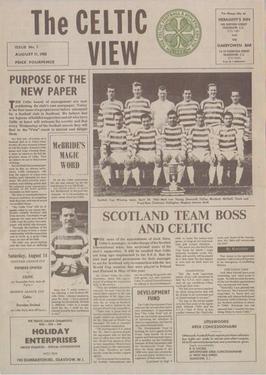 Stein also, of course, had his own newspaper "The Celtic View", the first newspaper of its kind in the world, and in this he more or less wrote whatever he wanted. The photographs were good, readers' letters were welcomed, reserve matches were reported, supporters functions were featured, old Celtic players were given a mention particularly if they had been ill (like the great Joe Dodds for example) and the whole thing bore the unmistakeable stamp of a genius at work. It was often referred to as "Jock Stein's Newspaper" and so it was!
One of his best ever campaigns was the affair of the Ibrox floodlights. There was nothing really wrong with them – teams like Real Madrid and Tottenham Hotspur had played there without complaining – but Jock saw fit to complain about them, and did so in such a way as to unsettle and permanently harm the reputation of Rangers.
The Scottish League unwittingly presented him with a glorious opportunity when they arranged the venues for the 1965/66 League Cup semi-finals. Rangers and Kilmarnock were given Hampden whereas Celtic and Hibs were put to Ibrox. Celtic naturally felt that this was a little unfair for the winners of Rangers and Kilmarnock were being given an advantage of playing a game at the ground where the final was to be played.
The Ibrox floodlights, as we said, had little really wrong with them, but unusually for the times, they were all along the front of the Main Stand and their Enclosure on the other side. Unlike Celtic Park and Hampden, there were no huge pylons dominating the Glasgow skyline. Celtic and Hibs played at Ibrox on Monday 4 October 1965 and drew 2-2, Celtic in fact being indebted to a late equaliser from Bobby Lennox to keep them in the tournament. By chance, it was a dull, foggy, rainy sort of night with poor visibility and Stein was able to convince Hibs after the game (he still of course had many contacts among the Hibs Directors) that the floodlights were sub-standard. Hibs were also keen to have a go at Rangers and joined in the protest.
The Celtic View was able to state "It is the unanimous opinion of both sets of players that the Ibrox lighting is not good enough. Neither Hibs nor Celtic want this game to be settled by some freakish error or accident". By the following week, they had persuaded Mr Forbes of the Hibs Supporters Association to write a letter of protest, with Mr Forbes adding the somewhat dubious rider than Hampden was easier to get to from Edinburgh than Ibrox. In truth, they were both very difficult grounds to access.
Soon letters began to appear in all sorts of newspapers to the effect that the lighting at Ibrox was poor and that "we spent the whole 90 minutes peering into the darkness" and how Rangers should be spending money to improve their lights. Even some Rangers supporters themselves began to wonder.
The campaign to get the game changed to Hampden was valid and reasonable, but Jock Stein knew that the Scottish League Management Committee would never give in to such moral blackmail, even though some of the newspapers were beginning to side with Celtic and Hibs. It did not matter. The point was that the issue had been raised, and a finger had been pointed at an apparent flaw at Ibrox Stadium, a ground that a few years previously The Topical Times Football Annual had described as "Glasgow's Football Palace" – the word "palace" possibly giving it away that the story had been written by someone with royalist sympathies!
But the "palace" apparently had inadequate lighting! Rangers were clearly rattled by all this, and were forced to issue statements saying that no-one else had complained. Neither they had, because the lights were actually adequate. But the damage had been done.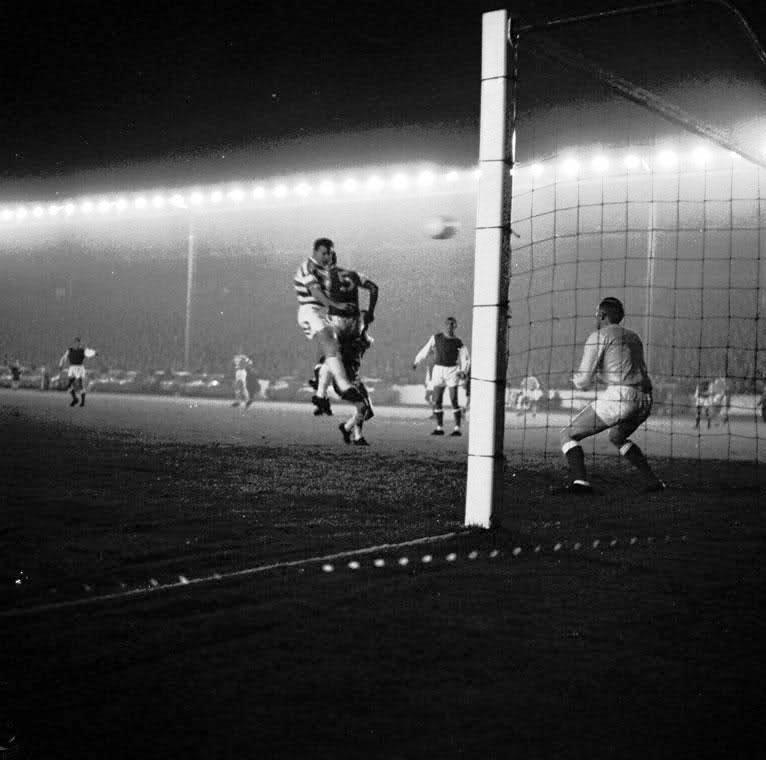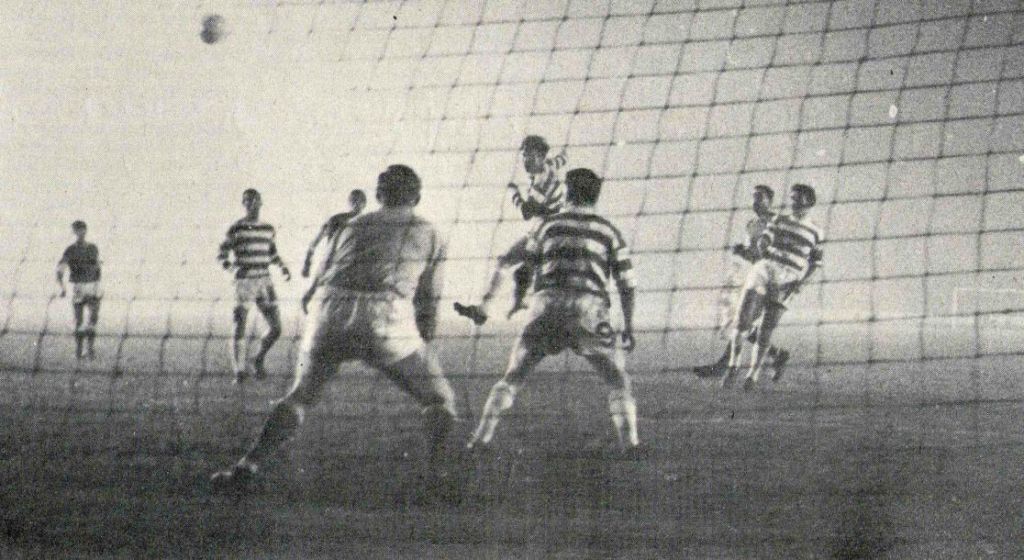 Celtic won the replay 4-0 at Ibrox on 18 October and then the following Saturday won the League Cup at Hampden by beating Rangers 2-1 with two John Hughes penalties. Some Rangers fans seemed to think a mistake had been made and that the League Cup had been presented to the wrong team. They invaded the field and tried to assault some Celtic players.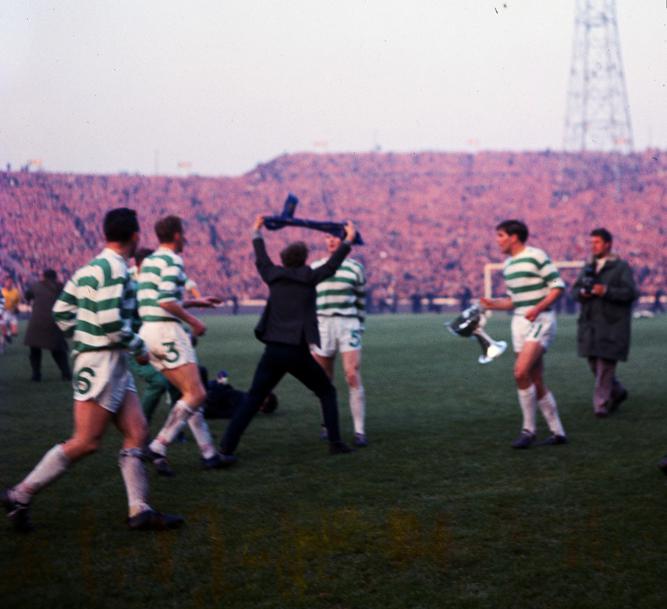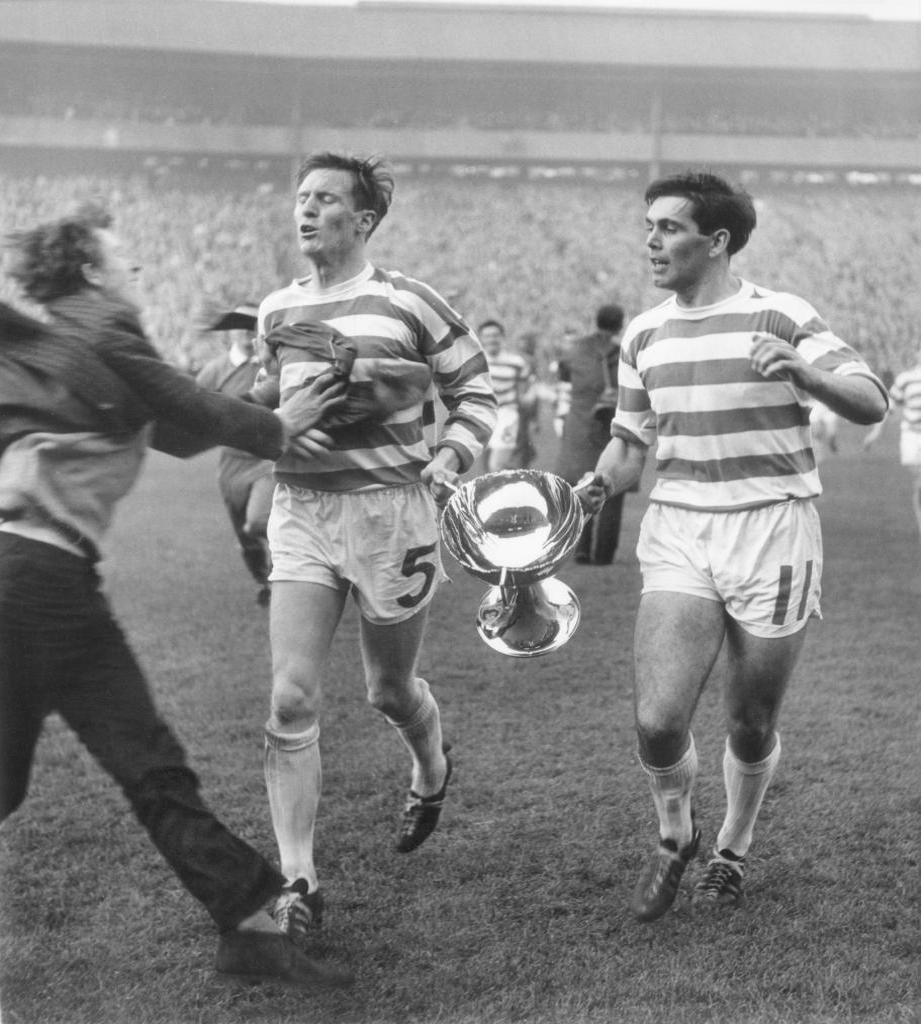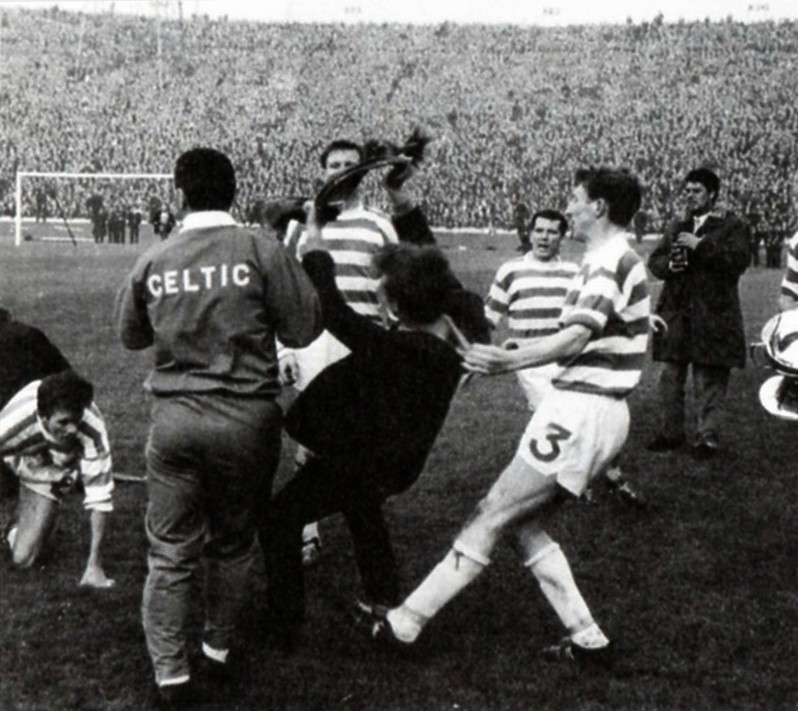 It was more bad news for Rangers who now had thuggish supporters as well as poor floodlights. What was happening to this "national institution"? And this being the middle of the 1960s, people were beginning to ask a reasonable question or two about why no-one of a certain religious faith ever seemed to get a game for Rangers.
Yes, autumn 1965 was a disturbing time for Rangers. And it was all because of this fellow called Stein who wasn't even a proper Celtic man, according to some of the Ibrox supporters.(They put it more strongly than that, of course!) He kicked with his right foot, if you get my meaning! In fact, there would have been nothing – no religious or cultural reason – to stop him being Manager of Rangers – apart, of course, from Stein's good sense.
David Potter
Your orders of INVINCIBLE🍀🍀🍀 have now raised £420 for @KanoFoundation this weekend, so thank you so much for that.

An extract from the book is included in this article if you fancy a look, looking back at 50 years of memories involving @CelticFC matches with St Johnstone. https://t.co/Smr7BSq6oJ

— Matt Corr (@Boola_vogue) February 14, 2021