'Winning isn't the only thing, it's everything' Vince Lombardi.
Let's start this off with wishing a speedy return from injury for Ryan Christie.
The initial impact and landing on the turf was like something from a shoot-out slow-motion scene in Platoon.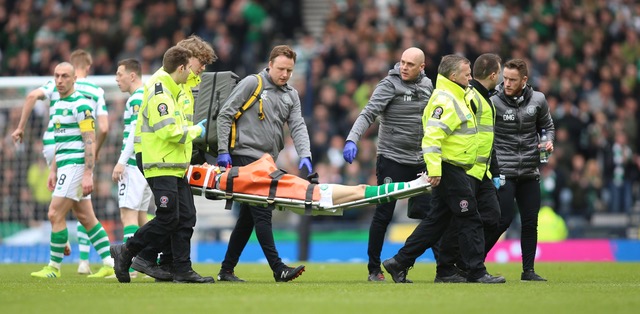 Given his injury problems this season Ryan certainly doesn't deserve it.
Considering it was at the hands of a personal friend of his I hope all decent minded Celtic supporters accept it was all a matter of timing.
Dominic Ball's timing was just out, Ryan's was bang on. Literally.
And that was it. No malice. A simple case of a full bloodied challenge with no quarter asked or given on either side. It was late enough to deserve a booking, the aftermath was upsetting but there should be no blame attached.
Man's game man's challenge, met head on. We move on. Anyone who's kicked a ball knows the score.
The fractions made it what it was. An accident with consequence and nothing more. I know for a fact there is no-one more upset than a certain Mr Ball, possibly Ryan's mother and father aside.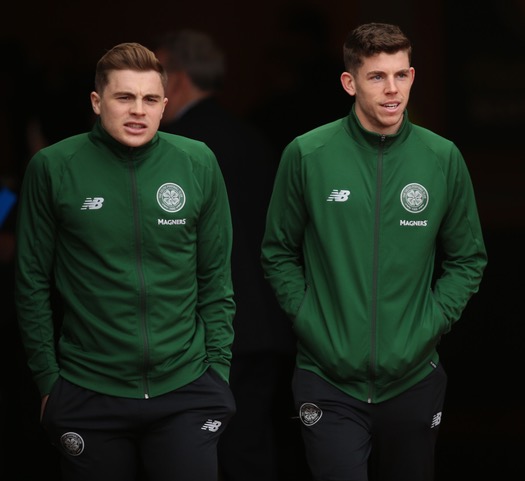 Ryan has however played a massive part and made a huge sacrifice as Celtic march on to a Treble Treble.
To all intents and purposes we have now disposed of our greatest challenge. I see no way Hearts will come close to matching Aberdeen but that's for a different day.
On the day we performed from the off. Scott Brown started the intent off from Kick off picking up from Edouard's lay off and driving into Aberdeen territory.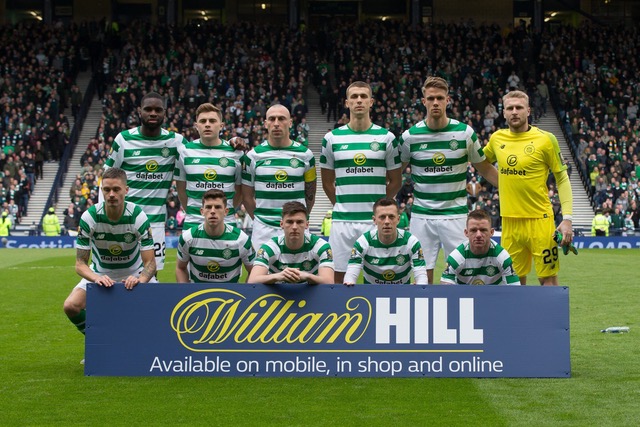 Simunoivic forced a brilliant save from Joe Lewis and then passed up a glorious chance at the back post to open the scoring.
A Sam Cosgrove volley aside Aberdeen didn't lay a glove on the Celtic defence for the entire match.
James Forrest however did. Cutting in from the right side he took advantage of the 6 mins first half injury time added for the Ryan Christie injury. Irony abound as much like Christie scored in the league cup final to take advantage of Gary Mackay Steven's horrendous injury in a clash with Dedryck Boyata, Forrest shifted onto his left (yes left) foot and sumptuously hit the top corner of Joe Lewis goal. A belter.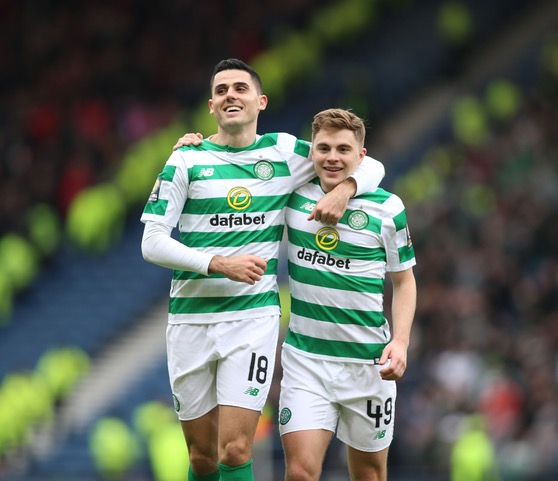 Earlier Forrest had been involved in his own controversy when the maddeningly inconsistent Craig Thomson threw a yellow card in his face for simulation. Thomson was actually right. By the letter of the law it was simulation, but it was also a foul. The theatrical fall not only to the floor but in a forward direction to the penalty area deserved the booking it was simulation, but here lies the problem. It was a foul (granted outside the box).
As Adam Rooney former Don and Irish international stated. It is difficult not to fall as a player when contact is made as when you don't fall referees never give the foul. This was a fine example. As I said Thomson was maddening throughout.
Take Lewis Ferguson. Granted he's a part of an inexperienced central midfield pairing but he's booked early. He could have walked and would have walked had Aberdeen not already been down to 10 men for a series of fouls that followed his initial booking.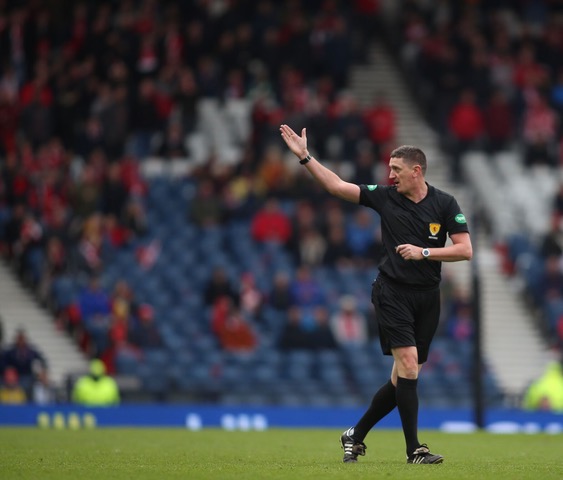 Thomson continued to give him the benefit of the doubt and as much as I admire both the kid's ability and tenacity it was the ref's own unwillingness to act earlier that instead of a second yellow he received a straight red for a vicious two footer on Tom Rogic as his own frustrations to impact the game beyond niggly fouls came to the fore.
A stitch in time saves nine ref. It could have been 20 stitches on Tom's ankle and avoidable with the earlier second booking.
The ref could have stepped up or a decent manager would have taken him out of the firing line long before. Dreadful refereeing and hesitant management at best.
Rogic took advantage from the resultant free kick and took a lay off from Lustig to finish with class for number 3.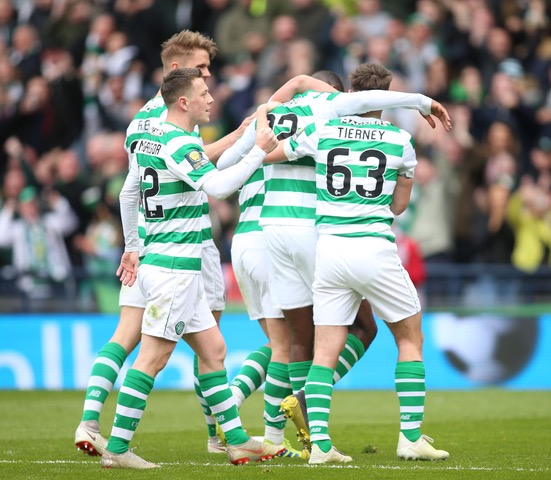 After that we had moments but we had stepped down a gear or 2 and showed some sympathy to a Dons side down to 9 and toiling. That was at least respectful.
Earlier Celts made it 2-0, Michael Devlin allowed a cross to fall beyond his head, why I don't know, skewed judgement and a dreadful error. The result was Devlin brought down Hayes for a soft penalty in an attempt to make up for his poor decision making, it was as pitiful as it was soft.
French Eddy finished the penalty like he didn't know how Celtic players are supposed to hit them. It was placed perfectly and with a short run up. This will never catch on surely!
It must also be pointed out that Aberdeen finished with both Derek McInnes and assistant Docherty sent to the stand. Docherty was for a half time set to, the background to which I don't know.
McInnes stated post-match his own reaction and subsequent sending off was a reaction to the abuse from the Celtic support and no doubt in no small part to his own frustration, but I won't be one to go down the 'Video Celts' claim that McInnes played the 'sectarian card'.
He did receive sectarian abuse, he didn't play the card. The 'Cheer up' song was sung, it wasn't muted as claimed it was clear and it was evident. He received it and he reacted.
We can't expect to take any moral high ground on this. We can't say he 'played the card'. Show some balls. When we are complicit in this we need to take responsibility.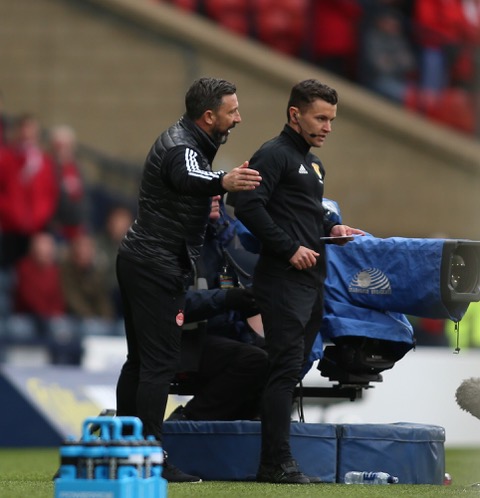 'In football, you win as a group, you lose as a group; you divide the credit and the blame,' Gianluigi Buffon
I believe it was the straw that broke Derek McInnes back today. It happened and we shouldn't hide, else when we all face it ourselves we are hypocritical. Don't pander to the masses for clicks. Poor show.
That said what did lead up to his dismissal was a fine performance on the park that Aberdeen as a team and their management team had no answer to. The reaction to the crowd was just the last straw for McInnes.
We are now one game away from a Treble Treble. Every player stepped up today as the opposition once again wilted under our pressure and our experience.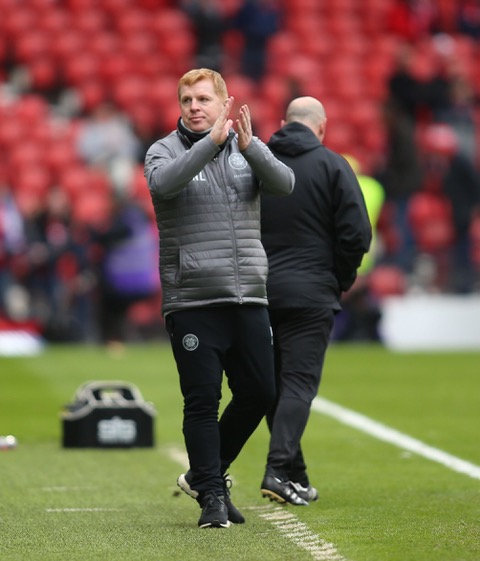 Winning was indeed everything today and we did win and we won well.
Neil Lennon must surely now be favourite for the job full time.
It's now the logical choice. One more game at Hampden on 25 May and common sense will prevail.
Niall J