SCOTT BAIN has earned the right to a run in The Celtic team. The keeper was one of the few successes in the club's 2018 transfer activity and he started this year in the seating eleven against Airdrie, St Mirren and Hamilton and has yet to concede a goal.
His five saves in 20 seconds against Airdrie was just incredible to watch and certainly gave the former Dundee keeper a real boost in confidence. Craig Gordon, the argument goes, is the better shot-stopper while Bain is more comfortable with the ball at his feet. Those saves against Airdrie showed everyone watching that Bain is a not too bad shot-stopper himself!
Bain has been speaking to the media at Lennoxtown this afternoon, ahead of Wednesday's match against St Johnstone.
Brendan Rodgers has already confirmed that he's decided to give Bain a run in the team and he'd discussed this with Craig Gordon personally to explain his decision. So Bain will be in goals on Wednesday night and he's clearly loving his football at the moment.
"The aim when I came in was to be patient, bide my time and hopefully get a run of games in the team and it's been good to do that," he said.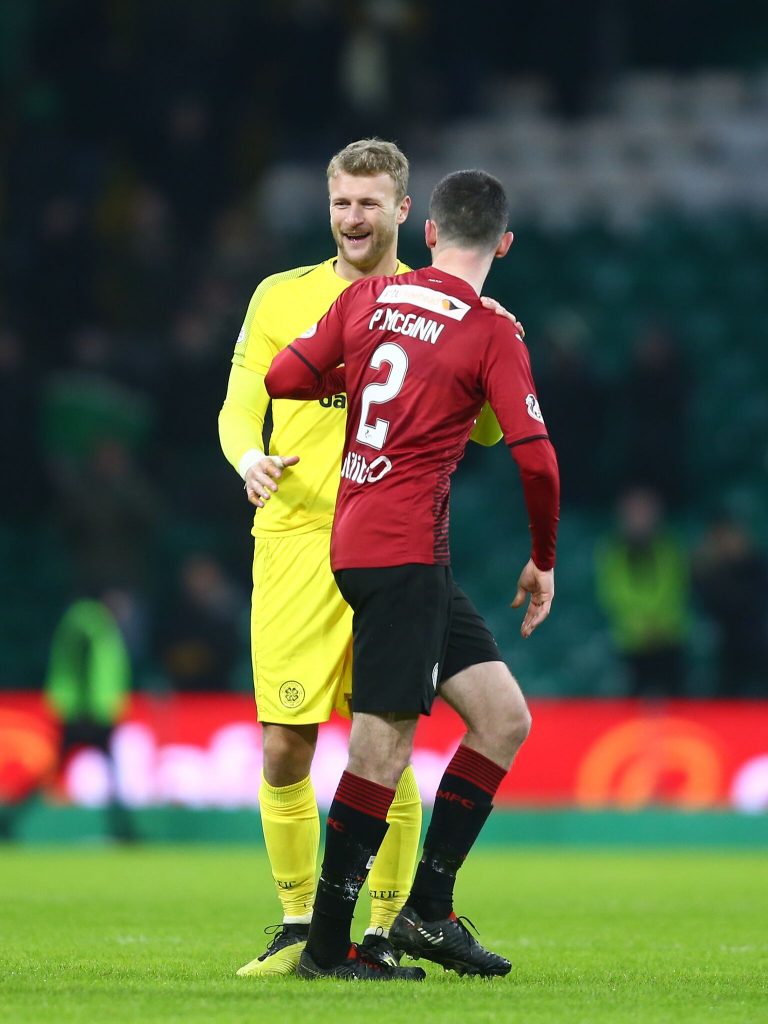 Bain was quick to praise his back four who obviously have done their bit in keeping the clean-sheets, Kristoffer Ajer's fist-pump after a goal saving tackle on Saturday is a good example of that.
"The boys in front of me have been absolutely excellent in every game I've played in and it's been a joy to play behind them," the goalie said.
"The clean sheets are down to the defence and all the players because we defend from the front," Bain said. And while the support can expect to see Bain in goals on Wednesday, he himself is taking nothing for granted. He does reveal though that he is ALWAYS prepared and ready to play regardless. And that will be exactly the same with Craig Gordon.
"We prepare every week as if we were going to play so there doesn't need to be a clarification on it.
"Once you're playing it's not a big deal to be out for a couple of weeks then be back in. You're always ready for the scenario to be in playing."
Like the rest of us, Bain has been impressed with the new signings. So far we've seen Weah and Burke and the goalkeeper has had a look at Bayo on the training ground at Lennoxtown.
Back to it @ Lennoxtown!

???? @ScottBain_ pic.twitter.com/KEBi0ir4OT

— Celtic Football Club (@CelticFC) January 28, 2019
"The new lads have shown great ability, pace and power. They've shown their quality in the games and it's clear that they're capable of playing at this club," he said. And on his own current position at the club, as first pick keeper, Bain is clearly thrilled.
"To get a run in the team a year from signing has been great. I always knew that I'd get the chance somewhere. Luckily for me, I had the opportunity at this club and it's been great.
"I never really thought about being the cup goalie. I just worked away, and every time the gaffer put his trust in me to play, I tried to do the best I could.
"I was happy to get the game-time whenever I got it, and it's been a case of taking it week-by-week and now that I've had a run of games it's been good.
"Craig's always played to the highest standard possible so it's maybe been a surprise to get games, but when I've come in, I think I've done well enough to show I'm capable of playing at this club.
"Everyone in football, and everyone in that dressing-room always backs themselves and backs their ability, and it's no different for me. Like I've done before, I've taken it game by game and I'll continue to do that."
Also on The Celtic Star today…
Widen the Gap: 'Expect a Tough test against St Johnstone,' says Ajer as Celtic look for six point lead
Jim Craig – Celtic on this day in the Scottish Cup, John Thomson's Birthday