Shen Mengyu has certainly found her groove at Celtic since becoming the first female football player to play in the SWPL1. Arriving in Glasgow last summer as teenager and with little grasp of the English language, the versatile midfielder has steadily grown into the Celtic shirt and has become a key performer in Fran Alonso's cup double winning side in what has been an historic season for Celtic FC Women.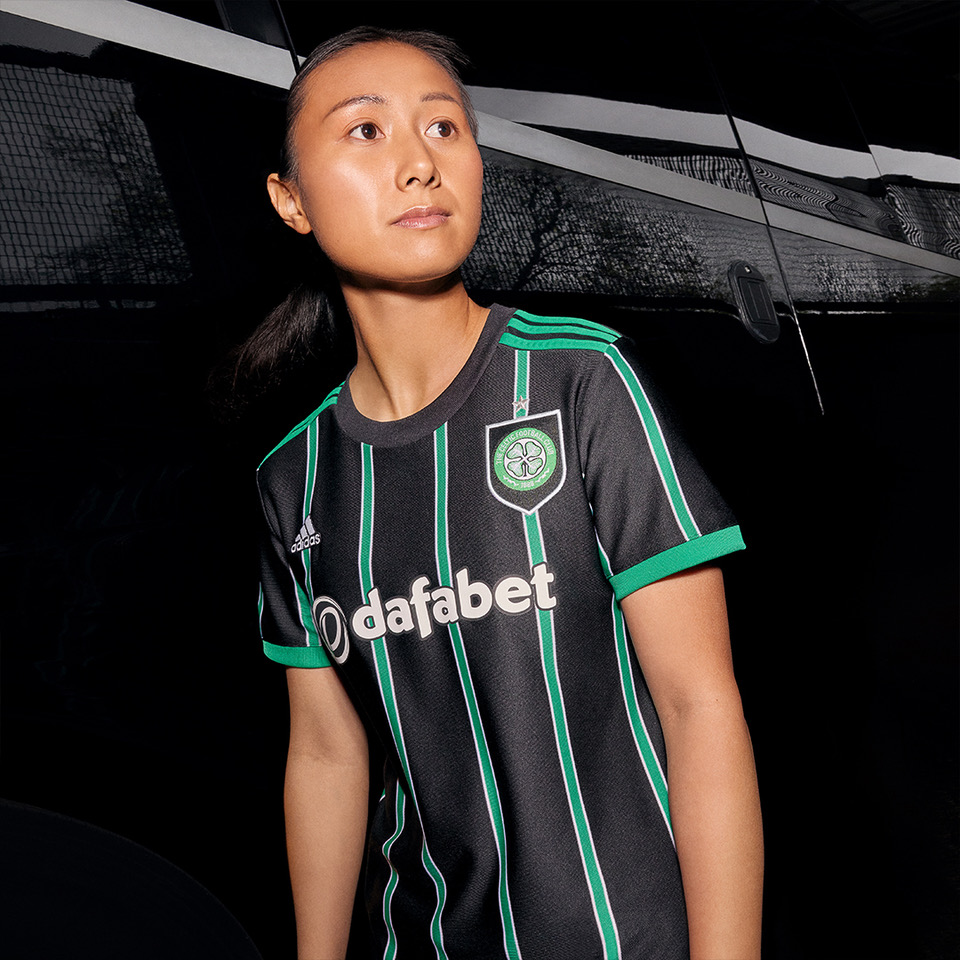 Last week Shen was one of the women players featured in the away kit launch, which was filmed the day after Ange Postecoglou's side won the Scottish Premiership at Tyncecastle. Shen was joined by her captain Kelly Clark at that photoshoot which signals the importance of the player to the Celtic FC Women side that next season will have their eyes firmly fixed on winning the league to complete the trophy collection.
After the recent SWPL1 match played at Celtic Park against Hibs, Shen popped into speak to the press with the assistance of a translator. So when Celtic TV posted this interview by Louise Gould – and what a busy first season she has had at the club covering the Women and B Team action – with Shen today, we were surprised and also pleased that her English is much better than we expected.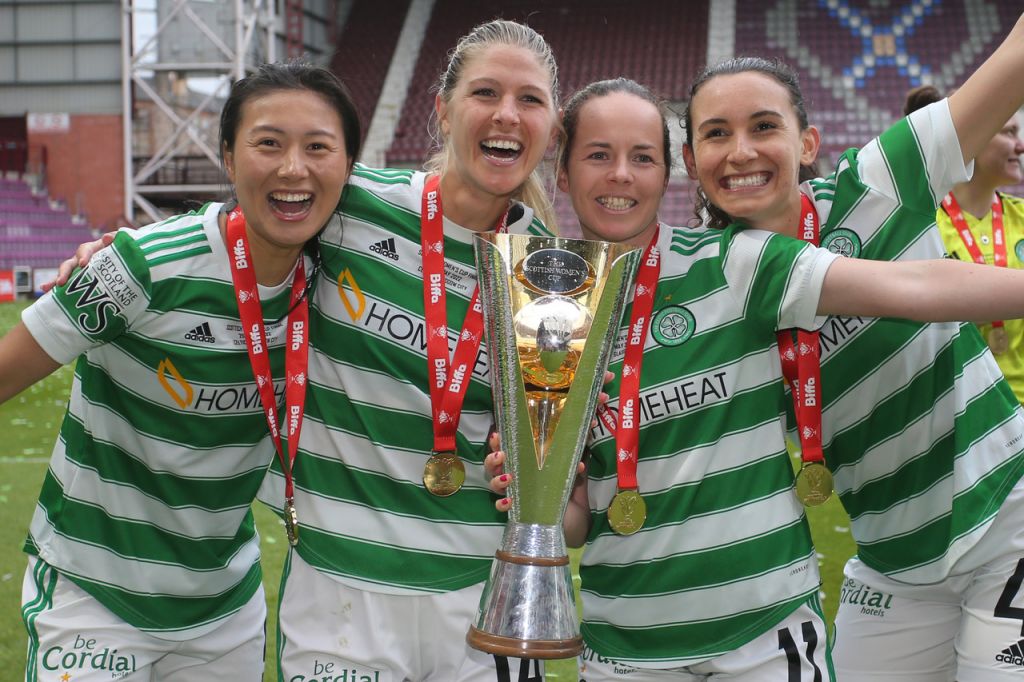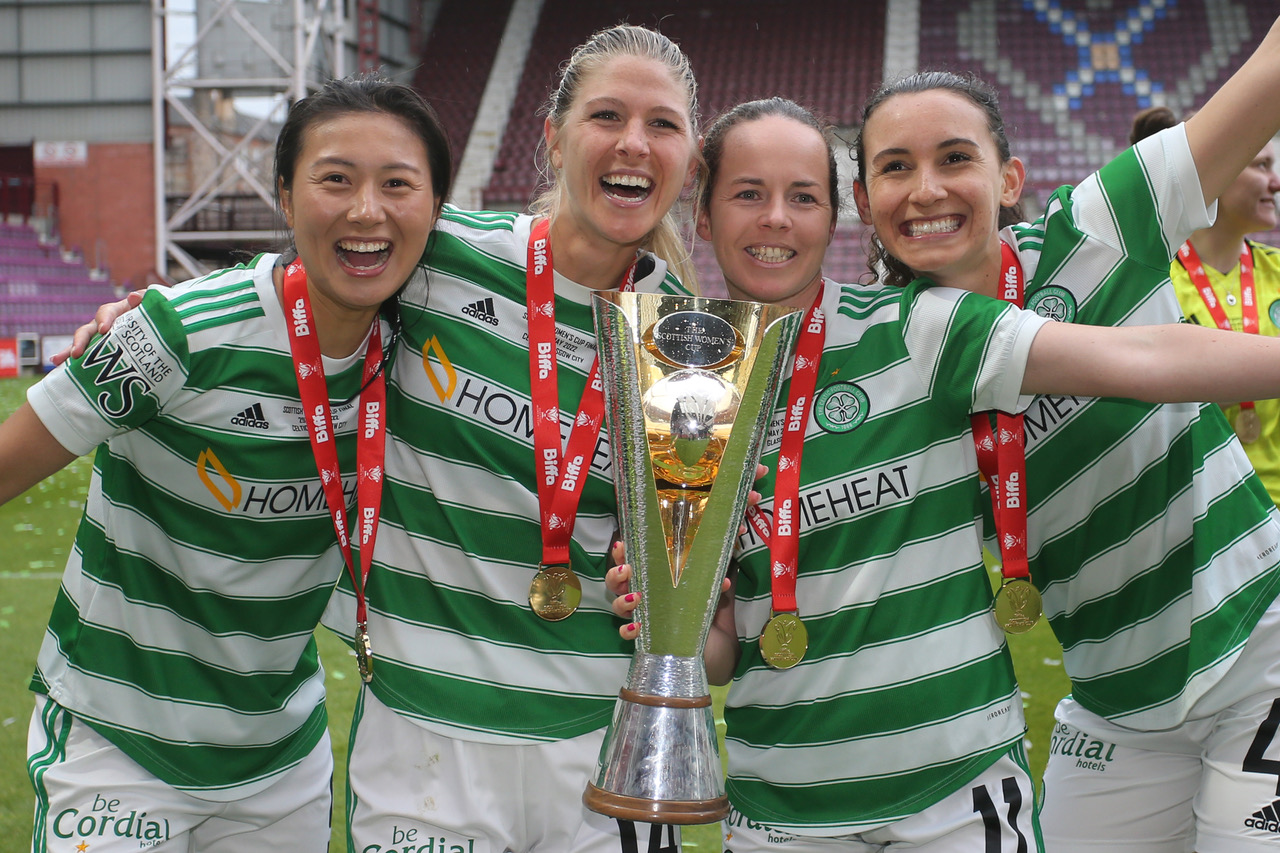 And in her own words Shen explained why she' loving live at Celtic aided it seems by the tremendous team spirit in that dressing room that resulted in both the League Cup and the Scottish Cup (this one for the first time ever) being on display in the Trophy cabinet in the boardroom at Celtic Park.
Now 20, Shen told Louise Gould that her teammates reckoned ahead of the Scottish Cup Final that she'd be scoring at Tynecastle. "Before that game in training, a lot of the team-mates just said to me, 'you must get a goal in the cup final game.' And I just said okay, I'll believe that."
After opening the scoring Shen's afternoon took a dramatic twist after a disgraceful decision by the referee reduced Celtic to ten players when Jodie Bartle was given a red card and Glasgow City a penalty for nothing really. Shen was redeployed by Fran Alonso to play as right wing-back, a position she'd never played before.
"I had to play in a different position, I'd never played wingback and was so nervous. But, I just thought, what can I do?"
When Izzy Atkinson grabbed that brilliant winner – and a shout out to Sarah Harkes for a pass that Paul McStay would have been proud of – Shen was delighted to get her hands on the Scottish Cup. What a wonderful afternoon that was at Tynecastle!
"It was just amazing to make history and I did that with my team-mates, like Liv Chance, together lifting that trophy felt so good," Shen said.
"I'm so lucky getting to play for such a nice team and have so many friends here. My team-mates gave me a lot of patience and confidence.", Celtic's Chinese star said. The best thing about playing for Celtic?
"The club and the fans all trust and believe in us and I have great team-mates," Shen said.
Here are the highlights of the Scottish Cup Final which Celtic won 3-2 (AET) despite playing 80 minutes with ten players due to an 'Honest Mistake' which you now get in women's football too. That wasn't the first one Celtic had to contend with last season!
🟢⚪️ Shen Mengyu relives her dream 𝘾𝙪𝙥 𝙁𝙞𝙣𝙖𝙡 𝙜𝙤𝙖𝙡!

🗣️ "It was just amazing to make history and I did that with my teammates"
#CupDouble | #COYGIG 🍀 | @CelticFC pic.twitter.com/rVjZXDmY2E

— Celtic FC Women (@CelticFCWomen) June 14, 2022
SPECIAL OFFER – GET YOUR FREE TWICE AS GOOD T-SHIRT WHEN YOU ORDER THE HARRY HOOD BIOGRAPHY FROM CELTIC STAR BOOKS…
Please tell us your t-shirt size when ordering from the link below…posted immediately well in time for Father's Day this Sunday!