Celtic beat Hearts courtesy of a goal by Kyogo Furuhashi in midweek. Ralston supplied the assist and there is no clear way of determining whether the goalscorer was level with the ball or not. TV cameras were not bang in line with the incident so it was impossible for the naked eye to call, as former Hearts defender Christophe Berra readily admitted.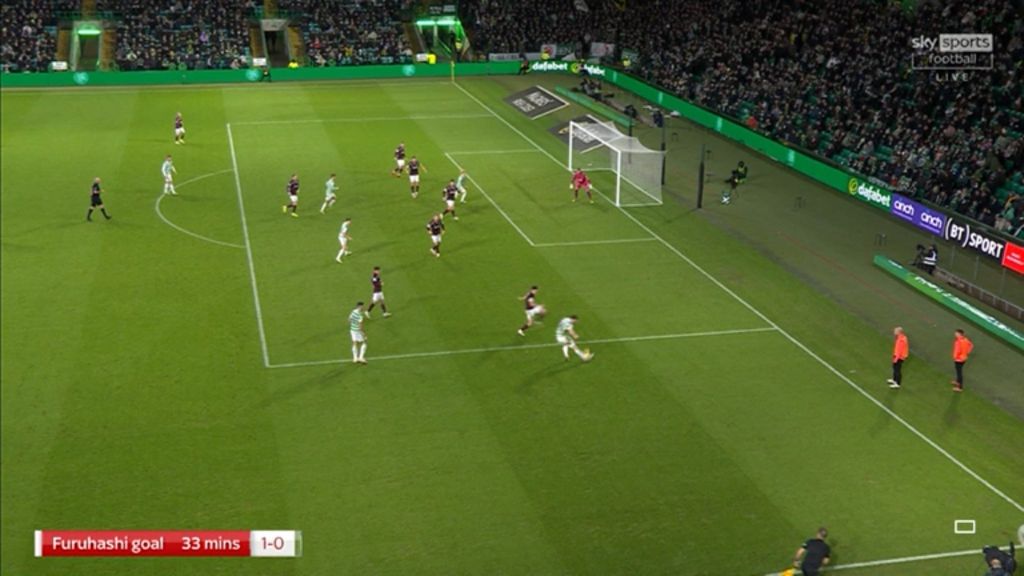 Despite the marginal nature of the incident, Scotland went into meltdown. The media have scrutinized the decision in forensic detail, the SFA head of referees has been wheeled out to give his verdict and discuss VAR in Scottish Football, and Sportscene drew a line across the pitch which suggests Kyogo was 7mm offside (if the freeze frame was at the exact precise moment the ball left Ralston's foot).
What's utterly bizarre about this, is that (off the top of my head) Celtic have been on the receiving end of at least four poor decisions this season – none of which have merited further comment from the establishment.
On the first day of the season, Celtic were denied a legitimate goal at Tynecastle with a dreadful offside decision. The Hoops subsequently lost that game, rather than taking the lead. We were told these things even themselves out after that moment, so if Kyogo was offside then that's the Tynecastle shocker absolved.
Where was the squealing about officials from Neilson when Celtic got a legitimate goal chopped off for offside at Tynecastle? pic.twitter.com/XpZZNwFwNY

— DC🍀 (@thebigbhuna) December 2, 2021
Similarly, Fuchs escaped without a red card for his assault on James McCarthy when Dundee United visited Paradise. The game ended in a 1-1 draw and McCarthy had to be withdrawn at half time. No comment from the media or officialdom. In the same game, Siegrist also could have seen red for a kick out at Abada.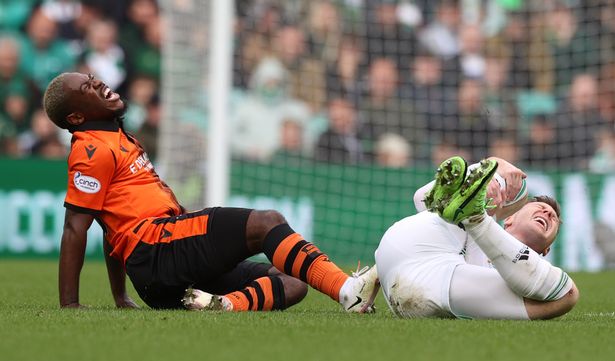 Fuchs on McCarthy leg breaker. https://t.co/J9oZ8UbW9t

— Dec Smith (@Decsmith1967) September 27, 2021
Last weekend, the Hoops conceded a penalty against Aberdeen, despite replays showing that Abada had pulled out of the challenge and planted his foot in the turf nowhere near David Bates. There was no opinion involved in that decision for me; it's a matter of eyesight and seeing that Abada does not touch the Aberdeen player. However, some referees defended the decision and we were just paranoid.
Disgrace of a decision. Never a penalty. Bates should've been booked for diving
Clancy yards from it anaw. Outrageous. pic.twitter.com/whre85Voso

— Ronnie Postecoglou (@RonnieJM67) November 28, 2021

Then today, the linesman incorrectly raised his flag on four occasions when Celtic were on the attack. But it gets worse, apparently this 'challenge' was not worthy of a red card…
Another serious foul missed by officials 🤔🤷🏻‍♂️😳 pic.twitter.com/IoZkrk4sf6

— JOHN 🗣CurvedSpinesMatter🏴󠁧󠁢󠁳󠁣󠁴󠁿🍀💚 (@ScoliosisReform) December 5, 2021
Back to the decision this week, when Kyogo was not adjudged to have been offside; later in the match, the Hoops had two men inside the opposition's six yard box but were denied the chance to score when an offside flag was incorrectly raised against Starfelt. This incident is forgotten though and did not merit any analysis from "Boydy".
Monster Munch meltdown pic.twitter.com/L4IJZ1eo2H

— Tam sellic son (@TamsellicsonIII) December 2, 2021
"Boydy" in his expert analysis, behaving like a clown from the pub rather than a professional pundit, suggested that "Celtic get all the decisions." Turning the programme into an amateur chat show resembling a conversation in a Bridgeton pub, Boyd seemed oblivious to the incorrect calls that have gone the way of the team he cheerleads.
Off the top of my head, I can think of five incidents this season…
Sakala's goal against Motherwell which was offside – not given. The decision meant that the blue half of Glasgow earned a point.
The lesser spotted Sakala offside goal from earlier in the season, that rescued them a draw at home against Motherwell. Where was the meltdown from the Referees Cheif and in the media? https://t.co/tkhUDPgOYn pic.twitter.com/S0MClRQ5Xp

— Swed🍀 (@Swedleypops) December 4, 2021
Bacuna escaping without a red card for grabbing the throat of Kingsley. Robbie Nielson was sent to the stands for his protestations. The game against Hearts was drawn 1-1. How might being reduced to 10 men have affected the outcome?
@BBCSportScot not going to talk about the grabbing of the throat by bacuna or the 2 yellows for Robbie Nielson??

— Smartautovalet (@smartvaleter) October 16, 2021
Against the other Edinburgh side, Hibernian, Porteous was sent off for serious foul play. Though not a shocker, it was certainly a debatable call, at a time when Hibs were leading the game 1-0. They subsequently lost 2-1.
We have lodged an appeal against Ryan Porteous' red card in yesterday's cinch Premiership match against Rangers.

— Hibernian Football Club (@HibernianFC) October 4, 2021
Jon McLaughlin escaping with a yellow card rather than a sending off for denying a clear goalscoring opportunity against Dundee. Not only did the decision mean the visitors kept 11 men on the field, but he stayed on the park to save the resultant penalty. Dundee lost the game 1-0.
Dundee 0 Rangers 1 – Jon McLaughlin's penalty save after yellow card escape helps Gers go top after Joe Aribo's early strikehttps://t.co/A5C2gWZALF pic.twitter.com/DZv0HttCxf

— Scottish Sun Sport (@scotsunsport) September 25, 2021
And worst of all – at Ibrox when Aberdeen led 2-1, a shocking penalty decision fell the home team's way in the closing moments. Needless to say the game ended 2-2 and few in Scottish football could understand how that decision was made.
May be worth asking the Head of Refs what he thought about the penalty Rangers got in the last 10 minutes of the Aberdeen game from this season. pic.twitter.com/RGT83iEEN5

— Lint (@Zeshankenzo) December 4, 2021
Aberdeen being robbed of a win at Ibrox by a farcical penalty call has convinced me the Premiership needs VAR. #aberdeenfc #RangersFC @AberdeenFC
Thoughts? https://t.co/RbhibchXTN

— Sean Wallace (@EESeanWallace) November 3, 2021
It's getting so blatant, it's beyond a joke..

Richard Foster – Former Rangers defender on Sportsound

"That's a very, very soft penalty, Aberdeen will feel hard done by"

— ☯ カールジャングルボイ ❋ (@CarlJungleBhoy) October 27, 2021
So big "Boydy" may want to reassess his remarks and be careful what he wishes for with the introduction of VAR. Us Celtic supporters would certainly welcome it in Scottish football.
Regardless, this nonsense that the officials are favouring Celtic and this crying over us getting a marginal call should be firmly put to bed. Are we really to believe that an organisation like the SFA is biased in favour Celtic? An organisation which had Jim Farry working for them, proven in court to have cheated Celtic by blocking Cadete's registration.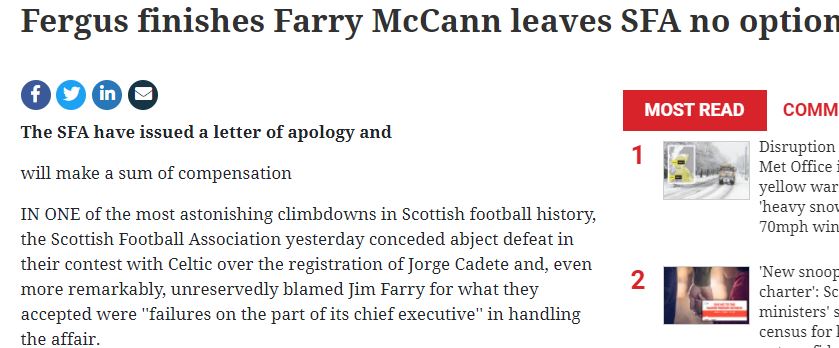 An organisation which employed Dougie McDonald as a referee who resigned after a fellow official outed him for lying to Neil Lennon about his penalty reversal at Tannadice.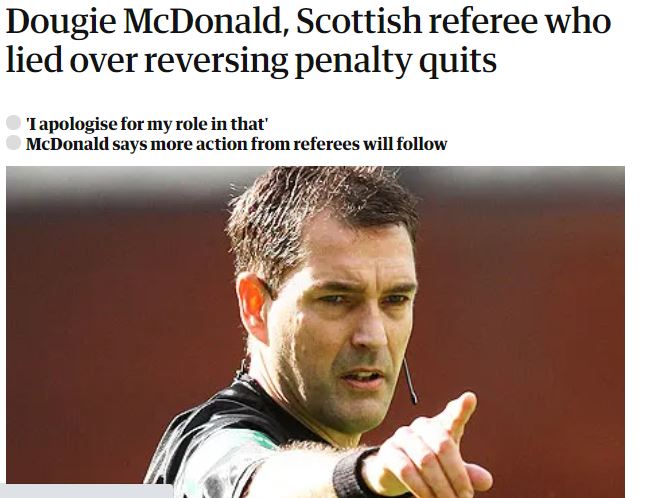 An organisation which had Hugh Dallas in charge of referees, the same Hugh Dallas who was sacked after being caught sending anti-Catholic emails.

And that's not even considering John Beaton continuing to referee matches involving the top two teams in Scotland, despite being seen drinking in the Crown Bar.
The first 2 photos – showing Beaton celebrating in the Crown Bar, Bellshill after the game on 29 Dec 2018 – were later deleted, but they still think it's something to boast about on their pinned tweet. pic.twitter.com/GFOovK7olf

— ☯ カールジャングルボイ ❋ (@CarlJungleBhoy) October 9, 2020