Following on from my article a few days ago regarding the similarities I saw between our current team and the exciting but flawed team of 96/97 under the great Tommy Burns, the Daily Record has today gone a step further, actually make that a huge leap further, by comparing Ange to failed Celtic boss Tony Mowbray.
Their thinking in this is basically that the two managers are both fans of attacking football. Yep, that is pretty much the basis of their whole argument. Regurgitating quotes Ange used after the defeat against Real Betis is how they try and prove their point.
In the interview after the game Ange stated he was proud of the players for coming up against such opposition and sticking to their attacking principles. He said that as a team they went there to measure themselves, that it would be easy to go looking to hold out for a 0-0 draw but in that case you will never know how far away you are from beating top quality opposition.
By comparing this philosophy to the one Mowbray used during his failed tenure as Celtic manager is ridiculous. This doesn't stop them trying though. Using quotes I've included below from Mowbray after a defeat to Rangers, they are trying to lump Postecoglou and Mowbray into the same basket.
"The bottom line is the two coaches have a different philosophy of football. I spoke to Walter (Smith) about that and he sets his team up as he sets his team up.

"They've found decent consistency but my teams just don't play like that. I've been successful to an extent playing attacking, attractive, open football.

"Once you get it right it clicks into place. The teams that win leagues are generally the teams with the guy who sticks the ball in the net and the strikers who perform in expansive teams.

"I sit here knowing where I am in the process of putting a team together that will hopefully win, and win for a long time."
Trying to compare Ange and Tony on the basis that they both came into the club wanting their teams to play attacking football is truly scraping the bottom of the barrel. Ange is a world renowned manager who has won major leagues, including the A-League in Australia and the J-League in Japan, using his attacking philosophy. He's also been the manager of Australia bringing them on leaps and bounds by playing the football he demands.
Before arriving at Celtic, Tony Mowbray had just been relegated from the Premier League with West Brom. Albeit it was him who got them there in the first place by winning Division One (now known as the Championship). He also had a moderately successful spell with Hibs.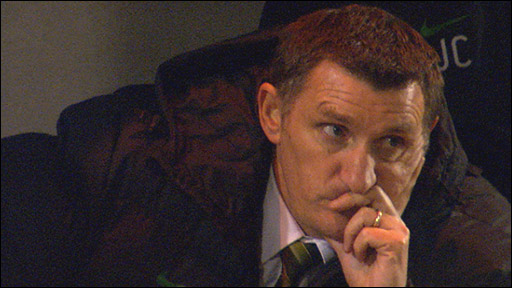 Ange has only been I'm the job for a matter of months and needs to be given time to properly implement his philosophy, which we know has been successful in almost all of his previous management jobs. This type of scaremongering is only designed to unsettle Celtic fans and cause division. We will make our own minds up on Ange once he has been given the time he needs, and we won't be distracted by what is quite frankly ridiculous comparisons such as this.
Conall McGinty