A very happy birthday to Billy Connolly who turns 80 today. To mark the special occasion for the Big Yin we thought we'd have a look back to the day that Jock Stein instructed to go out in front of a packed Jungle at Celtic Park wearing a Rangers tracksuit, scarf and tammy!

The day Jock Stein made 'referee' Billy Connolly wear a Rangers tracksuit, scarf and tammy
It's not often in recent years that we get the chance to hear from the great Billy Connolly. 'The Big Yin' has stepped back from the limelight and retired from standup comedy, due to Parkinson's disease which he has had to deal with for years.
There isn't much this man hasn't seen or done or talked about, but in a wonderful interview with Daily Mail journalist Hugh MacDonald, Billy opens up on his football supporting life.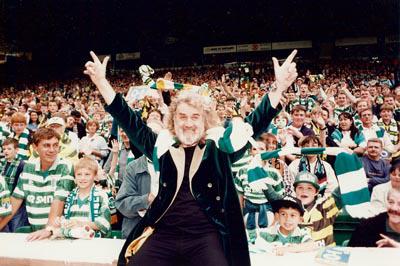 Calling the game his "one true passion", he recalls times when he marched towards the jungle wearing a Rangers tracksuit,scarf and Tammy and even being asked to sign a police horse!
There have been plenty of celebrities who have laid claim to their 'love' of Celtic, but there are few who remain as dyed in the wool as the man who has been making us all laugh for decades.
Happy 80th Birthday Billy Connolly 🍀🍀 pic.twitter.com/6Nns9zkrtV

— Willie Collow (@CollowWillie) November 24, 2022
Naming his favourite player as Jimmy 'Jinky' Johnstone, Connolly waxes lyrical about other Celtic idols such as Kenny Dalglish and Henrik Larsson. He was a huge Scotland fan and tells us about when he performed for the national team whilst they prepared for the 1974 World Cup.
We don't hear much from him these days, so this is such a great insight into his love of the game.
Happy 80th to the best , the brightest , the boldest , the Big Yin ! When cheese n toast was had , biscuits were scoffed , laughs were shared, gifts were given and dugs were clapped ! 🎁🍰🎈♥️X pic.twitter.com/eARmMRaZDY

— Gavin Mitchell 🇺🇦 (@GavsterNo1) November 24, 2022
Here are some of the highlights from the interview. Asked about his first game: "Attending? It was probably back in the mid-50s. Celtic had some good players but, to be honest, they weren't a great side. They had guys like Bertie Peacock, Charlie Tully, Willie Fernie, Bobby Collins and Bobby Evans.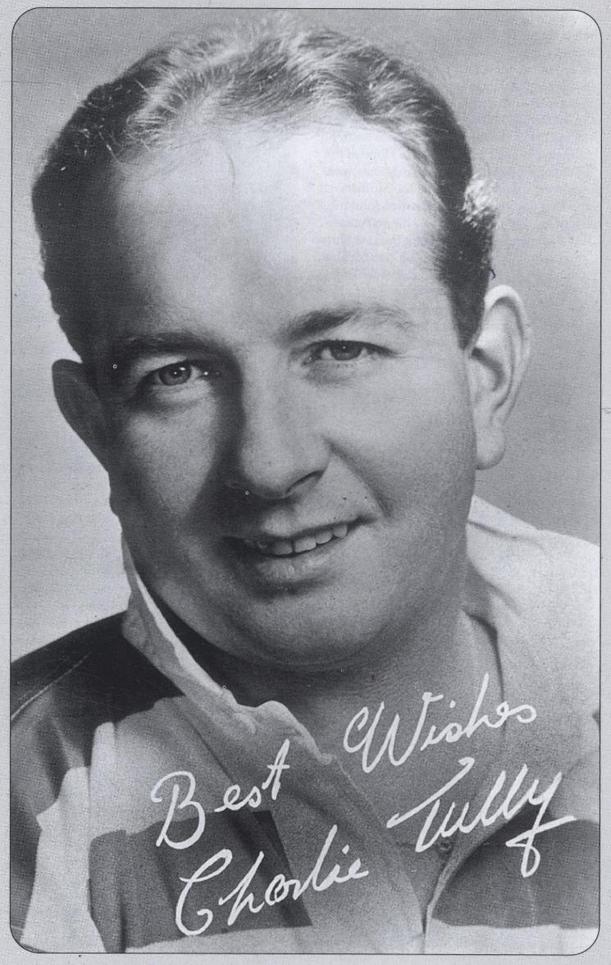 You would think with players of that calibre in the side, they might have won a few things. Willie Fernie was a great dribbler. The ball was stuck to his feet like a magnet. And I remember Bobby Collins had thighs like tree trunks. Wee Bobby went on to play for Leeds and was their Player of the Year and a bit of a legend down Elland Road way."
"Football makes me happy. When my football team Celtic wins I do a wee dance in my heart."
Billy Connolly pic.twitter.com/9NbaGVDQeA

— CelticQuote (@CelticQuote) November 24, 2022
On his favourite player: "In recent times, Henrik Larsson was brilliant. Scored goals out of nothing," before adding "But for me, wee Jimmy Johnstone wins it. Jinky was unstoppable. Absolute genius. He would get kicked all over the park by defenders who towered over him and yet just pick himself up and get on with it. I also have to say that the wee man wasn't a bad singer either."
Happy birthday Billy.. 80 years young today 💚 xxx pic.twitter.com/kQG50aJbOx

— Babs McMahon 🧁💚 #RememberMyNoah💙 (@BarbaraMcMahon8) November 24, 2022
His happiest moment watching Celtic: "As far as Celtic happy moments go, fortunately there have been many over the recent history but one that stands out was down at Love Street in '86 when Celtic had to win by five clear goals and Hearts had to lose at Dundee. Celtic went five up and played brilliantly and then we all had our wee transistor radios on listening to events unfold at Dens Park.
Albert Kidd scored twice to give Dundee a win and Celtic, under David Hay, the title. It was mayhem and a memory I will always treasure. To this day, there is even a Celtic Supporters' Club called the Albert Kidd Celtic Supporters' Club."
And the funniest story at a game: "That is an easy one, not sure if it is the funniest, but it is a memory that will never leave me. There was a testimonial game at the old Celtic Park. Must have been the early 70s and Jock Stein got in touch asking me if I would referee the game for a couple of minutes.
Up I trot to the stadium and I am warmly greeted by the legendary Mr Stein, who shows me into the changing room to don the ref's gear.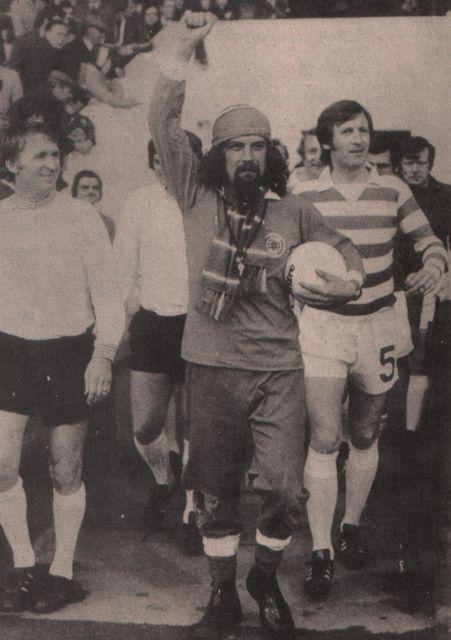 I am confronted with a Rangers tracksuit, Rangers scarf and Rangers tammy. I said to him: 'I can't run out there with this on, they will eat me.' The Big Man laughed and said: 'They will love it and it is only for ten minutes.'
Okay. Out I ran from the tunnel to be met with deafening jeers. I kept running straight out and I went to the old Jungle and produced a red card sending them all off. To this day, I don't know how the hell it happens, but the fans seem to all have been equipped with some sort of strange communication device that they all tune in to. It happens in every stadium.
Anyway, I am standing there frantically waving the red card when, to a man, they suddenly start chanting: 'You can stick your flaming wellies up your arse.' A memory that will live with me for ever."
Outstanding memories, please read the rest of Hugh MacDonald's fine interview with Billy Connolly HERE.
And here's Billy telling the Celtic story…
* This article is from Brian McVeigh published on The Celtic Star in December 2020.
Billy Connolly before he referee'd Jimmy Johnstone & Bobby Lennox's Testimonial v Manchester United in 1976. Celtic won 4-0. Connolly was jokingly booed by the Jungle for wearing a Rangers shirt. pic.twitter.com/y8AFVgeVKU

— Liam Kelly (@cfcliamk96) March 15, 2021