When the Green Brigade produced a banner calling for Neil Lennon to be removed from post, alongside an accompanying statement, prior to Celtic's game with Motherwell this weekend, in certain quarters they received criticism.
To some it probably seemed a step to far, counterproductive even, on the back of a 4-0 midweek win over Kilmarnock and prior to an important game in Celtic's battle for at least that final Champions league spot.
The Green Brigade can of course be a divisive group, and the timing of this demonstration may have irked many within the support but in truth both the timing and the protest made perfect sense.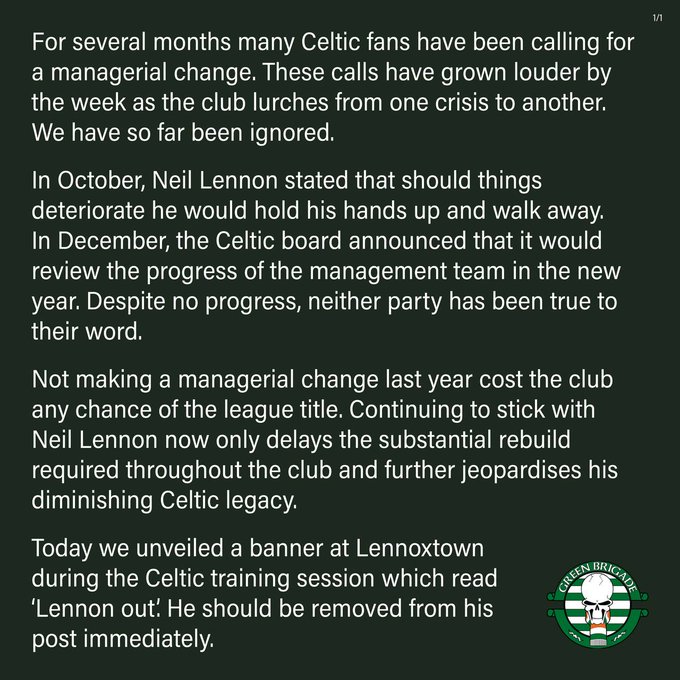 Celtic fans cannot get into Celtic Park and struggle make their voices heard. It seems to me that the Celtic Board are using this to their advantage as they either procrastinate over much required change or are unwilling to communicate the job at hand is bigger than first feared, as such banners like the Green Brigades are essential.
The alternative is the board feel they can suffocate the anger of the fans, and instead through a continued wall of silence, create apathy within the support and extinguish dissenting voices – a very Trump-esque tactic to questioning voices, much like refusing Celtic fans media access to the manager's press conferences on the back of a reasonable and respectful line of questioning. The board need to be aware that there is not apathy within much of the Celtic support instead the anger prevails.
Celtic have advised there would be a January review into this basket-case of what could have been a historical season, and a week into February not only have we not heard the outcome, we have no update to its progress or reasons for the delay.
The Board are clearly aware that without public protests, banned by lockdown measures, and with the absence of fans in stadiums, that they will not be held to account publicly. What the Green Brigade were doing was continuing to remind them there is not an acceptance of inaction amongst the rank and file simply because there are no protests at the stadium, and also remind them, the support know they would not be able to use such avoidance tactics and leave the ground without travel disruption if fans were in attendance on a match day.
As such the North Curve and protest is a reminder that 4-0 wins at Kilmarnock don't make up for the plummeting standards from root to branch under the watch of the current Celtic board and management team.
Across social media we have seen a spate of tweets and messages showing manager Neil Lennon's face with the red line across it, also signifying the supporter's wish to not only have Neil Lennon removed from post but also as a sign that change is wanted in all quarters at Celtic.
Again, some may not like that approach and when I first saw it, I also felt uneasy. Neil Lennon has after all given so much to Celtic and is seems disrespectful to say the least to have such a show across social media platforms.
But the fact of the matter is this season is a mess and once again fans shelling out money for season tickets, merchandising and Celtic TV subscriptions are not getting a product on the park or an organisation befitting of a club the size of Celtic. Not only can fans see that but cannot physically protest. And when a manager remains in place, when a board don't take action to an unravelling of standards, and the manager also shows no sign of voluntarily leaving post then people will find ways to protest and that is what they are doing.
And it is important that such protests continue and that change continues to be demanded. It is vital those making the decisions at the club realise the support will not slip from anger to apathy and accept their lot simply by using a vow of silence to avoid contact.
There is an interesting debate on the subject of apathy on the excellent Celtic Noise fans forum https://celticnoise.com/threads/apathy.9107/ and well known and respected member of that forum Imatim made a very good point:
"There's a theme that's being echoed in just about every Celtic Forum and that is one of APATHY.

The anger is still palpable but in many cases, apathy is beginning to take the place of anger. We are in very dangerous territory as a Club. The status quo is not acceptable. The Support needs to believe things are going to change and change very soon for the better.

The sound bites from Neil Lennon that he is looking at a summer rebuild is the talk of fantasy. He simply has to be told his time has come and gone. The longer we continue in the same vein the worse it's going to get.

This is not a Support with a sense of entitlement you're dealing with Mr Desmond. This is a people with a cause and you need to understand that before it's too late."
In my view, if the disconnect is allowed to morph in to complete apathy we are going to lose a large percentage of Celtic Supporters.
"Who will then pass things on to the next generation if this happens?"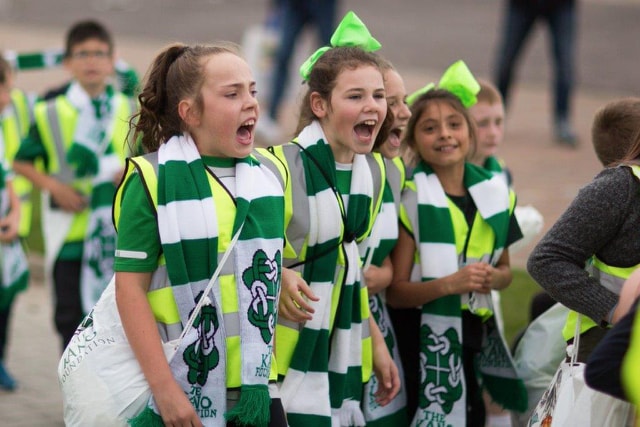 It is difficult indeed to argue with the sentiments portrayed in these comments. If Celtic's tactic is indeed to take a leaf from Donald Trump's playbook and make statements deriding supporters and ignoring the genuine discomfort amongst the Celtic support by refusing to communicate alongside blanking previously engaged Fans media from press conferences, and backtracking on promises of a much needed and overdue review, then they must have another think coming.
The Green Brigade have shown there is no apathy amongst the North Curve at Celtic Park and social media remains awash with dissenting voices amongst the support. It is necessary even in the absence of an ability to protest in a physical manner, to continue to hold the feet of the Celtic board to the fire. That is what the Green Brigade did on Friday and you'd assume they won't be for quietening themselves now.
The sound of silence will not hush the voices of dissent. It has gone too far now, the gulf between support and board is now a chasm. Only proper action to reverse Celtic's managed decline is acceptable.
Don't expect apathy to be replacing anger any time soon. In time restrictions will be lifted and there will be public shows of displeasure, particularly if radio silence is maintained.
Niall J