There was a bit of a throwback to the inconvenient truth that those at Ibrox must face yesterday; namely that the old club which fleeced the taxpayer out of tens of millions of pounds is just that: an old club. Liquidators BDO have eventually settled with HMRC over the unpaid debts the Rangers of 1872 swindled the public out of. That figure is £56m.
As David Murray tried to keep pace with a rejuvenated Celtic after we nearly went into receivership ourselves, the business man couldn't help overspending and finding insalubrious means of as a way of keeping up and challenging a dominant Celtic FC. Famously invoking the use of the EBT scheme and underhand side letters, the old Rangers shady dealings caught up with them in the end and they were submerged in first chaos then death.
Despite the factually correct statement that Rangers 1872 died after failing to have a CVA accepted, many in the media and press could not bring themselves to admit that it was game over for Scottish football's favourite entity. The much heralded line that it's "the company" and not the club which was liquidated still remains dogmatic within Scottish society to this day.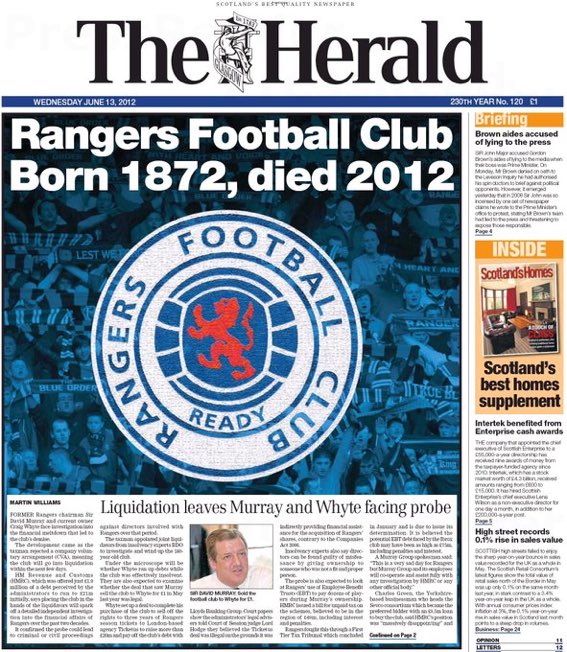 However, there are those who know better and have tried vociferously to maintain the integrity of the game here in Scotland. The Times Editor in this country still has trouble coming to terms with the veracity of how Rangers Football Club ceased to exist back in 2012 it appears, with one commentator on Twitter sardonically pulling him for the use of the much vaunted "operating company" phrase.
Additionally, the comment suggests that there could be a correlation between selective journalism such as this and the massive decline in newspaper sales.
Just a thought…
Operating company..😂😂😂. In other news, newspaper circulation continues to plummet. https://t.co/iuq4XDHbyc

— Richard McGinley (@Richiestoke) December 8, 2022
Paul Gillespie