JOHN KENNEDY has played down the incident involving the Rangers coach Michael Beale at the end of the Glasgow Derby last month. Beale was shown a straight red card for whatever happened and seemed to direct aggression towards the Celtic Assistant manager as he headed for the tunnel alongside disgraced centre forward Alfredo Morelos.
The internet has been full of rumours about what happened next and with Ryan Christie already off the park after being substituted with ten minutes to go, the story goes that the two Ibrox red carders got involved with Christie and Kennedy in the tunnel and that was the reason why Kennedy had to be rushed to hospital for an operation on his groin area.
Ironically Christie is facing a two match ban from the Scottish FA later today after being accused of deliberately grabbing the wild man of Colombia by his groin. John Kennedy, as we have already reported this morning, has described these charges as 'crazy'.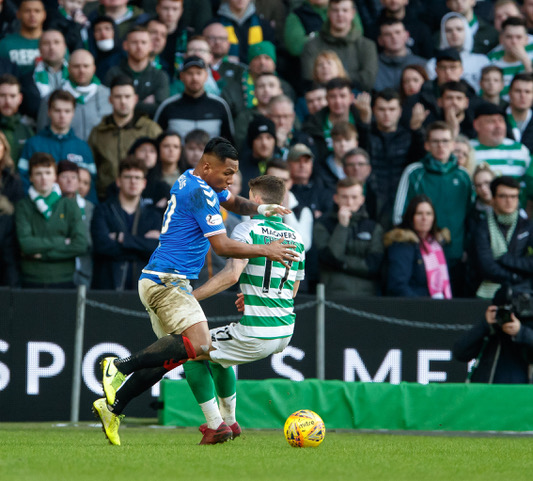 But getting back to the coming together between Kennedy and Beale, a guy most of us have never heard of and this is almost certainly his first ever mention on The Celtic Star. Kennedy having had a week or so to calm down, is now eager to play the entire matter down and get in with the job at hand in Dubai – getting the squad in the best shape possible to deliver 9IAR.
"It is an emotional time," said Kennedy to the gathered media in Dubai, as reported by Glasgow Times. "That is the way it goes sometimes."
"I know Michael very well and I have done since before he came to Rangers. We have spoken in the past. There is no issue with us.
"He was in trouble with the officials, there was a bit of verbals, that's it, end of. You have seen it numerous times with managers and coaches. The emotion of the game gets the better of you sometimes. You say some things, you move on.
Bleep test for the #BhoysInDubai this morning 🏃‍♂️⏱ https://t.co/OsAsrDzxXr

— Celtic Football Club (@CelticFC) January 6, 2020
"It probably looked worse than it actually was. He was having more with the officials than he was with me. There was nothing in it. There was no confrontation between me and him. There was a bit of verbals, nothing else. But he and the officials were having a bit together. We had a wee bit of toing and froing very briefly, but nothing major and it's something I would quite like to put to bed."
And on the rumoured post-match bust-up in the tunnel, Kennedy was eager to deny that one completely.
"There was no such thing. It is just the usual nonsense," he said. "I've been at Celtic long enough that I've seen the good, the bad and the ugly side of it. It's a very emotional time after a game, in the first couple of days after it. Everyone forgets about everything else that happens apart from that game. There is always a little period when there are questions.
"The reality is you put things into perspective. You've got to take a league game and put it in perspective of the first half of the season. We've won the first cup, in Europe we've been terrific, in the league we've been terrific.
"We had a bad game. That's the way we have to look at it. We have a great squad, a great squad to work with, and we're in a very good place in terms of where we want to go.
"We have to make sure the players focus on what they've achieved so far this season and that will give us confidence. We will look at the game again in isolation and know there are things we could do better when it comes around again.
🗣️ #CelticFC manager Neil Lennon will be alongside some Hoops players to meet fans in Dubai tomorrow for a Q&A and signing session!

We look forward to engaging with our supporters at the event which will be hosted at McGettigans, Dubai World Trade Centre and is free to attend 🇦🇪 pic.twitter.com/CRlUQxM4Qf

— Celtic Football Club (@CelticFC) January 5, 2020
"But our standards have been very high and in one game we slipped. We have to get back on track and make sure we accelerate forward as we have been all season."
Kennedy returning to the subject of the defeat by the Rangers, reckons that the players will be spurred on to put things right when play gets underway in a few weeks.
"We're the first to say it wasn't good enough in terms of how we played. The reality is we lost and we have to take that on the chin because we take the credit all the rest of the year.
"Most of the players are old and wise enough to know what comes off the back of a defeat to Rangers. But we've beaten them twice this season, the league campaign and the European campaigns were good until that game. We've had a setback, that's all it is. A setback which will spur us on and give us extra energy and hunger going into the second half of the season.
Putting in the leg miles 🏃‍♂️✅#BhoysInDubai 🇦🇪 pic.twitter.com/Uh1onVkBet

— Celtic Football Club (@CelticFC) January 5, 2020
"It's good to be here again and get everyone back together. Dubai gives everyone a chance to reset again after a first half of the season which is always intense. It's getting them refreshed with a week off and then a mini pre-season which usually sets us up well for the rest of the season.
"It's an expensive trip, but it's worked well for us in the past and, hopefully, it'll be the same again. It gives you a change of scenery, a bit of better weather and it gets you away from Glasgow for a bit. It's a chance to reset and refocus.
"You look at what you need to improve on, what's been good for us. And what we do we need to do in the second half of the season. That's always the objective, to come out here and start the second period well."
🧙‍♂️ pic.twitter.com/TnJDf9nvHI

— Celtic Football Club (@CelticFC) January 5, 2020