EARLIER today on The Celtic Star, former Celtic striker Pierre Van Hooijdonk, from an interview with The Guardian, recalled his time at our club and talked about the so-called Three Amigos, as Fergus McCann called them plus with the addition of Andreas Thom – 'He gets the ball and scores a goal, Andy, Andy Thom'- that became Four Amigos.
Big Pierre also discussed the disgusting behaviour he had to endure from revolting Rangers supporters, who he reckoned were in a horrible league of their own among rival fans from his experiences in playing around Europe during his career.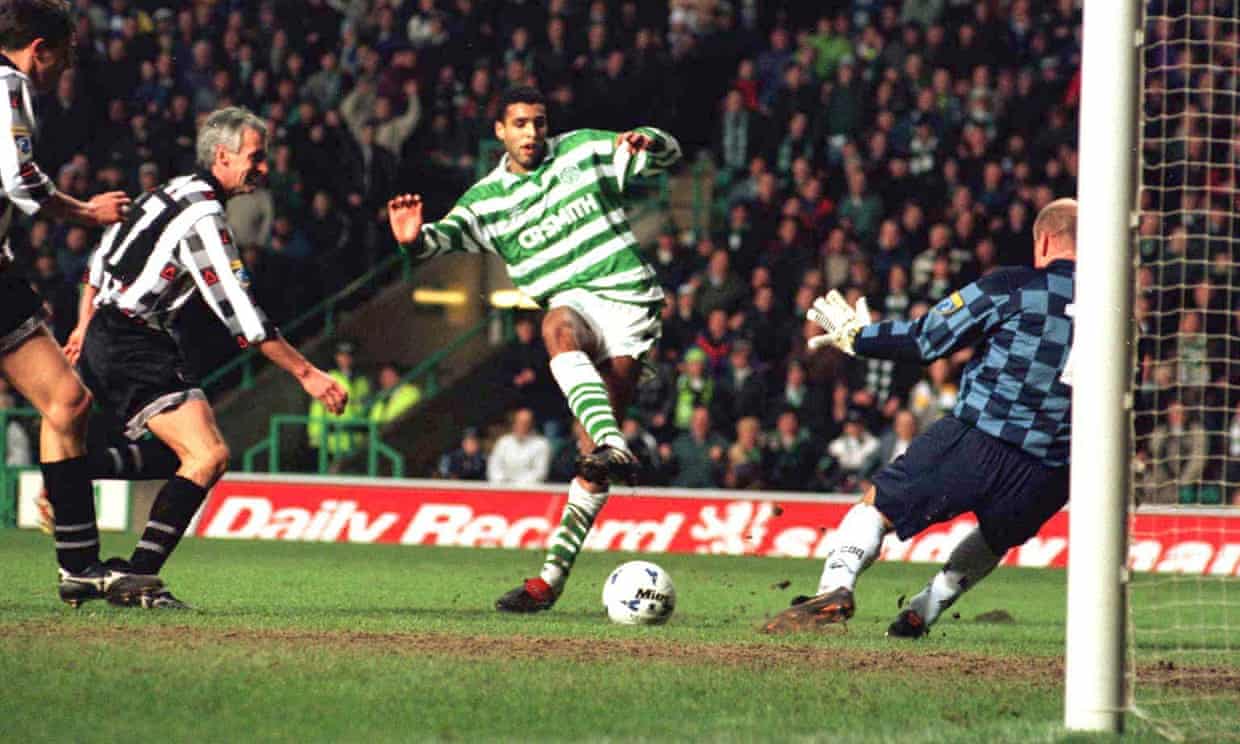 I was too young to remember the saga, I remember videos of Van Hooijdonk's towering header versus Airdrie in the Scottish Cup Final in 1995 and watched Jorge Cadete's debut goal against Aberdeen on his debut. Di Canio seemed to be a talented player but his political views have meant most Celtic fans don't look back too fondly as far as he's concerned – or so it seems to me and Andy Thom scored a screamer at Ibrox and looked a good player. But I'm first to admit that my knowledge of these guys, because of my age, is sketchy to say the least.
That's why I was particularly interested to read fellow Celtic supporters discuss this morning's article on the Four Amigos on Celtic Noise forum.
So what did the posters on Celtic Noise have to say and what were their memories of the Four Amigos?
"Wonderfully talented players but total mercenaries," Imatim said.
ON ANREAS THOM
"Andy Thom was a godsend. A very important player for us with his technical ability plus could strike the ball like a cannon," Maestro stated.
"Thom didn't like a tackle but when in the mood could hit a screamer. His goal at Ibrox in the 3-3 game was a belter. I remember his face as him, his wife and agent pulled up to Celtic Park the day the tickets for the Newcastle opener went on sale, he was mobbed and must have been thinking what's happening here?" Kelly added.
PIERRE VAN HOOIJDONK
"Big Pierre certainly knew how to score, great striker but not too interested in doing much else but strike balls towards the goal, frustrated me at times especially in the air where a guy that size was unbelievably lazy but thank god for his goals!" Maestro added.
"Pierre Van Hooijdonk on his debut at Hampden scored a cracking free kick and we were all relieved after the months of misery that was Hampden that we had at last found a player," Kelly noted.
JORGE CADETE
"Only one Jorge Cadete, an incredible striker who had the talent for putting the ball in the net from anywhere it seemed. A little bit crazy in the noggin though, lol" Maestro opined.
Big Bobo's Bunnet wanted to emulate the Portuguese striker, "I was 10 at that time. The Cadete helicopter arm thing was my goal celebration of choice"
PAULO DI CANIO
"Paulo I would pay just to watch him anywhere near a football! I loved the guy, absolutely sublime skill and had a god given talent! It was clear as soon as Tommy was shabbily sacked that he'd work his ticket," Maestro recalled.
"Di Canio, what a gifted nut job he was, had everything in his locker but a greedy player it was all about Paulo, Hearts at Tyncastle we were strugglin' at 1-1 and he stops while the plays still on and goes over to Tommy Burns screaming at him and pointing at Mark McNally as if to say get him off, take him off now. He had some skill though. At home, I think it was Falkirk or Dundee and he took a pass, flicked it up with his heel and let it run up his leg over his shoulder and passed the player wondering what had just went on," Kelly stated.
"The goal against Aberdeen in the golden boots simply outrageous!" The Galway shawl added.
Maestro then reflected on the way that the players left the club, under a cloud, after their contract talks led to "Its a shame we couldn't get the deals done for these guys." A normal chairman would probably have done that quite easily but Fergus didn't understand how to handle players and thought they were cheating Celtic and himself. Not one thin dime, indeed!"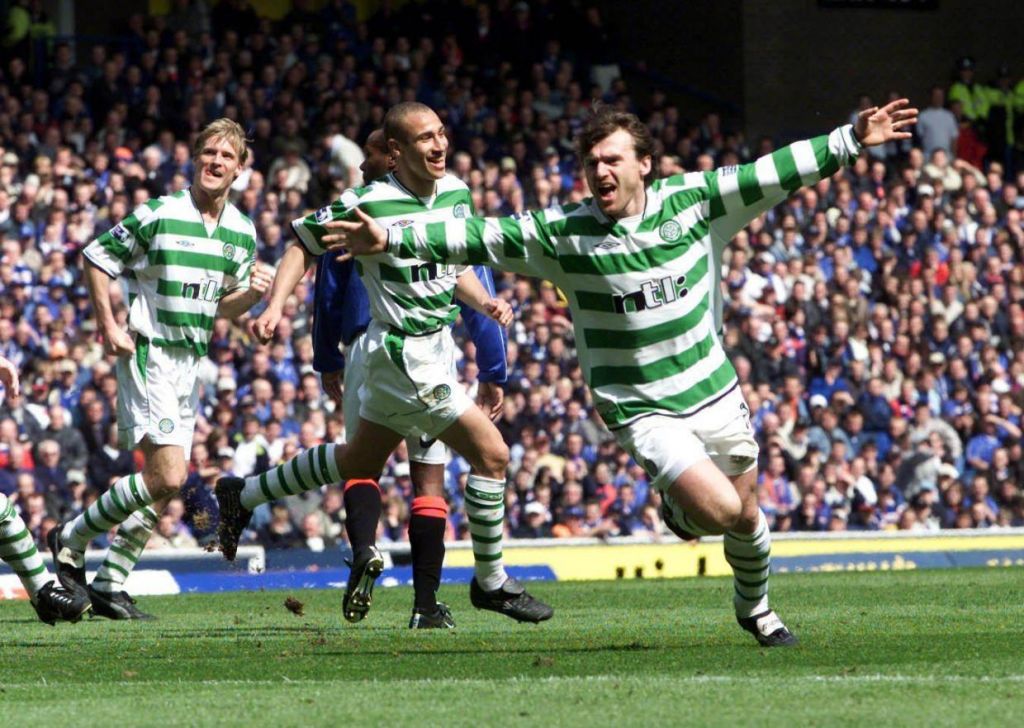 I suppose it worked out well in the end but it must have been some blow for Celtic to lose the Four Amigos. And it wouldn't be too long before players such as The King of Kings, Henrik Larsson and The Gift from God, Lubomir Moravcik arrived and the rest as they say, is history. And glorious history at that!
I'm old enough to remember these two superstars as brilliant Celtic players from my early years watching the Hoops.
From these famous continental Celtic stars I'd rate them as follows
1. Henrik Larsson – The Perfect Celtic Player. 10/10
2. Lubo Moravcik – Unfortunately he signed for Celtic just a little too late in his career. 9/10
3. Jorge Cadete – Unbelievably exciting goalscorer. 8.5/10
4. Pierre Van Hooijdonk – Transformed Celtic, kick-started the modern era. 8/0.
5. Andeas Thom – Perhaps could have been a little braver, very talented. 7.5/10
6. Paulo di Canio – Hot head and those salutes while at Lazio. Thanks but no thanks 7/10.
If you want to add your comments about the Four Amigos or just want to follow the conversation, head over to Celtic Noise, it's the friendly and entertaining Celtic fans forum and you'll get a warm welcome if you sign up and introduce yourself.
Lubo98