DANIEL SULLIVAN was the goalkeeper for Buckhaven Emmet Juniors FC.
Buckhaven Emmet played in the East of Fife league during the 1920s and 30s. The majority of the team were all miners from the local pits and mines and with surnames -Sullivan's – O'Donnell's – O'Neill's and Currie.
In season 1926/27 the Emmet played the Wellesley Juniors and their goalkeeper was the great John Thomson who later signed for Celtic FC about the end of 1926. John Thomson had earlier signed for Wellesley from Bowhill Juniors.
The final result between the Emmet and the Wellesley was 1- 0 for the Emmet – my uncle Dan's claim to fame, was he kept a clean sheet against the Prince of Goalkeepers and until Dan's death in the 70s this tale was told whenever he had a drink and that was often!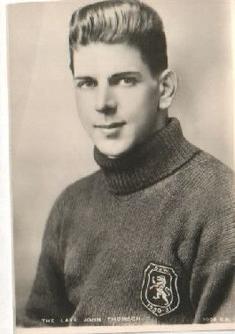 Please note The Wellesley Colliery was one of the largest deep coal mines in Scotland and employed over 2000 men – John Thomson might still have been employed at the Bowhill Colliery – Cardenden before signing for The Celtic.
Jeremiah Woods