We featured the terrible events of 50 years ago today at Ibrox on The Celtic Star a few days ago so that the significance would not get lost amid the pre-match build-up to today's crucial Glasgow Derby.  We have added links to these articles below so that you can catch up if you missed them on Hogmanay.
This morning the Celtic family have been remembering the Ibrox Disaster and paying our respects to the 66 football fans who travelled to Ibrox 50 years ago today to watch their team play Celtic but never returned home.  May they all rest in peace..
"My dad was at the game that night but he came out and walked to Govan without knowing anything about it until he saw the news. I knew a guy who was an ambulance man (no paramedics at that time) and he was one of the first responders. He said the sights and the carnage was something he'll never forget but will also never talk about it in detail to anyone. It must have been so horrific but he said Big Jock was a star," The Shamrock (well-known poster on Celtic Noise).
"I was at that game, and normally I would go straight home, but my granny lived right by the train station, so I stopped in to say hi and have a cuppa with her. Unbeknownst to me, the tragedy had happened and my mates had showed up at our house to check I was OK
As the news came on the headline was tragedy at football ground, and they showed Ibrox
I couldn't believe it as I had been there, and didn't know anything about it.
"No social media, or cell phones in those days. I was up out of my seat and ran all the way home My mates had heard about it, and when they asked my folks, if I was home… "Haven't you heard…?"
"When I ran in the house my Mum fainted, what a terrible day that was for Scotland. I remember there was one Greenock boy, of about 12, who didn't make it home that day. The whole town felt the shock of that tragedy.
"Thoughts are with those lost that day and their families, who never recovered." Dilligaf well-known poster on Celtic Noise).
Some twitter posts from this morning…
Nobody should ever go to a game of football and not come home safely 🙏💚💙

— Babs McMahon 💞💚 #RememberNoah💙 (@BarbaraMcMahon8) January 2, 2021
50yrs ago thousands of people when to Ibrox to cheer on their team but 66 never returned

I cannot fathom how difficult a day it must have been for those affected. It remains a tragedy, we must never forget those who passed away. Thoughts with wider Rangers family#ibroxdisaster

— Humza Yousaf (@HumzaYousaf) January 2, 2021
50 years ago today I stood nervously in a queue outside the Copland Road end of Ibrox with my then brother-in-law, a Rangers fan. Shortly before kick-off I did a ticket swop with an old man for the #Celtic end.Every year since I've prayed he survived that deadly crush.#RIPthe66 https://t.co/ZF1xAiLkF0

— Brian McNally (@McNallyMirror) January 2, 2021
66 people went to watch a game of football and never returned home, more than 200 injured.. god bless the families who lost loved ones.. 50 years Ibrox Disaster ❤️🙏🏻🙏🏻

— John Hartson (@JohnHartson10) January 2, 2021
No one should go to a football match and not come home again. RIP. pic.twitter.com/kheRf9avoR

— Paul Larkin* (@paullarkin74) January 2, 2021
Whatever today's result, we remember more important things on this the 50th anniversary of the Ibrox disaster. Rivalry is fine, hatred is not. We are all football fans, all human beings and we should never forget that. https://t.co/aAzWxTEtEu pic.twitter.com/zHMfG3SVMI

— Lisbon Lion (@Tirnaog10) January 2, 2021
50 years ago today 66 fans went to watch a game of football at Ibrox and never returned home. Thinking of them and their families today.

— Chris Sutton (@chris_sutton73) January 2, 2021
Photo: Celtic fans unveil banner remembering Ibrox Disaster victims | The Celtic Star https://t.co/Yx0OBvuxzc

— The Celtic Star Editor – Walfrid & The Bould Bhoys (@CelticStarMag) January 1, 2021
The Ibrox Disaster, 2 January 1971: Grim News of '66 killed, 108 injured, boys among the dead'
The Celtic Star will run a series of articles today to remember the awful events at Ibrox almost 50 years ago. On 2 January 1971 a huge crowd attended  the Rangers v Celtic match and 66 poor souls never came back after a stairway crush at the Rangers end of the ground shortly after the final whistle.
BBC Scotland broadcast their Disclosure programme on the Ibrox Disaster a few nights ago and it was harrowing, we have linked to that on the iPlayer below. It is a tough watch but does a great job in explaining what happened and why the Ibrox Disaster happened as well as showing the immense grief that this terrible loss of life from folk just going to a game of football caused.
We'll start with David Potter who listened to the game on the radio among mixed company and explains how news of the Ibrox Disaster seeped out in the hours and days after the tragedy occurred. To those who lost their lives may they all rest in peace.
Here is David Potter's memories of 2 January 1971…
THE IBROX DISASTER – 2ND JANUARY 1971
I might have gone to the game, but decided, mainly because of finance and the difficulties of transport at New Year time, in favour of visiting friends in Polmont along with my then fiance. It was my Teacher Training College year – an appallingly boring but necessary year – and my record of going to games had been as good as my financial circumstances would allow. 1970 had not been the best of years – we had lost three major Cup finals to Aberdeen, Feyenoord and Rangers and a defeat to Aberdeen in early December at Parkhead had made us wonder about the Scottish League.
On the train from Edinburgh to Polmont were many supporters of each side, basically ignoring each other, going on to Glasgow. Everyone was quiet, possibly a bit hungover and "no very weel", and a few old ladies expressed their opinion that they would be careful about what train to get back because it might be slightly noisier and nastier.
Our friend's father was a Rangers supporter, but a nice chap who also went to see Falkirk as well. He had actually been at Brockville yesterday with his 12 year old son, an uncompromising Falkirk supporter. Falkirk had beaten Rangers 3-1 and he talked about the game, admitting that Rangers were terrible. We had lunch, a good drink, and then the radio was put on so that the game could be listened to.
Listening to a game on the radio is possibly the most nerve wracking way of following a game, particularly when in the presence of an "enemy", although it was hard to envisage this chap as any kind of enemy. The ladies were all talking about weddings, dresses, Prince Charles (no kidding!) and cooking while the game was progressing. I forget who the commentator was – George Davidson perhaps or David Begg? – but the man was doing a fine job of convincing everyone that it was a great game whereas in fact it was decidedly dull. Loads of shouting from the fans, but not much going on in the match.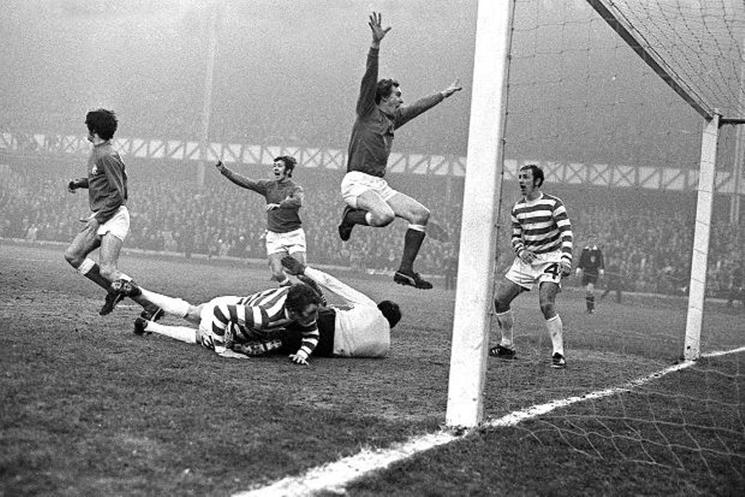 On my best behaviour, I contained my emotions when Celtic scored late on, even saying something along the likes of "well, they don't really deserve to win", very politely and graciously. But then Rangers equalized. My friend smiled politely, I managed (just) to smile back and well, at least, I thought, everyone was happy enough. Old Firm games are often over-rated. But the TV programme then came on to tell us that Aberdeen had beaten St Johnstone and that therefore Celtic had lost ground in the League race. I was concerned about that, but then again a 1-1 draw at Ibrox is hardly the worst result.
Ah well, but then a lovely plate of fish and chips for tea, more drink and entertaining conversation about weddings, University courses and how everyone hated Edward Heath and the Tories. About 6 o'clock a Newsflash on TV said that 6 people had died and more were injured at the big game at Ibrox.
I immediately thought this was some sort of fight or riot that had got out of hand, but it was stressed that it was due to a stairway collapse. 6 dead soon became 11, then 23 and by the time that we got on the train coming from Glasgow to Edinburgh at about 8.00 pm at night I was saying thigs like 35 to supporters of each side who had heard that something had happened but didn't know the details. In 1971, before mobile phones, on a train you were effectively out of contact with the rest of the world.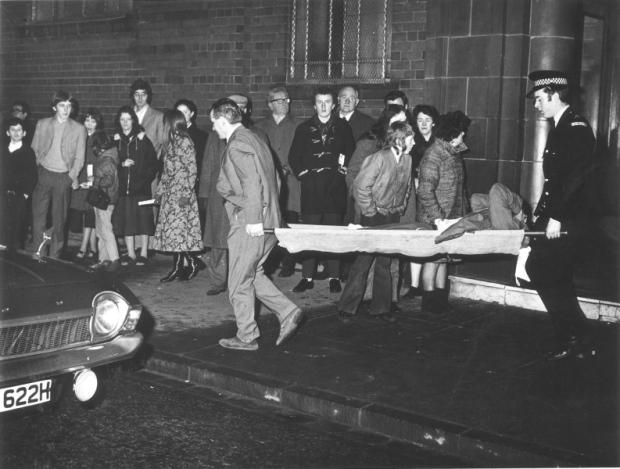 Animated conversation took place about how dangerous crowds were. I related my own hairy experiences at Celtic v Racing Club, Celtic v Leeds and Scotland v Austria where, frankly, but for the grace of God, something similar might easily have happened, and quite a lot of other people had stories to tell about Tynecastle, Brockville and Easter Road.
It was actually a very civilised conversation and one of the very few that I can honestly say I have ever seen between groups of Celtic and Rangers supporters where no-one said anything nasty to each other. At Waverley Station, as they got off, some of them actually embraced each other before hurrying home to find out what exactly had happened.
It was really only the next day before the whole truth was known.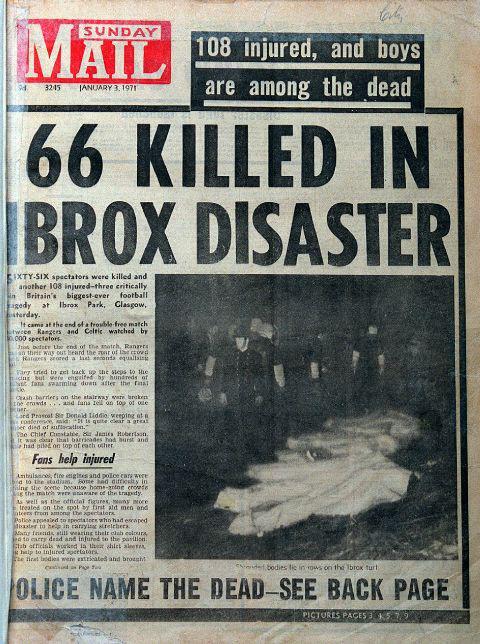 David Potter
The Glasgow Herald football reporter Andrew Young described the aftermath of Scotland's worst ever football disaster:
"Eventually at the top of the terrace the true horror became apparent. Half a dozen lifeless forms were lying on the ground. Rescuers were tripping over the dead and injured as they struggled back with more victims.
"A wedge of emptiness had been created part of the way down the long steep flight of steps leading to the Copeland Road exit. In it were the twisted remains of the heavy steel division barriers. They had been mangled out of shape and pressed to the ground by the weight of the bodies.
"Lying all over the steps were scores of shoes that had been ripped off in the crush. Beyond, the steps were still dense with groaning people.
"There was almost complete shocked silence at this stage. Occasionally we would hear the sounds of coins falling from the victims pockets as they were lifted away."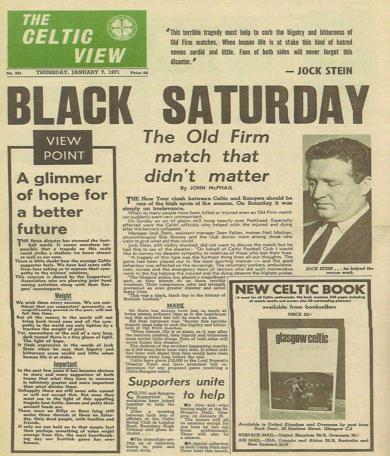 WATCH – BBC Scotland's Disclosure programme which was broadcast on 28 December 2020 and is now available on iPlayer. Fifty years ago, a crush on stairway 13 at Ibrox football stadium resulted in the deaths of 66 Rangers supporters. One of the biggest peacetime disasters in modern Scotland, it left a further 145 injured.
Andrew Picken investigates how it happened and speaks to survivors and those who lost loved ones about the day and the shadow it has cast on their lives. WATCH HERE. Contains some upsetting scenes.
On 2 January 2021, all connected to Rangers, Celtic, and Scottish football and society, should pause to recall this terrible tragedy of 50 years ago, and to remember its victims with the dignity they deserve.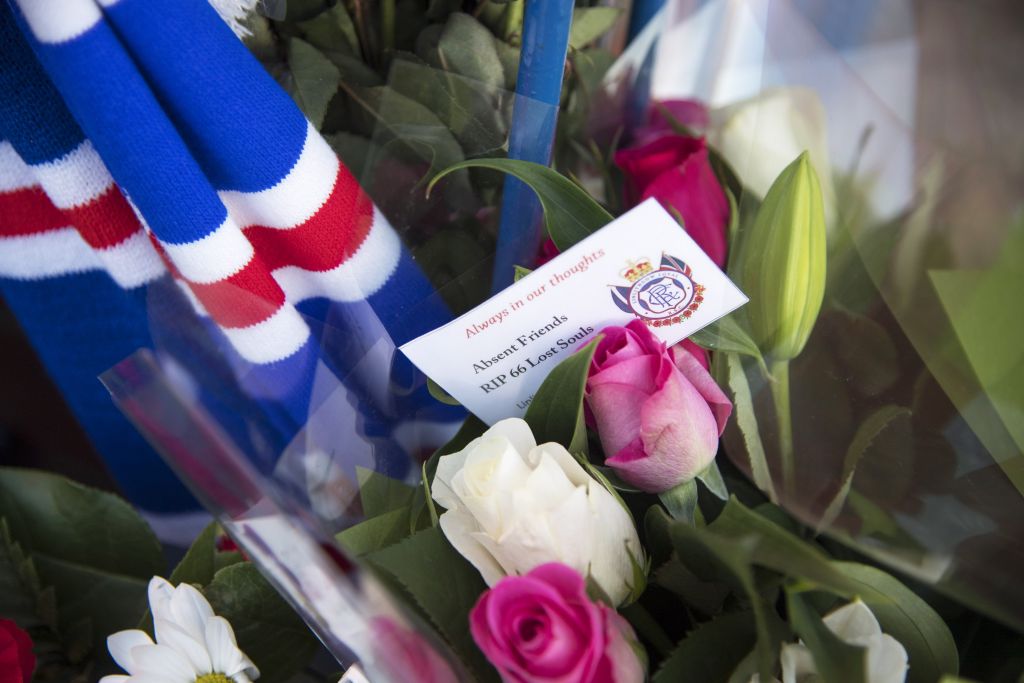 The Ibrox Disaster, 2 January 1971: 'We were absolutely stunned. It took us several days to come to terms with events"
At the start of that season I was working in a large tax office in south Manchester with many young football fanatics. My manager was keen to start an office football team. Sunday football was very popular and so we entered a local league and played in that for two seasons.
This put paid to my weekend trips to Glasgow to see the Bhoys. In honesty it helped me to settle in Manchester as I had a great interest in the team even if I did not have much skill playing right back and with an expanding number of friends my new home had become very attractive.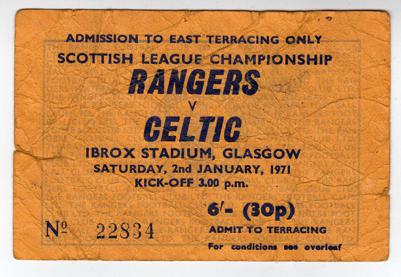 I was still following results avidly but frustrated due to the understandable lack of available information in the press. Of course Manchester is a football hotbed with two well known teams and several other league clubs in the wider area plus many good non-league sides and a thriving amateur game all vying for column inches. Regular phone calls to my parents were the order of the day to help to keep up.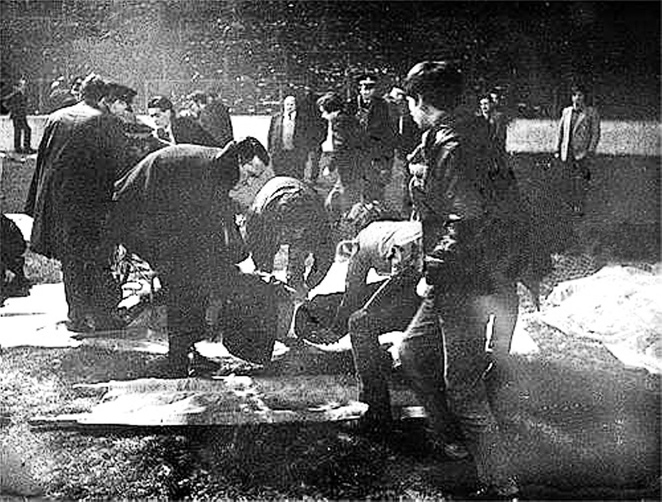 As far as midweek matches pre-Christmas were concerned there was not much opposition wise in the European Cup to induce me to incur the cost of travelling to Glasgow nor of using up precious holidays. I had gone back up for Christmas.
For many years due to family commitments my dad had been unable to attend matches. That situation had eased and so he was at Ibrox with me on 2 January 1971.
Little did we realise how unimportant it would be as we celebrated what looked like an 89th minute winner from Jimmy Johnstone.
Not even a thought of "hang on for the remaining few seconds." Surely we had won.
Rangers kicked off and almost immediately we gave away a needless free kick.
In comes the ball, and Colin Stein bangs in the equaliser.
That would prove to be equally unimportant.
Many Rangers fans were leaving but then some decided to return when that equaliser arrived and met others who were coming down the staircase causing a disastrous crush.
Many were killed leaving a terrible feeling in the city and across Scotland.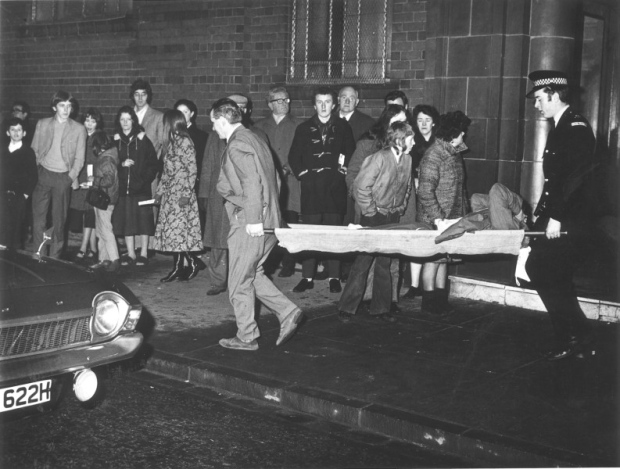 It is appalling to think that my father and I exited the Celtic end utterly dejected and walked along Edmiston Drive past the main entrance to the stadium and then past the Copeland Road end with no notion that people were dying a few hundred yards away.
We walked into town and then boarded a bus back to Barlanark still oblivious to the tragedy. By the time we were at my parents' home my mother was frantic.
I walked into the house first and she screamed at me, "Where's your daddy, where's your daddy."
I was completely surprised and just answered, "He's here. Right behind me!"
Suddenly it all came out. She had heard of the disaster on the news but having no knowledge or understanding of the layout of the stadium and the self-imposed segregation of the fans had assumed that there was a likelihood that we might have been involved.
We were absolutely stunned. It took us several days to come to terms with events.
DidsburyCelt
This is my story for The Celtic Star: "Supporting Celtic from Near and Far." Above is my memories of attending Ibrox on that awful when 66 football supporters lost their lives at a game of football.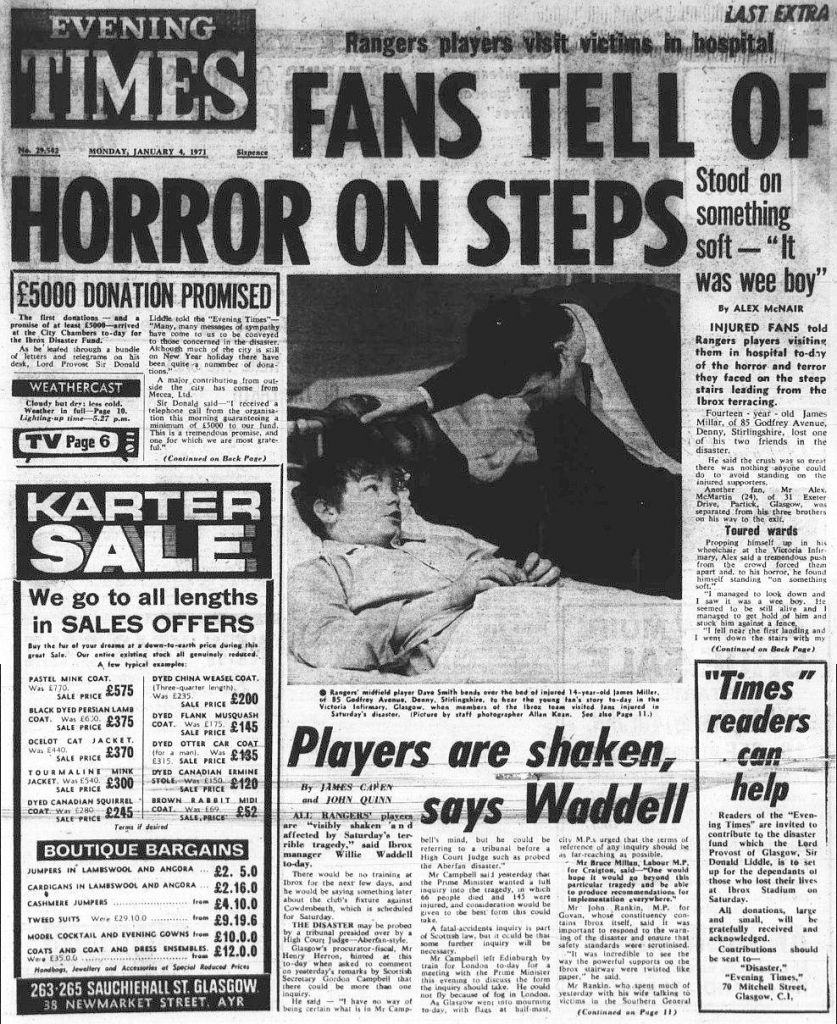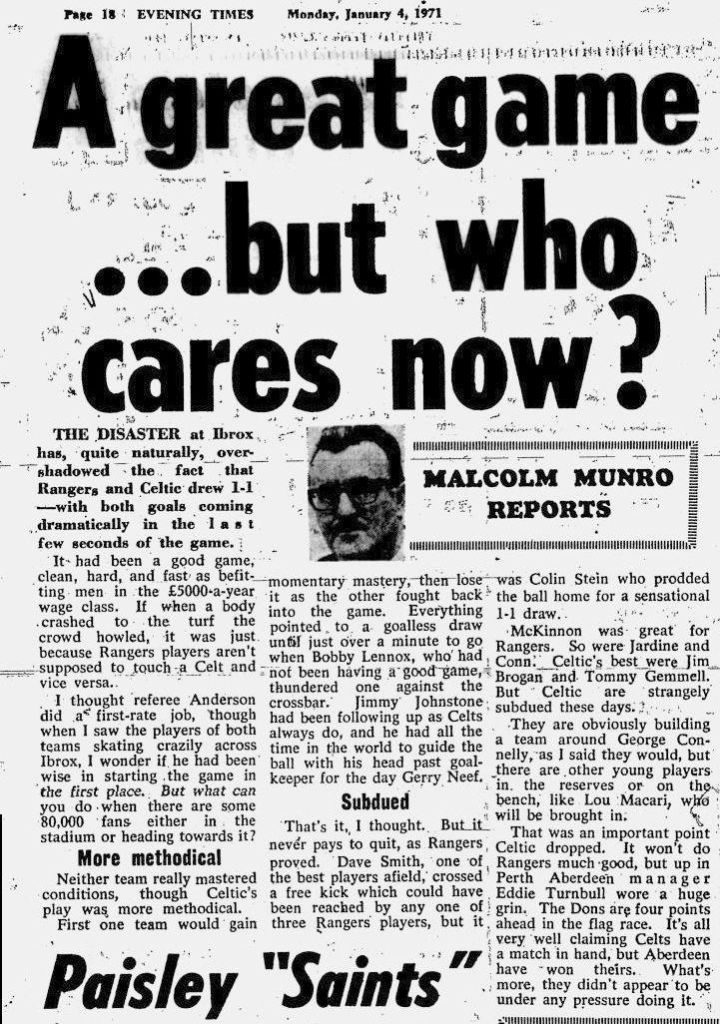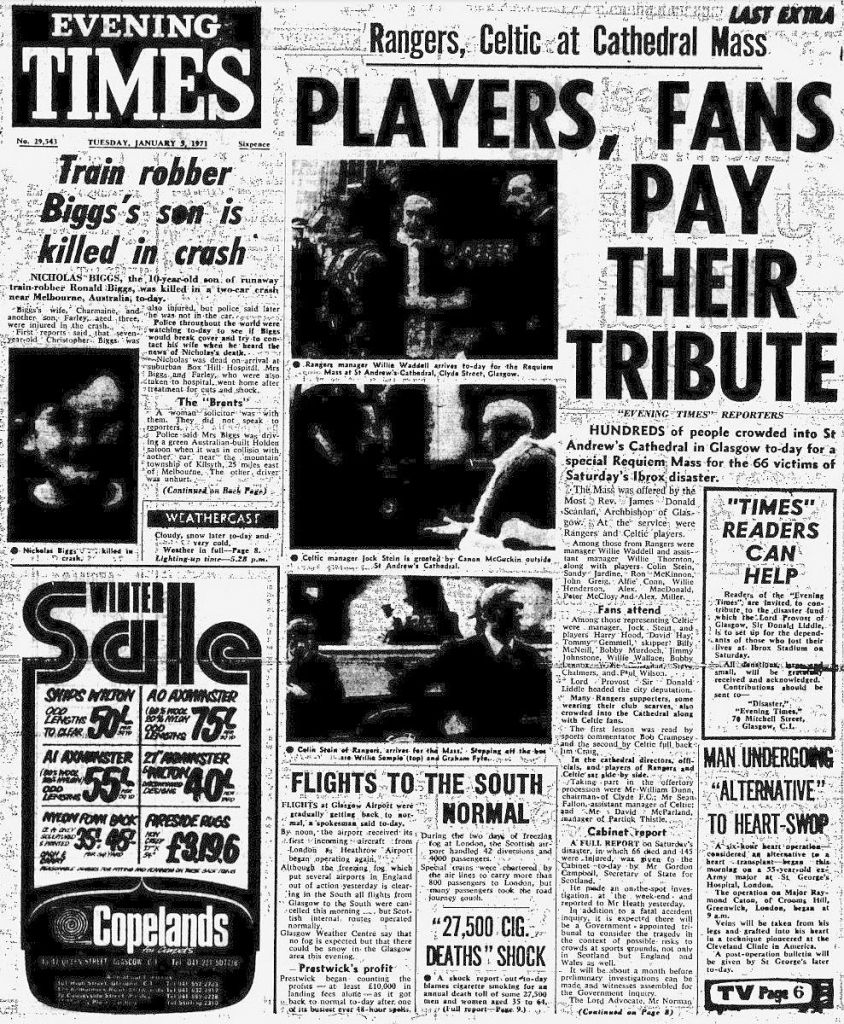 The Ibrox Disaster, 2 January 1971: The Darkest of Hours for Scottish Football
Matt Corr has been telling the story of Celtic legend Harry Hood on this site over the past few weeks. It's been a brilliant series on a player who still has to receive a fitting tribute from Celtic after his passing last year. It's not like Celtic to be so disrespectful in these sad situations. Oh and we have asked several times for this wrong to be corrected.
Matt's latest instalment on the Harry Hood story will be published on The Celtic Star later today.
Within Matt's series on Harry Hood the dreadful events at Ibrox on 2 January 1971 are covered and Matt has kindly selected this extract from the series to add to our coverage of The Ibrox Disaster on The Celtic Star today. So over to Matt Corr…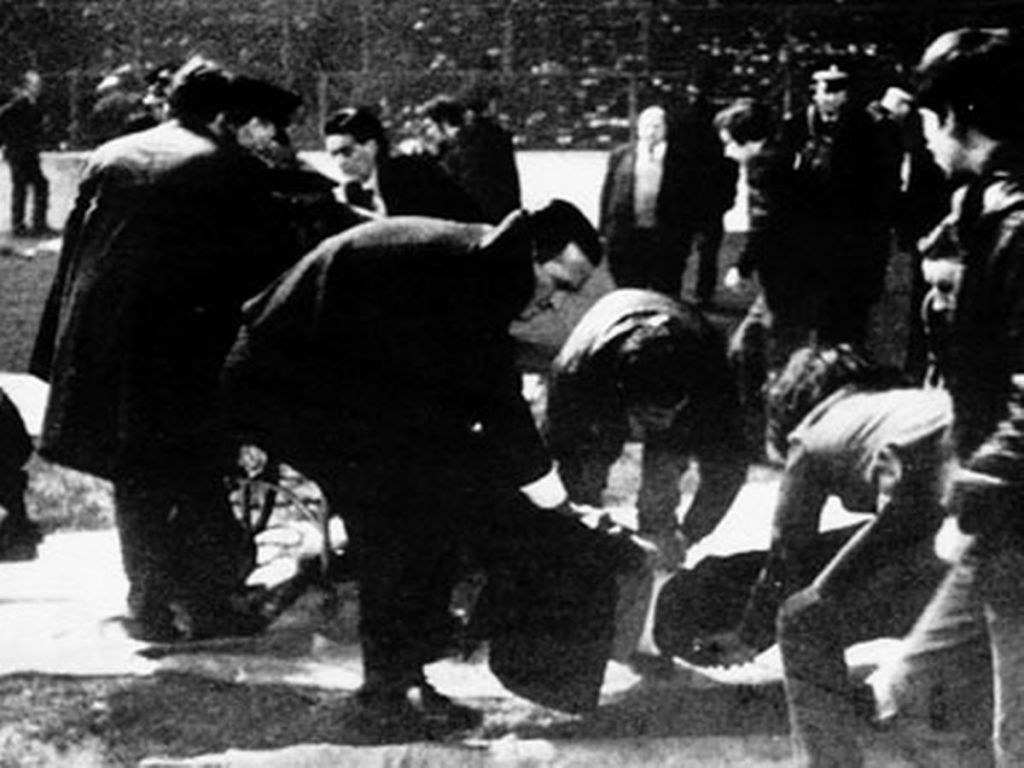 The Darkest of Hours
Reeling from the recent loss of his parents, the second day of 1971 would see Harry Hood play in a match which still sends a shiver down my spine some 50 years later. The traditional Ne'erday fixture between Celtic and Rangers drew over 80,000 supporters to Ibrox on a dark, foggy Saturday afternoon which none of those present will never forget.
Jock Stein named the following side, as he sought to maintain his challenge to League-leaders Aberdeen, his captain Billy McNeill once again passed over in favour of George Connelly, with Tommy Gemmell handed the armband.
Evan Williams; Jim Craig & Tommy Gemmell; Jim Brogan, George Connelly & Davie Hay;
Jimmy Johnstone, Harry Hood, Willie Wallace Tommy Callaghan & Bobby Lennox.

Substitute; Lou Macari.
Rangers manager Willie Waddell was seeking a second successive victory over the champions, following their League Cup final victory two months earlier, the only domestic trophy won by the Ibrox club over a seven-year period from April 1966. He handed a first appearance of the season to German goalkeeper Gerry Neef, as he went with the following line-up.
Gerry Neef; Sandy Jardine & Willie Mathieson; John Greig, Ron McKinnon & Colin Jackson;
Willie Henderson, Alfie Conn, Derek Johnstone, Dave Smith & Colin Stein.

Substitute; Alex MacDonald.
In conditions which did football a huge disservice, both sides enjoyed periods of dominance, however, the only goal action took place in the closing minute of the game. First Jimmy Johnstone followed up on a shot from his pal Bobby Lennox which beat Neef all ends up but crashed off the crossbar, the little winger then grabbing one of so many headed goals he would enjoy in these fixtures. He would not have time to savour this one though, as a long, desperate free-kick from Dave Smith was propelled into the packed Celtic penalty area for Colin Stein to scramble past the tracksuit-bottomed Evan Williams. Sadly, the match details would prove later to be pretty irrelevant.
My dad had decided, for his own reasons, that he was not going back to Ibrox, and as I was still considered in the 'too wee' category for such games, we were paying his brother a visit at his home in Barmulloch, as we did at New Year. Both men had teenage sons at the game, albeit not together, so when word came through of "trouble at Ibrox," there was genuine concern for their safety. Eventually, my cousin would arrive home, saying he had heard there had been "bother" at the other end, like most folk, I guess, assuming violence rather than the tragedy which later unfolded. I can recall watching the scenes on black-and-white television later that night – not sure if it was Scotsport or the news – then in the newspapers, bodies laid out on the Ibrox pitch and the expressions of Jock Stein, Neil Mochan, Bob Rooney and other club officials as they tended to the injured, with the thick fog and lack of colour only adding to the surreal scenario.
There would be a dreadful sense of 'deja-vu' as the story of what transpired on Stairway 13 that day unfolded over the days and weeks which followed. A decade earlier, on Saturday, 16 September 1961, a Celtic side featuring future Lions Billy McNeill, Stevie Chalmers and John Hughes had been leading Rangers 2-1 in the closing stages at Ibrox, thanks to goals from John Divers and Willie Fernie. The hosts then snatched a last-minute equaliser, just as they would in January 1971, Jim Baxter the scorer that afternoon. Tragically, another crush on that same stairway minutes later would then claim the lives of two supporters, with a further 60 spectators injured.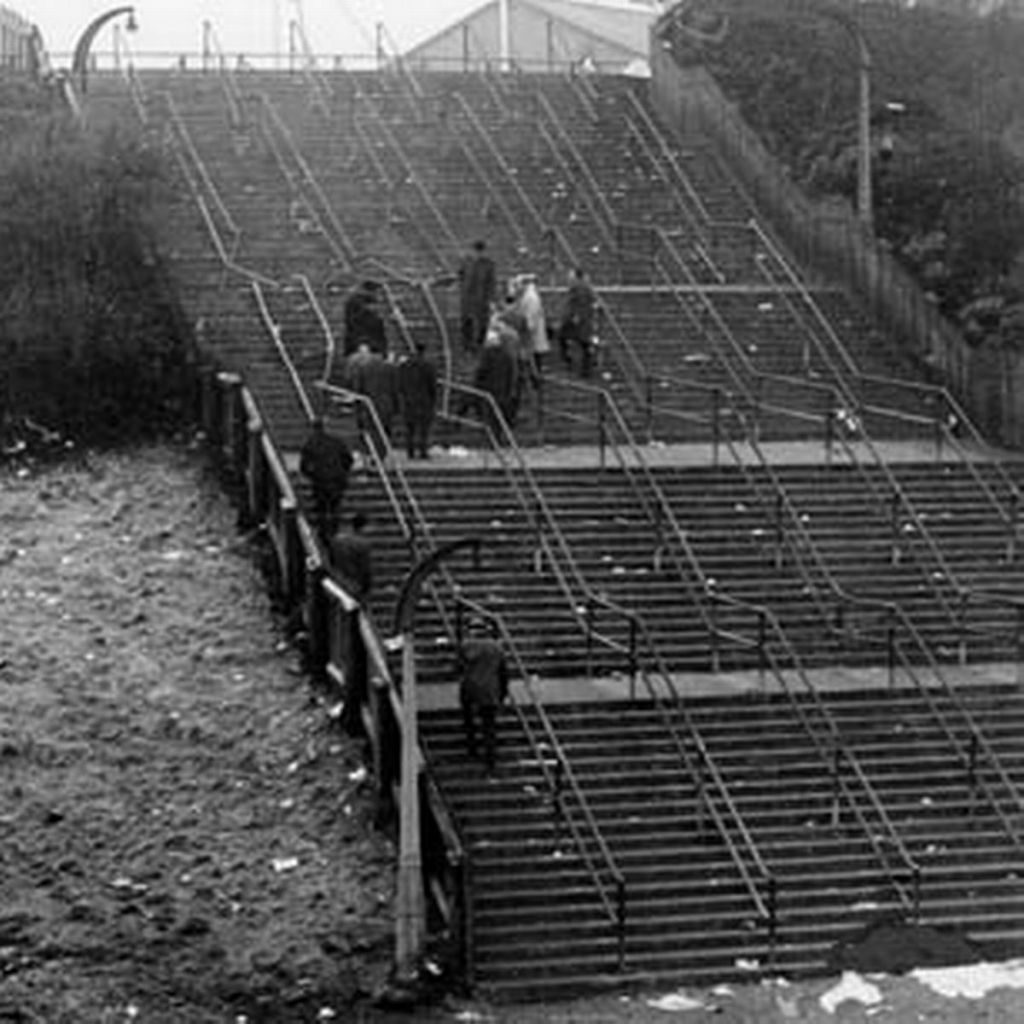 Ibrox had previously witnessed more of its fair share of tragedy.
Thirty years before that incident, almost to the day, legendary Celtic goalkeeper John Thomson had lost his life on the field of play, following an accidental collision with Sam English on Saturday, 5 September 1931 as the two Glasgow rivals clashed in a League match. He would be formally pronounced dead in hospital at 9pm that evening, having failed to regain consciousness. John was just 23 years old. And the stadium had only been open for a little over two years before the first Ibrox Disaster took place, on Saturday, 5 April 1902. On that afternoon, the collapse of a newly-built stand at the western end of the ground – the traditional Celtic End – saw 25 supporters plunge to their deaths during Scotland's match against England in the Home International Championship, with over 500 injured that day.
The 1971 tragedy would be the trigger for a rethink on the safety, or the lack of it, in football grounds. For Ibrox, that would see three sides of the stadium bulldozed and an all-seated version constructed gradually and in place within 10 years. The immediate aftermath saw a rare display of unity, traditional rivalries set aside for once as the deceased were laid to rest and fundraising to support the bereaved families commenced. Over 80,000 supporters were inside Hampden on Wednesday, 27 January 1971, as a Celtic/Rangers Select featuring guest players Peter Bonetti, Bobby Charlton and George Best took on a Scotland XI which included players from both teams.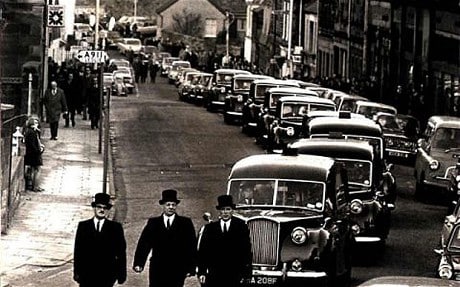 Irrespective of who was to blame and why, or what colour their scarves were, on Saturday, 2 January 1971, 66 supporters went to a football match and didn't return home to their families. Almost half of those who perished were teenagers or even younger. An 18-year-old girl, someone's daughter, and 65 fathers, brothers and sons. It was the darkest of hours.
May they rest in peace.
Matt Corr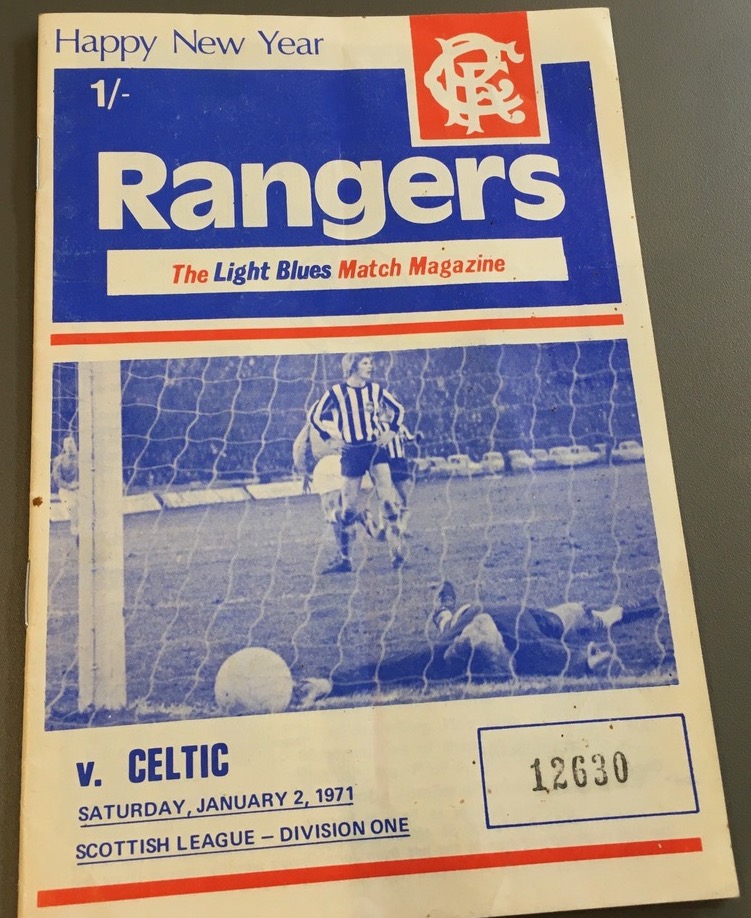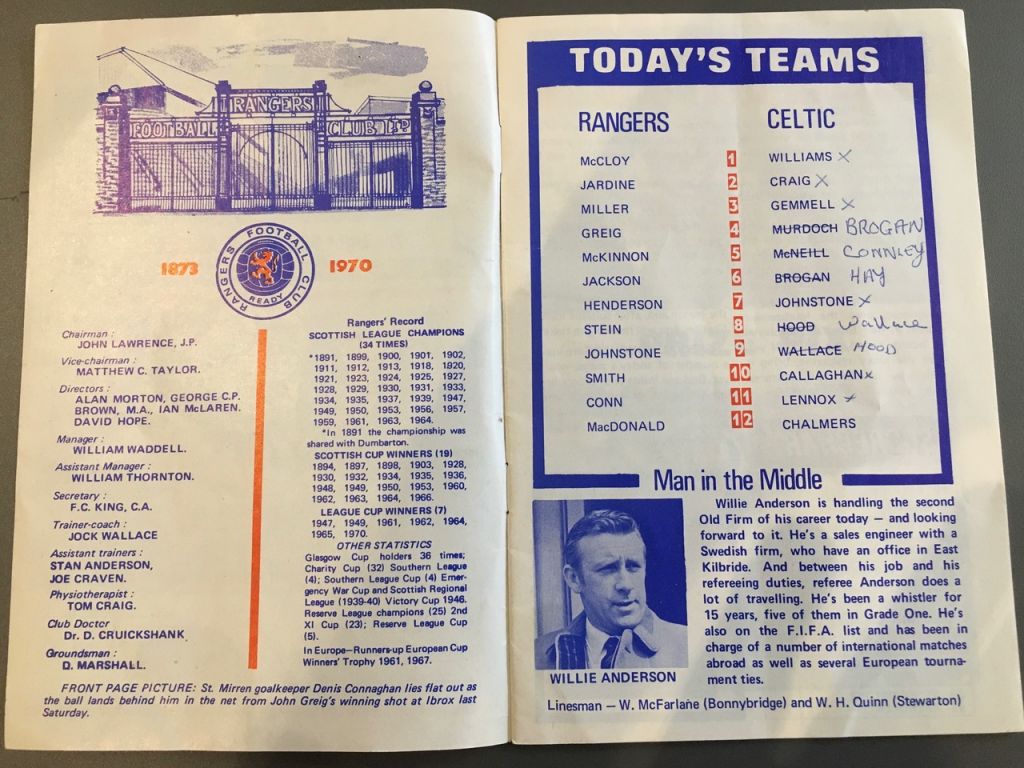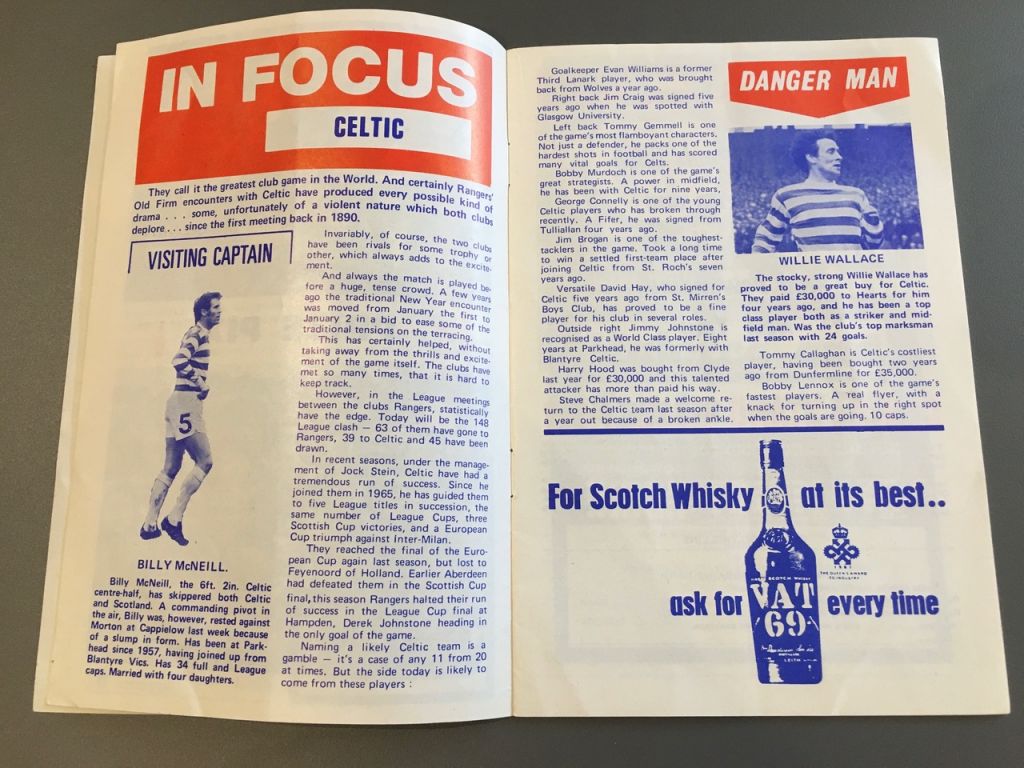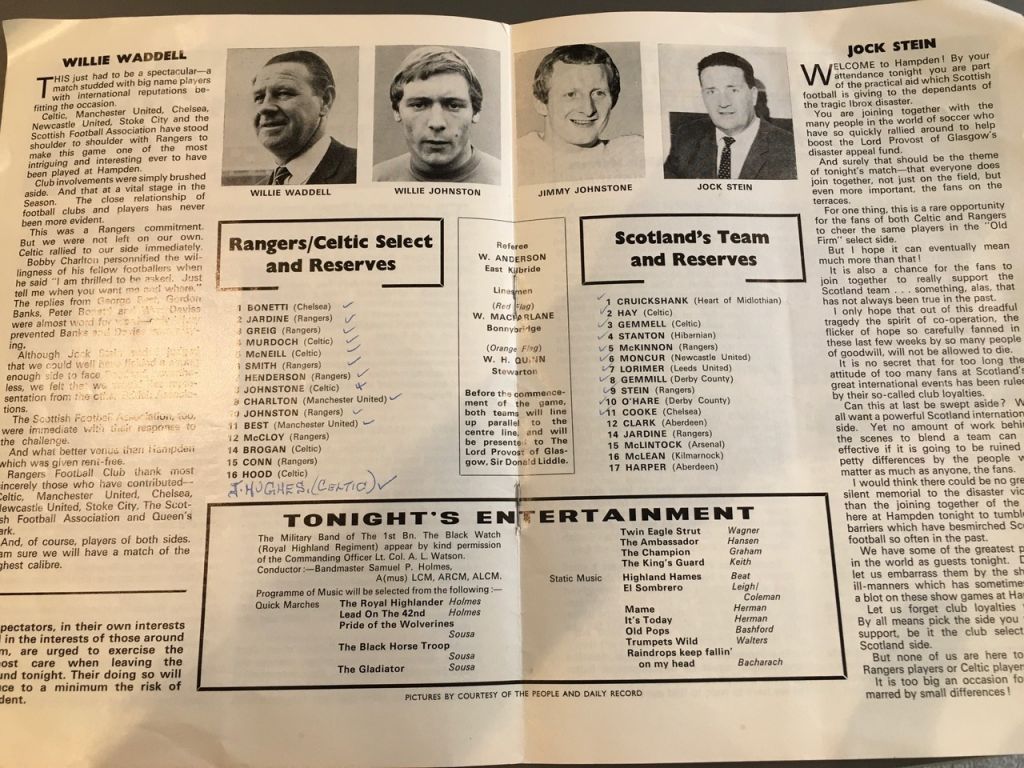 The Ibrox Disaster, 2 January 1971 – "Their fans smear a man who attended to the dying and injured should hang their heads in shame"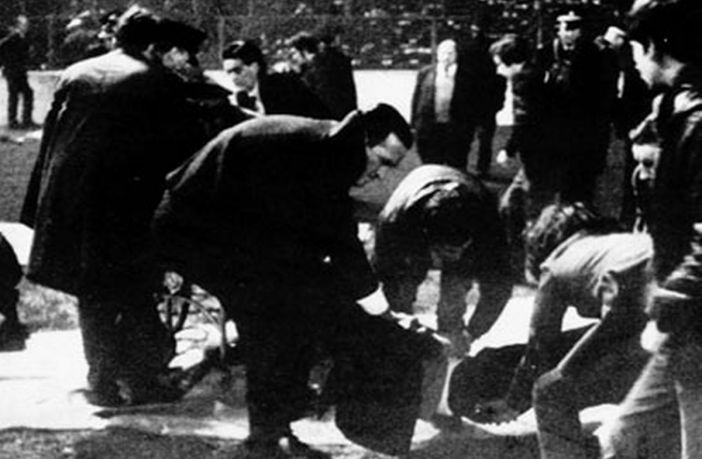 Celtic supporter comments on The Ibrox Disaster,  2 January 1971….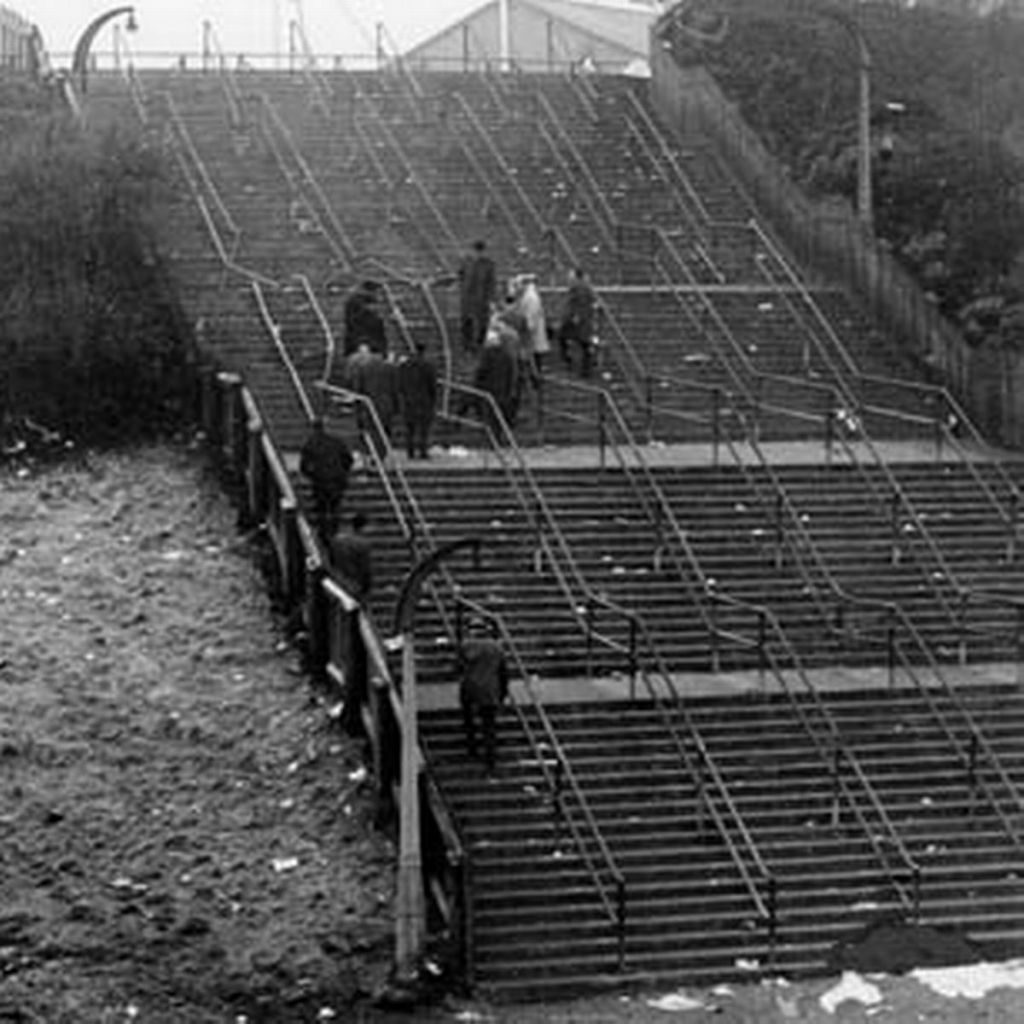 "THANK GOD YOU'RE ALIVE"
I was at that game. I drove from Glenrothes to Tullibody to visit my In-laws for the New Year.  My wife Helen's brothers Thomas and Duncan ran the local supporters bus and they offered me a spare ticket due to a cancellation.
The supporters bus went direct to Ibrox via Stirling and Cumbernauld. Also there was no radio on the bus only loads of alcohol and a hose with a funnel for phissing out the door. I viewed the game from a small standing area below the main stand. After the game I returned to the segregated  bus park near the Celtic end and boarded our bus with the other supporters not knowing of the tragic events unfolding inside the  stadium.
On returning to Tullibody about 6-30 pm the bus stopped outside my in-laws house on Stirling Road . A large family group had congregated at No 61 and as soon as I left the bus my wife Helen and our 2 children Pauline and Kevin ran towards me , Helen was distraught and crying. "Thank God you're alive," see cried.
The other supporters realising something was wrong joined us to find out about the tragedy and that there had been many fatalities after the game finished.
My only memory of game was the scorers, Johnstone and Stein, the fog and the celebrations of the Rangers fans were I was standing and in the seated area of the main stand. Why my ticket was in this area I don't know.
Sad day for the fans who never returned home. JERRY WOODS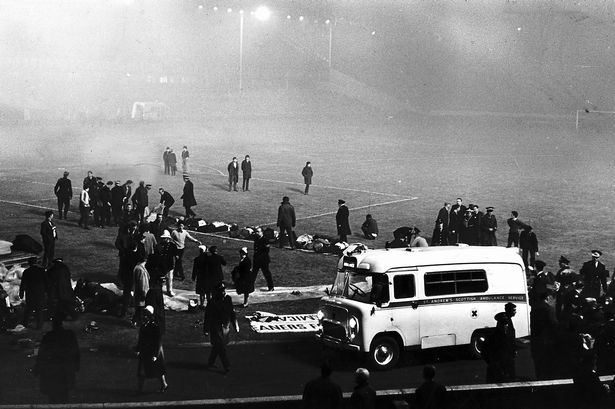 HORRIFIC DAY
Horrific day for Rangers, there fans and family's , 66 people lost there life's at a football game , lost souls never coming home.RIP from the Celtic family. TORRANCETIM
AVOIDABLE DISASTER
I'm too young to remember this happening but it is terribly sad. Sending love to all those affected by this avoidable disaster. Rest in peace. BRIDIE BHOY
WE HUGGED OUR RANGERS MATES
Was listening to the game on the radio with my mates. A couple of them were Rangers fans, we were waiting on the post match analysis then we were getting reports trickling in that people had died, at first they reported 5 or 6 with many injured, then 10, 20 then 66 with over a 100 injured. It was pure disbelief we hugged our Rangers mates as they went home to find out if they had lost any family or friends, sad, sad day. RIP the 66. MICHAEL DUFFY
THE FIVE BOYS WHO DIDN'T COME HOME
I remember it well….These wee guys….not far from where I live
. The five boys who didn't come home.  LENNONO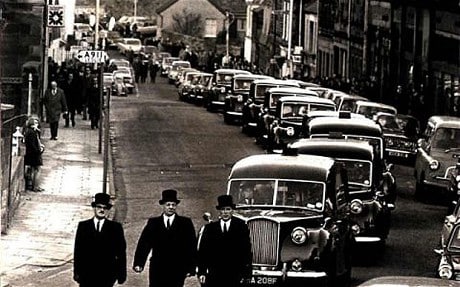 NEVER FORGET 
My then to be father inlaw was at it but left before the disaster occurred. Apparently his family knew about it before he did and were worried beyond belief. I watched with my family on telly ,will never forget the scenes. STARRYNIGHT
ETCHED IN MY MEMORY FOREVER
It is etched in my memory forever. I was trying to listen to the match on Radio Scotland at the side of the house in Donegal. It was on a small transistor radio. Reception was appalling and breaking up. Thought we had won.Then picked up about the disaster. Knew there were two cousins working in Glasgow, who were at the game. News of the tragedy began coming through. Couldn't make out which end it was. Ran up the road to my grandmother's house where my uncle was listening to it.They knew nothing either. A truly terrible day. May they rest in peace. POD
FEAR AND TENSION IN THE HOUSE
Starry, Similar situation my dad was at the game and we knew about it before he did and before he came home. I remember the fear and tension in the house. But he came back. God alone knows for those families whose loved ones didn't. It puts things in perspective. RIP. LMcBHOY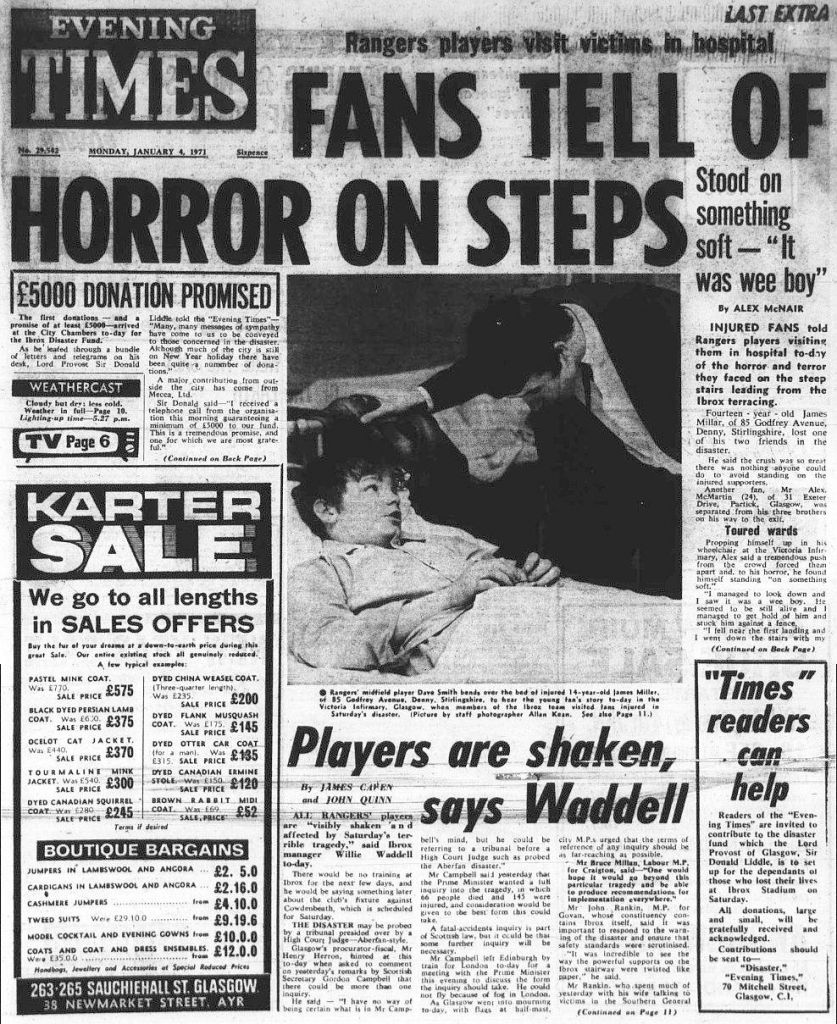 AN AWFUL TRAGEDY
An awful tragedy that could and should have been avoided…Months earlier there was a similar less deadly event at the same stairwell…an inquiry was sought and brought and Rangers never addressed what it found…then this tragedy happened and they again never took accountability for what happened… shameful that it could have been avoided and the devastation that it caused many families to suffer …RIP fellow football fans and humans
This is a very harrowing read…https://www.theguardian.com/news/2020/dec/03/rangers-football-forgotten-tragedy-ibrox-stadium-disaster-glasgow. DOCCO
RELIEF WHEN WE TURNED UP
My two brothers and I and two friends were at the game. Getting back from Ibrox was always difficult so we waited quite a while at the Celtic end, then made our way to the Copland road subway. There was a huge queue but on the subway we started to hear rumours of 'trouble ' – we thought , not unnaturally, that there had been fighting and people had been hurt.
It was after 7PM when we finally got home – and discovered that my dad, hearing of the tragedy but not aware that it was at the Rangers end, was at the local police station in Shettleston to report us all missing, possibly dead or injured. This was long before the days of mobiles, nor did we have a phone in the house.
Our mother had died the previous year and my dad and sisters were frantic that we had been caught up in the disaster. Relief was not the word for their emotions when we turned up, completely unaware of the concerns we had caused by our late return. Sadly, many other families did not share my family's happiness at our safe return. HH. MILLSY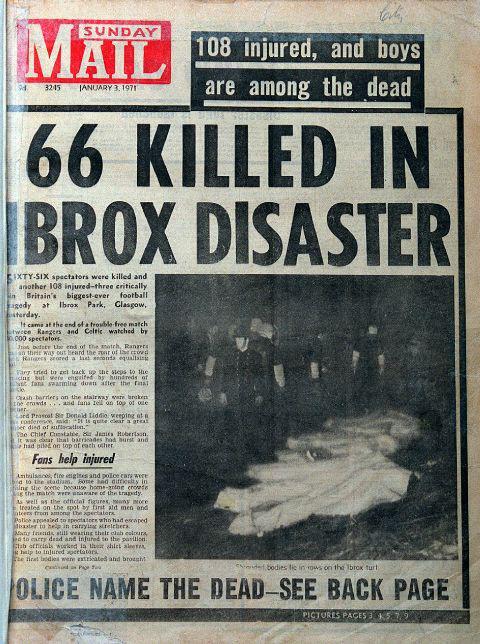 BIG NORRIE LOST HIS BOY
Big Norrie at my work lost his son, he hit the drink for years then just went tea total, he never got over it he died a few years back now. He was a jovial type of guy but you always felt when talking to him he was just putting on a brave face. His heart was ripped out losing his son. I was always Celtic mad even at work but when I was around Norrie there was just this profound sadness about him.I never Knew for a few years after I met him and I only heard it throUGH other mates at work what had happened.Being the age I am now I don't know how I would or would have coped if anything like that was to have happened to my own son. Imagine going to a game and never coming home? That is just not right, R.I.P. the 66. McGARRELL
TRIBALISM STOPPED – COMPLETELY
I have no recollection based on age on the Ibrox disaster as it was before I was born – but I know for a few hours my own family were concerned.
My Grandfather and Uncle had attended the game. My Grandfather and Grandmother had a rule on that particular fixture (as I had with my own Mother and now wife to this day) that you call in when you get to a pub just to say your safe. I even had to call my Gran after my Granda had passed on. My Grandfather for whatever reason had failed to call home. My Grandmother told me she was frantic. For whatever reason my Granda and Uncle had lost track of time discussing games and singing songs and hadn't come home til late.
By which stage the house was climbing the walls. Not only was he late he was completely unaware given no social media, mobile phones etc of what had gone on. While he had spent the night having a few beers and lamenting a late equaliser he had no idea, nor did many the worry that had been caused until he crossed the threshold.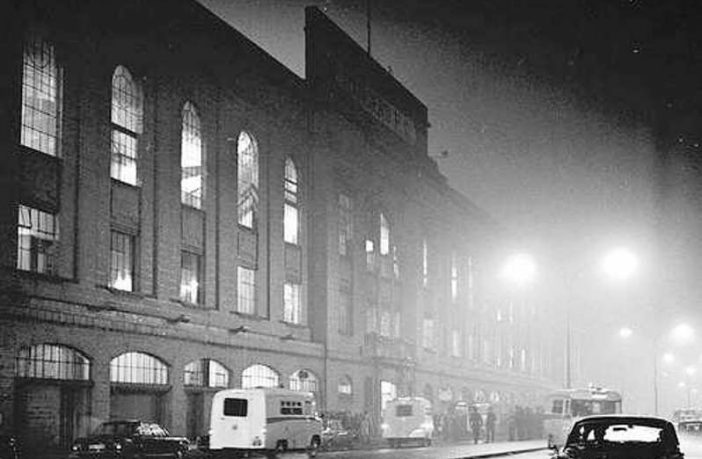 One thing that does stay with me with such stories being told is the tribalism stopped. Completely. Everyone knows the stresses, strains and danger on occasion of attending football matches especially pre taylor report changes. It didn't matter your footballing persuasion or othewise. Families lost loved ones and I think both sides of Glasgow's divide realised it could have been anyone from either side.
Your family should never expect that when you attend a football game you may never come home. I know my Grandfather spent the following day accountng for friends and workmates who had attended the game in the home end. That for me sums it up. NIALL J
MY MOTHER COLLAPSED
I was 17 and at the game and had no idea that it had happened. No such thing, as social media (as you say Niall) to update anyone. I normally caught the train straight home to get ready to go out on a Saturday night, but decided to stop off and pay a visit to my granny, as she lived close by the train station.
As I was having my tea, a newsflash came on, saying disaster at a British football ground today…and I thought "That looks like Ibrox".
When it showed what happened, I bolted out the door (they hadn't said which end it had happened at). I ran home like the Flash, and when I got there, my mates had showed up and asked if I'd made it home, as they had seen it on the news and knew I was at the game. My mother was in a right state, she collapsed, as I flew in the house. A terrible tragedy which took so many lives. DILLIGAF
A CLUB LIKE NO OTHER
Truly a club like no other we respect and remember those lost and their loved ones from our bitter rivals on our forum proud so proud to be a part of the Celtic family – WINTER
And they have the audacity to ask,,,what makes you any different from us..
Respect, compassion, thoughtfulness to name a few…GREEN SPRIG
PRAYERS FOR THE DEPARTED
I remember leaving that game with my dad I was 10, we never knew a thing about the tragic events that unfolded around us, when we got back to the car the radio informed us and my dad immediately thought, we had to phone my mum, no easy feat as we had no mobile and didn't have a house phone, and had to phone our neighbour's and she lived four closes away and ask her to let mum know we were okay. We found a phone box nearby and joined the cue of fans already waiting to phone their loved ones. As a ten yr old, I couldn't figure out how mum would worry as it was at the other end of the ground, Dad explained I would figure it out as I got older, wise man that he was. Anyhow prayers for the departed offered – 50 SHADES OF GREEN.
BIG JOCK WAS A HERO
My auld da was at the game but had walked it home before he found out what had happened and he said he was horrified by the amount of deaths. I also knew one of the ambulance men who were first at the scene and it affected him so much that he couldn't speak about it, even after all this time. He did say that he thought big Jock was a hero that night.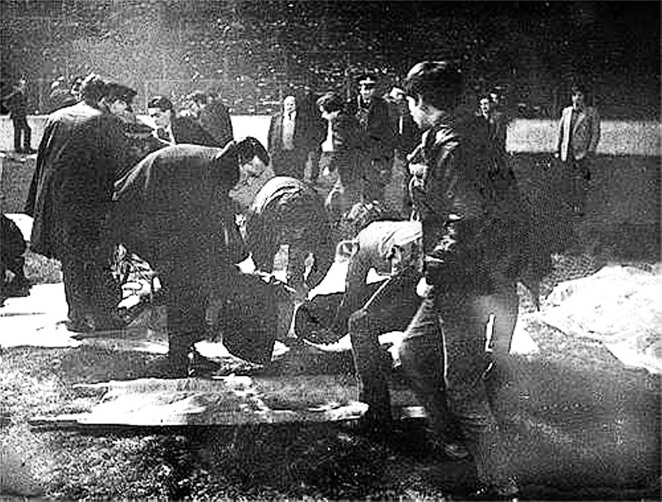 Rest in Peace those who went to watch a game of football but never made it home – THE SHAMROCK.
An awful day for football, thoughts go to those who lost loved ones on that fateful day. Their fans who sing and smear a man who attended to the dying and injured that day should hang their heads in shame – KELLY.