At 4pm on the afternoon of Friday, 16 September 1864, a seventh child was born to William and Margaret McLaughlin in the family home at 447 Springburn Road, just a few hundred yards from where I grew up at 399a. The latest addition to the McLaughlin family would be named James and would go on to carve his place in the history of a football club which had not even been thought about at that time. His is a remarkable story.

The teenage James McLaughlin started his football career in 1880 as a junior centre forward with the main club in Springburn at that time, Cowlairs FC, gradually moving back into a more defensive role as he progressed through the ranks. He would turn senior with Cowlairs in 1882 and, in the five years which followed, James would enjoy his first taste of trophy success as the Springburn side dominated the newly-created Glasgow North Eastern Cup, winning four of the five competitions in that period. As senior team captain, he would have lifted at least one of these, perhaps following the 3-2 victory over Clyde on 3 April 1886 at Beechwood Park, Dalmarnock, or on 2 April 1887, as Cowlairs defeated Tollcross in the final.
FROM THE CELTIC WIKI..
Glasgow North Eastern Medal won by James McLaughlin who played in our very first game. Celtic 5 Rangers 2…Shows Bill McLaughlin the Grandson wearing his Grandpa's medal, Pic taken by Antsplan at the Ceremony in St Kentigerns to mark the grave of James McLaughlin, James was presented with this Medal for winning the Glasgow North Eastern Cup which was the 1st Trophy Celtic ever won, one of the most important medals in our long and Illustrious History and I thank Bill for his patience and willingness in showing me such a rare item,
Hail Hail! Jamie Fox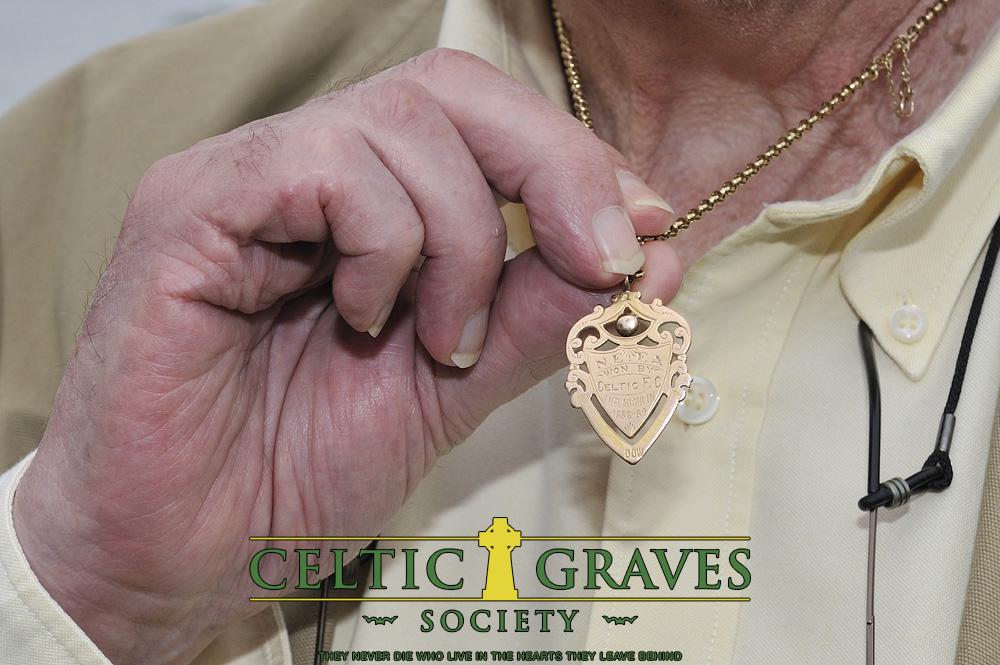 Sadly, the Springburn outfit would find the Scottish Cup a much tougher nut to crack, typically winning through the early regional rounds before losing out to one of the top Scottish clubs of the time, Queen's Park and Renton amongst those who proved just too strong on the day.
Cowlairs would win a fifth Glasgow North Eastern Cup on Friday, 5 May 1888, just three days before they played Hibernian to open the first Celtic Park, by beating fellow Springburn outfit Northern 1-0 at Barrowfield Park, Dalmarnock. However, by that time, James had moved on, initially to Scottish Cup-winners Hibernian in 1887 then latterly to Whitefield, a Govan-based club. He would have an opportunity to clinch another medal in that competition.
James started at left-back in the very first Celtic team to take the field, appearing as a guest player from Whitefield in the 5-2 inaugural victory over Rangers, according to original records.
He would then turn out in the remaining friendly games played before the conclusion of the 1887/88 season and against his former Hibernian teammates as the club commenced its first full campaign in the summer of 1888, but would miss out on Celtic's first visit to his native Springburn, a 3-0 victory over Northern at Hyde Park on 27 August 1888, then the opportunity to face his first club Cowlairs, as they beat the Bould Bhoys in the final of the Glasgow Exhibition Cup at Kelvingrove on 6 September 1888 then lost 8-0 in the second round of the Scottish Cup just 16 days later.
James reappeared in the Celtic team for the next round of the Scottish Cup, thus making his competitive debut for the club in a 4-1 home victory over Albion Rovers on 13 October 1888, however the full-back pairing of choice beyond that stage would come from Paddy Gallagher, Mick McKeown and Alec 'Abe' Collins, James missing out as Celts went all the way to the Scottish Cup final before losing out to 3rd Lanarkshire Rifle Volunteers (3rd LRV – later renamed as Third Lanark) at Second Hampden in February 1889.
McLaughlin did start as Celtic's inaugural Glasgow North Eastern Cup campaign opened with a 5-1 victory over Clydesdale at Southcroft Park, Rutherglen on 29 December 1888, however, Collins and McKeown would again occupy the full-back berths for the 4-1 semi-final victory over Northern at First Celtic Park on 16 March 1889.
He would re-emerge as Celtic played its first-ever match in the invitational Glasgow Charity Cup, at Second Hampden against Renton on Saturday, 4 May 1889. This would not be a happy occasion, the former 'world champions' putting the new Bhoys in their place with a 5-2 victory before a huge crowd, however, football can be a strange game sometimes.
Seven days later, having lost the finals of both Glasgow Exhibition and Scottish Cups, the new club Celtic played its third cup final of an incredible maiden season. Their opponents would be Mclaughlin's old side, Cowlairs, just as they had been back in Kelvingrove in September. Celtic goalkeeper John Kelly would appear to have shouldered the blame for the heavy defeat by Renton the previous weekend, his place between the sticks taken by…James McLaughlin.
His first match in this role for Celtic would produce a winner's medal, as the Bould Bhoys beat holders Cowlairs by six goals to one in the final of the Glasgow North Eastern Cup at Clyde's Barrowfield Park home, before 8,000 spectators. That medal was owned and treasured by James' family for many years and is on display in the boardroom at Celtic Park to this day, a wonderful piece of club history. The Celts would put the first piece of silverware in the trophy room cabinet that evening. They have pretty much never stopped doing so since.
James would then be Celtic's first-choice goalkeeper as season 1889/90 commenced with a second trophy win, the wonderfully-named Rangers & Clydesdale Harriers Cup, which the Bhoys won by beating Renton then hosts Rangers by the same 2-0 scoreline at First Ibrox in the first week of August 1889. He would feature in the Celtic line-up photographed above in front of the old pavilion before the friendly with Blackburn Rovers on 3 October 1889 – acknowledged as the oldest known surviving image of First Celtic Park – then appear between the posts in the club's first-ever Glasgow Cup final, a 3-2 defeat by Queen's Park at First Cathkin on 14 December 1889.
McLaughlin earned yet another winners medal in the Glasgow North Eastern Cup when Celts retained their trophy by beating Northern 2-0 at Barrowfield Park on 15 March 1890. This would prove to be the club's final match in this competition, as priority was given to the new Scottish League Championship, due to commence in August of that year. Celts had earlier knocked Cowlairs out by winning 5-0 at Gourlay Park, Springburn in a repeat of the 1889 final.
Scottish Cup and Glasgow Charity Cup hopes for 1889/90 were ended at the first hurdle by Queen's Park and 3rd LRV respectively. The 2-0 defeat by Thirds at Second Hampden on 19 April 1890 would appear to be James' final game for the club. Willie Maley himself would play in goals in the next match, a friendly with Heart of Midlothian at Tynecastle, following which the Celtic goalkeeping slot went to Tom Duff, known rather irreverently as the 'Cowlairs Orangeman,' a recent signing from McLaughlin's old club.
James would leave Celtic to join Battlefield, however, this would not be the end of his connection with the club. Upon his retirement from playing the game, he became one of the top referees of the era, representing Celtic in that role for many years. He passed away in March 1946 and lies in rest in St Kentigern's, Lambhill, his place in Celtic's history assured.
Hail, hail!
Matt Corr
* Matt Corr combines with Liam Kelly and Celtic historian David Potter in writing duties on The Celtic Star's brilliant new book, Walfrid & The Bould Bhoys which is out now and available directly from this site (see below) and also from the Celtic FC stores and on Amazon.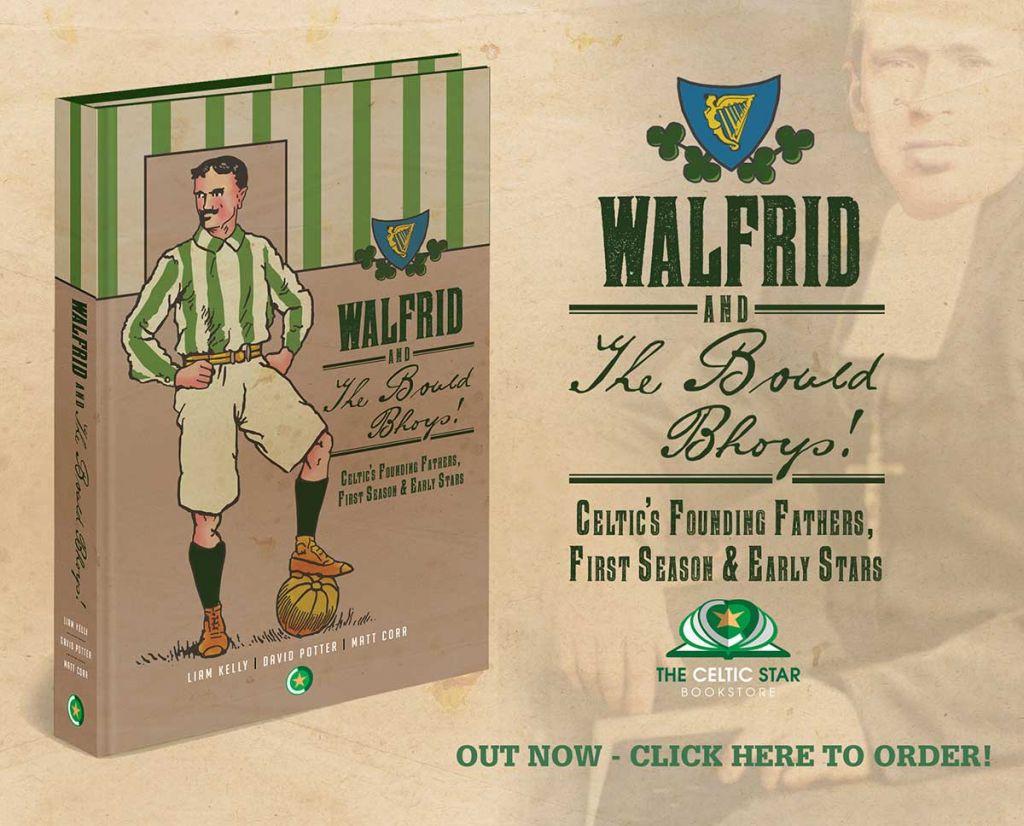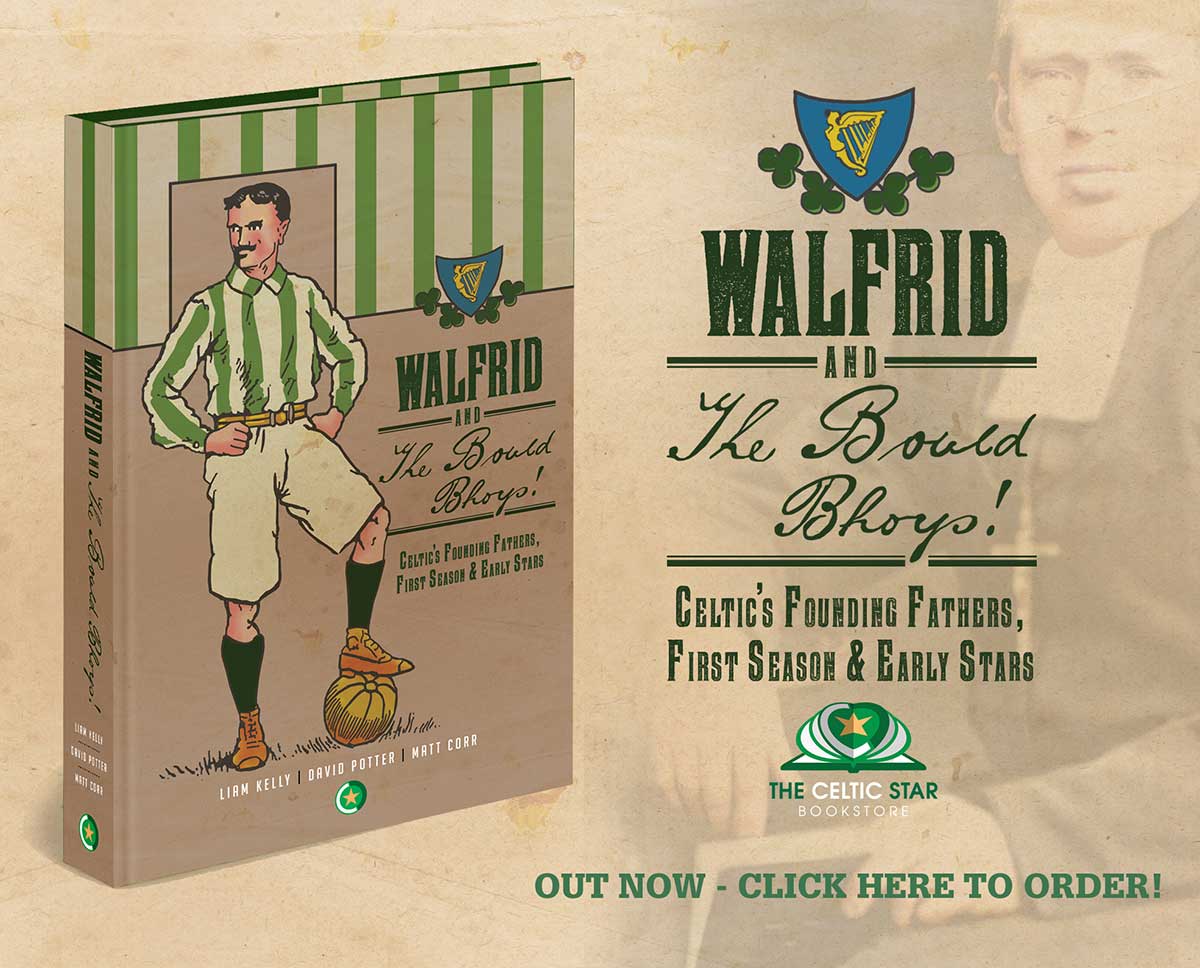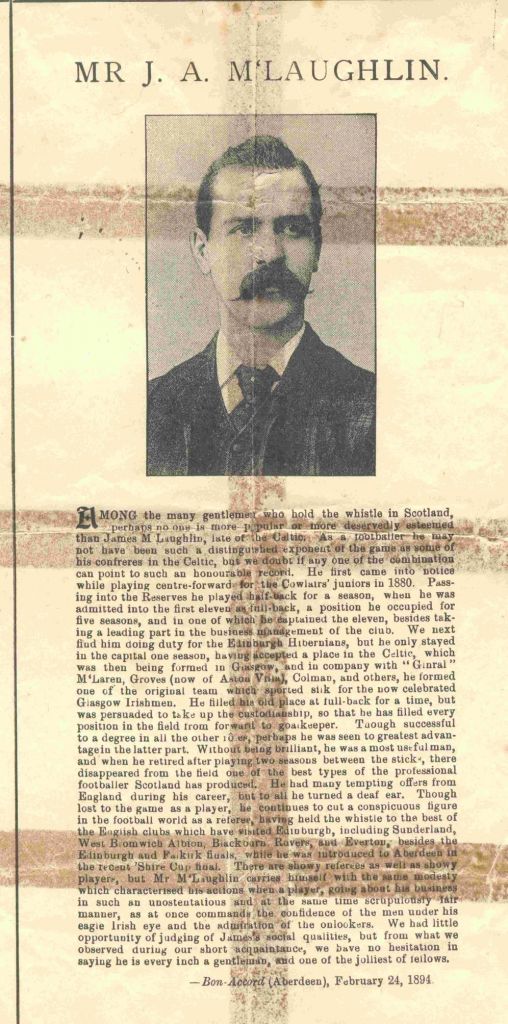 Follow Matt on twitter @Boola_vogue
Credit and thanks to the Scottish Football Archive, Hibernian Historical Trust and the Celtic Wiki for invaluable reference information.