No trip to face Italian opposition is complete until there is a mention, or at the very least, a nod to Michael Caine's 1969 film 'The Italian Job'. The film focuses upon a cockney gang, who specialising in heists. Circumstances take them to Turin in the pursuit of a large amount of gold. There were more mini coopers, violence and riches than a Europa League tie on a Thursday but there are interesting comparisons to draw.
Despite Celtic facing the prospect of carrying out a heist on Lazio's Stadio Olimpico to come away with three points, there is also the added incentive in the form of Last 32 should they leave Italy with the point(s). Caine left with gold and Celtic would be in line for some if they managed to qualify for the Last 32.
'Charlie Croker', Caine, and his ragtag gang were largely written off by the Mafia as the didn't have the capacity to pull off such a disciplined and well crafted plan. This won't be far away from Simone Inzaghi's training chat this week with his players. Celtic will be backed by 9000 fans in Rome; albeit less than the 60,000 that pushed them on when the Italians were in Glasgow a fortnight ago. Furthermore, the lack of respect shown towards Celtic manager Neil Lennon – I was sceptical myself – since his appointment could fuel Lenny to do the unthinkable. Go to Italy and return with the riches.
Timing is everything. There was a select time that Croker's entourage could strike and they had to make sure that they seized that opportunity – albeit they had Mini Coopers – but we have Edouard, so we are backed by a powerful arsenal as well. Celtic will find Lazio more eager to take the ball than they were in Glasgow but they need to be patient and bide their time, Lazio will make a mistake and Celtic have the capacity to punish them.
There can be no lapses in concentration. We need to be constantly switched on as if there is any hesitance or doubt, Correa and Immobile have the talents to punish us with even a half chance. Caine nearly met his demise when the mafia cornered him; however he managed to regain control of the situation – albeit by threatening reprisals.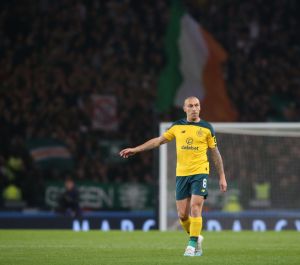 Have a back up plan. Croker only left Turin with the gold because he had planned for every eventuality. Celtic must do so. Neil Lennon must box clever, as he so often has. Celtic have the players to damage Lazio and hopefully by now Lenny knows who he can rely upon to deliver the goods in a time of need. Talents like Olivier Ntcham, Tom Rogic, Mikey Johnston and Scott Sinclair on the bench, the manager needs to be willing to take a calculated risk.
Protect the main man. This part has little or nothing to do with the film but protect Odsonne Edouard. The multitude of games on the horizon means that having one striker is extremely risky and as we found last season at Ibrox, we need the big Frenchman. With a Glasgow Derby at the end of December, a Betfred Cup Final at the start of the month and two other Europa League games as well as a number of league games, Odsonne Edouard's workload needs to be managed until Leigh Griffiths is fit – or we have a replacement to support him. From the candidates in the squad, Scott Sinclair and Mohamed Elyounoussi stand out as potential stand-ins should we need to protect Edouard.
The film ends with Caine's character, Croker, desperately clawing at the gold as it makes its way towards the back of the van then he suddenly proclaims: "Hang on a minute lads, I've got a great idea". This literal cliff-hanger is well renowned in the world of cinema; however, Celtic will hopefully evade the ambiguity with regards to the fate of their Italian Job remains clearer than Croker's fate by 8pm on Thursday.