The Kano Foundation have released a short statement regarding the Season Ticket Vouchers that season ticket holders will be receiving from Celtic shortly.
Having had their financial future secured by a hugely successful find raising campaign over the past few months The Kano Foundation then received even more good news when Celtic decided to provide them with all their season tickets for FREE, a brilliant gesture from the club.
🍀Keep up the good work.. https://t.co/4YAJsJ2xgG

— Celtic FC SLO (@CelticFCSLO) May 28, 2021
Now many supporters want to pass on their vouchers to The Kano Foundation so that the kids attending various matches over the season ahead will also be given some Celtic goodies to take away with them ant to treasure, perhaps their first ever Celtic scarf of top?
"A number of supporters have been in touch with regards to offering us their season ticket vouchers from Celtic FC," The Kano Foundation message states. "If you would like to give us your vouchers they will be put to good use to enhance the experience for the Kano Foundation Kids at Parkhead.
"Please get in touch with us by emailing contact@thekanofoundation.com and we will contact you in due course with details of where to send the vouchers.
"Thank you again to the supporters who continually think about us in these circumstances," the statement concludes, adding the hashtag Keeping Football Free for Kids.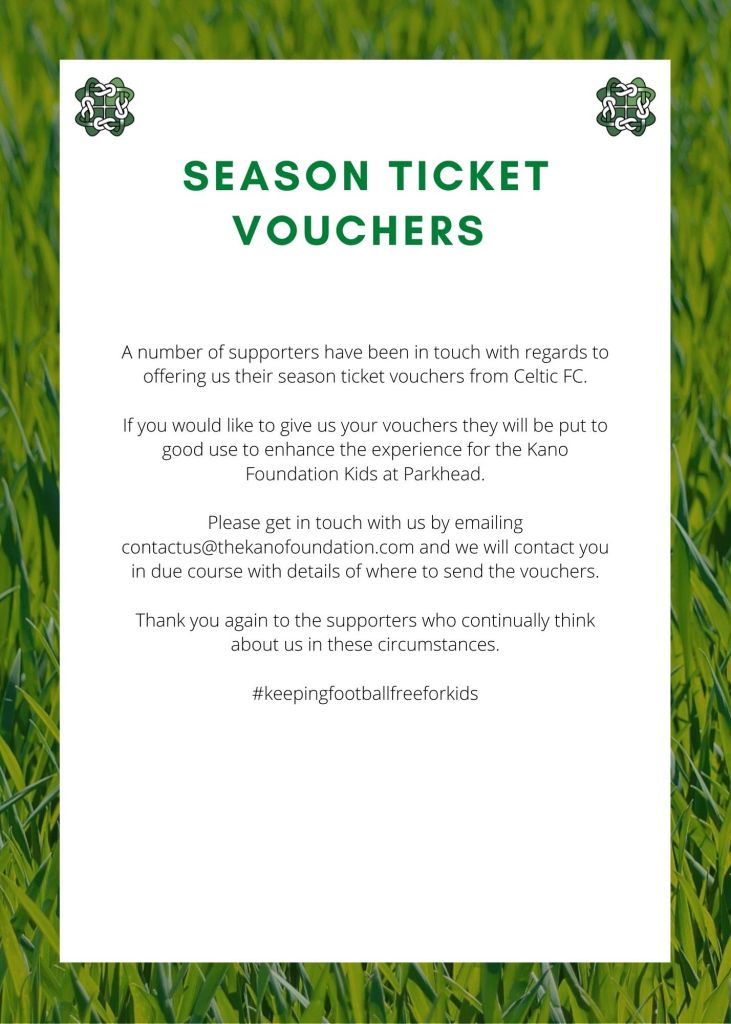 Celtic appointed Ange Postecoglou this morning as the club's new manager and with the support likely to now unite and give the new gaffer our full backing there is likely to be a big uptake on season ticket renewals over the next few days and weeks, and all this with the very real prospect of getting back into the stadium.
Having been at two of the Celtic FC Women matches over the past week or so, seeing 18 Celtic goals incidentally, even in a near empty stadium the experience is better than watching on TV. The thought of being at Celtic Park among 60,000 fellow supporters to cheer on the team is mouth-watering. And for those kids attending such matches courtesy of the outstanding work done by The Kano Foundation, these are days that they'll never forget.
— The Kano Foundation (@KanoFoundation) June 10, 2021