Peter Somers was as good as anyone else in the great Celtic teams of 1907 and 1908, and that is saying something!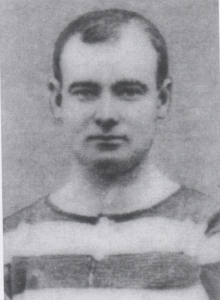 He had joined the club as early as 1897, had a sojourn at Blackburn and then returned to Celtic in 1902. When the great Celtic team emerged in 1904, Somers was there as a hard working, foraging inside left with the ability to beat more burly opponents with ease, and to score goals himself, often through his ability to read a game and know that as Jimmy Quinn often needed two defenders to keep him quiet, there was space for him.
But it was his ability as the "powder monkey" for Quinn that was his greatest contribution to Celtic. He played four times for Scotland.
He was also off the field, like so many of that great side, an entertainer. In Peter's case he was a piano player, something that was needed in the many away days and nights that Celtic spent in hydropathic hotels. He was also a comedian, and well known for his quick one-liners on the park as well.
He lost his place after 1909 and moved to Hamilton Academical, where he eventually became a Director. He died very young in the early days of the Great War at the age of 36 after an operation following the amputation of one of his legs. He was a true, and frequently under-estimated Celtic great.
David Potter