Possibly the most charismatic of the early Celts, Dan was much loved by the Celtic fans in the 1890s. He was a flamboyant character and one of the men about whom stories accrued, whether they were true or not. He joined Celtic in 1891 having already had a career with various clubs in Scotland and England, mainly Everton.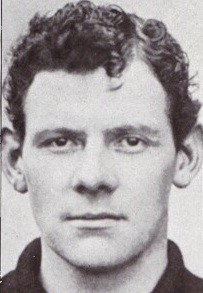 He was a left back, and was playing in Celtic's first ever winning of the Scottish Cup in 1892, and then won the Scottish League with them in 1893, 1894 1896 and 1898. His doughty tackling and good looks soon made him a personality figure and he famously captained the Scotland team which drew with England at Celtic Park in 1894, one of his 8 caps for Scotland.
But there was a down side to him as well. He disappeared from the Scotland squad before the 1895 International at Goodison Park, returned just before kick-off, was (incredibly) allowed to play, but Scotland lost and Doyle was blamed. He was out of sight as well – simply not turning up – when Arthurlie beat Celtic in 1897.
Yet he retained his popularity and was simply referred to as "Dan" or sometimes "Ned", the latter nickname allowing supporters to sing "Erin's Green Valleys"
"…with banners of green, and with our captain Ned
where Erin's green valleys look down on Parkhead"
David Potter