TOM BOYD summed them up perfectly back in March when they kicked off after Celtic had won the match at Celtic Park. We reminded you about this in the build-up to yesterday's game.
"They're an absolute disgrace of a football club," former Celtic captain Tom Boyd said about bad losers the Rangers as they reacted to their 2-1 defeat on their last visit to Celtic Park at the end of March – a result that sent Celtic 13 points clear at the top of the league as effectively wrapped up our eighth successive league title.
More scenes like this tomorrow please.

God Bless Tam Boyd. "They're an absolute disgrace of a football club" pic.twitter.com/u2615gHAIb

— Li'l Ze (@LilZe85) December 28, 2019
Morelos had already been sent off, and how Kent managed to throw a punch at Scott Brown after James Tavernier and Odsonne Edouard teamed up to create a late James Forrest winner, is a complete mystery particularly as the referee was looking straight at the incident.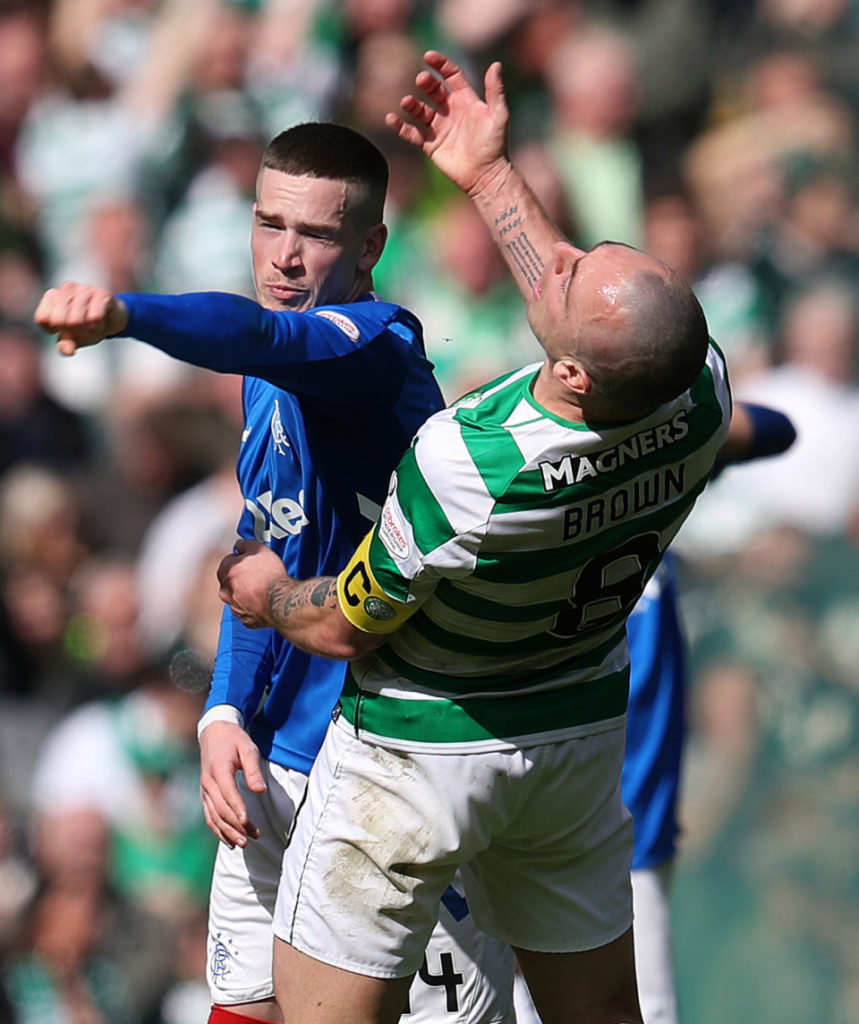 We've established that they are bad losers but yesterday we found out that they are horrible winners too.  And have a look at this tweet from the grand-daughter of the "Italian WW2 leader" – you have to acknowledge that they are just made for each other, Alessandra Mussolini and the Rangers.
But then who won? #OldFirmDerby
— Alessandra Mussolini (@Ale_Mussolini_) December 29, 2019
Yesterday there were various incidents that should be the subject of a major investigation and make headline news. It's all Rangers related, the lot off it.
Booing our dead ✅
Imitating shooting Celtic fans ✅
Throat slitting gesture to Celtic fans ✅

Classless in defeat, classless in victory 👍🏼 pic.twitter.com/sAvt2pjdYe

— Everything Celtic (@aboutceltic) December 29, 2019
* Their fans disgracefully disrespected a minute of applause before the game for the former Celtic captain Duncan Mackay who passed away last week.
* Their record signing made threatening gestures when he left the field after opening the scoring – seemingly threatening to 'blow our brains' out with a gun.
* Their manager sent a reserve goalkeeper from their dugout towards the Jock Sten Stand to tell their goalkeeper to fake an injury so that Gerrard could call over his players and re-organise tactically in view of the changes that Neil Lennon had made to his shape with his substitutions. MacGregor went down, claiming to have cramp, Kevin Clancy bought it and allowed the Rangers players to gather around their dug-out to receive their tactical instructions.
* Then their star striker who still hasn't scored against Celtic got a deserved second yellow for simulation inside the Celtic penalty area in the closing seconds of the game. Rod Stewart, of all people, was quick to call him out as the cheat that he is and Alan Brazil wasn't far behind.
* Then as he eventually left the pitch the classy Colombian made throat slitting gestures to the Celtic support in the main stand.
A horrible, horrible bunch. I've been driving down to Liverpool today. On arrival I discovered that my dislike for them and everything that they stand for has actually intensified and that didn't seem possible when we set off on the road South.
How come? Well, without any evidence at all, and while ignoring all of the above (which is all supported by evidence), the Rangers try to play the race card to justify Morelos' disgraceful behaviour.
Before the game their friends at the Daily Record were talking up the disgraceful stick he could expect, yet the ONLY evidence is of Celtic fans laughing at 'Miss Morelos', hell, we even cheered him onto the park when he came off the bench.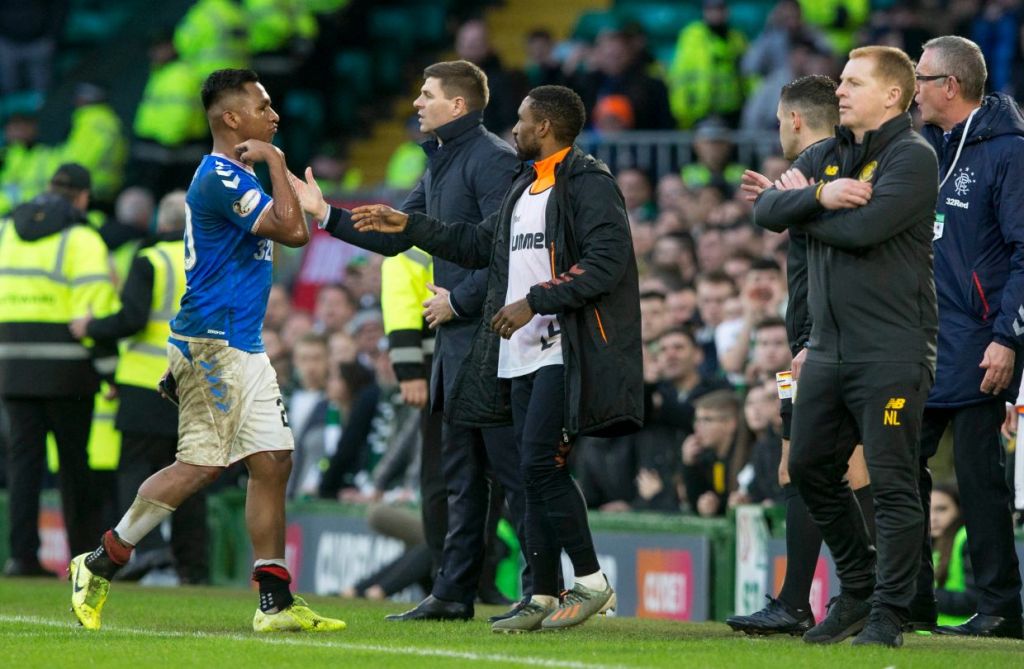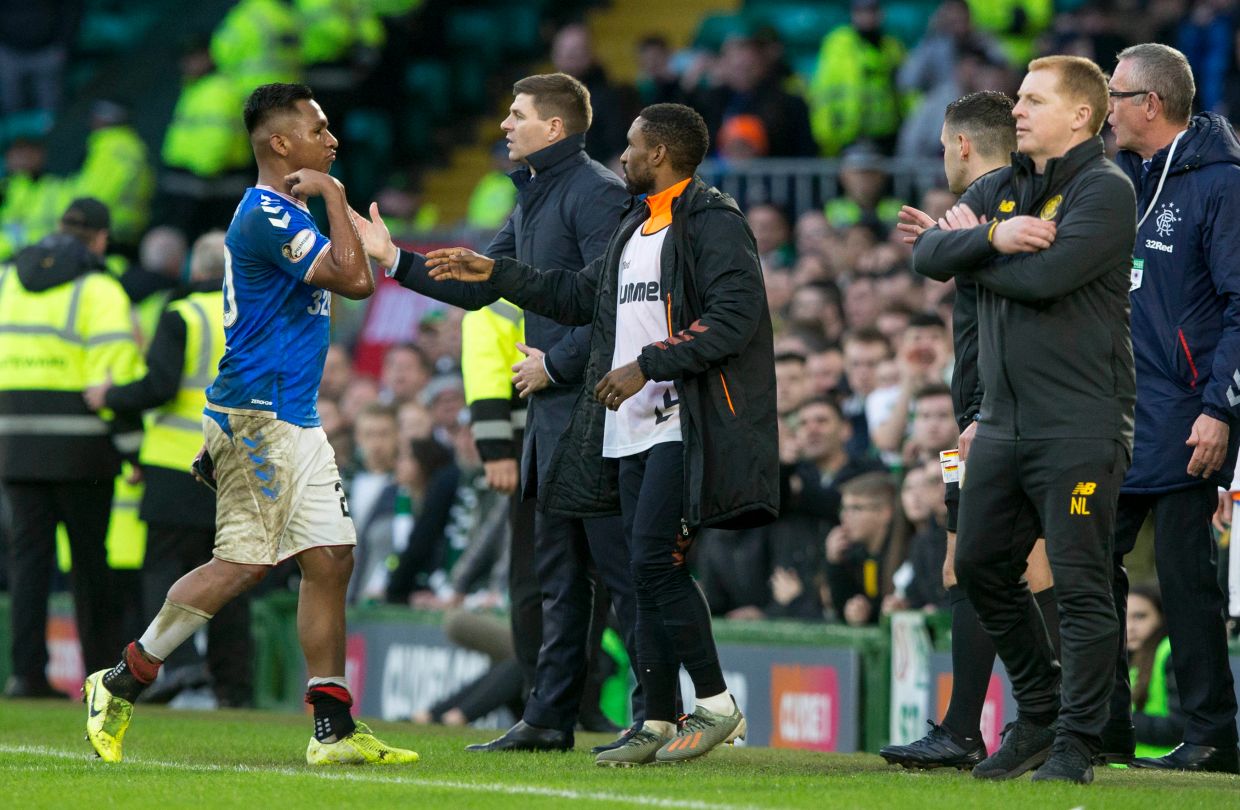 A Rangers* spokesperson has apparently (and disgracefully) told Scottish Sun today that they believe that Morelos was racially abused by Celtic supporters yesterday.
"We believe Alfredo was racially abused and we would expect now that all measures will be taken to identify and deal with those responsible."
Celtic released a statement in response. It reads as follows: "We are aware of the gestures made by the player towards Celtic supporters. We have received no reports of any racial abuse but would fully investigate any should these be brought to our attention."
And the Rangers actually tried to justify their player making throat slitting gestures to supporters. Incredible stuff this. What was it Tom Boyd said of them? "They're an absolute disgrace of a football club," – a word perfect summary.
Here's the Rangers justification for their cut-throat Colombian.
"There can be little doubt Alfredo is singled out for special attention, on and off the field of play. (Victim Card).
"Indeed, some of the things said and written about him leave a lot to be desired and do nothing to suggest Scottish football is the most welcoming of environments.
"Even Alfredo's gesture as he left the pitch is now being portrayed in some quarters as something sinister when, in fact, it is a gesture used commonly throughout South America to indicate quite simply that something – in this case, the match – is finished."
Morelos is set to miss the next THREE Rangers* matches and that is BEFORE the controversial gesture at the end is considered.
Kent for the second time this year faces retrospective punishment for the Gun to Head gesture towards Celtic supporters.
The Rangers must surely also be punished for manufacturing a tactical stop in play, through the use of an unauthorised person running up the touchline to pass on cheating instructions from the bench. This is either allowed or it is not. The Scottish FA's Compliance Officer must clarify.
But most of all Celtic must act robustly here to defend our support. The Rangers have made a claim. Proof must be demanded and if it is not provided that an unreserved apply must be sought. Legal action must follow, and this time is should be CELTIC and not Celtic supporters who take the lead.
Over to you Mr Lawwell, it's time to earn your bonus.