I was delighted to find out that Joe Kennaway's real name was James. I was thus able to put together a Celtic team of "Jimmies" viz. Kennaway, Craig and Weir; Young, McStay and Hay: Johnstone, Delaney, McGrory, McMenemy and Quinn. Some team that!
All right, Delaney and Quinn are out of position, but Delaney was all over the place anyway, and Quinn started on the left wing, but I am nevertheless that that team could beat anyone. Is there a weak link? No. And certainly not the goalkeeper, for he was one of the best! He was however more commonly referred to as "Joe".
James Kennaway was born in Montreal in 1907. Like many Canadians, he was brought up with a tremendous affection for Scotland, his family having hailed from Dundee. He obviously grew up to love football (Scotland was of course the centre of world football – even more so than England in the 1920s!) and soon his talent as a goalkeeper became apparent.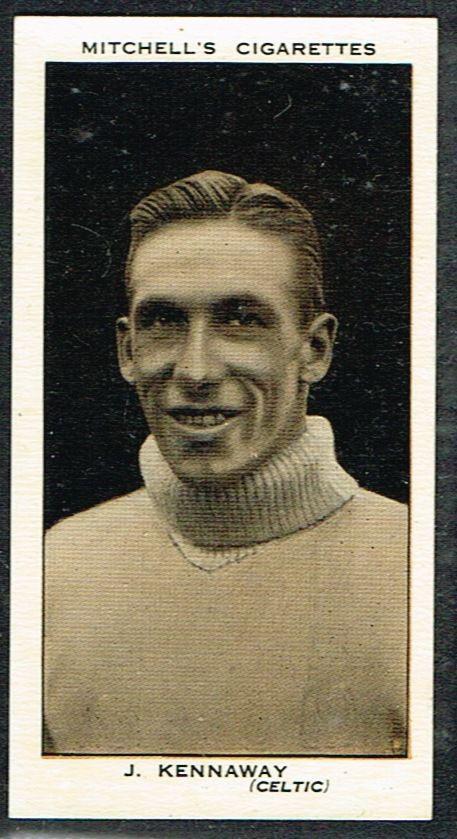 As early as 1926, before his 20th birthday he was awarded an International cap for Canada against the USA, then moved to a team in the USA called Providence. This club moved to Fall River and it was for Fall River that he was playing when he met Celtic on their tour on May 31 1931. It was an important day in everyone's life. Not only did Fall River beat Celtic 1-0, but Joe Kennaway managed to keep a clean sheet against R.Thomson, A Thomson, McGrory, Scarff and Napier – and that was quite an achievement.
After the game, Kennaway talked to his opposite number, John Thomson (as goalkeepers do) and also the ever genial Willie Maley. He may even at this time expressed a desire to play in Scotland and asked Maley if Dundee or Hearts or Motherwell or anyone were looking for a goalkeeper. Maley probably said he would have a look around when the Scottish season started again, and let him know. The tour continued and Celtic in due course returned home.
But then, of course, as we all know, tragedy struck John Thomson on 5 September 1931. Celtic had no ready made replacement of sufficient calibre – Falconer and Coen were tried – and then someone, possibly a player, a Director or even the grief-stricken Maley himself recalled the Canadian who played for Fall River.
He was certainly good enough and had shown some desire to play in Scotland. A telegram was sent. Joe and his new wife Loretta agreed, and on Hallowe'en 1931 at Fir Park, Motherwell, less than 24 hours after docking in Glasgow on the SS Duchess of Richmond, Joe Kennaway made his Celtic debut. It was a 2-2 draw, but Kennaway played well enough to keep his place in the Celtic goal until the outbreak of World War II, a total of 295 Scottish League and Cup games in addition to games in the Glasgow Cup and Glasgow Charity Cup.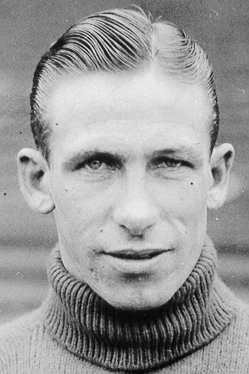 He made a good first impression in season 1931/32 but Celtic struggled unable to cope with the ongoing problems of grief for John Thomson and the fact that Motherwell and Rangers were both having good seasons. He formed a good relationship with his other defenders, even though they mocked his Canadian accent, and the supporters took to him for his agility, his shot-saving (particularly penalty kicks!) and the general air of calmness and authority that he exuded.
Celtic had a tradition of good, inspirational and personality goalkeepers – Dan McArthur, Davie Adams, Charlie Shaw and the late, lamented boy from Fife, John Thomson – and the Canadian (sometimes called with an awful lack of accuracy "the Yankee") Joe Kennaway seemed to fit in to this category. Goalkeeping was not going to be a problem.
All this did not disguise the fact that Celtic were struggling. The 1-0 win in the Scottish Cup final of 1933 owed an awful lot to a great display from Kennaway (as well as a notoriously soft goal from Jimmy McGrory at the other end). Kennaway even earned International recognition with a "cap" for Scotland against Austria on November 29 1933 at Hampden. It was a 2-2 draw, and probably he would have earned more Scottish "caps" had not England, Ireland and Wales not objected on the grounds that he was "not Scottish". And, undeniably, he had already played for Canada!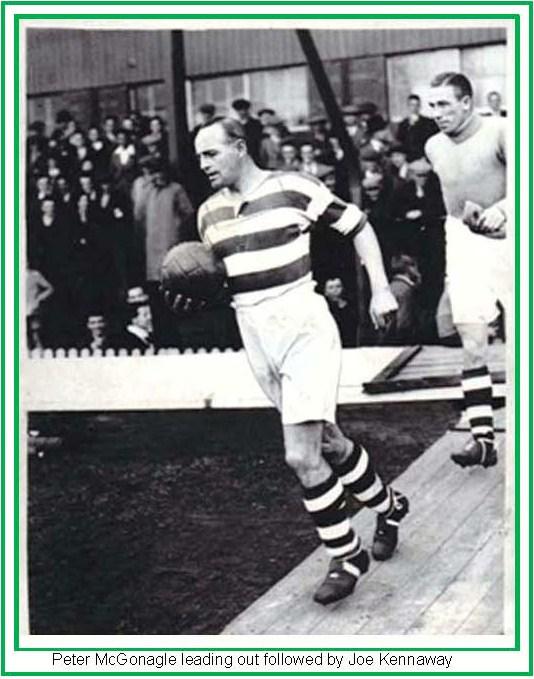 For Celtic, however, 1934 and 1935 were barren seasons. But 1936 changed all that. Men like Willie Lyon, George Paterson and Jimmy Delaney were now in place, and the great Jimmy Napoleon McMenemy was back as trainer/coach and in all but name, he ran the team, modestly and unobtrusively, under the official aegis of the now ageing and increasingly difficult Willie Maley. In Kennaway, both McMenemy and Maley recognised a great goalkeeper, and his position was never really challenged
Kennaway was thus part of the Scottish League winning teams of 1936 and 1938, the Scottish Cup winning of 1937 and of course the Empire Exhibition Trophy winning team of 1938. Johnnie Crum scored the goal that won the day, but Kennaway time and time again saved it, keeping Joe Mercer and Tommy Lawton at bay.
It was a great day for the Canadian to be able to tell everyone back home that he was one of the champions of Great Britain. It was indeed an honour to be part of Kennaway, Hogg and Morrison; Geatons, Lyon and Paterson; Delaney, MacDonald, Crum, Divers and Murphy.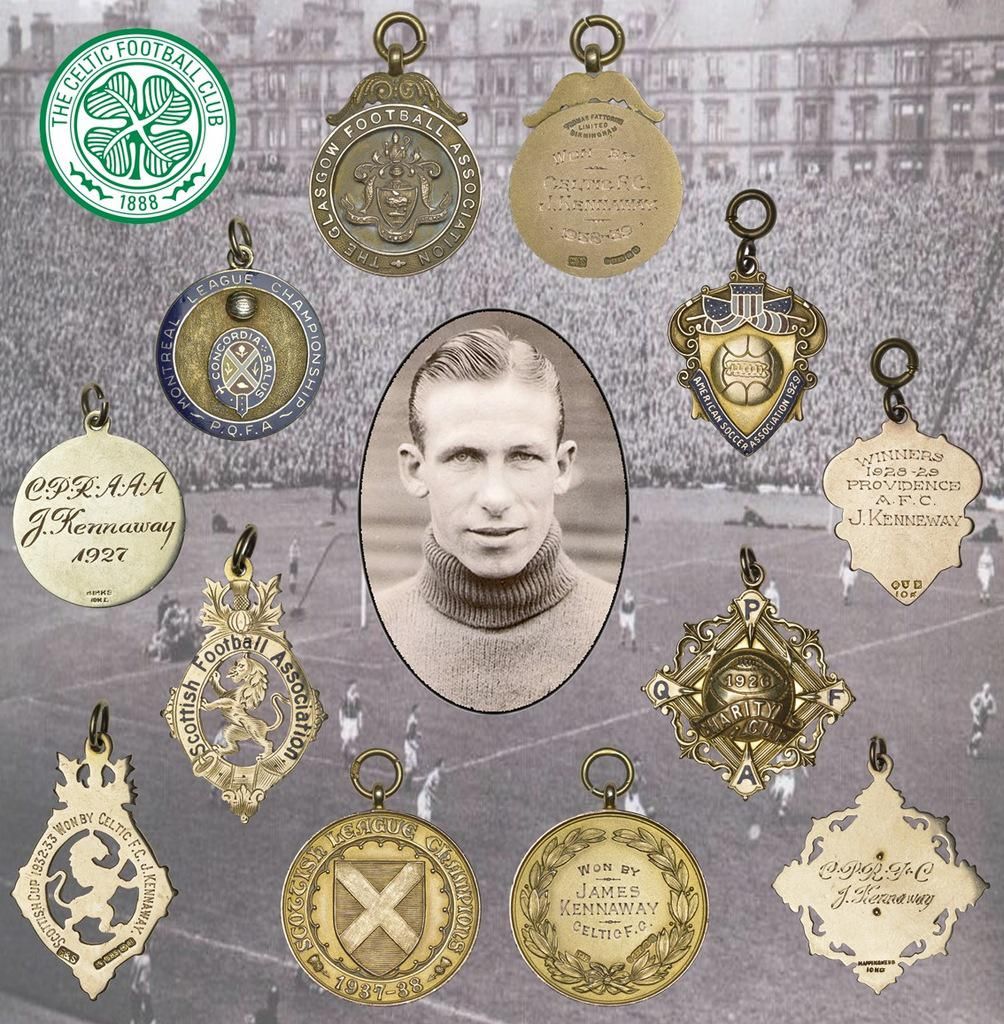 In the early months of the Second World War, Kennaway decided (correctly) that it was time to return home. It had been a great career with Celtic. Little is known about his subsequent life other than that he did some coaching in Unversity football from 1946 until 1959. He died at the young age of 62 in 1969. His wife Loretta survived him by about 20 years.
David Potter