So, Cowlairs FC had ensured a strong link to Springburn in the early part of Celtic's history. They took part in the first game at Celtic Park, inflicted our first competitive defeat in our first Cup Final, then provided the opposition in the Final when we won our first trophy.
The Springburn club's own history is short and volatile. Formed in 1876, as the area became a focal point for the railway sector of the industrial revolution, Cowlairs played its early home games at Gourlay Park. Whilst the exact location of the ground is unknown, chances are that it may have been on the site of the latter-day Cowlairs Park, a recreational facility at the end of Gourlay Street, in Springburn. It was from that park that a 9-year-old Matt Corr, ran home on 6 May 1970, to catch the start of what would be Celtic's second European Cup win, or not.
The initial club colours were light blue shirts with white shorts, quickly changed to a Sevilla-style kit of white top and shorts with black socks, which they kept until 1880. The next six years saw Cowlairs in royal blue shirts, white shorts and red socks, followed by a single season wearing an interesting brown-and-blue half-and-half jersey.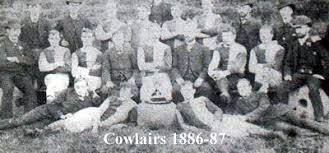 Season 1888/89 would have caused a colour clash for their initial meetings with Celtic, both sides resplendent in white shorts with dark shorts, navy and black respectively. In 1892, Cowlairs adopted a red shirt and white short combo, with the only change being navy shorts, before their eventual demise.
Cowlairs participated in the Scottish Cup for the first time in September 1880, defeating local rivals, Petershill (not to be confused with the junior club of the same name) and Crosshill side, Oxford, by the same 4-3 scoreline, then beating Alexandra Athletic 2-1, before losing 1-0 to St Mirren in Paisley in the Fourth Round.
They did get to Hampden the following season, although, sadly, they were on the receiving end of a 9-0 hammering from Queens Park, in a Second Round replay. Cowlairs reached the Fifth Round in 1888, losing 5-1 at Arbroath, before meeting eventual runners-up, Celtic in the '8-0' Second Round tie, in the 1889 competition.
They also took part in the 1886/87 English FA Cup, beating Darwen Old Wanderers 4-1 and Rossendale 10-2, before losing 3-2 to Rangers at the Clydesdale cricket ground in Kinning Park. This would be the last season FA Cup entry was permitted for Scottish clubs by the SFA.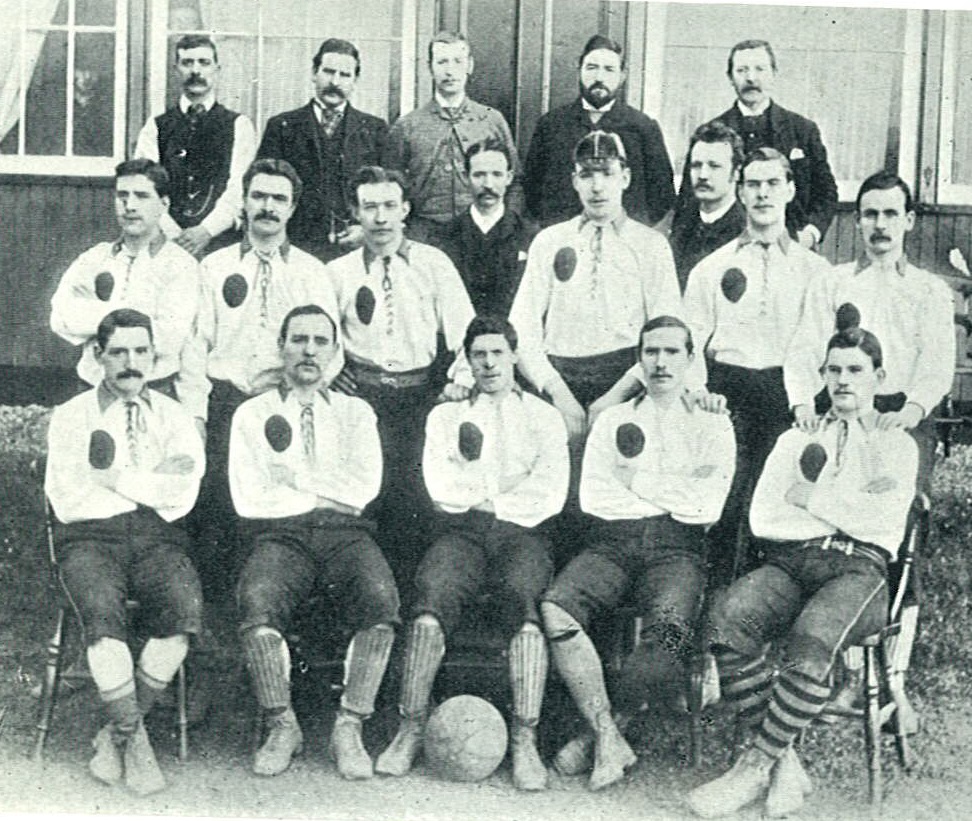 The club boasted two international players around this period. Tom McInnes scored in his only appearance, the final goal in Scotland's 7-0 trouncing of Ireland at First Ibrox in March 1889, Celtic's Willie Groves having earlier notched a hat-trick. Fellow striker, John McPherson, won two of his nine caps whilst at Cowlairs, hitting the fourth in Scotland's 4-1 win in Belfast then the equaliser in the 1-1 draw against England in April 1890, mentioned in Part 1. He then joined Rangers for the inaugural League season, staying for twelve years and notching just short of a century of goals, before becoming a director at Ibrox until his death in 1926.
Minus McInnes and McPherson, Cowlairs were one of the founding members of the Scottish League in 1890. They switched base at that time to new premises, Springvale Park, located near Cowlairs station and the Railway Works at the bottom of Cowlairs Rd, just a few hundred yards from both my future home and the Northern Area Celtic Supporters' Social Club, some seventy or so years later. Pity about the timing. That would have been a good 'away' trip!
The Springburn club would find that first League season of 1890/91 difficult, finishing bottom of the table with only three wins, all achieved against fellow-strugglers, Abercorn, St Mirren and Vale of Leven. Cowlairs were one of four Glasgow clubs in the inaugural League (five if you include Cambuslang), the others being Celtic, Rangers and Third Lanark (at that time known as 3rd Lanarkshire Rifle Volunteers!).
Dumbarton, Hearts and Renton completed the line-up, original invitees, St Bernard's, subsequently excluded. Whilst Cowlairs did manage a draw at First Ibrox, both games against Celtic were lost, 0-2 away and 0-5 at home, on the day the League attendance record for Springvale Park was set, 2,500 on 29th April 1891*.
*The Celtic Wiki refers to two home League games against Cowlairs this season, 5-1 on 3 January and 2-0 on 14 March. Press reports also indicate these as League fixtures. However, the SPFL website records the 2-0 fixture in the home column for Celtic. The January game may have (later) been designated a friendly or been subject to protest, which was pretty common.
To add insult to injury, Cowlairs were docked four points for fielding ineligible players, as were both Celtic and Third Lanark. The previously all-conquering Renton, fared much worse. They were first suspended then excluded from the League after four games for 'professionalism', their initial results, including a 4-1 victory at Celtic Park on the opening day, annulled. Renton later successfully appealed and were allowed to re-join the League the following season, however, it would be the beginning of the end for the former 'world champions'.
Dumbarton and Rangers finished on the same points total (29), eight ahead of Celtic in third place. A deciding match finished 2-2 so, with no mechanism in place to separate teams, such as goal difference or average (Dumbarton would have won on both counts), the first Scottish League title was shared between the two clubs.
The bottom three sides, Cowlairs, Vale of Leven and St Mirren, had to apply for re-election to the League but whilst the latter two were successful, the Springburn club were not. Despite a League extension to include an additional two sides, Renton were reinstated and Cowlairs were replaced by Clyde and Leith Athletic.
Denied league football in the interim, Cowlairs' clashes with Celtic would be restricted to cup-ties and friendlies. After our first cup win in May '89, we had met in a friendly that November, a Coleman double giving Celts victory on home soil.
We were then drawn together again in the Second Round of that same Glasgow North-Eastern Cup the following January, a late Groves goal at Celtic Park forcing a replay. One week later, a much stronger Celtic side visited Gourlay Park, returning from Springburn with a 5-0 victory, en route to retaining the trophy.
Celtic's first trophy was also the competition which gave Cowlairs most success, indeed they won it five times, more than anyone else. First victory was in 1883, when they defeated Clyde 3-0 at Kinning Park, and the following season, Cowlairs defended the title, beating local rivals, Northern, 3-2 in the Final. They would lose 2-1 to the same club in the Semi-final of 1885.
They regained the trophy in 1886, beating Clyde 3-2 at Beechwood Park, Dalmarnock, then made it 'three-in-a row' with triumphs over Tollcross then Northern, at Barrowfield in 1888, thus completing a decent Glasgow North-Eastern Cup and Glasgow Exhibition Cup double.
Their run of five wins in six seasons finally came to an end with defeat by Celtic in the 1889 final. Celts then retained the trophy in their second and final appearance, the following season, beating Northern at Barrowfield, thus achieving a perfect record in the competition. The last five versions of the tournament were dominated by Clyde, with four victories, Northern breaking their winning sequence in 1892. The competition was disbanded in 1895.
After the three fixtures in the inaugural League season, the clubs would play twice in 91/92, as penalty kicks were introduced. There was a 6-3 away win for Celtic in a friendly, on 10 August 1891, followed by a second Scottish Cup tie in three years, this time in the Quarter-final, on 23 January 1892. This would be the final meeting of the sides at the original Celtic Park, Alec Brady (2), Johnny Madden and Sandy McMahon scoring for Celtic in a 4-1 win, as they progressed to beat Rangers then Queens Park, to secure a first Scottish Cup triumph.
In June 1892, Cowlairs applied for re-election to the Scottish League, one of seven sides to do so. Once again, though, St Mirren got the nod, with Cambuslang and Vale of Leven losing their League places. Instead, Cowlairs joined the Scottish Football Alliance, set up the previous season to rival the main League competition.
The inaugural Alliance had featured a number of future League sides, such as Airdrieonians, East Stirlingshire, Morton, Kilmarnock and Partick Thistle. In what would turn out to be their only participation in the Alliance, 1892/93, Cowlairs excelled, finishing that season as champions, as indeed, for the first time, did Celtic.
The following season saw a couple of landmark events for the Springburn club. Cowlairs were invited to join the newly-formed Scottish League Division Two, again rising to the occasion by finishing a highly-respectable second, two points behind winners Hibernian. Bizarrely, the top three clubs then faced a ballot for election to the elite division, Cowlairs yet again losing out, as did Hibernian. Third-placed Clyde were chosen to replace relegated Renton for 1894/95.
Cowlairs also appeared in their one and only Glasgow Cup Final, on 9 December, 1893, losing 1-0 to Rangers at First Cathkin Park. There was a cruel twist for the Springburn side, as their former international star, John McPherson, scored the only goal of the game with just twenty minutes remaining, to win the trophy. He had previous. Two weeks earlier, the same player had scored twice in an 8-0 Scottish Cup First Round win over his old side at First Ibrox.
There would be no matches played between Cowlairs and Celtic from the friendly of 23rd January 1892 until the Glasgow Cup Semi-final on 27 October 1894. The latter fixture attracted a record attendance of 6,000 to Springfield Park, to watch last season's beaten finalists take on the Scottish champions. Goals in either half from Jimmy Blessington and Sandy McMahon eased Celts into the final, where they would beat Rangers 2-0 at First Cathkin Park, thereby avenging their Semi-final defeat at First Ibrox the previous year. Unbeknown at that time, the October '94 clash would be the last-ever meeting of Cowlairs and Celtic.
That 1894/95 season marked a downturn in the fortunes of Cowlairs. From narrowly missing out on the championship and promotion, they slumped to finish bottom of Division Two, a measly seven points on the board. Beset by financial difficulties throughout the season, there are mixed reports as to whether they failed to be re-elected to the League or simply resigned.
In any case, the club moved back to Gourlay Park, Springfield Park closing in April 1895, the site then forming part of the railway extension between Queen Street and Springburn stations. In early 1896, with a 20-year history, Cowlairs FC closed its doors for the final time.
Hail, hail!
Matt Corr
Follow Matt on twitter @Boola_vogue
Credit to the Scottish Football Archive, Hibernian Historical Trust and the Celtic Wiki on Kerrydale Street for invaluable reference information.