IN the League Cup of 1969-70 Section 1 was to create one of the most controversial and distasteful situations imaginable. The mini-league comprised of Airdrieonians, Celtic, Raith Rovers and Rangers.
In the second series of matches Celtic had lost 1-2 at Ibrox and so on 20 August 1969 it was vital to win the return tie at Celtic Park.
One of my friends at the time Gerry Traynor a huge Celtic supporter had a policy of not attending Old F*rm games. Against his better judgement I badgered him to come. We were the dominant team then and despite the loss away I was very confident of success.
Eventually he relented. For home matches there were four or five of us who met at the Pie Stall, then situated in the "Celtic End" at its meeting point with "The Jungle", before taking our places about half way up the terracing just before we reached the half way line. A great vantage point in the maelstrom of passion and noise! Gerry was with us and braced himself for the fray.
It was a towsey affair; goal-less at halftime. Early in the second half after the ball had gone Willie Johnston clashed with John Hughes behind the referee's back but the stand side linesman (assistant in today's terminology) had seen the incident and raised his flag. At least, Johnston should have been cautioned but after a long talk with his linesman the referee approached Hughes alone.
Clearly Johnston would suffer no sanction. The tension was palpable and the Rangers fans were ecstatic because Hughes had been cautioned in the first half and so the automatic assumption had to be that he would be sent off. After lecturing Hughes for what seemed an eternity the referee Jim Callaghan allowed Big Yogi to remain on the field and restarted play.
Consternation at the Rangers end: huge relief and joy at the Celtic end. Mid-way through the second period following a corner where the Rangers goalkeeper lost control of the ball Tommy Gemmell reacted first and headed what turned out to be the winner into the Rangers net.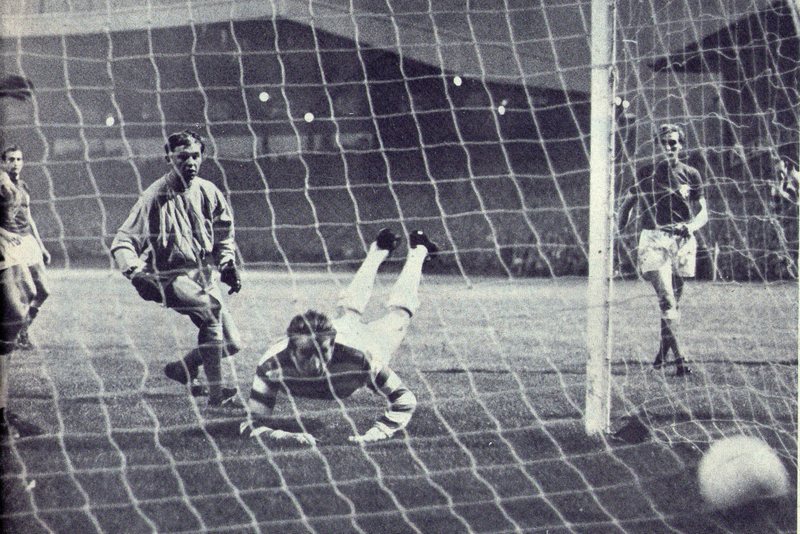 For several days afterwards Gerry was still complaining that I had deafened him with the roar of delight that I had released at the goal. (Nearly fifty years on Jean my wife still has to nudge me from time to time because I am speaking too loudly!) The celebrations at the final whistle were long, loud and joyous. It was virtually certain that we would win the section which we duly did. In fact we went on to retain the trophy.
The fall out was horrendous. The newspapers went mad. Rangers were always bad losers. On this occasion their feelings of resentment were understandable but no excuse for their reaction which was unprecedented.
There used to be an unwritten rule which said that the referee is right even when he is wrong. In other words the referee's decision had to be accepted otherwise we would have anarchy. Every team in the world can relate an incident when they were hard done by and/or felt cheated by a match official's decision but at the end of the game the result was known and that was that.
Everyone had to accept the situation. Sadly on this occasion not Rangers. There seemed to be a general view that Jim Callaghan was a Catholic. I suppose that I subscribed to it but I had always believed that he was fair. I am certain that the "Catholic angle" played a part in the post match reaction and then in what followed.
In those days after each match the clubs sent an assessment of the referee to the competition organisers. A similar system will exist now. I feel sure that from time to time a quiet word must have been exchanged between club officials and competition authorities in these situations. In any event reports were collated and at the end of the season and based on these the referees were retained on the list or informed that their services were no longer required.
The decent thing would have been to deal with the matter as appropriate at the season's end when all the evidence was available. Sadly Rangers wrote a formal letter of complaint and let it be known that they had done so. This fanned the flames.
The newspapers were having a field day.
At the time James Callaghan was Scotland's best referee but his treatment by Rangers and totally unjustified two month suspension by the SFA were humiliating. (Humiliating simply for how he was treated but equally so bearing in mind how at least one similar incident albeit 20 or so years previously had been handled by the SFA. The notorious "Tully/Cox situation" at Ibrox.) To his great credit he returned and continued to officiate at the top level for several years.
The League campaign started with a few stutters. Opening against St.Johnstone at home on 30 August we drew 2-2.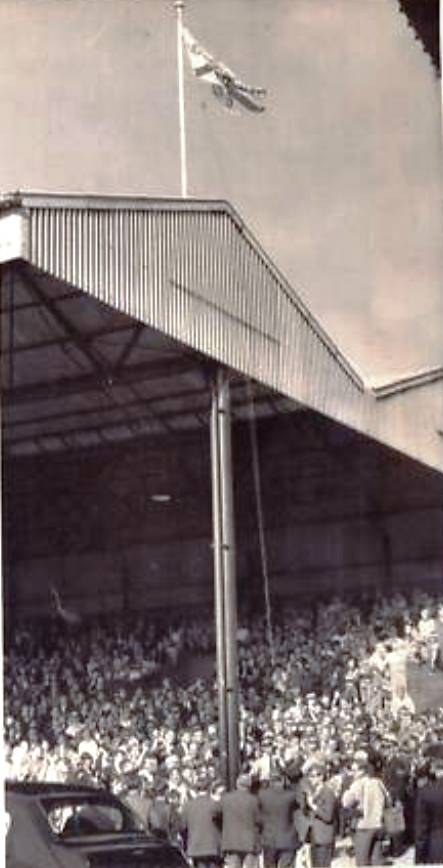 Now it is 1 September 1969 and life is about to change irrevocably!! I am on a train to Manchester to start a new job. You will realise that I still live in this great city. I am a very lucky man. I am married to a wonderful local girl. I have a lovely daughter (who is not really interested in football), three sons who are Celtic mad and five grandchildren (one of whom will be Celtic mad soon once he is old enough to understand and my son has worked his magic).
Now I am supporting from afar.
The first match of my exile is a 4-2 win at Kilmarnock followed by a 1-2 loss at Dunfermline which saw us in 9th place. A goalless draw at Aberdeen in the League Cup quarter final was followed by a 1-2 defeat at home to Hibs (League), and a 0-0 draw in Basel in the European Cup.
We needed to do a little better. Where and when best to achieve that than at Ibrox on my first visit home? A goal early in the second half from Harry Hood was enough to secure the points. "Our own" Jim Craig was sent off that day after a tussle with that man with the bad reputation Willie Johnson.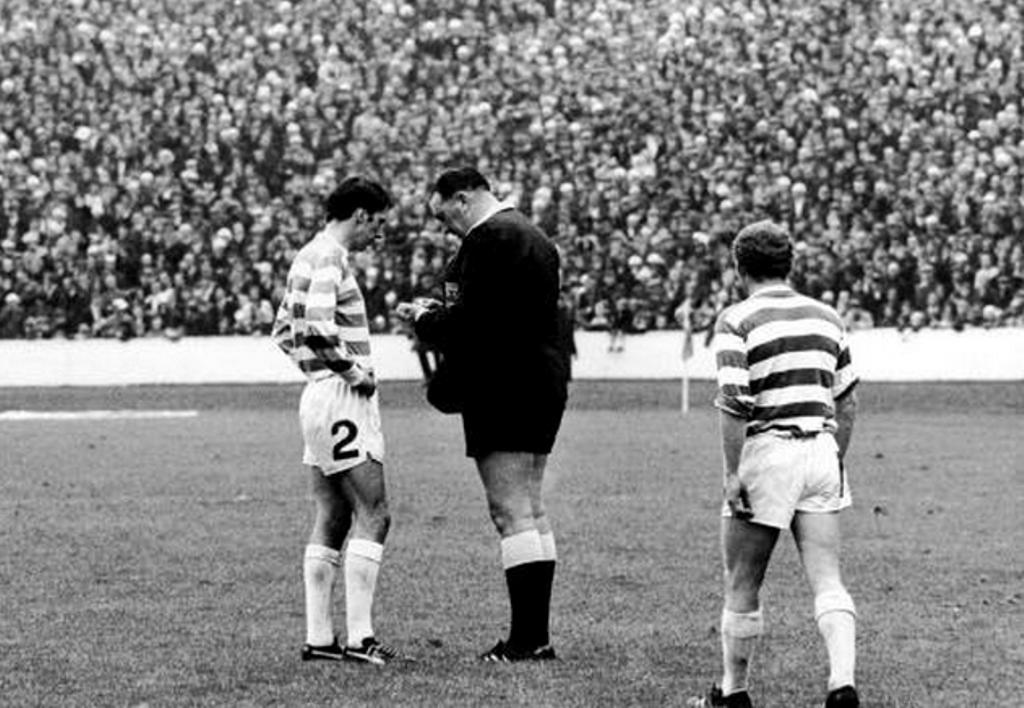 One of my friends was big buddies with Jim and through that guy I heard that Johnson had made a very nasty remark which had caused the problem. The Evening Times match report (two days later on 22 September) makes it very clear that something untoward must have happened for "Craig is by no means a dirty player, so it must have been the atmosphere that made him commit a foul completely out of character."
On the Wednesday goals from Bobby Lennox and Willie Wallace against a single counter from Aberdeen saw us into the League Cup semi. This was followed by another home 2-1 League victory against Clyde achieved with a Bobby Lennox double. We had dropped as low as 11th but were now 7th in the table.
October opened with a 2-0 win over Basel in the second leg and among other matches produced three League wins, Raith Rovers (H 7-1), Airdieonians (A 2-0) and Aberdeen (A 3-2) as I struggled to keep up due to the total lack of information available in the press other than the results and tables (now 4th).
It took a replay to oust Ayr United 2-1 after a 3-3 draw in the League Cup but that allowed me to plan my next trip home for another visit to Hampden and a 1-0 success courtesy of a Bertie Auld goal against St. Johnstone to lift that trophy again. There was a serious incident in the match when a pass to Stevie Chalmers was short and in trying to retrieve the ball he was involved in a horror tackle which was no fault of his opponent and Stevie ended up with a broken leg. Desperate!
A midweek league match closed October with four more in November yielding four wins and one defeat puting us in second place. In the European Cup we had produced a stunning performance winning 3-0 at home to Benfica in a match where I had travelled up in the afternoon to watch us trounce them and after sleeping at my parents was on an early train back to Manchester on the Thursday morning.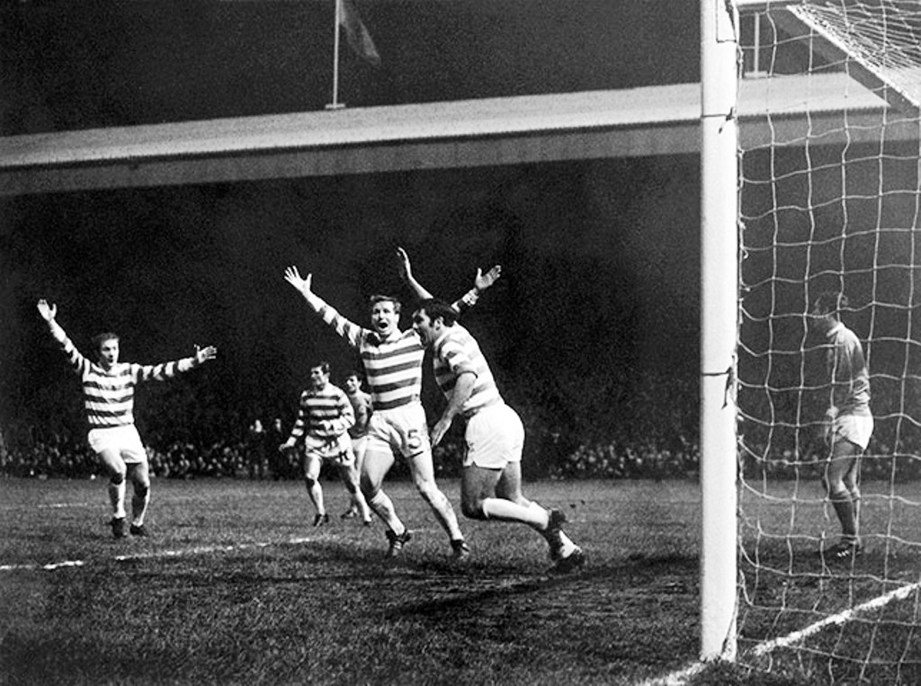 Two weeks later in Lisbon the unthinkable happened and we lost 0-3.
I went to bed with no idea of what had gone on and it was only later in the morning that I found out the score and that we had gone through on the toss of a coin. An unsatisfactory situation even if the outcome was in Celtic's favour.
December was excellent with two thumping wins and three "normal score" victories in our five matches. We went top of the league on the 20th and were still there at the end of January. That month produced three League successes, one against Dunfermline, and a 0-0 draw against Rangers. We also beat Dunfermline in the Scottish Cup.
I was home for Christmas and New Year and saw the matches against Partick Thistle (8-1), Clyde (A 2-0) and Rangers (H) but had to drag myself out of bed suffering from tonsillitis for that last one. I ended up with a sick note and a week off before I could go back to Manchester.
February was another very good month with three league wins and two Scottish Cup victories Dundee Utd 4-0 and Rangers 3-1. I have an interesting memory from this Rangers match. In those days I travelled by train. The carriages were the old style compartments with sit up and beg benches seating 6 or 8 passengers on each side one row facing the direction of travel and the other facing to the rear. There was a corridor on the outside of the compartment allowing access to toilets and the other compartments and buffet car as well as the exit doors.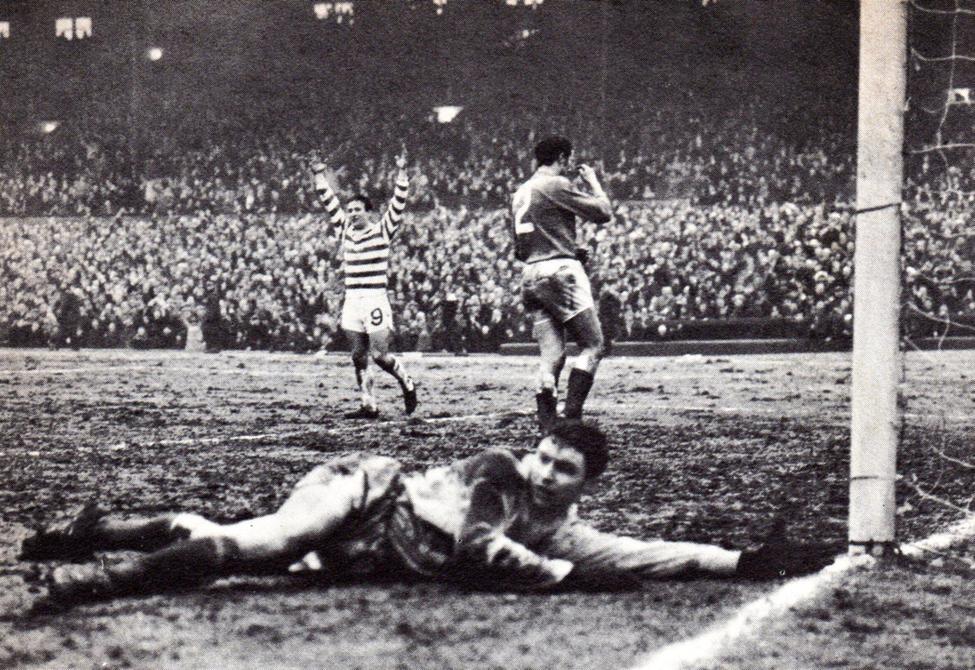 Most passengers sat self-consciously embarrassed looking out of the window, reading a book, magazine or newspaper or just doing nothing or any combination. Normally there was very little talking even between those travelling together but that day was an exception.
I can't recall how the conversation started. It may have been about football but if not it turned to it very quickly which was probably not surprising with an Old F*rm cup tie the next day.
There were two very prosperous looking young men in kilts and associated garb who although interested did not have too much to say. Ultimately it came down to a serious discussion between a guy who claimed to work in production for STV and me. It was all very friendly but tactical with me obviously adamant that we would win and he equally determined that Rangers would prevail.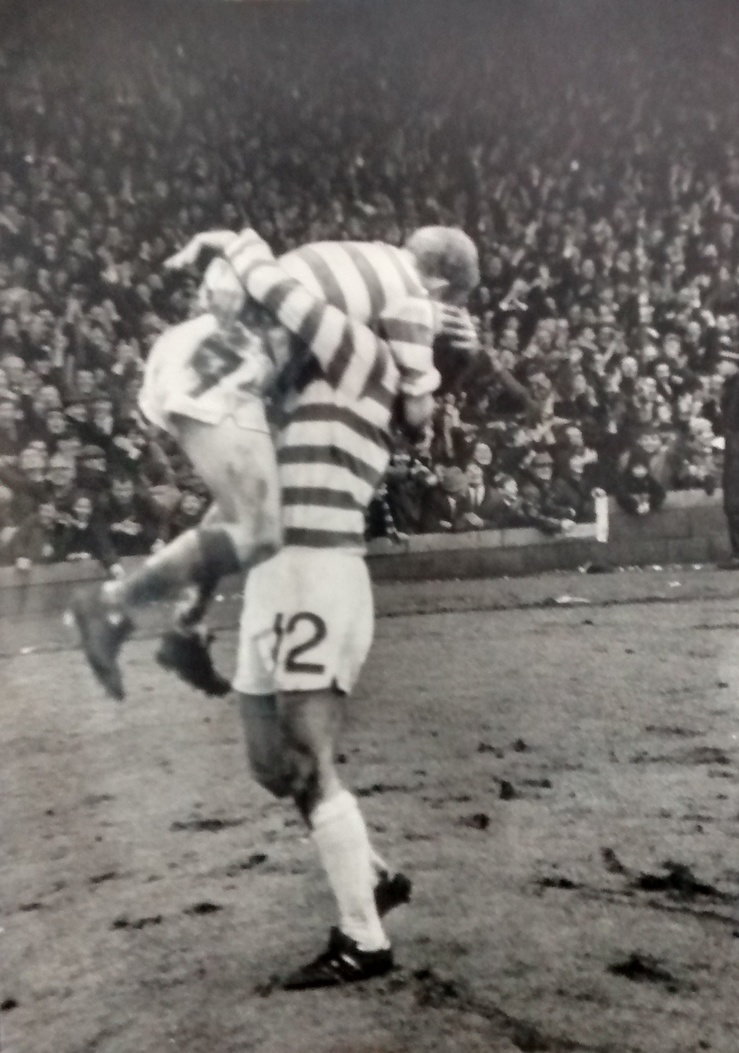 I made no secret of my allegiance; he didn't disclose his if he had one. His arguments were based on his understanding of tactics as interpreted by television programme producers for the deployment of camera positions and angles. Mine were driven by our having better players, better real tactics and the better manager. Eventually he and I agreed to differ but he was extremely narked that I would not bend to his "television view" and closed the discussion by saying that he had been determined not to talk about football on the journey and wished that he had not become involved. Strange, to say the least!
As we left the train at Glasgow Central my two Kilties just smiled and nodded at me. The score hardly did us justice as we won comfortably. About ten o'clock on the Sunday evening I was walking through Central station to board the overnight train home when a few yards away I saw my Kilties again. When they saw the huge grin on my face they just smiled and nodded again. Not a word passed between us. There was no need!
March was busy, busy, busy!  A 3-0 win at home to Fiorentina and a 0-1 defeat in Florence two weeks later saw us into the European Cup semi-final. Four league wins; a defeat at home to Aberdeen* and a draw at Tynecastle meant we were top of the league with a seven point lead over Rangers.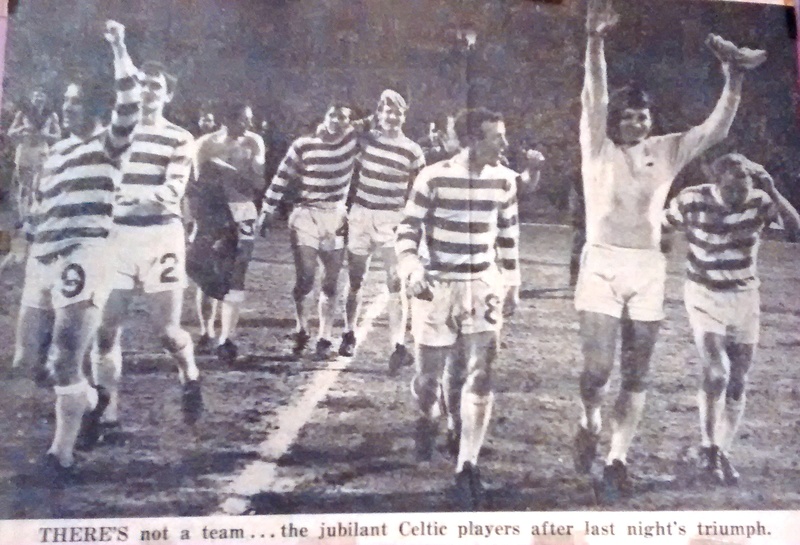 I was home the weekend of the Hearts fixture and had gone to Edinburgh looking for the win that would seal the title. I came back to Glasgow on the first available train and went to my parents' house in Barlanark disappointed not to have secured the victory only to find that Rangers had drawn at home to Airdieonians and we were champions after all. I must admit to a feeling of anticlimax. Such is football!
(* The obtaining of the result of this midweek game illustrates my frustrations in the days before social media. I was always desperate to now how the Bhoys had faired and as I knew that this would be a tough match I was even keener. My flatmate and I worked in the same office. On the way to work on the Thursday morning not able to wait any longer I went into a newsagent and bought a morning paper. I turned straight to the sports pages and discovered the bad news. My flatmate who was also from Glasgow may or may not have been a Rangers fan but he was certainly no Celtic supporter. I felt down most of that day.)
No time to rest however! We had been drawn against Leeds United in the European Cup. How to obtain tickets? Hampden (the match was being moved to accommodate what was expected to be a massive crowd) should be no problem.
The first leg at Elland Road might be more difficult. Tickets went on sale for both legs on the same day, Palm Sunday. In my naivety I was on an early train to Leeds expecting to just walk up and purchase what I wanted. Unbeknown to me several English clubs including Leeds had a voucher type system whereby the fans queued and displayed their vouchers or programmes from previous matches to demonstrate their entitlement. Leeds had a variation of that.
Having discovered the situation I was standing about 200 yards from the stadium wondering what to do when I was approached by three or four Leeds fans asking if I wanted tickets and explaining their individual entitlements. It transpired that they were able to buy several tickets each and were willing to let me have their four spares at face value if I would trust them with my money. I jumped at the chance and handed over the cash. With assurances that they would not let me down we shook hands and they went off turning round two or three times to give me the thumbs up as they approached the end of the queue. As they snaked their way to the turnstiles they continued those assurances two or three times more and repeated them most strongly as they disappeared into the stadium. A few minutes later they emerged, again giving me the thumbs up, and walked straight back and handed over the goods.
I thanked them very warmly and we all shook hands again. A fantastic experience! I will never see those lads again but I will never forget their kindness and honesty.
I went off to find a bus into Leeds city centre. When I alighted wondering which way I should walk to the train station I realised that I could not be far from the Cathedral and since it was about noon I could go to Mass and then return to Manchester having attended to my religious duty as well.
At the time my parents did not have a telephone at home and so I had to wait until Monday morning when I was back in the office to telephone my dad in his office to ask if he had tickets for the second leg and tell him of my good luck. I am not sure that be believed me immediately but knowing that this was something too important to joke about I did not have too much trouble convincing him.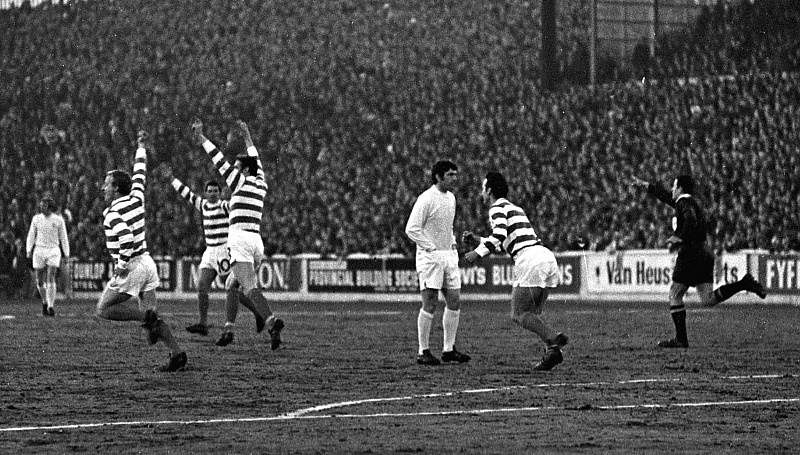 The matches were truly amazing. My dad had travelled down with a car load and we met at the ground. The atmosphere was superb and when George Connolly scored in the first minute we all went crazy.
We gave them plenty to think about and fully deserved to win.
Hampden was utterly amazing for the second leg. A cauldron of noise! We started well and were dominating when Billy Bremner had the ball in midfield. He pushed it forward and from about thirty yards struck a wonder goal which ripped into the net off the junction of bar and post. Hampden was stunned!!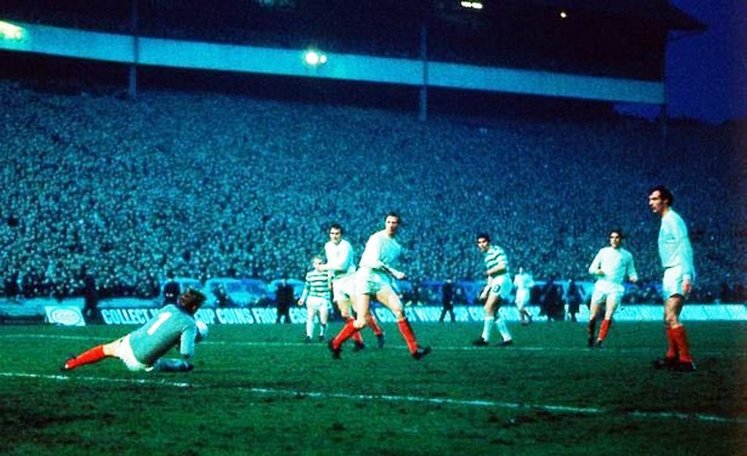 We went for them and twice they cleared certain goals at the last gasp. The second was when Paul Madeley appeared from nowhere to hook the ball away. My pall Michael O'Hara recalled sometime later that as he turned to hug me in anticipation and celebration he saw the look of total horror on my face and looked back to the field of play to see that the ball was now nowhere near the goal.
Half time and still one down on the night but in charge! Early in the second half John Hughes was on hand to head in the equaliser and moments later was in the thick of things again as he challenged Sprake, Leeds' keeper, who had to go off injured to be replaced by Scot David Harvey. Three minutes later an exchange of passes between Wee Jimmy and Bobby Murdoch ended with Bobby hammering a screamer into the net for the winner on the night and the clincher overall!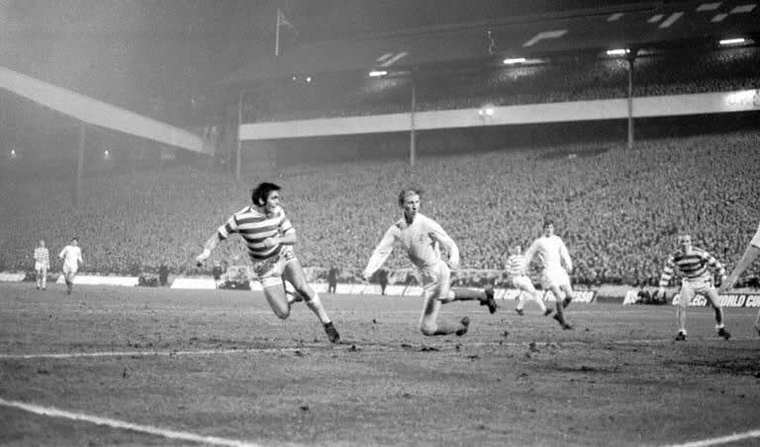 What a game, what a night!
As far as the League was concerned we had three matches in April and won them all. The Scottish Cup Final was a different matter.
Unfortunately the referee, Mr R Davidson of Airdrie, had a huge amount to say in the proceedings none of it in Celtic's favour. He awarded Aberdeen a very dubious penalty, disallowed a perfectly legitimate Bobby Lennox goal and denied the same player a penalty when he was "carted" in the Aberdeen box.
Sadly I have many bad memories of this official but I will say no more than that.
Bearing in mind that the cup final was only four days before the second Leeds United match it says a huge amount for the players that after such a battering from officialdom and a severe disappointment they were able to lift themselves so well even if they were playing for the highest prize in Europe.
Jock's teams were never down for long and those players were too professional, skilful and self respectful to let themselves or the supporters down.
Considering what I am going to write now that statement may seem strange but I stand by it.
After knocking Leeds United out of the European Cup we had our final League match away to St. Mirren on the Saturday and then had an eighteen day break before playing Feyenoord in the final in Milan.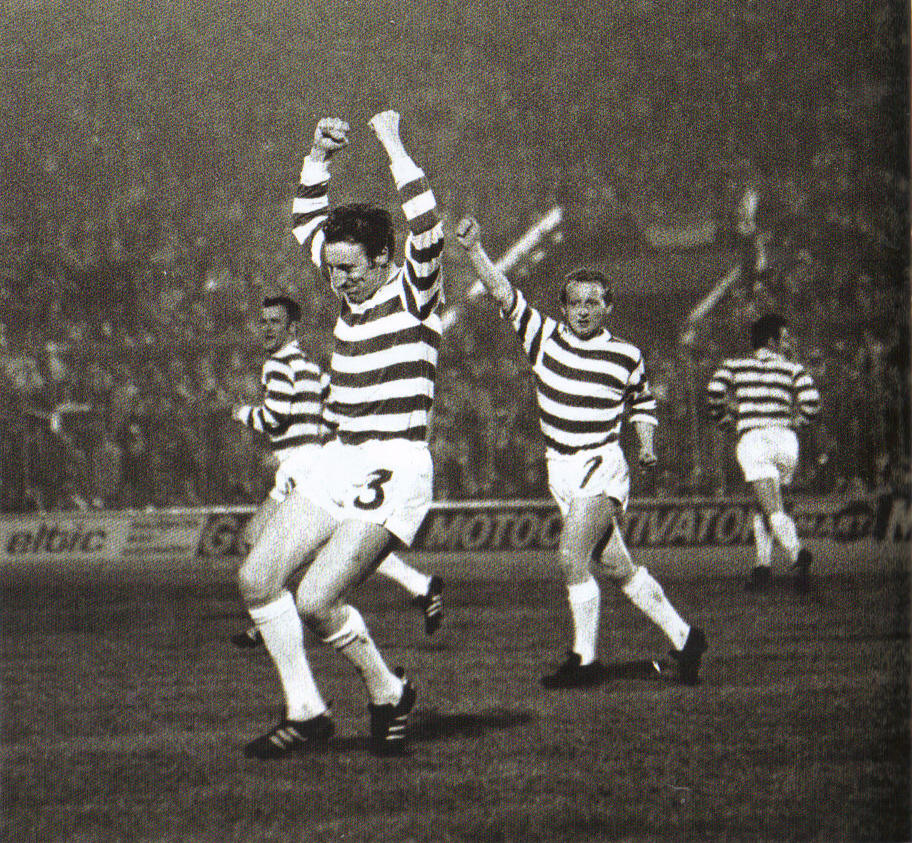 Was the break too long, had we gone off the boil, were the players a little complacent?
I have heard mutterings over the years that even Jock underestimated The Dutch team. Certainly they outplayed us for long spells and yet…. Having taken the lead through Tommy Gemmell we conceded the equaliser very soon afterward but hung on into the second half. My dad had paid for me to go. I arrived at Glasgow airport and checked in. I met another Celt who was on his own and so we decided to travel together.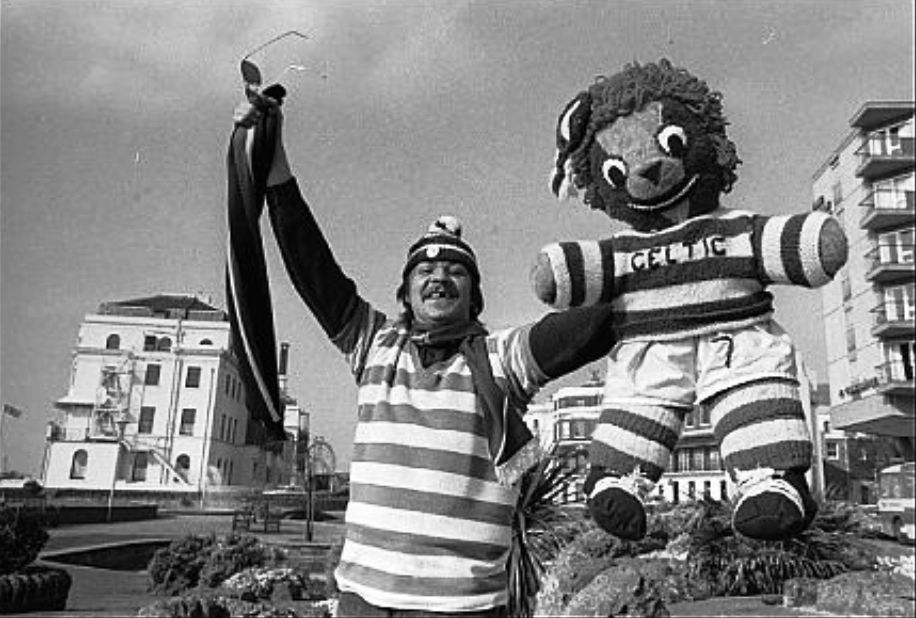 At the match we sat beside two Italian lads and a girl who were very keen for us to win. It wasn't to be. We had chances to clinch the game particularly in extra time. Feyenoord had theirs and with about two minutes to go when I was starting to think about a replay the Dutch boys sent a long ball forward which we didn't defend well and in fact it looked to me as if Billy McNeill handled in the penalty area.
No matter Kindvall was on it in a flash and looped a header over Evan Williams for their winner. To add insult to heart aching injury there was total chaos at Malpensa Airport. It took ages to check in and there was a demand for a fee, I can't remember how much, for the issue of a boarding pass. It was a long sad flight home.
DidsburyCelt