YESTERDAY we said our goodbyes to Billy McNeill. David Potter described him on The Celtic Star as being more than a legend or icon but as a Celtic God. Next Wednesday there will be another funeral, for Stevie Chalmers, the scorer of that beautiful winning goal in Lisbon and you can find all details on the funeral arrangements HERE.
What the Lisbon Lions achieved that day will never be equalled by any Celtic team. However the current crop are doing their bit to write themselves into the history books with an Invincible season and a Double Treble already secured and with two further targets – a treble treble and then ten in a row.
We will reach 8 from 10 today with a draw at Pittodrie. We thought we'd have a look back on the days when the the league was won starting down at Kilmarnock and then back at Celtic Park for a celebration on 7 April 2012.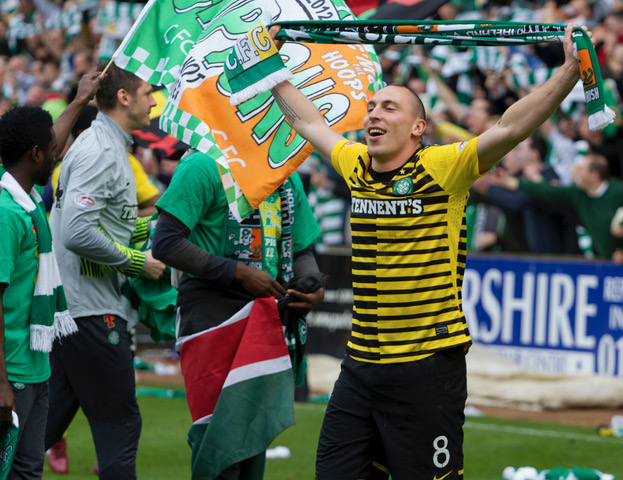 Neil Lennon was the manager that day but he might not have been if things hadn't improved dramatically at Celtic's previous visit to Rugby Park that season. On 15 October 2011, the scoreline at half-time and indeed with 72 minutes played was Kilmarnock 3 Celtic 0. But two goals from Anthony Stokes and a late equaliser from Charlie Mulgrew turned the tide that season and set Celtic on the road to Ten in a Row.
Make no mistake that was a landmark lunchtime for Celtic and for Neil Lennon who might not have survived that result as his side looked like falling even further behind Craig Whyte's Rangers. Indeed Rangers themselves might have survived had those three late goals from a defiant, unrepentant Celtic not salvaged a point. And there was further good news when Rangers unexpectedly drew at home to St Mirren.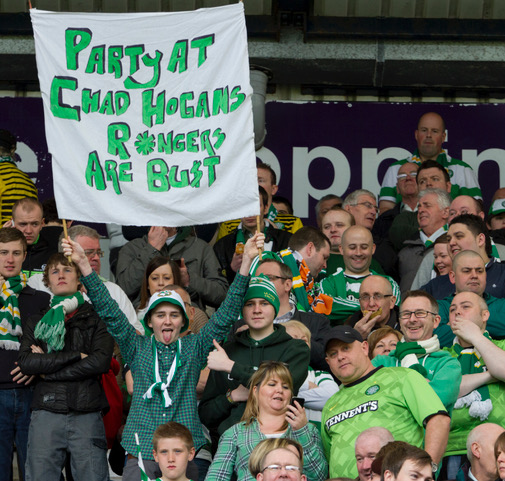 Fast forward to 7 April and there were once again six goals scored in a Kilmarnock v Celtic game at Rugby Park, but this time we scored them all and this meant that Neil Lennon had won his first title as Celtic manager. Lenny described this as the best day of his professional life.
The goals were scored by Mulgrew (8 and 35 mins), Loovens (17), Hooper (44 and 90 mins)
and Ledley (88 mins)
The Celtic team that day was Forster, Wilson, Mulgrew, Loovens, Matthews, Brown, Ledley, Ki Sung-Yeung, Samaras, Commons and Hooper and on the bench were Zaluska, Cha Du-Ri, Blackman, Twardzik, Ibrahim, Stokes and Brozek.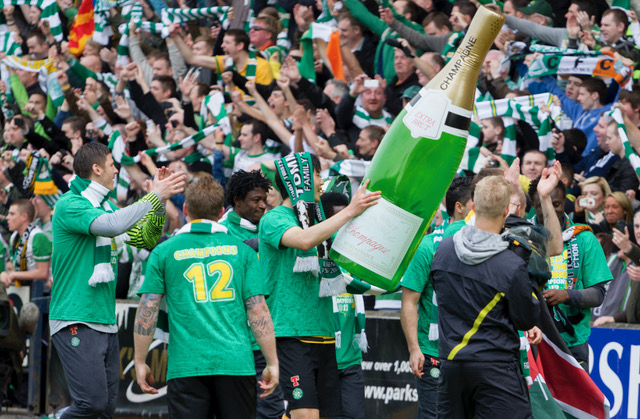 Peter Lawwell spoke after the title win, describing it as "a magnificent day of entertaining, winning football," to the official Celtic site, as recorded on wonderful The Celtic Wiki.
"I´m very proud of Neil and what he has achieved," The Celtic CEO said. "It was a huge triumph for them today, particularly for Neil on the back of what he has had to put up with in the past couple of years, and he has won it – he is now a championship-winning manager.
"And our supporters were magnificent today, as they have been throughout this season, and there's a smile on their faces – those who were there today, those who couldn't make it, the millions of fans around the world.
"Seeing how proud they are of their club is really satisfying because it's been painful the past three years. There hasn't been a day that's gone by when we haven't thought about getting the title back where it truly belongs and thankfully we did that today."
Lenny had built a young team that was exciting to watch and offered considerable hope and expectation for more – much more to follow.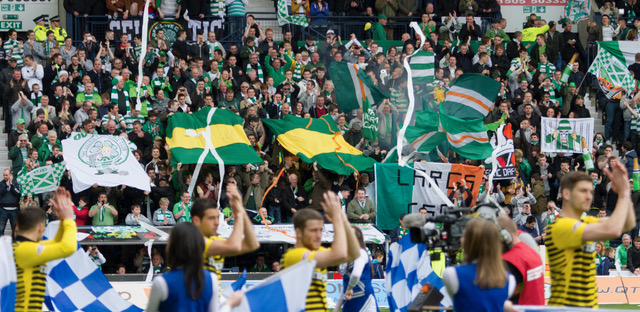 "It's a young team with a lot of ability and it's a fantastic foundation to go forward with," Lawwell said. "But today's not the end. We've got to move and get this great club back in the Champions League and perform there regularly, and we've got a great basis to do that.
"I'm really proud of the players. They are young and what they've achieved is fantastic.
"This is just the beginning. We have a duty to take this club as far as we can go. Hopefully everybody has a great day, a great weekend and celebrates a magnificent Celtic victory once again."
All photography from the wonderful Vagelis Georgariou or as he's better known to Celtic supporters, Geo.