It was Saturday May 1 1920. It was the last day of the League season. Celtic had disappointed their fans in the run-in, but at least finished on a high note by beating Hearts 3-0 at Parkhead with goals from Johnny McKay, Tommy McInally and Willie Cringan, while champions Rangers beat Morton 3-1 at Ibrox.
The attendance at both games was a little disappointing, but there were reasons for that. There really was little at stake, (Rangers had won the League in midweek with a 0-0 draw at Dumbarton) and in any case quite a lot of supporters had opted to attend the May Day demonstration and parade in George Square that day. The police and the authorities were a little uneasy about that, but it passed peacefully.
While Celtic and Maley licked their wounds, worried about what would happen to them following the disgraceful, riotous scenes in the game against Dundee last Monday while saying the usual cliches like "there's always next year", Rangers celebrated.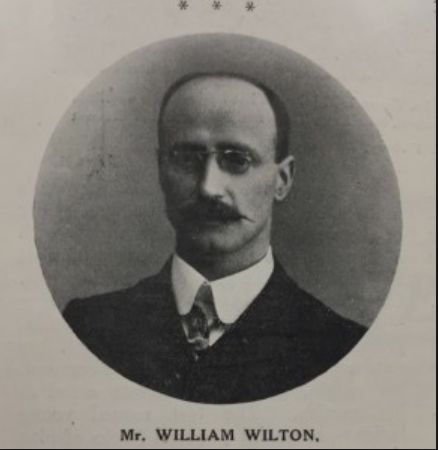 It was a low key affair, and Manager/Secretary William Wilton (a good friend of Willie Maley in a relationship which had often done a great deal to lower the tension between the two teams) took his departure for he had been invited to sail down the Clyde with a couple of friends in a luxury 19 ton yawl called the Caltha. It was owned by James Mair, a wealthy Glasgow CA and the other guest was a Rangers Director called Joseph Buchanan.
It was a lovely trip "doon the watter" and when it got dark, they moored to a buoy in Cardwell Bay near Gourock Pier where they were to spend the night.
No doubt a little alcohol was consumed, but the three passengers, the captain and his mate retired to bed after midnight, and all was well. They were rudely awakened at about 2.00 am. An easterly gale had sprung up (as can happen with alarming suddenness in the Clyde),the boat had been wrenched from its moorings, and was being dashed against Gourock Pier with extraordinary force.
The vessel was in danger of breaking up, so it was a case of abandon ship by climbing up the mast and trying to jump onto the pier. The other four managed to do just that, but Wilton was less lucky, a gust of wind keeping blowing the mast away from the pier when he was about to jump.
The other four managed to throw him a rope, and although on two occasions he managed to get his knee on the pier, the wind blew him backwards and he fell into the water.
Mair dived in after him, and at one point almost succeeded in reaching him, but the strength of the wind and the waves were such that Mair was compelled to let him go. Wilton was never seen or heard of that morning, although apparently a body was later found and he was duly buried in Cathcart Cemetery.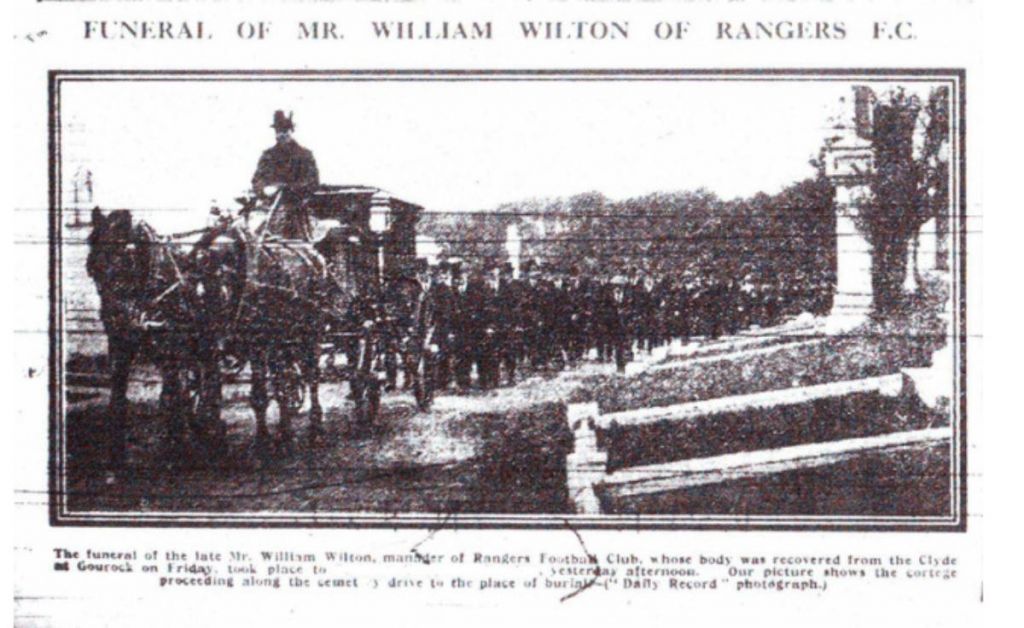 Scottish football was naturally distraught, none more so than his friend Willie Maley, as rumours swept Glasgow on Sunday 2 May and were later confirmed in The Glasgow Herald of Monday 3 May. Wilton was 54, and left a wife and three grown up daughters. He had never been a great player, but he was a capable administrator having already had more than his fair share of misfortune in the Ibrox Disaster of 1902, and the problems involved in dealing with Celtic's sustained success from 1905 until 1910, and indeed during the War.
Wilton, like Maley, had done a great deal for wounded soldiers on their return to Glasgow. To his credit (and possibly this had something to do with his friendship with Willie Maley) he managed, to a certain extent, to stem the rising tide of sectarianism at Ibrox, being quite happy, for example, to field men like Willie Kivlichan an ex-Celt and devout Roman Catholic.
Would things have been different, had Wilton lived?
Certainly, there was not the friendship and cordiality between Maley and Wilton's successor Bill Struth, that there had been between Maley and Wilton.
Struth and Maley were two of a kind in some ways, but their relationship, like that between Jock Stein and Willie Waddell many years later, never got any further than polite respect.
Nor did Struth do much to discourage (and that is putting it mildly!) Rangers' "No Catholics" policy which was of course fuelled by the influx of Orange workers with their noxious and even ridiculous beliefs throughout the 1920s. Under Wilton, things might just have been different.
Certainly Maley in his later years when subject to bouts of morose and even maudlin depression, and prone to lament those who had died before their time – a few in his own family and Peter Johnstone, Sunny Jim, John Thomson, Peter Scarff and Bertie Thomson of Celtic FC – he always included Willie Wilton, a fierce rival on the field but a good friend off it.
A hundred years later (exactly!) we can recognise and respect William Wilton.
David Potter
INVINCIBLE by Matt Corr
The Celtic Star's very own Matt Corr – who you may also know as a Tour Guide at Celtic Park – publishes his first Celtic book, titled INVINCIBLE – early next month. This beautiful hardback book will be the definitive story of Celtic's magical2016-17 season – it truly is wonderful, a real joy to read, and brilliantly written by Matt.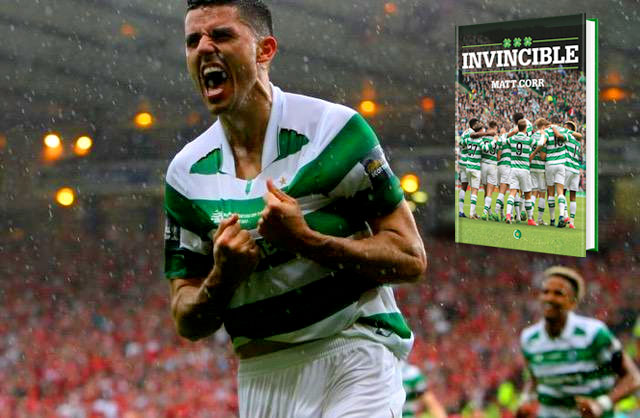 If you have been reading Matt's regular contributions on The Celtic Star or indeed in the Matchday Programme or in the Celtic View you will know just how talented a Celtic writer he is. The book is published by The Celtic Star and you can pre-order below.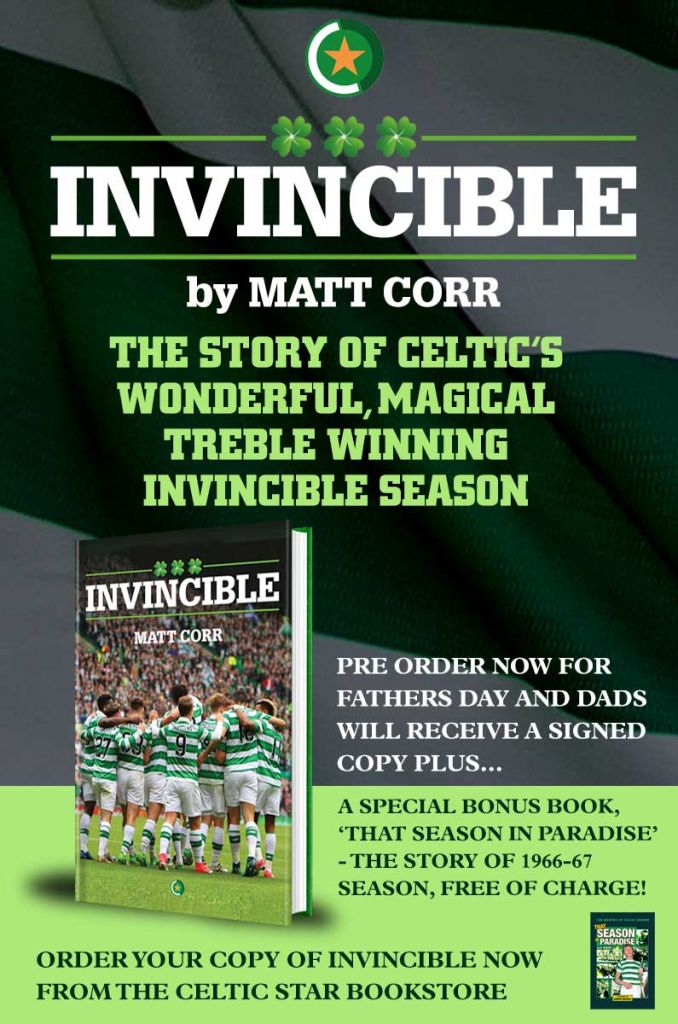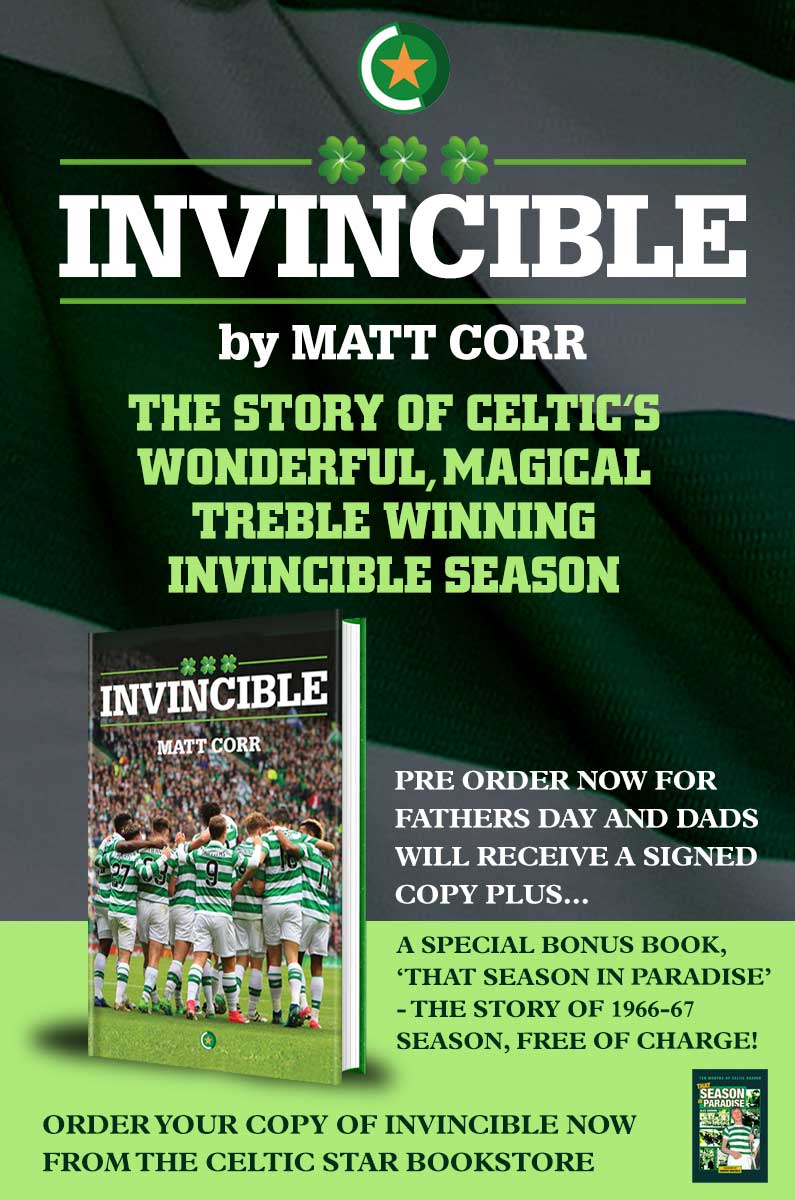 Support Celtic Youth Development
Help raise money for Celtic Youth Development by joining the £1 weekly lottery and you could win up to £25,000 – just click the photograph below to join. Lots of our readers have already done so and they're now doing their bit to help fund Celtic Youth Development that can deliver the stars of tomorrow and beyond. And you might even win a few bob too! And a special thank you to all The Celtic Star readers who have already signed up and are now supporting youth development to give us the Celtic Stars of the future…