CELTIC'S American Blogger Larry Cafiero interviews Sandman. This is going to be entertaining…
Let's take a page from Rod Serling's "The Twilight Zone" . . .
Submitted for your approval: During each Celtic game, Celtic fans on the Celtic Noise forum banter on about the game – good, bad or indifferent – and once the 90 minutes are up, the forum goes silent as they wait.
Like actors and directors of Broadway plays impatiently waiting for reviews on the evening of the premiere, these Celtic fans remain on tenterhooks while the ratings of the forum's literary lion – the Sandman – are put together and posted shortly after each game.
While on the break with no games to rate, and with another transfer window wide open, Sandman – the one person who has made us all look at Olivier Ntcham and see Samuel L. Jackson – agreed to a Q-and-A session with this blogger.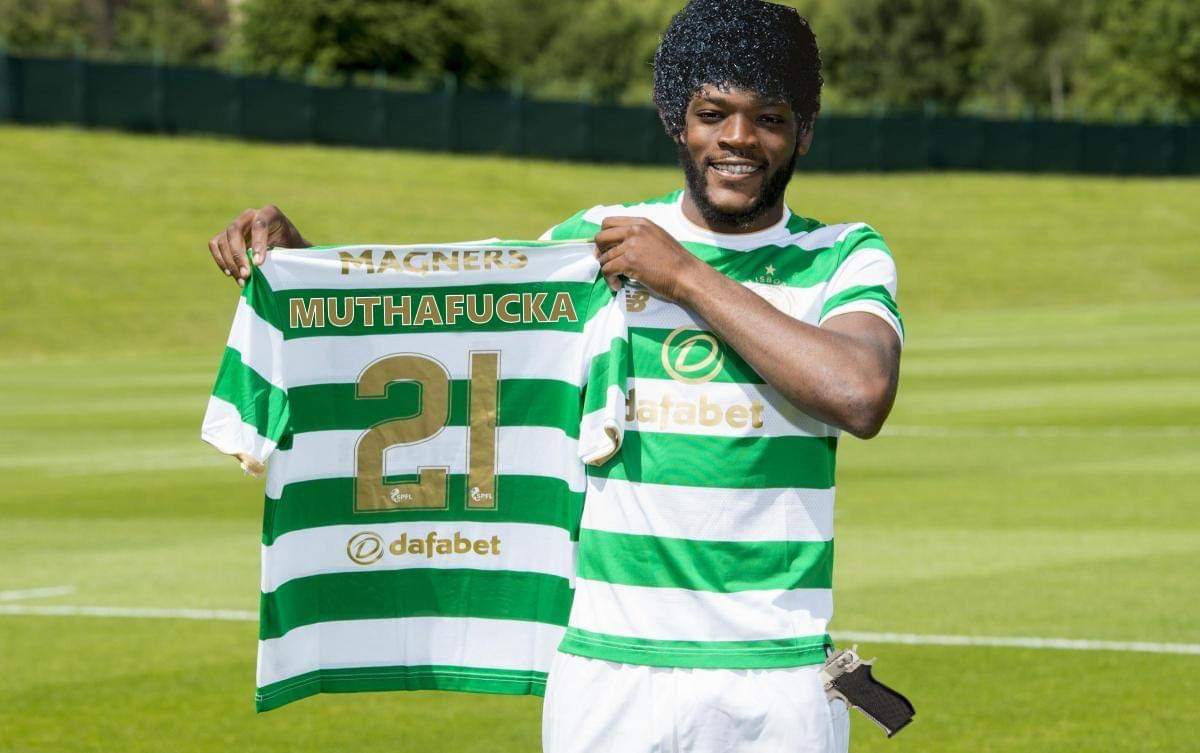 So get ready to enter The Sandman Zone.
Larry Cafiero: I know you value your anonymity, obviously, and very little is known about you, other than in some of your ratings you have touched upon some legendary debauchery, for which I salute you. However, is there any biographical information you'd like to share with the Celtic Noise and The Celtic Star readers?
Sandman: Hmm … Fan, family man, philanderer, libertarian, prestigious wideboy, fortune-hunting misfortunate fool, boss, owner, player, player, dole-bhoy, jungle-bhoy, wealthy, skint, creative nihilist, alter-egoed egotist, ambitious hermit, gregarious party animal … There's been a number of parts played, reinventions, and landmarks laid … Above all, I reckon I seek peace and abundance, still out of reach as I crash along a rocky road, potholed with haphazard fatalistic events dictated by chaos. At every turn, spike, low or loss, there's been Celtic, and often baseball – me and Sam Malone and the Sox….
Still, my wife once looked like Yenneffer the sorceress – those were the days, give me back a decade and a half or so … And my kids are smart and healthy, and I still got my wits, occasionally; gold is not all that glitters.
Larry Cafiero: I am also going to assume you have been a Celtic fan all your life, and we will be talking about that next. But I wanted to ask you something I had heard in conversation with some of the regulars on The Celtic Noise early on when I first came on last winter: That you are a professional journalist who writes under the Sandman nom-de-plume to write what you want, as opposed to writing what you have to. Any truth to this rumour?
Sandman:  Nope. None. I'm better than those "professional journalists" in the SMSM. Lazy hacks. I occurred because of their limp prose and tired rhetoric. And I've been beyond them, did the time, out in the back o' beyond brothers – once in the days before the interweb there was a screenwriting UCLA correspondence course, scripts and a couple of novels that sooo nearly made it, pipped at the post, long story, found my way back in time to stay sane. -ish…
Larry Cafiero: Let's talk about Celtic. Though you've been on the Noise since February 2018, I am going to assume that you've been a lifelong Celtic fan. Do you have a favourite Celtic moment in the club's history?
Sandman:  May 9, 1998. Their ten, stopped dead by an unlikely rabble of journeymen in Hoops led by an affable mop-heided Dutchman, gilded by the greatest of all dreadlocked predators.
Three things about that day – one, a guy with an open bottle of champagne on the walk to the ground, chastised by some as possibly jinxing it, let me have a swig and it was like imbibing some infectious joy; either that or he had herpes, but in the moment, who cared?
Two, the sun broke through the light cloud covering as I passed the roundabout at the retail park, just about to angle down what was an unkempt bit of ground at the time towards the Stein end. I remember the feeling of warmth, calm, reassurance it was all going to work out okay; we had to win, had to. We were going to. An epiphanic moment.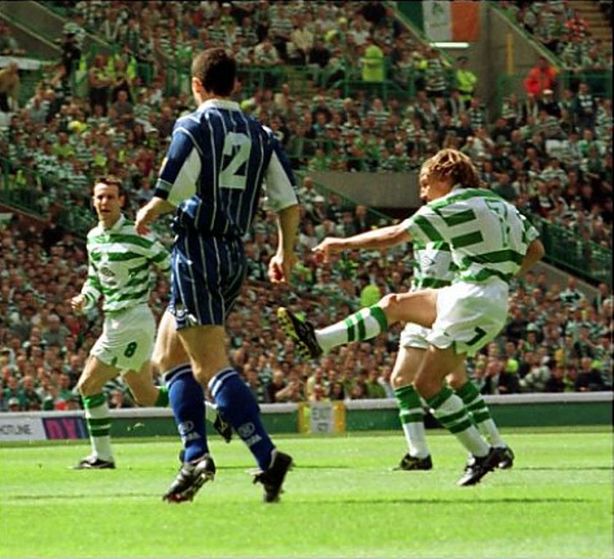 Third, the Larsson. When he took the ball inside in that 3rd minute i was on my feet and the flashing thought was for him just to hit it, what the hell else had we to lose? So I bellowed it, like thousands of others, no doubt, and he did, and it zipped into the net and the stadium exploded. and the flaming universe was on its way to being righted for the first time in a decade.
Nothing has, or will, beat that perfect day. My ex-girlfriend who was with me at the game, on the pitch after it all, too – she knew the significance of that Larsson moment; when our time together was drawing to a close and temperatures were high with ire, she would be reminded of the event, that mhan, his deeds of wonder – "No woman will ever make me feel like he can… So on yer way."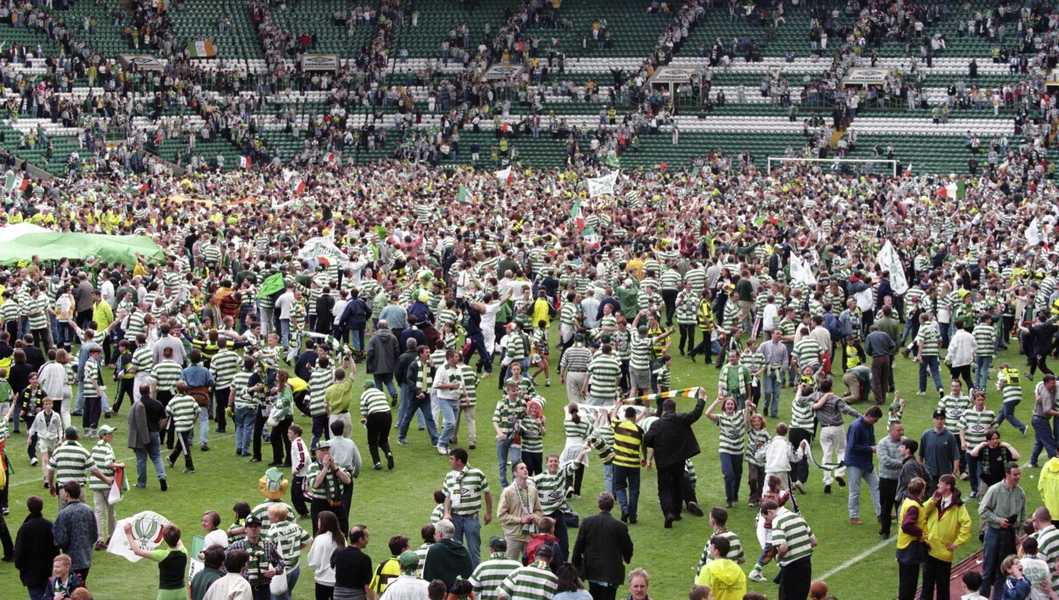 Larry Cafiero: What are some of the high- and low-points of your life as a Celtic supporter?
Sandman: : High, as above, along with other notable victories, the Celts For Change revolution and the coming of the messianic McCann in 1994 – such relief and victorious exhaltation at the club pulled back from the brink of extinction.
Beginning of the end for the old board . pic.twitter.com/jzAP6fTktQ

— Highland__Paddy (@Highland__paddy) January 9, 2020
That was a period when things went beyond mere sport – it was a triumph over the dark arts of Scottish societal institutions, whose members, in their forelock-tugging pomp infest the machinery of civil justice, and had us under the heel of their royal blue jackboots for some time; so long, in fact, they may have just gotten too cocksure and loosened the pressure enough for us to raise one last stand. Those were the dark times, the ultimate lows, but they underestimated the rebels with a cause and the schadenfreude has been joyous ever since.
Physical low – herded in a treacle crush out of Falkirk's Brockville primordal swamp early nineties after we lost and the local drooling, pig-humping Bears-without-the-haycart turnip fee were chucking bricks at us. Bricks from their own crumbling neolithic hut of a ground. Lucky nobody died that day.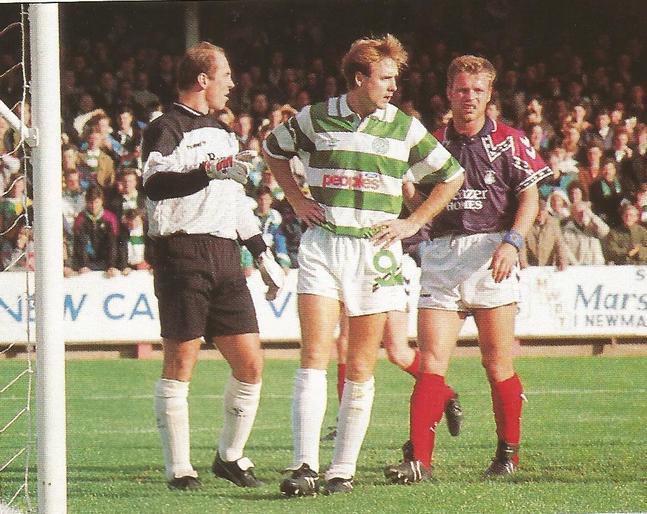 You, Larry, will have realised with your interest in Celtic, that Scottish society is not all Hollywood good cheer, whisky and nobility. Never exemplified better than through the medium of soccer; then again, perhaps the Hollywood allegory is true – it's been like Star Wars, the rebels v the evil empire.
Larry Cafiero: As for the ratings after each game, how did the idea for a game-by-game report come about?
Sandman:  The banality of those hired hacks. Cut and paste monotony. Surely liven it up for yourself at least … The often plain incredulity at fellow fans opinions; players berated, blame attributed, the story of their game not a truth as I saw it … so write up my own take and post it on a blog. But not in tired convention; develop something to read with a cup of coffee, something I might enjoy glancing through myself; but of course that meant gloves off, language expressive.
Rules – never mock the afflicted or anybody with a condition out with their control, but as for belief-systems, ideologies, pretensions, delicate sensibilities (hello CQN!) – sod off. Funny is funny, language an effective tool of the imagination, apologies not a consideration. I basically write them to amuse myself; if others like it, great, if not, scroll on.
Larry Cafiero: You clearly have a knack for unique names for our players and gaffer – how did you come up with those?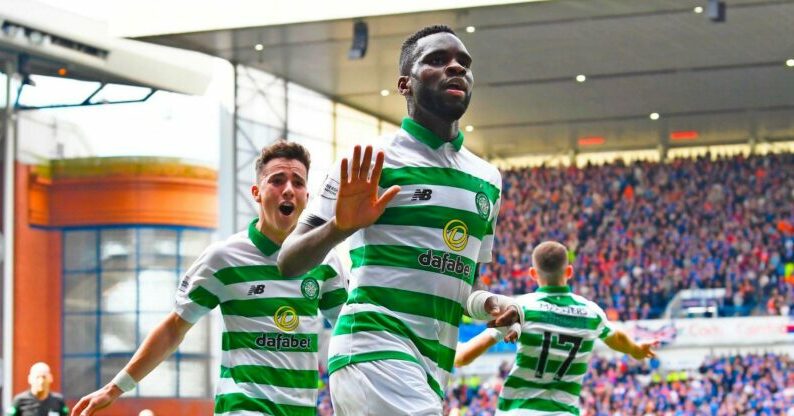 Sandman: Fun. Often poor interpretation of their correct names – sorry, Pingpong – sometimes organically evolving from some other bit of insanity: "French Eddy" is mine. Mine ; it always draws a smile when I hear some fan use the nickname on camera – I concocted that when half-cut and I couldn't remember the correct spelling because he was still relatively on the fringes so I had it down as "French Eddy" and attributed it to Griff calling him that because he was "French and sounds like Eddy," as Griff couldn't pronounce it. Sorry to Griff, too, though I might have been closer to the truth than I imagined …
@GIPHYSports 😁😁 pic.twitter.com/rVmpGiJvMC

— Celtic Football Club (@CelticFC) January 8, 2020
Does the Muthufella* needs an explanation? I was in the pub surrounded by bewildered cohorts the day that one popped into my head – couldn't believe I was the only one who saw Samuel L. Jackson in a Celtic shirt. Thankfully, once I'd segued that one into the Sandman ratings I found out I was not alone …
As for "Lennony" – well, "Lenny" is too pally for criticism, and "Lennon" – bizarrely – became a sneering term of contempt used by the rather dry type of supporter who deemed from rumours of his return that he was not "their" sort of Celtic manager; cursed before he set foot in Paradise again. Green Ones, you know, they exist in the penumbra of glory hunting's blaze …
Sad to see Sonic The Hedgehog go, however. Still, there will be new entrants to mangle.
Larry Cafiero: If you could, please, take us through the process of watching the game, making the ratings, and presenting them in such a prompt manner after the game.
Sandman:  Start neutral, dismiss selection bias until I see what the chosen bhoys have to offer, have expectations but account for variables – luck, treatment, involvement, teamwork, mental toughness – the basics of assessing any pro player's game.
Throw in whatever insane humourous or otherwise lucid connections, often lurid, conjoured along the way, noting it all down in lulls on my phone or keeping it in my heid – easier if it raises a smile. Can be laying it out at half-time, summarising mentally before the final whistle, tapping it into my phone or PC soon as I can while the event is still fresh – find it more honest to get it all down with emotion involved; plenty of time for discourse in days after a big event, I like to have the sense of immediacy in the ratings, even if I call them wrong or harsh: example – gave Jamesy a 0 v the Rangers; unusual but far as I saw he was treading water and neglecting his responsibilities in a huge game; Honest reaction, though – important or there's no point.
Problems occur if there's beer involved and a pub pass on offer after-match. It got serious once I agreed to put them on The Celtic Star after every game; you get people asking for them, the pressure mounts…
Larry Cafiero: We have another transfer window at the moment. We had a good transfer window last time, but how do you feel this one will go? Do you think, as some suggest, it might be better to sign players we already have on loan, like Elshagyonlassie – sorry, Elyounoussi – or Forster, or should we look for new talent?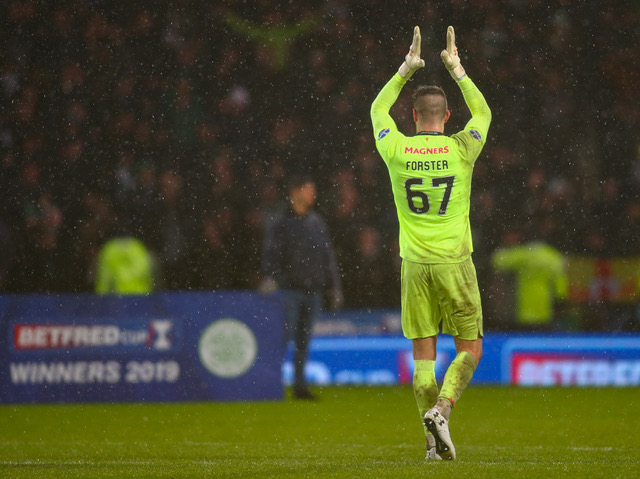 Sandman:  The Wall, yes, he's been a revelation. If we can muster the millions Southampton may suddenly realise they want, and satisfy his wage demands. New talent is a summer project thing. By all means snap up what's available but we need to nail a couple of Ready Player Ones – proven talent that can fit in and drive us to the NINE.
Larry Cafiero:  So the outlook for the rest of the season: Are we on course for 9 in a row, and/or a quadruple treble?
Sandman:  When we go again, we go to the finish and the other mob will not slacken off; one thing Slippy G has changed is their mental toughness; we need to be right at it and give them a real shafting to get some self-doubt into their thick skulls. Our players have shown they thrive on pressure like this. They have been 90% at it since July but have sold themselves short at vital times – something they have gotten away with in previous seasons. Now they'll know that is no longer a hedge; bets are on and nobody's cashing out.
If they are deserving champions, nine in a row winners, quadrophenia treble legends, then they'll do it. If not, they'll have blown a once-in-a-lifetime chance for immortality among thousands, millions maybe, worldwide, for generations to come. If that is not a motivating factor in a young man's life, then they're in the wrong business.
I expect them to do it. The NINE at least. I'll be disappointed and surprised if they fail, because they have shown they possess the talent and class to overcome that lot's stoicism and the inevitable witchcraft that attends implementation of the game in Scotland ; whether they can combine and apply it every game for the next twenty or so will be the defining conundrum of their careers and our Celtic-supporting existences.
Larry Cafiero:  Anything else you'd like to add for the readers on both The Celtic Noise and The Celtic Star?
Sandman:  Yeah, the site and forums are good, pretty vibrant; keep using and recommending them. Also, drink more Stella, eat more greens, and may the force be with you. Always.
Sandman, back on it. Soon.
Interview by Larry Cafiero for The Celtic Star and Celtic Noise Forum and of course his own blog '67 in the heat of Felton A view of Celtic FC from the Central California coast  written by Larry Cafiero.
SUPPORT CELTIC, SUPPORT CELTIC POOLS
Help raise money for Celtic Youth Development by joining the £1 weekly lottery and you could win up to £25,000 – just click on the photograph below to join.