Yesterday I read an article on Scottish Sun website from Bill Leckie which astonished me. It was about Celtic winger Jota and gave Leckie a chance to throw in a few Wham and George Michael puns, he tried his best to be funny but unfortunately he has neither the quick wit or humour of The Celtic Star's own Wordsworth, ratings legend Sandman.
This though wasn't the part that astonished me. That was his whole outlook on the Celtic performance. I read it and really did think that he must have been watching a different game to me. The negativity was blatant throughout. Constant digs about our style of play and defensive frailties. In a game which we beat the Hungarian champions convincingly. In a game we kept a clean sheet in.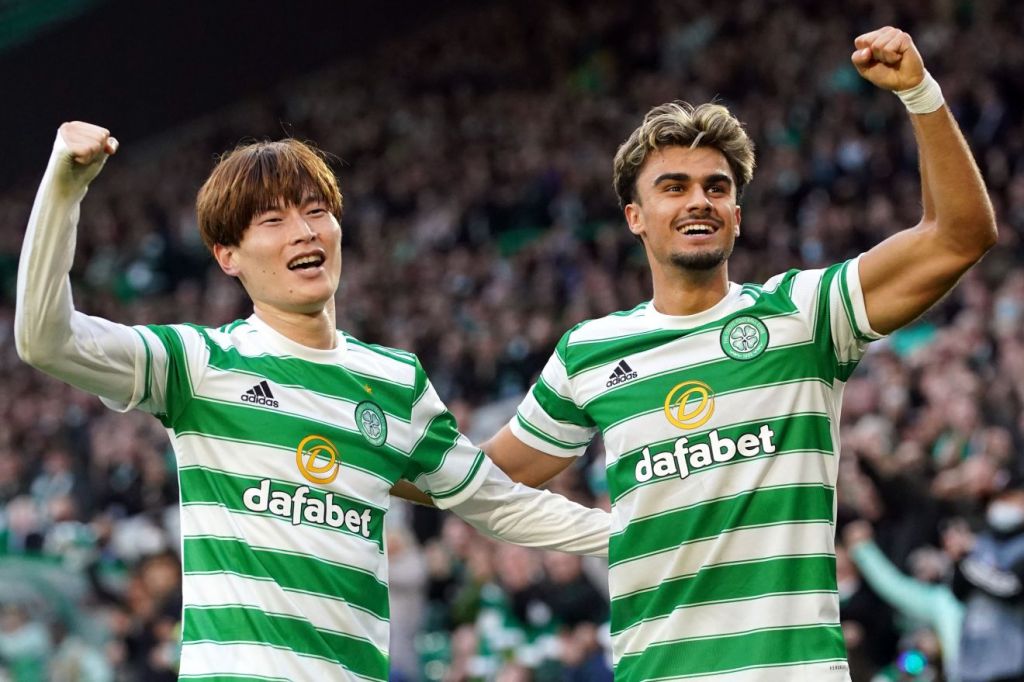 Talking about the moment Jota and Kyogo combined to score our first goal he said "It was going to take something like this, too. Because even if come time up they were able to look back on a job well done and three points well won, there's no question that at 0-0 they were in serious danger of letting the sun go down on another continental campaign."
Yes, it could and should have been five in the end, even matchwinner Jota himself missing a chance to cap his performance with a goal when clean through in the dying minutes.
"Don't forget, though, that Ferencvaros would have been ahead inside five minutes had Ryan Mmaee been more concerned with sticking away a point-blank chance than he was with trying to win a penalty as he felt Cameron Carter-Vickers put a hand on his back. Don't forget that yet more criminal defending midway through the half meant Joe Hart had to stand up big and double-fist Myrto Uzuni's ferocious near-post drive to safety".
He incredibly manages to admit that we could have won by five in the end, yet at the same time manages to make it sound like we were lucky to escape with a win. Stating things like 'yet more criminal defending' makes it sound like Fenencvaros had us under the cosh at stages. They didn't.
He went on "The moves that led to those moments showed yet again just how easy this Celtic side can be to play against, how vulnerable they are to quick passing and instant switches of play. There were long spells when they didn't show nearly enough urgency considering what was at stake, while once again Postecoglou's insistence on tucking full-backs Anthony Ralston and Adam Montgomery inside as extra holding midfielders threatening to bite him on the backside.
"Even after they'd gone ahead through a goal fit to win the final itself, it took a quite magnificent tackle from Ralston to stop them shipping an equaliser straight from kick-off when those around him went to sleep.
So now we are easy to play against. We had two thirds of the possession. They had, at the most, two decent chances at goal. He also claims there were long periods where we didn't show enough urgency. I thought we had a great tempo throughout the game, yes in the first half we spent time having to probe their defence patiently but when a team sits in against you that's what you have to do.
He also stated: "Everyone gets that they're a work in progress. Everyone gets that Postecoglou came into the job with one hand tied behind his back. Everyone gets that the squad's thin enough without the injuries the Aussie's having to deal with right now.
"But none of that stops the guys out there on the park doing the basics right. None of it excuses the fact that there were numerous occasions in a messy first half when one pass as good as Jota conjured for Kyogo's goal could have left them in bits.
Now he's on about what Fenencvaros 'could' have done to is. They didn't though and that's the point. Celtic controlled this game from start to finish. I always feel nervous during European games but at no time during this match did I doubt we would win.
Leckie continued: "All-out attack doesn't have to mean forgetting to defend, though. You can't always rely on the strikers to notch one more than the guys at the back let in.
"I'm sure Postecoglou knows this, that he's heard it all a million times wherever he's worked, which only makes his one-track, front-foot mind all the more admirable; when it comes off, that is, because when it doesn't he's going to have to big enough to cop the flak.
"This far, he's just about ahead of the game with 11 wins against nine defeats and draws. The one big doubt about his beliefs comes in the inescapable fact that those defeats have included all his biggest tests to date – Hearts away, Rangers away, Midtjylland away, Betis away, Leverkusen at home, five games which left left them playing catch-up on their two most important fronts.
"What would he say to that? Relax, mate. Watch the highlights. Look at Jota's pass, at Kyogo's finish, look at the 67 per cent possession and the 19 shots to nine, the nine on target against two.
"Most of all, listen to the oohs and the aahs when it all clicks, when wee George Michael jinks and shimmies and bisects defenders. That's what it's about, he'd say, that's why we get involved in football.
"A wonderful mission statement it is, too.
"As long as you can say it in May with some silverware in each hand.
"But hey, you gotta have Faith…"
After this I think we can all come to the same conclusion. You can read these words from Leckie and almost sense his level of fear. Fear that in the matter of just a few months this Celtic team under Ange Postecoglou is starting to click. He knows it, yet instead of praising the performance against Fenencvaros he is picking holes in it.
These mainstream media writers where recently suggesting we would take at least a year to sort ourselves out. We have heard predictions of finishing 3rd and 4th in the league from them. They know our team has clicked a lot sooner than they thought. I love to feel their pain. Keep it up Celtic. I will thoroughly enjoy them having to eat their words at the end of the season.
Conall McGinty