1968 is a year often described as the Prague Spring referring to the tragic events in Czechoslovakia when, for a spell, the liberalising Alexander Dubcek impressed the world by refusing to do what the Soviets told him. Until, that is, the tanks of that brutal superpower showed what they could do. It was tragic.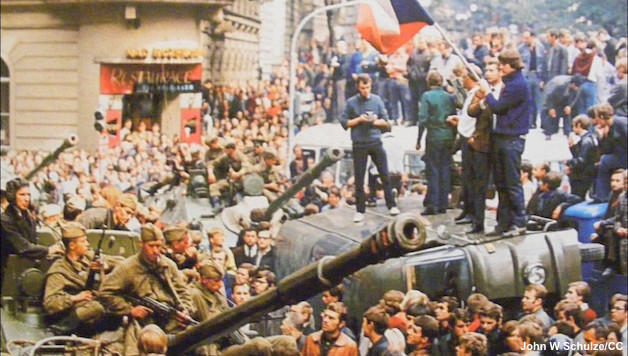 But the spring of 1968 was a fine time for Celtic when they rescued themselves and their season by some fine football played with speed, skill and panache, and also with a certain determination and professionalism to dig themselves out of a very large hole that, to a very large extent, they had created for themselves. It was a mighty comeback.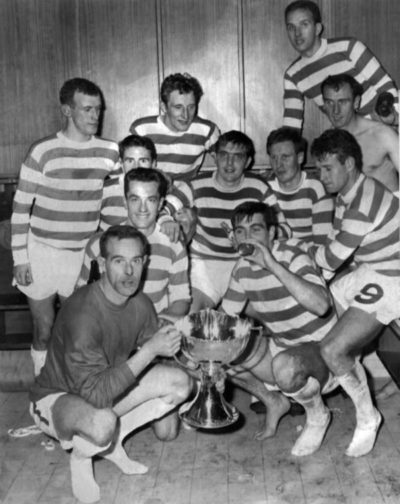 Autumn 1967 had not been good. Yes, there had been a fine League Cup victory over Dundee, but that had to be balanced against an early exit from the European Cup (unlucky in Kiev, but the damage had been done by an over-confident and lacklustre display at Celtic Park) and then a dreadful trip to South America.
If we had not known it before, we knew then that Argentine football was a by-word for thuggery, but our guys did not cover themselves in glory either, and the whole business is, frankly, best forgotten.
We came back from South America and took a long time to recover. We did generally win games, but none too impressively. January 2 would have given us a chance to level things with Rangers at the top of the League. We should have done just that, but goalkeeping errors allowed the Rangers an undeserved point, and we were now in a position of being two points behind Rangers, but we had now played them twice. (Prior to 1975/76, teams played each other twice in an 18 team League). In other words, we needed other teams to do us a favour.
This was not a healthy position, and then things took a further dip when we went out of the Scottish Cup at Parkhead to Dunfermline Athletic at the end of the month. Missing Clark, Craig and Lennox and with Billy McNeill having one of his rare bad games, Celtic went down 0-2 to a strong Pars side.
We had indeed come a long way from Lisbon, as the papers kept telling us and we were facing the real prospect of being dubbed the "one season wonders" with only the League Cup to show for our efforts. But this was when the real genius of Stein came to the fore. The enforced introduction of Charlie Gallagher for the injured Bertie Auld was a great tonic, for the modest and unassuming Gallagher now had a great opportunity to prove his worth. He played a major part in what was to come.
Stein was also of the opinion that Rangers under a new inexperienced Manager called Davie White and still struggling psychologically from Celtic's winning of the European Cup last year, would eventually crack as long as Celtic kept winning and kept winning well to attract the headlines. What he did not bargain for was that they would crack at Board level as well.
They scored two own goals which lost them the moral high ground and lost public sympathy. Importantly, the Press, which had been appallingly sycophantic to them in the early 1960s, now turned on them, and were very willing to take Stein's stories about Celtic and to praise Celtic to the skies.
Rangers first own goal came at the end of February when they withdrew from the Glasgow Cup, alleging fixture congestion in other competitions. The Glasgow Cup was a venerable old trophy, sadly having declined in stature, but still worth competing for. Rangers were due to play Celtic (at Ibrox!) and their withdrawal was seen as an insult to the City of Glasgow (never a good idea) and also sheer cowardice and fear of Celtic.
"The cry was We Surrendered" became a Glasgow joke, as indeed was the story that Rangers were going to wear three letters on their jerseys, the letters taken from the expression "I Ran Away".
Celtic now embarked on a rich vein of form with six great away victories – at Kilmarnock, Falkirk St Johnstone, Dundee United, Hearts and Aberdeen. Only the last of these was tight, the other five were full of outstanding football and great goals, all orchestrated by Charlie Gallagher, with possibly the game at Muirton Park, Perth, a 6-1 victory, producing some of the most sublime football that one was likely to see and a game which had St Johnstone supporters (always a decent bunch in my view) in their old stand on their feet to applaud the speed and the four goals of Bobby Lennox.
In the meantime Rangers were creaking. They solved their "fixture congestion" problems by losing to Hearts in the Scottish Cup and to Leeds United in Europe – although everyone knew that it was the spectre of Jock Stein and the Celtic nemesis which defeated them in both of these competitions – and then one cold night at Tannadice, Dundee United (whom Celtic had thumped 5-0 on the previous Saturday) took a point off them in the League.
It was now down to one point, and that disappeared on Wednesday 17 April. While Celtic were playing champagne football at Hampden to win the Glasgow Cup which Rangers had despised and disdained, Rangers dropped another point to a feisty Morton team packed full of Celtic supporters. Celtic beat Clyde 8-0, and waited for news from Cappielow.
In fact Morton were 3-1 up at one point, but Rangers pulled it back to 3-3 but couldn't get a winner. So, all level on points, but Celtic because of all the goals they had been scoring now way ahead on goal average.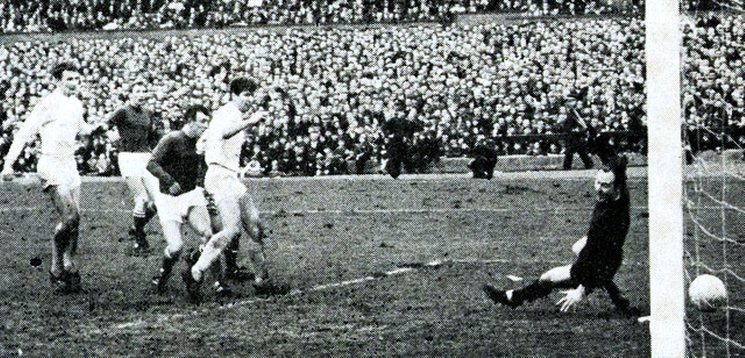 It was the same Morton who returned to Celtic Park on Saturday while Rangers went to Kilmarnock. Both teams won narrowly, and, one had to admit, that although Celtic had almost all the pressure, we were more than a little lucky to score in injury time off the shin of Bobby Lennox.
The phrase "Parkhead erupted" did not quite, however, cover the sheer rapturous joy at the end. Tommy Gemmell apparently thought of stealing a policeman's helmet, but lacked the courage of Mikael Lustig on a subsequent occasion.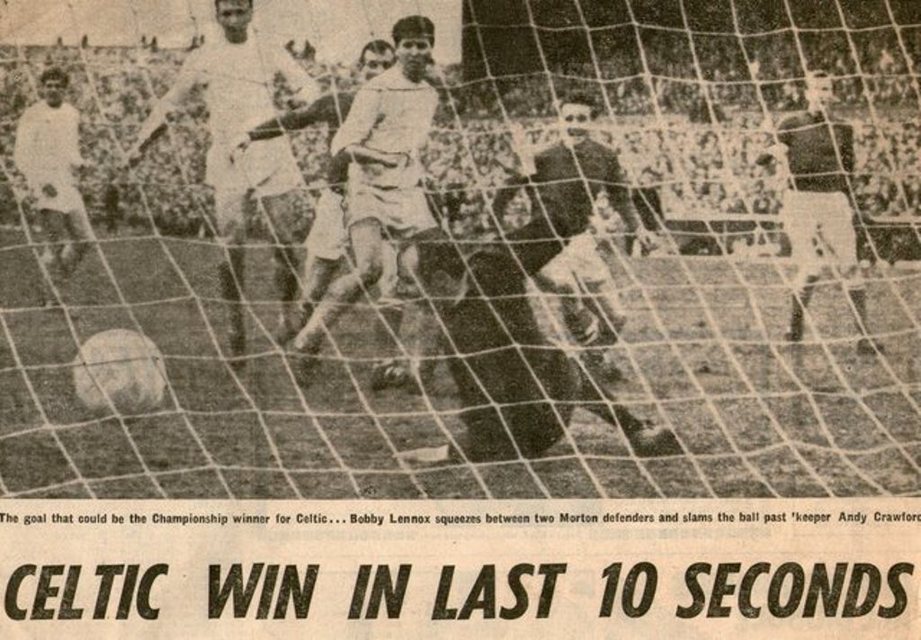 So one game to go. Rangers v Aberdeen, and Dunfermline Athletic v Celtic. The snag was that it was Scottish Cup Final day, and Dunfermline were playing Hearts. So Celtic would have to wait until the following Wednesday. But now Rangers, having insulted Glasgow a few months ago, now decided to insult Scotland as well.
It was put to them that, as Dunfermline and Hearts were two east of Scotland teams, it might be an idea to let them have Glasgow to themselves to swell the crowd at the Cup final. Would Rangers possibly think of playing on the Friday night, perhaps, or even the same night as Celtic were in Dunfermline? Any such suggestion was arrogantly refused, something that further alienated those who used to love them in the Press.
Stein now saw another psychological victory here, and told the world that he was taking the Celtic players to Hampden in a bus, whether they wanted to go or not. He also encouraged Celtic fans to do likewise. He did, of course, still have some affection for Dunfermline, but it was also an ideal opportunity to watch the Pars a few days before a game that would decide the League.
It so happened that it didn't decide the League, for a now dispirited, outmaneuvered and disorganised Rangers managed to lose to Aberdeen, a team which had improved over the last few months. For a long time, it was a draw at Ibrox, but the Dons scored late, and just about the same time as the Cup was being presented to the Pars, it was confirmed that Rangers had lost and that Celtic, unless they lost 16-0 to Dunfermline on Wednesday night, were the champions. Legend had it that Stein nearly broke his ankle jumping for joy when he heard. It was certainly a very sweet moment for him, the team and all Celtic supporters.
There remained the game at a grossly over crowded East End Park as the Scottish Cup winners played the Scottish League Champions in an atmosphere of total love and respect between two teams who had a lot of time for each other. The big worry was the overcrowding. Mercifully no-one died through falling off the enclosure or the floodlight pylons, but there were quite a few injuries.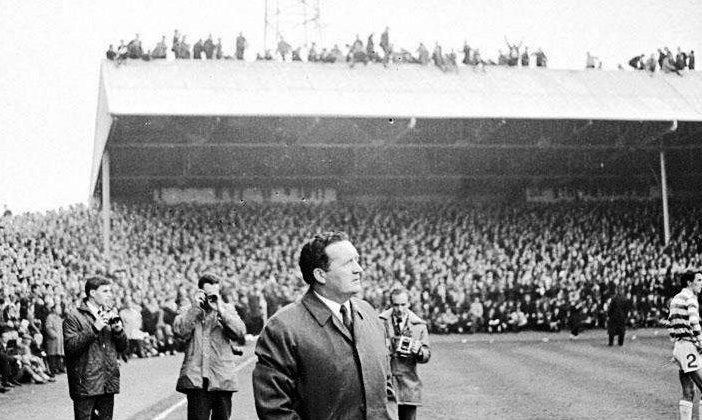 All in a good cause, though, as 1967/68 finished on a high. It was an action packed, emotional roller-coaster of a season with an awful lot crammed into it, but summer 1968, although not as good as summer 1967, was a great time to be alive!
David Potter