It was my first visit to Celtic Park in 1962 that I saw Jimmy Delaney. I was unimpressed really because although he was pointed out to me in the stand, all I really saw was a "bald heid".
He was miles away from me but those around me were impressed. The aged McMenemy, now in the 80s, was also in the stand as well, apparently, but I was far more interested in men like Pat Crerand, Frank Brogan and Billy McNeill!
It was not, of course, the first time that I had ever heard of the famous Jay Dee. He first came to my attention in 1954 when he won an Irish Cup winners medal with Derry City as they beat Glentoran 1-0 in a twice replayed Cup final. This was good enough for a man now approaching his 40th birthday, but it really was a remarkable achievement for it made him the only man in the world to win a Cup winners' medal with three separate teams in three separate countries and in three separate decades.
Got all that? And there was a major world war in between!  He won the Scottish Cup with Celtic in 1937 when they beat Aberdeen, the English Cup with Manchester United in 1948 when they beat Blackpool, and now the Irish Cup with Glentoran in 1954.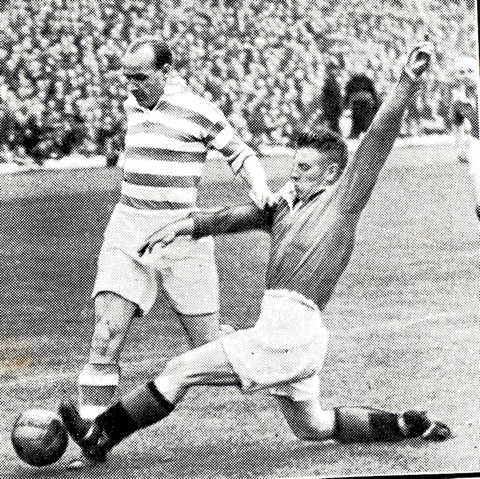 This achievement, remarkable through it was, could have been even more so in two respects. The 1937 and 1948 Finals were both played on 24 April, and it was 24 April 1954 that the Irish Cup final was played – but sadly it ended in a draw. And even more remarkable would have been a fourth Cup winners medal in yet another country, and that might have happened as well! By 1956, Jimmy had hopped over the border to play for Cork Athletic, and they reached the final of the Football Association of Ireland Cup final – but sadly lost to Shamrock Rovers after extra time. But three was enough, although four would have been quite something!
All this was incredible in itself, but there was even more to the career of this remarkable man. Let us consider his International achievements with Scotland. On 14 October 1936 at Ibrox, Jimmy scored the two goals that beat Germany on the day that the hated swastika was allowed to fly from the Ibrox stand. Poor old Adolph! He was just recovering from seeing the American negro Jesse Owens dominate the Berlin Olympics, and now there was this Scotsman who had further humiliated the Herrenvolk!
Then in April 1947 on two successive weeks, Hampden hosted two crowds of over 147,000 to see Scotland v England and then Celtic v Aberdeen in the Scottish Cup final. One man played in both games, and he won the pair of them! Yes, it was Jay Dee! Then, once the war was over, a football starved nation saw the Victory International between Scotland and England at Hampden in April 1946. It looked as if it was set to be a draw, until in the last minute up popped Jimmy to become the Scottish hero! And what that meant to the Scottish nation!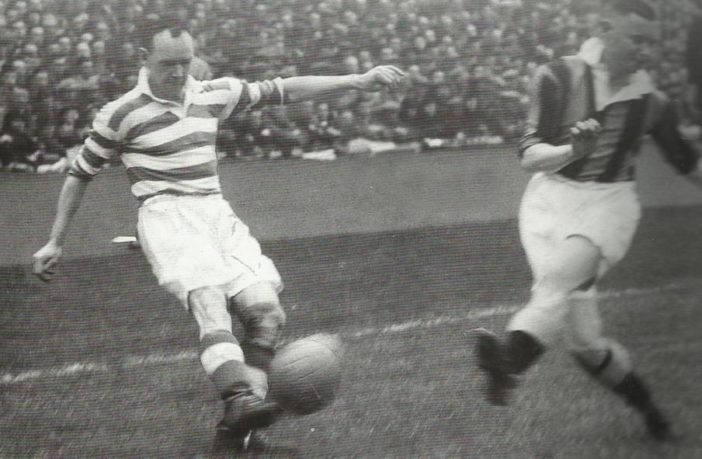 He was not without his problems. In early April 1939 his arm was badly broken in a game against Arbroath, and the complications were such that he was out of action for two years. This of course meant that he was never likely to be conscripted, but he did his bit in the Lanarkshire mines near his native Cleland, while playing for a poor Celtic team throughout the war once his arm recovered. Fate dealt him a further blow when his baby son died in 1944. The war years were not good ones for anyone, and certainly not for Jimmy Delaney.
It was his years for Celtic before the war that supporters remembered him for. He won two Scottish Leagues, one Scottish Cup and of course the all British Empire Exhibition Trophy in 1938, being part of two wonderful forward lines of Delaney, Buchan, McGrory, Crum and Murphy which morphed, as it were, into Delaney, MacDonald, Crum, Divers and Murphy.
He was fast, intelligent, a devastating crosser of the ball and he worked well with the tactics of Jimmy McMenemy the trainer, which involved interchanging position at speed, and it meant that he scored loads of goals from the centre of the field or even from the left side.
He once scored a hat trick in a Glasgow Charity Cup final against Rangers. The curmudgeonly Maley could only say "Don't let that go to your head!", but Maley was really very proud of him.
When he finished playing for Manchester United, he played for Aberdeen and Falkirk and was always treated like a hero by the Celtic fans even when he was in the opposition ranks. He scored for Aberdeen against Celtic at Parkhead one day with a marvellous strike. There was a cemetery silence, as one would have expected, but then a spontaneous outburst of applause when everyone realised that it was Jimmy who had scored it!
On another occasion at Falkirk, Celtic's left back, Frank Meechan, a rugged character, brought down Jimmy Delaney and he was roundly booed by the Celtic fans! That was no way to treat "old twinkletoes", as he was called.
He retained his love for Celtic, attending more or less every home game. Sometimes, though, like quite a few Celtic supporters, he was afraid to watch them for fear of seeing a defeat. The story is told by his family of how he used to take his dog for a walk and time his return just as the supporters buses were coming back from the game. He would thus get some indication of how the game had gone by the demeanour of the fans. A win was of course greeted with singing and punching the air; a defeat by morose, unhappy and occasionally angry silence. His family often wondered how on earth he was able to play in such games in the past!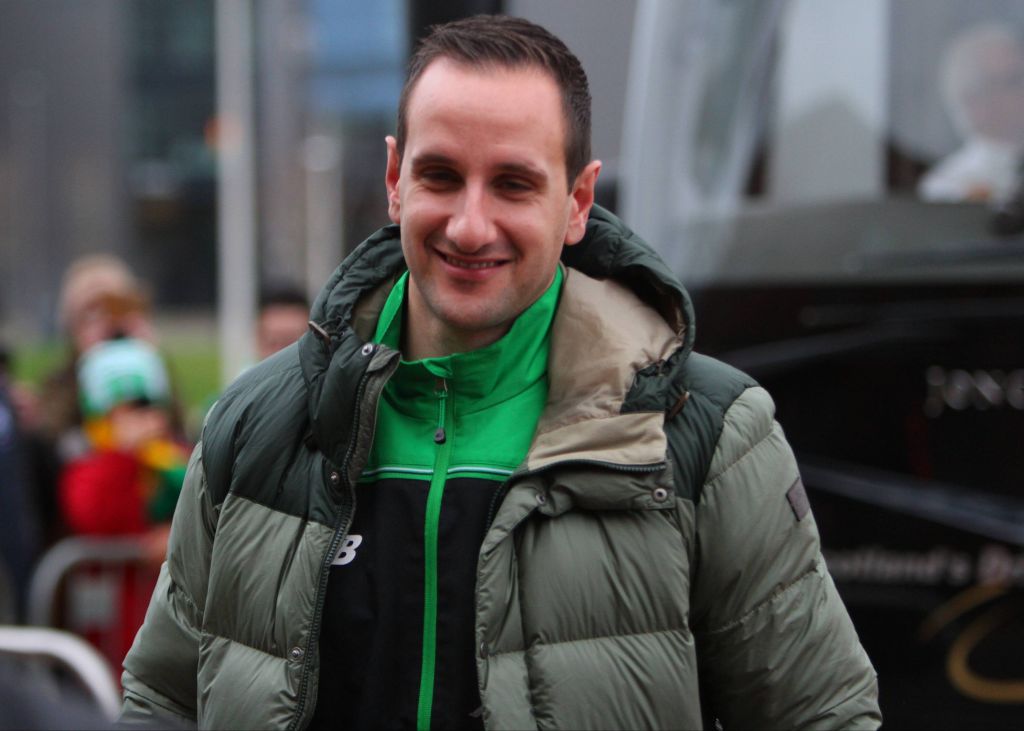 Jimmy died in 1989, a quiet, very dignified and much loved man, and deservedly venerated by all supporters who ever saw him play. It is good that the Delaney tradition continues at Celtic Park, for Jimmy's grandson is of course John Kennedy, a man whose own playing career was tragically foreshortened by injury, but whose contribution as a coach continues to flourish.
David Potter