We all send our congratulations to Aberdeen for their splendid performance at Ibrox last night, but having said that, we now have to face up to the fact that we are up against a very good, albeit slightly defensive minded side in Derek McInnes's Dons in the semi-final.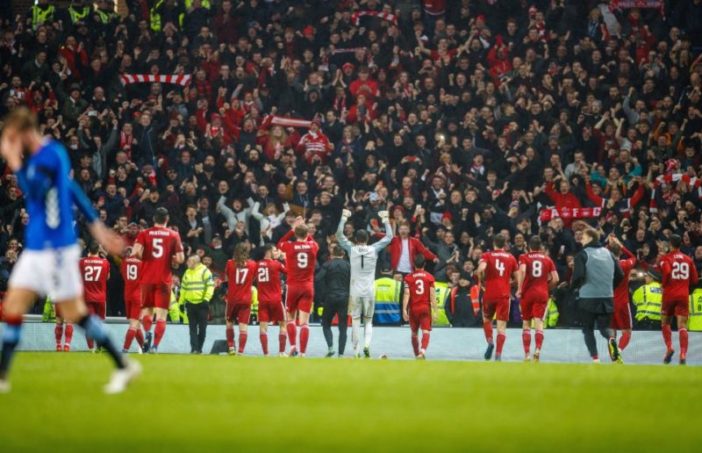 The semi-final details after Aberdeen knocked out the Rangers last night is now confirmed as follows:
Sunday 14 April 2019 (kick-off 2:00pm) | Live on Premier Sports
Hampden Park, Glasgow. Ticket prices are as follows: North and William Hill South Stands – Adults: £30 Concessions*: £15. East and West Stands – Adults: £20 Concessions: £10…
Celtic and Aberdeen have met 31 times in the Scottish Cup. We have won 15 of these games, they have won 10 and there have been 6 draws. In the semi-final, the granite and the green have clashed 5 times, with Celtic winning 4 of them, the only defeat coming on that awful day in 1983 when questions were asked about where Charlie Nicholas was? We all knew the answers as well!
One of the semi finals, the one in 1926 was held at Tynecastle. This well-meaning attempt at neutrality came to grief when the ground suffered from severe over-crowding as Jimmy McGrory and Tommy McInally gave Celtic a narrow but deserved victory.
The most recent Celtic victory at this stage was in 2011, and it was a very one-sided 4-0 victory.
Prior to 1912, the semi finals were not played at neutral venue, and Celtic's 1908 visit to Pittodrie was a far from pleasant one. Jimmy McMenemy scored the only goal of the game, but the Aberdeen crowd were far from happy with Sunny Jim and the referee, even throwing objects at the pair of them. The local press was appalled and called for the magistrates "not to stint" in their punishments. Sound a bit familiar, doesn't it?
1987 saw two replays. A good game at Pittodrie (where Celtic were 2-0 up on a hard pitch, but then lost the initiative), then a boring 0-0 at Parkhead, and the tie was eventually resolved at Dens Park with a Brian McClair goal.
1979 was a horror with Celtic gifting the Dons two early goals, and then being denied time and time again by an over-zealous linesman who persisted in flagging the now ageing Bobby Lennox for offside.
Another horror was 2014 when, frankly, Celtic simply "did not turn up", as they say, but 2002 was a good game on a Monday night at Pittodrie.
There have been 7 finals between the two times, arguably the best being the most recent one in 2017 with that last minute goal by Tom Rogic in the middle of a thunderstorm which no-one noticed!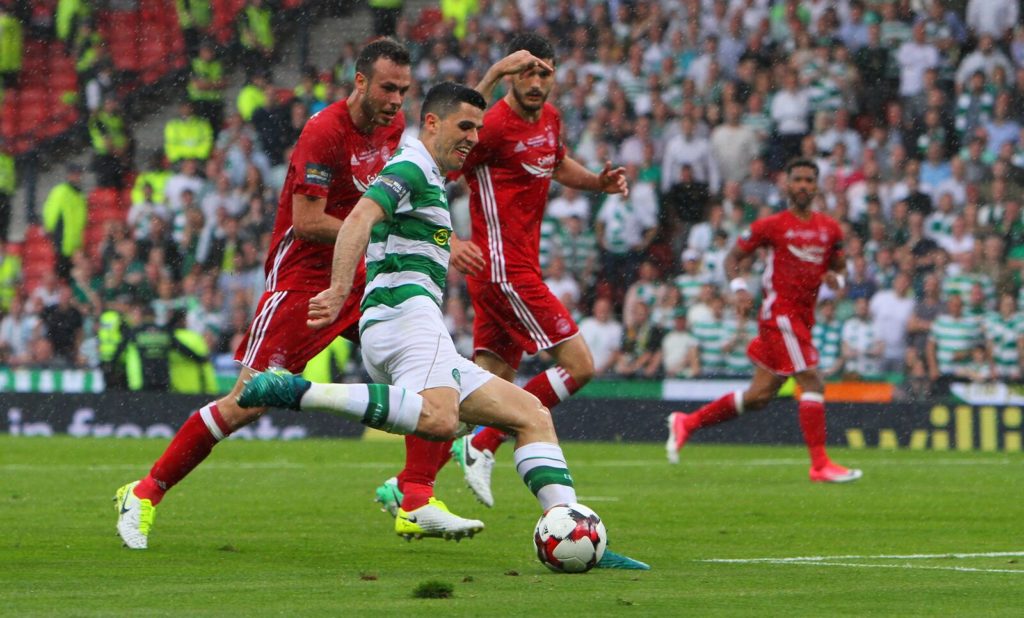 It is a pity that the three Cup finals won by Aberdeen are a bit tainted – awful refereeing in 1970 and 1984, and 1990 was a penalty shoot-out.
And 2019? Promises to be quite a game!
Here's the overall record for Celtic v Aberdeen in the Scottish Cup, with the Celtic score first.
1908 – semi-final, 1-0 Pittodrie, 21 March
1910 – quarter-final, 2-1 Parkhead, 19 February
1911 – semi-final, 1-0 Parkhead, 11 March
1912 – quarter-final, 2-2 Pittodrie, 24 February
Replay, 2-0 Parkhead, 9 March
1926 – semi-final, 2-1 Tynecastle 20 March
1931 – quarter-final, 4-0 Parkhead, 28 February
1935 – quarter-final, 1-3 Pittodrie, 9 March
1937 – final, 2-1 Hampden, 24 April
1950 – quarter-final, 0-1 Parkhead, 25 February
1951 – quarter-final, 3-0 Parkhead, 10 March
1954 – final, 2-1 Hampden, 24 April
1967 – final, 2-0 Hampden, 29 April
1970 – final, 1-3 Hampden, 11 April
1973 – quarter-final, 0-0 Parkhead 17 March
Replay, 1-0 Pittodrie, 21 March
1979 – quarter-final, 1-1 Pittodrie, 10 March
Replay, 1-2 Parkhead, 14 March
1982 – 0-1 Pittodrie, 13 February
1983 – semi-final, 0-1 Hampden, 16 April
1984 – final, 1-2 aet Hampden, 19 May
1987 – 2-2 Pittodrie, 1 February
Replay, 0-0 Parkhead, 4 February
Second Replay,1-0 Dens Park, 9 February
1990 – final 0-0 (8-9 penalties) Hampden, 12 May
2002 – quarter-final, Pittodrie 2-0, 25 February
2008 – quarter-final, Pittodrie 1-1, 9 March
Replay, Parkhead 0-1, 18 March
2011 – semi-final, Hampden 4-0, 17 April
2014 – Parkhead 1-2, 8 February
2017 – final Hampden 2-1, 27 May
David Potter