Reading The Celtic Star article yesterday to mark Bertie Auld's 82nd birthday triggered some images in my head. I wonder if your readers might enjoy my poem…
John C Traynor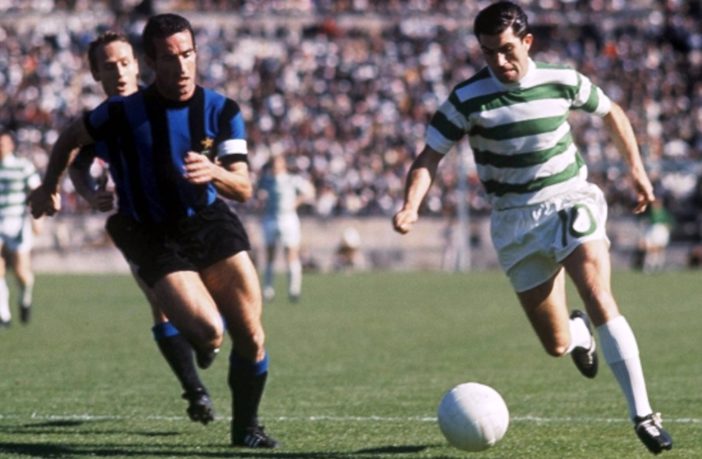 THE TUNNEL TALE
A blazing sun 
awaited them;
the pilgrim Thims, 
expectant … primed,
rehearsed the anthems,
trailed the chants –
as had been done
a thousand times.
Ten thousand throats 
and thousands more,
through eighty summers,
keeping faith
with Walfrid's dream of
Celtic pride –
so soon to be
in full array.
As underground 
the jousters milled,
a contrast stark
got underway:
striped Latin gods –
groomed, oiled and tanned;
hooped gallus Lions – 
their 'Day of Days.'
Facchetti preened, 
wee Bertie prowled;
we nudged and winked,
they gawped disdain.
'Ten-Thirty' led
the banter blitz –
the battle half-won
there and then.
The new club hymn, 
just six years in,
bounced round the walls,
filled haughty heads.
'Hail! Hail!' unnerved
the wobbling foe
and filled their hearts
with fateful dread.
The 'Verdebianchi' 
took the field –
a noble phalanx,
'Cesar'-led;
bemused, bewildered,
Inter trudged –
their aura pricked …
like walking dead.
The 'Tunnel Tale'
is legend, now –
iconic heroes,
Celtic lore.
The Lisbon Lions'
impromptu choir
rings out in legend
evermore.
Written by John C Traynor
Copyright John C Traynor, March 2020
Read Bertie Auld's own description of the Tunnel Tale below…
"I'm convinced there was no need to kick off in Lisbon," Birthday Bhoy Bertie tells the tunnel tale | The Celtic Star https://t.co/D6hjE3LyKu

— The Celtic Star Editor (@CelticStarMag) March 23, 2020