I watched with deep interest as Vinicius Jr. provoked mayhem and madness in the Valencia v Real Madrid encounter as he went to the crowd to point out one of the vile racists abusing him during the match.
The Brazilian was aggrieved by certain chants towards him and did what I would love to see every footballer doing in circumstances such as this, namely, call it out. This has gone on for far too long now and needs to be addressed by the governing bodies who seem to be motivated by money, rather than morals and ethics.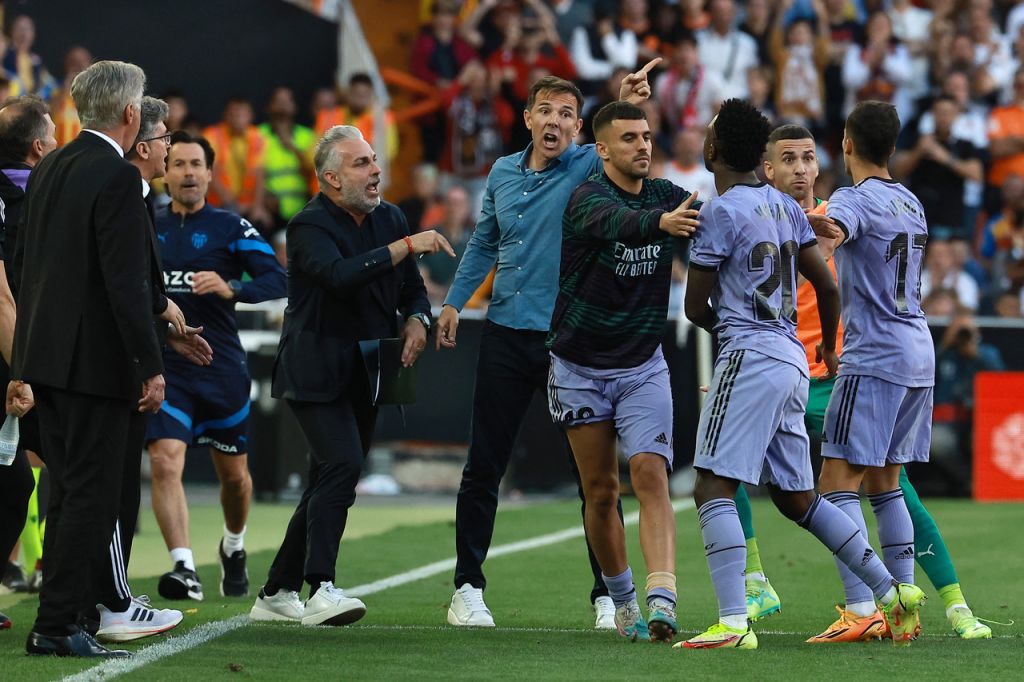 These behaviours are of epidemic proportions in today's game and exist in almost all countries, not least in this northern European outback, Scotland. Here, the culture of racism and bigotry has expanded rather than regressed, targeting everyone and anyone. Heard this 'motto' before? Yes, indeed you have. It came out of Ibrox in recent years and remains a bizarre feature in theRangers' catalogue of self-exemption from religious bias and scrutiny. Here's a timely reminder of their catchphrase.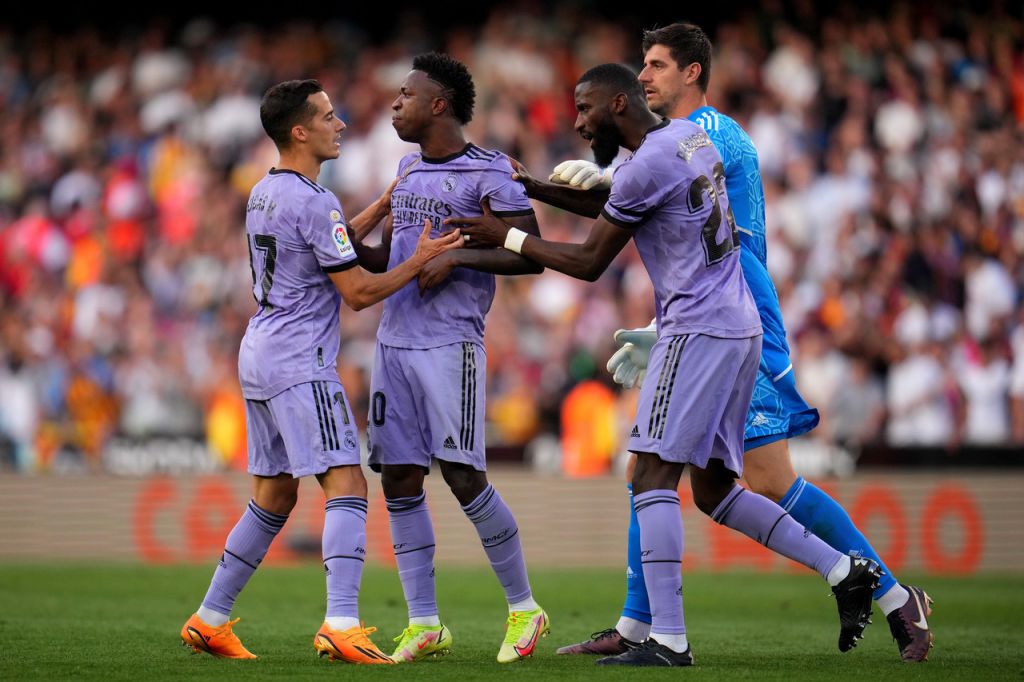 "Rangers is proud to be a modern, diverse football club where people from all backgrounds, cultures and communities can unite to celebrate and support a common cause – our ground-breaking diversity and inclusion campaign 'Everyone Anyone'."
I won't labour this most obvious and curious faux pas as the theme and public response speaks for itself. I will, however, thrust into the public limelight the necessity to do something about the glaring lack of leadership in the Scottish footballing hierarchy. This is a body which appears to, not only turn a blind eye to the systemic abuses suffered by Celtic Football Club at the hands of this 'proud and modern football club' but authenticates and rubber-stamps the continuous religious intolerance. It is a deliberate blight which provokes and antagonises and goes beyond the club in question.
Week after week the songs, the chants and the sickening vitriol which emanates from the stands are heard on national television, but not addressed. As recently as last week, they were lauded by Sky Sports commentator, Ian Crocker as the Irish and the Pope were raucously abused in song with Crocker (in)famously chanting, Ibrox is rocking! Indeed it was, but like their self-indulgent badge of honour, 'We Are The People', it begs the question from all who encounter their 'hospitality', what kind of people?
Crocker is actually one of my favourite commentators, one who celebrates a goal from either side of the divide with equal gusto, famously belting out, "Know your place" during the 5-1 demolition derby at Ibrox. On this more recent occasion however, he got it spectacularly wrong, but I'm sure there was no bias or malice in his oversight. It was simply an ill-timed outage in the heat of theRangers celebrations.
Real Madrid and Barcelona are two world famous clubs who despise the other's existence, a rivalry almost, but not quite equal to their Glasgow equivalent. Still, there is a healthy crowd supporting both sides, whether it be the Bernabeu or the Nou Camp, providing a dynamic which is valued and loved by football lovers globally. Not so the Glasgow Derby, a match which has been DEVALUED and brought into questionable status with the expulsion of opposition supporters in the previously viewed, 'Greatest Derby On Earth'. Why? Because of sectarian hatred towards Celtic, no other reason. Sheer bigotry.
Whilst Celtic players and staff have been physically and racially abused in the last few meetings between the rivals with bottles, lighters and other objects of note being launched from the blue hordes, no action has been taken by the authorities.
It's all been 'looked into' before mysteriously shunted into the deep, dark halls of antiquity, Indiana Jones style. No fines, bans or retrospective action has, or is ever likely to be taken, unless…!
Unless Celtic, and other clubs around Scotland, (count Hearts out of the equation as they are equally complicit), summarily demand some form of accountability. If they do not, questions should be asked. They already have been but, like the Resolution 12 inquisitors, no satisfactory answers have been forthcoming leaving a very bitter taste in the mouth and 'conspiracy theories' becoming more than a theory. Things have gone too far, inside and outside the sport.
Credit to Vinicius Jr. Despite his often antagonistic verve and swerve in view of opposing fans, no sportsman should have to put up with violence whilst engaged in his or her club duties, neither physically nor verbally. There is a fine line between sporting banter and obsessive hatred with the Ibrox club not only crossing this line, but taking a quantum leap into the seventeenth century with no imminent sign of return.
Therefore, the 'people' must be dragged back kicking and screaming by Scottish legislature, and an apathetic, complicit society in general. If you support theRangers for purely historical and family reasons, so be it. Go for your life. If you support theRangers but refuse to call out the festering virus of sectarian hatred towards Irish/Catholics or any other group of targeted choice whilst in your presence, you are simply a bigot, and a cowardly one at that.
In essence, you are instrumental in destroying the very fabric of the society and community in which you reside and tramping down the good work done for centuries by our forefathers. It is 2023, and still we see men and women being dragged through the courts, or emergency wards in bloodied and soiled union jack tee shirts. And for what, Sport? That's not sport, but simply a vessel for the lesser evolved to shout from the rooftops, (or grandstands), about their perceived superiority in light of the rest of society. It's time for change, and for the sake of everyone we must all Call It Out!
Eddie Murray
The anti-racism fury is correct. Its 2023.

So I ask everyone why in Scotland is the sectarian anti-catholic anti-irish racism given a pass?

why is noone on their backs with this fervour? It is part of the UK.

Is it because Scotland is considered an irrelevant backwater? https://t.co/w2WC8USUNV

— R Mitchell (@RPMComo) May 23, 2023
We stand with you @vinijr! 👊🏽

Ignorant racists… action needs to happen! Young superstar, playing the game he loves and this is continually happening in La Liga! 🤬https://t.co/RHvivhO4sL pic.twitter.com/WqXhF5f5Ko

— Rio Ferdinand (@rioferdy5) May 22, 2023
What happened and has been happening in Spain is abhorrent. Racism has not gone away pretty much anywhere it's merely our ability to expose it has increased. No human being should be subjected this and to mock the morons will explode their tiny minds. pic.twitter.com/3BKzAIDJ0X

— Paul Larkin (@paullarkin74) May 22, 2023
Once again, the player being abused is the only person to be punished. https://t.co/cGJjyzPLyI

— Gary Lineker (@GaryLineker) May 22, 2023
How many times do we need to see this young man subjected to this shit? @LaLiga @UEFA @FIFAcom pic.twitter.com/FsEJUZuvMY

— Rio Ferdinand (@rioferdy5) May 21, 2023
"The way LaLiga has decided to victim-blame Vinicius Jr. … is baffling!"

"Where's the 15-point penalty for this!?"

Carlo Ancelotti, @vinijr, @CharlieDavies9, @Nicocantor1 and @NotAlexis speak on the racist abuse Viní Jr. suffered on Sunday and Javier Tebas' reaction. pic.twitter.com/PuP5ZK1a9R

— CBS Sports Golazo ⚽️ (@CBSSportsGolazo) May 22, 2023
*Interviewer wants to ask about the game itself*

Ancelotti: "You want to talk about the game?"

Interviewer: "Well yes—-I want to—-"

*Ancelotti proceeds to use his time to talk about the disgusting racist abuse towards Vinicius Jr.*

Grande, Carlo.pic.twitter.com/mcwVvO9MzA

— Luis Miguel Echegaray (@lmechegaray) May 21, 2023
This is not easy to watch. Or hear. But it is essential. Vinicius Junior. Welling up with tears after being subjected to a fresh wave of racist abuse. This has been a regular occurrence for six months in La Liga. pic.twitter.com/Ro80mHhvCA

— Colin Millar (@Millar_Colin) May 21, 2023
Real Madrid statement confirms club are filing a formal complaint to Spanish public prosecution over racist abuse suffered by Vinicius Junior in Valencia. https://t.co/jv608PyM5E

— Colin Millar (@Millar_Colin) May 22, 2023
An alternative viewpoint of last night's events from a Valencia-based journalist. Who is "utterly disgusted", not by the racism, but the reporting of the events. https://t.co/rHlX0IDMT8

— Colin Millar (@Millar_Colin) May 22, 2023
An alternative viewpoint of last night's events from a Valencia-based journalist. Who is "utterly disgusted", not by the racism, but the reporting of the events. https://t.co/rHlX0IDMT8

— Colin Millar (@Millar_Colin) May 22, 2023
Valencia have confirmed that police have identified a fan who made racist gestures towards Real Madrid's Vinícius Júnior during their match on Sunday. pic.twitter.com/qhLd3lwZff

— Sky Sports News (@SkySportsNews) May 22, 2023