QUITE understandably Malcolm Rodger headed down to his local last night and enjoyed a couple of pints of Guinness. No-one who watched his appearance on Channel 4 News last night would have grudged him that little indulgence after what had been a traumatic few weeks for the former soldier.
Malcolm had a read at his interview in The Celtic Star and was a little bit troubled by the headline we used. Exclusive – "Idiots" – Victim featured on Channel 4 tonight attacks fellow Rangers fans who "try to redirect the issue of sex abuse into something else and hatred for the other side".
Tonight Alex Thomson, in his second in a two-part investigation into child abuse in Scottish football, will focus entirely on Celtic. Malcolm was clear in his interview on this site that he puts the blame on the SFA, yet Thomson tonight has a bloke on from the SFA pointing the finger at Celtic.
This shouldn't be a blame game, nor should it be a subject for vile chants on the terraces and stands at Scottish football – something that needs to be addressed by the SPFL as a matter of urgency.
The point that Malcolm made is completely ignored by Thomson, who appears to be agenda driven. His mind appears to have been made up on this from a very early stage.
Here's an example for you. Stephen O'Donnell, author of Tangled Up in Blue, contacted Alex Thomson about the sustained, vile sectarian abuse he had been receiving due to the fact that he'd published a book about Rangers.
Stephen got in touch with me last night after reading our latest article on this subject.
Hi David
Following you piece on The Celtic Star this evening, I'd thought I'd forward you this from a few days ago.
I asked Alex Thomson if his reports into the issues facing Scottish football would mention the ongoing bigotry situation at Ibrox, including the response from some of their fans to Tangled up in Blue.
Here is his response.
Stephen
RESPONSE FROM ALEX THOMSON…
Thanks Stephen,
It's disturbing that all this bigotry still exists to the extent that it does.
As regard our items, only one is about Celtic FC. Celtic's problem is on a bigger scale than any other club, any way you look. The club is also fighting tooth and nail to avoid its plain moral – and legal – responsibility – as I'll reveal.
Celtic fans need first to accept this obvious fact: CBC was part of CFC. I sense you too have difficulty facing that truth.
Once fans and the club do that, it follows that in a post-Weinstein and post-Man City world, Celtic's current stance and silence is repugnant.
Cheers – A
This pretty much confirms that Thomson is determined to broadcast a hatchet-job on Celtic this evening. Yesterday he responded to Celtic highly commendable statement by simply denying its contents. His response was angry and illogical with someone asking him if he can read.
Someone closely associated with Celtic had a look at the email exchange published above and had these comments to make to The Celtic Star this morning. "Celtic have admitted close links to the Boys club since at least November 2018 – their statement is still on the site," before adding, "Neither is it fighting anything – they are cooperating at every turn. Thomson is a liar or a fool. Let's see what he comes up with. Let's see what evidence he has to back this up."
Quite incredibly given Malcolm Rodger is very clear in accusing the SFA of allowing the terrible events that happened to him to unfold, Thomson has the guy from the SFA – their Child Abuse Investigator no less – pointing the finger directly at Celtic tonight.
"SFA child abuse investigator tells Channel 4 News "every senior club – whose community-based club shared their values, their name, their brand…has a responsibility to the survivors of abuse. Yes. That is a moral obligation that is inescapable and it applies to every club…" Thomson tweeted today.
He didn't however mention what happens when the victims approach the club only to be told to contact the previous club's liquidators. Where is your 'moral obligation' with that one, Alex?
Mark Daly, the BBC Scotland Investigations Correspondent has published that story – Rangers abuse claim victim told to contact liquidators for compensation.
SFA child abuse investigator tells @Channel4News "every senior club – whose community-based club shared their values, their name, their brand…has a responsibility to the survivors of abuse. Yes. That is a moral obligation that is inescapable and it applies to every club…" pic.twitter.com/u3C3AVhG2T

— alex thomson (@alextomo) February 27, 2020
But unfortunately for Thomson, the proposition that he appears to be arguing this evening is NOT backed by the Scottish FA who have this afternoon dramatically intervened to issue a Statement on behalf of Martin Henry, the Chair of the Independent Review of Sexual Abuse in Scottish Football. It reads as follows, and serious undermines the claims that Thomson and Channel 4 News have been making. It reads as follows:
Martin Henry, the Chair of the Independent Review of Sexual Abuse in Scottish Football, issues the following personal statement in response to reports this morning.
"Firstly, I am hugely disappointed that, following an interview with Channel 4 updating on the significant work undertaken by the Review team, I am compelled to clarify any uncertainty that has arisen from reports this morning.
"For the avoidance of doubt, and given the seriousness of the subject matter, neither in the Channel 4 interview nor in the as yet unpublished final report is there any reference to liability on any clubs that have formed part of the review. This is, quite simply, not within the terms of reference the review team have been working to.
"Equally, the final report will make no reference to compensation. On the contrary, in my dealings with the survivors, there is a clear wish for acknowledgement and wider recompense – amends to be made in whatever way deemed appropriate by that survivor – for the harm suffered. This is, of course, entirely a matter for the survivors and again not within the scope of the final report. I have stated consistently that the pursuit of personal justice is not necessarily financial.
"On the specific reference to Celtic FC, one of many clubs referenced in the final report, the Review in actual fact states clearly that the club has gone to great lengths to address any past contacts between the club and Celtic Boys Club – and have done so effectively. This is welcomed by the Review and welcomed within the review.
"The efforts of the Review team are completely focused on protecting young people by learning from the past to make football a safe place for children and young people."
The Scottish FA also wishes to clarify that Martin was speaking in his independent capacity and that personal views expressed are not in the scope of the Review's Terms of Reference, nor are they endorsed by the Scottish FA.
Statement issued by the @ScottishFA today ⬇️

— Celtic Football Club (@CelticFC) February 27, 2020
Let's get back to what Malcolm has to say, initially after he's had those couple of pints of Guinness and then again this morning. His first email arrived well after midnight last night. This is it in its full, unedited form.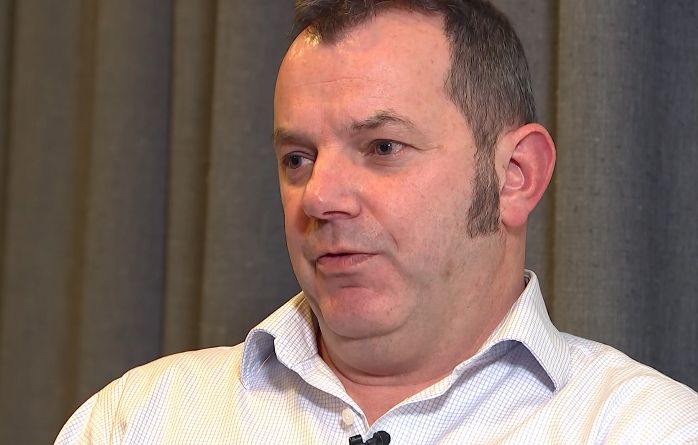 Hi David
I have read your online rebuke of Alex Thomson in many forums. I must say I'm not great at modern forms of communication however I must ask that whilst momentarily it may seem as if Celtic are the focus of attention, you should remember that I have mentioned previously on the Rangers site Follow Follow that my story has nothing to do with what team I support.
My post earlier today even recounts how Celtic fans are also victims.
I fully support your endeavour to defend your 'side' of Glasgow however for me it's got nothing to do with which team we support. This is purely down to the facts. Hundreds of kids were abused through the medium of football. The SFA is ultimately responsible. Remember Gordon Neely and Harry Dunn were abusers wearing Rangers scout kit for years. My support of my team should not have been brought up.
It's this simple. Tell the whole story from start to finish or choose to try and twist this into something it's not. Both sides of Glasgow, to my mind, need to join together and see this scar on OUR NATIONAL GAME put right.
Please in future quote me fully and correctly. The abused kids that we once were only wanted to play football.
I was scouted by teams north and south. I would have played for any one of them as long as it allowed me to continue my love of the game.
Please for equality, post this on other forms of media.
Regards
Malcolm Rodger
Now, all the quotes we used were directly from Malcolm himself and the quote used in the headline was also a direct quote. His words, 100%.
Here is my response to Malcolm – again in full and unedited.
Hi Malcolm
Yes happy to run this later today. All words quoted were from your emails and I am sorry that you disagree with the way that the article appeared.
The fact remains that Rangers fans do weaponise child abuse for their own ends and not for the benefit or consideration of the victims.
I thought that you were very brave watching that last night, I also bought the Times yesterday, first newspaper I have bought in years, on your recommendation.
I hope that things improve for you going forward and that these scumbags do not entirely waste your life. Your bravery should see you through.
Great result for the Rangers yesterday – if Celtic go through tonight it is brilliant for the old co-efficient.
Imagine the scenes if they both got to the final?
Best wishes
David
And Malcolm's reply (where we find out about the Guinness)…
Good morning David
I must say Guinness does make me do silly things. I agree with you on the idiot Rangers supporters who take it out of context. Clowns every one of them.
I really hope Celtic can do the job tonight. They've been flying the Scottish flag in Europe for years now on their own and I hope you go onto win it. I say that because even if Rangers get through to the semis it will fuel the fire of delirious thoughts even further.
Our league position is only because other teams can't get near us or Celtic. We are kidding ourselves with thoughts of being who we were in the 90s.
Have a good night pal.
Hope it goes well for you all.
Malky

Here is Part 1 of the report which was broadcast last night on Channel 4 News and includes Malcolm's interview with their Chief Correspondent, Alex Thomson.
ALSO ON THIS SUBJECT ON THE CELTIC STAR…
Urgent – Time to Amend Scottish Football's Unacceptable Conduct Policy | The Celtic Star https://t.co/OjtLevU7DK

— The Celtic Star Editor (@CelticStarMag) February 27, 2020
'We condemn those who seek to weaponise the misfortune of others,' Celtic Trust | The Celtic Star https://t.co/jdGjJhiBWu

— The Celtic Star Editor (@CelticStarMag) February 27, 2020
Exclusive – "Idiots" – Victim featured on Channel 4 tonight attacks fellow Rangers fans who "try to redirect the issue of sex abuse into something else and hatred for the other side" | The Celtic Star https://t.co/oKhc2CxRlW

— The Celtic Star Editor (@CelticStarMag) February 26, 2020