Regrets? He has a few. As such, former Celt Ramon Vega hopes Cameron Carter-Vickers will grab the opportunity of playing Champions League football with Celtic, something the Swiss Centre half missed out on after winning the treble during a temporary spell with Martin O'Neill's Celtic in 2001, with Vega advising Celtic failed to offer a permanent deal before eventually signing with Watford – and having a good number of years to consider what might have been.
Vega is of course aware of interest in securing Carter-Vickers on a long-term deal coming from cash rich EPL clubs such as Newcastle, Bournemouth and Everton, but none of those clubs can offer what the big defender will get at Celtic, who Vega describes in an interview with the Newsquest site Celtic Way as "one of the best clubs in world football", as no potential suitors sides offers the opportunity to play at the highest level of European football in the Champions League.
"It is up to Cameron Carter-Vickers what he does next. Celtic still has to pay the fees to extend the deal and make the move permanent. If everything can be agreed then there is no question that Carter-Vickers should stay at Celtic.
"He will play in the Champions League games at Parkhead and that will be an unbelievable experience for him. It is an unbelievable experience for any player really. Forget it, Carter-Vickers will not get that anywhere else. That's a fact. It is not even a question for me: if Carter-Vickers can stay, then he should stay. He will be at a fantastic football club.
"I had a similar experience at Celtic. I enjoyed a wonderful few months at the club and I won the treble – you couldn't really ask for more than that. I was sad that I did not get the chance to continue my career there.
"Carter-Vickers has enjoyed a wonderful season and has won the title and the League Cup. He will realise soon enough that he is at one of the best clubs in world football. When he looks back on his career he will never forget such an experience. From that perspective, playing in the Champions League with a club like Celtic would be something pretty special.
"Celtic are a special football club. Carter-Vickers has the chance to play in the Champions League with Celtic – I wouldn't even have to think twice about that. If I were his agent I would be actively encouraging him to stay in Scotland. Celtic are a huge club. They have the money coming in from the participation in the group stages.
"If he performs well in the Champions League then his value will also increase so it really is a win-win for both parties."
Personal terms have already reported to have been agreed between Celtic and Carter-Vickers, with Celtic now expected to try and conclude a deal with Spurs before a reported 15 June deadline kicks in, perhaps not the easiest of tasks given Michael Nicholson may now be expected to enter negotiations with Spurs Daniel Levy, a man renowned for being a tough chap to deal with.
That of course will be quite the task for a new CEO, but with an option to buy already included in Carter-Vickers initial loan deal, you would expect the initial fee, if not the structure and add-ons, have at least been agreed in advance.
If a deal can be successfully concluded Ramon Vega believes both Carter-Vicker's international aspirations, a desire to win silverware and regular access to top level European football can all be achieved north of the border at Celtic rather than with EPL clubs who may well be able to offer more money, but won't be playing in the Champions League.
"Carter-Vickers is back in the USA squad because of his form with Celtic. It has been a wonderful environment for him. He is playing with a team that is winning trophies and whose team spirit and confidence are really high. That makes players stronger and more confident. Would he have got that at Everton, Fulham or Bournemouth? I don't know. He certainly won't get Champions League football with any of those clubs – but he will get it at Celtic.
"Celtic will also have the benefit of knowing that they have recruited a very good centre-back. Hopefully they can convince him to stay on at the club for a few years."
And for Vega, former clubs Celtic and Spurs could well meet in the Champions League next season, and the diplomatic Vega admits for him such an event would be a no-lose situation.
"First and foremost it is brilliant that Celtic won the title and qualified for the group stages of the Champions League. That is great. The club has a massive and global fanbase. Celtic is all about European games and they are one of the world's biggest clubs historically because they won the trophy. It is where they belong – they are a club that needs to be part of the Champions League.
"It has crossed my mind that Celtic and Tottenham could be drawn together though. The Vega household would be split right down the middle. I would need to get a green and white flag as the green side would signify Celtic and the white side would signify Tottenham.
"I can't really lose on that one as I love both of those football clubs. I just think it is wonderful to see both of my former sides in the Champions League. It makes me so happy."
You really can tell as much as Ramon Vega looks back on his time with Celtic fondly, his five-month spell with the club was something he would like to have continued. And for all he had a fine footballing career there is certainly tinges of regret coming through loud and clear.
As such it's clear he doesn't wish a young player 21 years later, following the same route from Spurs to Celtic via an initial loan move, to have the same regrets.
Hopefully if Michael Nicholson can get this deal over the line Cameron Carter-Vickers can experience those Champions League nights at Paradise that Ramon Vega was sad to miss out on.
Niall J
GET YOUR INVINCIBLE AND TWICE AS GOOD T-SHIRTS NOW FREE WITH MATT CORR'S BRILLIANT CELTIC BOOKS
You want one of these? It's completely FREE when you purchase INVINCIBLE or TWICE AS GOOD* from Celtic Star Books website, just click on the relevant link below to order your copy and when you do select the BOOK you want then add the T-SHIRT SIZE you require from small, medium, large, XL or XXL, adding that after your name so we'll know which size to send you…
*£1 from every copy of Twice as Good will be donated to Marie Curie in memory of Harry Hood and in line with the wishes of the Hood family.
Order Invincible here…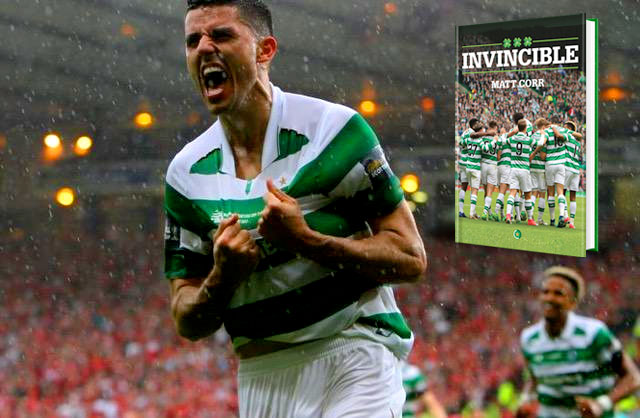 And order Harry Hood – Twice as Good here…