SEVEN more Magnificently Random Celtic stories from historian David Potter for you to enjoy on Sunday morning…
1. BERWICK RANGERS
There will always be a soft spot for Rangers – Berwick Rangers. This is because of the events of 28 January 1967. Celtic were playing Arbroath in the Scottish Cup at Parkhead that day, while Rangers, the Glasgow ones that is, were playing over the border in England at Berwick Rangers, a team whom they had tried to put out of the Scottish League a few years earlier. Berwick had no floodlights, so their game kicked off at 2.45 pm The game could thus finish and the supporters buses could be on their way home in daylight.
In these days, radio coverage was not particularly good in Scotland, although there was a better UK coverage. So no-one really knew for certain what was going on, although rumours circulated that Berwick were winning 1-0. Aye, aye, we thought. They always say this, and the Celtic crowd will always believe such things, for there is no limit to what folk will believe if they want to believe it.
It would be nice, mind you… but let's just concentrate on the game in hand which Celtic, in their great 1967 style, were winning even though a few good moves from the Arbroath men were eliciting the occasional round of applause.

Celtic, comfortably 3-0 up at half-time, were well on top, when suddenly about fifteen minutes from the end and for no apparent reason, there was a commotion in the main stand, and a man with a transistor radio cocked to his ear was seen to signal something to some of the players on the field.
The commotion spread throughout the main stand, down to the enclosure, then to the sparsely populated "Rangers end" of the ground, then to the Jungle and finally to the Celtic end. "1-0 for Berwick" everyone said with even the players getting involved. An Arbroath player was seen to ask what it was all about and when Tommy Gemmell told him, a broad smile appeared on the Arbroath man's face for he was clearly no lover of Rangers.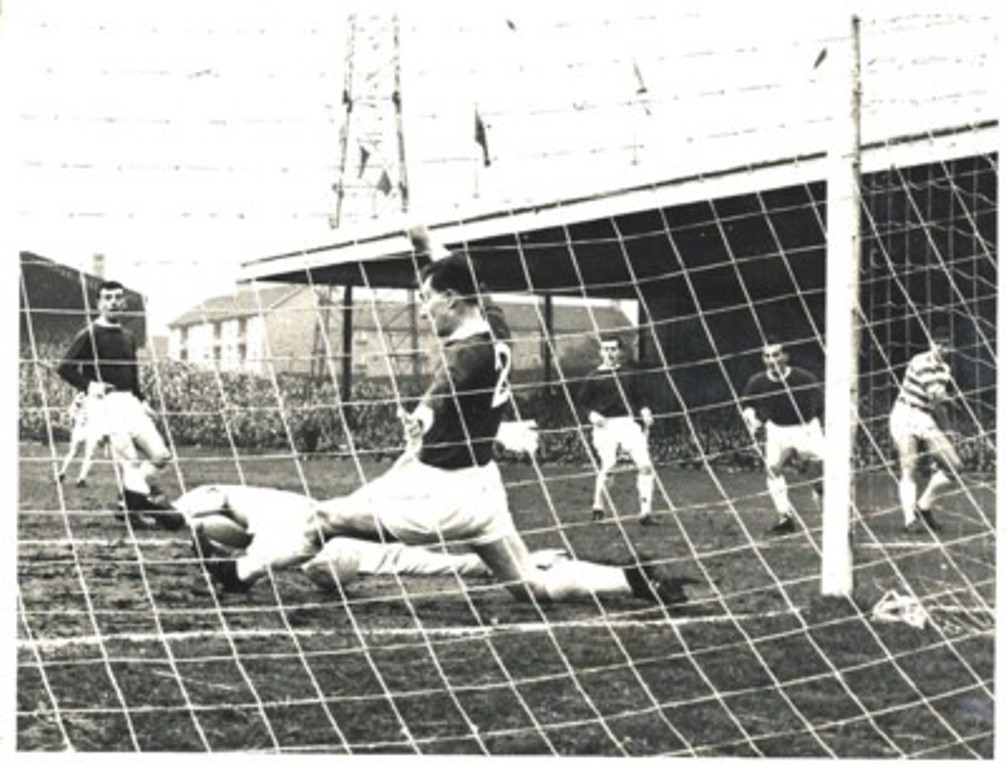 The ground was now in uproar – but the nagging doubt remained "Was it true?". "It's true, ah tell ye, the English BBC says it". "Naw. Ah'm no believin' that!" It would have been cruel if it had all been a hoax, and it was only when the crowd went home and actually saw the result in the evening paper or on TV, that the enormity of it all sunk in.
2. RELEGATION
Celtic have never been relegated, but 17 April 1948 saw a game at Dens Park in which Celtic came close. In point of fact, defeat in this game would not have relegated them but they would have had to hope that other results went their way.
In any case, the cynics believe that somehow or another, Celtic would have been saved by some sort of League reconstruction because it would not have been a good idea to kill a goose that laid one or two fairly large golden eggs as it travelled round the country in the course of a season!
It was also rumoured than one or two of the Dundee players might well have, accidentally of course, scored an own goal, if required. The desire of many opposition fans to see Celtic relegated was not of course shared by the clubs themselves.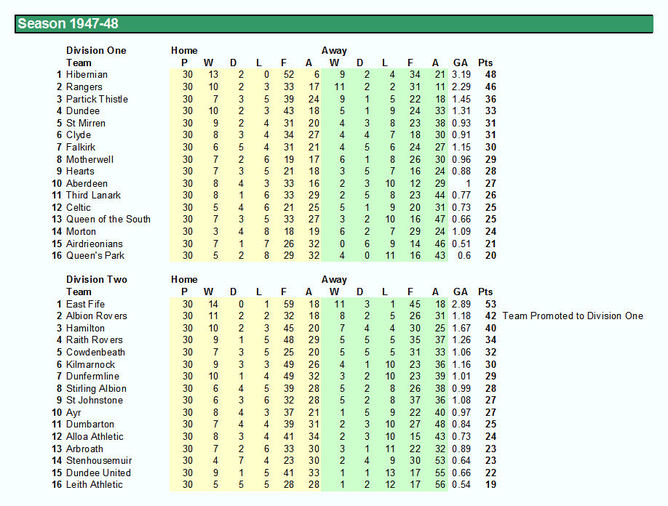 In any case, 31,000 saw two Celtic men win their spurs that day – Bobby Evans hitherto an average forward, played a brilliant game at right-half and Jock Weir scored a hat-trick, his final goal coming near the end to seal a Celtic victory, celebrated by some supporters as if they had won the Scottish Cup!
3. GOALKEEPERS ARE WE!
There is a lovely vignette of a story of a game in November 1930 at Celtic Park when Hearts were the visitors. Their goalkeeper Jack Harkness had been the Scotland goalkeeper, but had been unseated by Celtic's John Thomson. Famously chivalrous, at half-time (because of the failing daylight, the teams stayed on the field and had a quick cup of tea) Harkness sought out Thomson and the pair of them sat apart from their team mates. Thus while Maley fulminated at his own team, and Willie McCartney did the same with the Hearts men, the two goalkeepers sat down to discuss the finer points of their craft!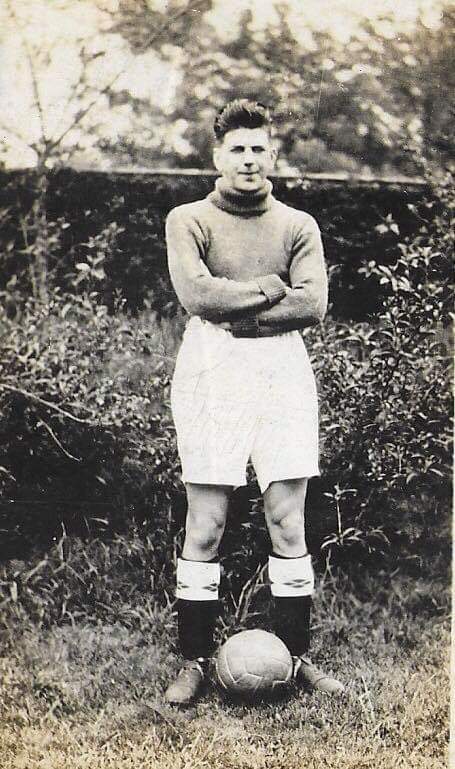 3. THE THREE THOMSONS OF 1931
Celtic had three Thomsons in 1931 – John, Bertie and Alec. John was the goalkeeper who died so tragically on September 5 1931, Alec was one of the finest inside forwards Celtic have ever had, and the least known of the three was Bertie, a talented winner but also a Glasgow wild boy who, like so many of that age, pressed the self-destruct button, refused to accept the iron discipline of Maley and died only a few months after his thirtieth birthday in September 1937.
4. LENNOXTOWN
Situated in the Campsie Hills to the north of Glasgow, this luxurious establishment is Celtic's training centre, and no, it was not named after Bobby Lennox!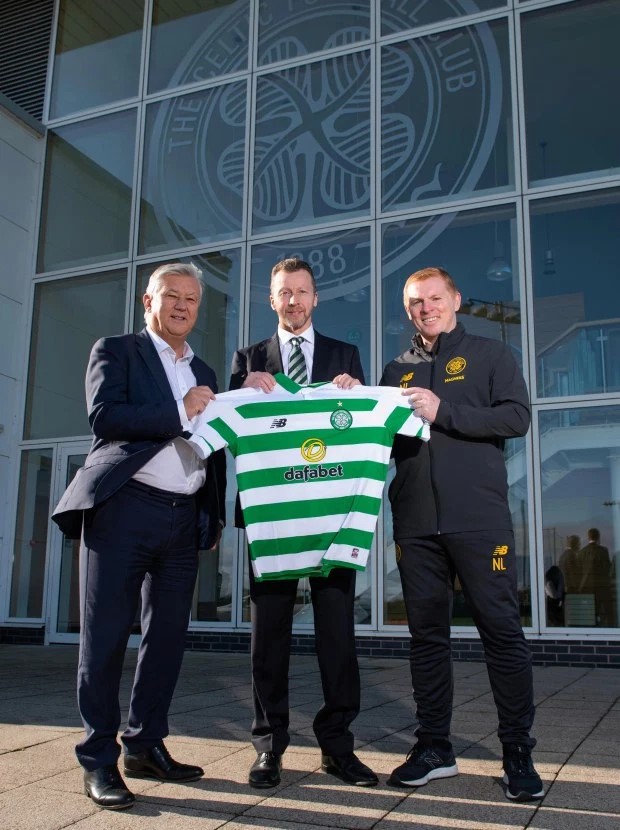 5. CELTIC'S COUNTRY BUMPKIN
Celtic have had no finer servant than the red-faced, bucolic, ungainly looking Peter Wilson from Beith, a man who rejoiced in the nomenclature of "Celtic's country bumpkin". He did apparently get himself lost in Woolworth's Department Store in Glasgow, so overawed was he by the amount of goods on display, but he never got lost on a football field.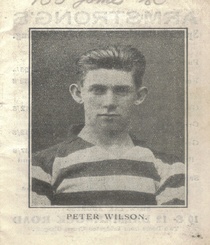 For ten years he was one of the mainstays of that charismatic, enchanting but sometimes underperforming Celtic team. At right half he can be freely be compared to any other of that great Celtic right halves – and that includes Sunny Jim, Bobby Evans, Pat Crerand and Bobby Murdoch. "Peter didn't pass the ball – he stroked it", as Peter's admirers in The Glasgow Observer and The Weekly News would put it.
Peter came into the Celtic team in the chaotic year of 1924, and earned his spurs in a curious incident in a game against Hearts in October of that year. Celtic had twice missed the same penalty, Patsy Gallacher and Adam McLean being the sinners, but incredibly the referee ordered yet another retake. This time up stepped Peter, casually "as if he was to take a fork to shovel manure onto a cart" and did the needful.
By the end of that season, he had played his part in the two great games which brought the Scottish Cup back to Celtic Park – the 5-0 thumping of Rangers and the 2-1 defeat of Dundee, where his constant supply of long balls had eventually worn down the Dundee defence.
His best season may have been 1925/26 where he was an ever-present as the half back line of Wilson, McStay and McFarlane dominated the centre of the field and McInally and McGrory did the rest up front, but even when the team did badly, it was noticeable that Wilson seemed to be exempt from the criticism. He won Cup medals in 1925, 1927, 1931 and 1933, playing a glorious part in all four.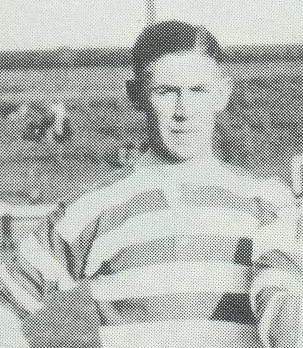 It was perhaps his laid back nature which prevented him earning more Scottish caps than the four that he did get, but there can be little doubt of his contribution to the cause in the famous beating of England at Hampden in 1933, the day that the Hampden Roar was born. By now however he was in the swan song of his Celtic career, playing only sporadically in the disappointing 1933/34 season before leaving to join the sadly under-performing Hibs side of the late 1930s.
He was manager of Dunfermline Athletic for a spell, then joined the Royal Navy during the Second World War before retiring to private life as a cabinet maker in Beith. His death in 1983 was greeted with almost personal sadness by those many people who had seen him play and who thought that he was one of the finest players ever to put on a Celtic jersey.
6. GLASGOW CUP 1908
So what happened here, then? After two draws in the Glasgow Cup final against Third Lanark, Celtic suddenly went down 0-4 to Thirds in the third game. It was a result that was as spectacular as it was unpredictable, perhaps akin to the Partick Thistle League Cup final of 1971 or Inverness Caledonian Thistle in 2000.
Celtic were, of course, in 1908, the greatest show on earth. They had won everything in 1907/08 and little seemed able to stop them. But there was in the Glasgow Cup of the following autumn a disturbing tendency to draw games, so that a lucrative replay was on the cards. Queen's Park had been disposed of after a draw, Rangers had been disposed of, but only after a draw, and when the first game of the Glasgow Cup final was drawn, supporters and the press were disturbed about the emerging pattern.
That game had attracted 40,000. There were 14,000 fewer for the replay the following Saturday for rumours had swept Glasgow that it was going to be another draw. Oh, their prophetic souls! It was indeed another draw and The Glasgow Herald was forced to tell everyone how difficult it would be to fix a game, thereby adding to the speculation.
Patience was now wearing thin, and the Glasgow Cup had used up enough Saturdays, so the third game was played on Wednesday 28 October  at Celtic Park before a surprising large crowd of 18,000 considering it was a Wednesday afternoon. This game was certainly not a draw. It was worse it was a 0-4 thrashing delivered by an incredulous Third Lanark.
What had happened? Did Third Lanark simply play a good game? (They were not a bad side at the time). Or were Celtic indeed "tired" after too much football, as they unconvincingly tried to say. (Weir was out of this game, causing "Dun" Hay to drop back, and Davie "Dancer" Hamilton was badly injured after 30 minutes and, of course, there were no substitutes.) Or were there other' darker factors at work? Players memoirs and reminiscences are curiously silent about this game, and anyone who would know is now long dead, but questions remain, as indeed they do about the Scottish Cup finals of 1926 and 1956.
Whatever happened it is a sad blot on the proud records of Adams, McNair and Hay; Young, Loney and Mitchell; Kivlichan, McMenemy, Quinn, Somers and Hamilton. Let's just say it was a bad day.
Shall we…?
7. SUNNY JIM
A fair-haired right back commonly known as 'Sunny Jim', James Young was the epitome of the successful Celtic sides of the pre-first world war era. He played for Kilmarnock, Barrow and Bristol Rovers before becoming homesick in Bristol and asking a Celtic representative who was there to sign Bobby Muir if he could come back to Scotland.
This was in spring 1903 and very soon after joining the club he won a Glasgow Charity Cup medal as centre-half. It was however as right half that he would make his name and as part of the half-back lines of Young, Loney and Hay, then Young, Johnstone and McMaster, he dominated Scottish football from 1904 until his retirement through injury in 1917. He played a mighty part in the performances of the team which won six League Championships in a row from 1905 until 1910. He was captain of Celtic from 1911 onwards, but only won one Scottish cap against Ireland in 1906, although he played six times for the Scottish League.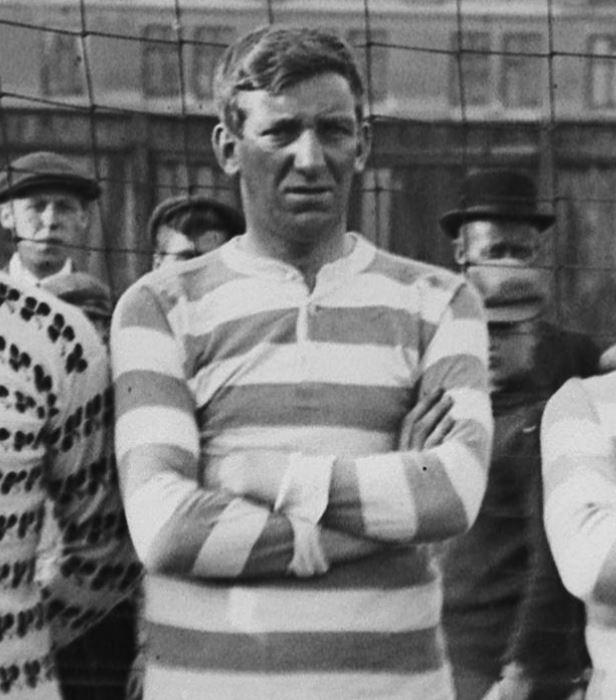 He was a natural leader and always seemed to enjoy the confidence of Willie Maley who had a high regard for him, but his outspokenness did not always endear him to others, and this may explain why he was so under-capped by Scotland. He was however totally committed to the Celtic cause with his fine play, grim determination and his inspirational style of leadership.
Even when his fellow Ayrshireman Jimmy Hay was still captain, Young's broad, raucous Ayrshire accent was heard in every ground he played, advising, encouraging and cajoling his team mates."Face the ball, Celts" became his war cry. He was capable of dishing out the raw meat as well, on one famous occasion at Forfar in February 1914 earning a belt over the head by the umbrella of the mother of a player whom he had repeatedly fouled. Yet he remained perpetually cheerful and jovial, well deserving of the nickname "Sunny Jim", the name of a character in a newspaper advertisement who ate all his breakfast cereal.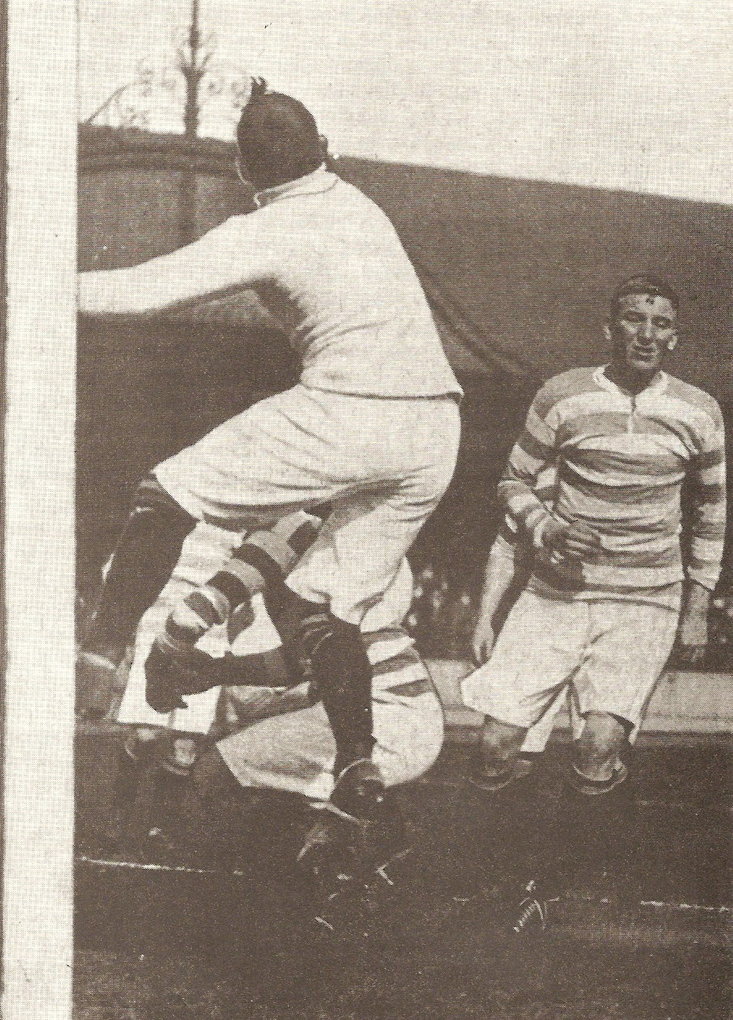 "Vigour, Vim, Perfect Trim
That's why we call him Sunny Jim!"
Lucky enough to have a job in a reserved occupation during the war, he played on for Celtic until a nasty knee injury on 30 September 1916 effectively ended his career and obliged him to walk with a permanent limp. He returned to his native Ayrshire to become the host of the George Hotel, Kilmarnock. He met his death in a motorcycle accident in his native Ayrshire on 4 September 1922, at the age of only 40, and he is buried in the Grassyards Cemetery of Kilmarnock. In the opinion of Eugene MacBride, who wrote the massive work 'An Alphabet of the Celts', Sunny Jim is the greatest Celt of all time.
David Potter