"Tremendous, a brilliant feeling and I'm really pleased. We played with a lot of attacking intent which I was delighted with and we negotiated a tough game under a lot of scrutiny," Neil Lennon told Celtic TV after yesterday's Scottish Cup semi-final win over Aberdeen.
Here's the interview which has had 27,873 views since Celtic TV posted on You Tube.
Neil also spoke about James Forrest and how well he has done for him since coming back to the club after the previous manager, sorry forgot his name, hastily left.Yesterday's 3-0 win made it even more delicious that Leicester lost on Friday night to Newcastle.
Have you seen their run-in?
James Forrest has been a told Celtic Star for years now. Like Broony and Mikael Lustig – memo to Peter Lawwell, FFS give the guy his extension, it is the very least he deserves – Jamesy has been at Celtic every step of the way towards 8IAR.
Yet he doesn't have a song. We have a song for Derek McInnes, which he reckons he's heard a hundred times, yet we don't have a song for James Forrest, other that the rare and half hearted attempt to start 'There's only one James Forrest'.
The excellent E-Tims Diary this morning 'borrowed' Beautiful Sunday from The Celtic Star so we'll borrow back their suggestion for the David Bowie Starman song which takes out the swearing. Maybe if all of the other Celtic sites 'borrowed' these lyrics for their sites we could get this song introduced to the songbook for the weekend?
"There's a Starman, playing on the right..
"His name is Jamesy Forrest and you know he's dynamite…"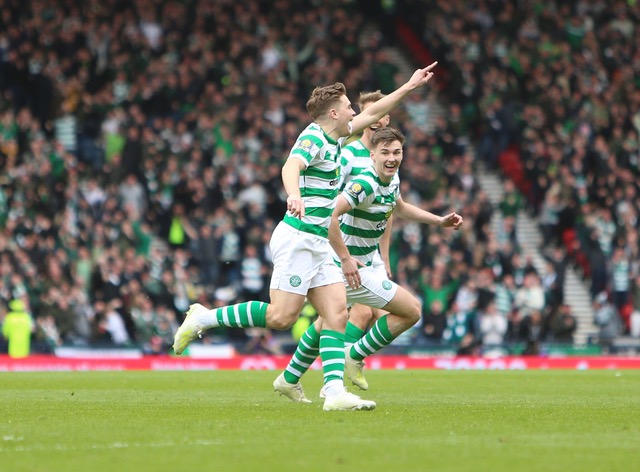 Yesterday morning he gave you the 'non-leaked' team news, and given that it is a (cough) complete guess, the 100% accuracy wasn't bad. We all told you that you could expect to see an end to the tippy-tappy back-passing stuff across our own 18 yard line as Neil Lennon for the first time set out to impose his own style of football on the team.
He decided to bin the caretaker approach and go for it as a candidate as all the names that were in the media last week resulted in him waking up to the fact that Neil Lennon's football not What's his Name's would get him the job.
We also speculated that we'd have lost yesterday under what's his name. All good things come to an end and as we saw at Ibrox on 29 December and at Easter Road, Rugby Park and Tynecastle under What's his Name, his style of football had been found out.
But under Neil Lennon we were super confident that a) play well, b) play a different style of football and c) thump them. Well done Neil!
Anyway another reminder for Sunday if you're going along to Easter Road or for the Kilmarnock game at Celtic Park, here's the lyrics again for you to learn…
"There's a Starman, playing on the right..
"His name is Jamesy Forrest and you know he's dynamite…"