BRENDAN RODGERS needed that. The manager's joy as he ran down the touchline last night after the sensational strike from Callum McGregor broke the deadlock was probably his most elaborate celebration in his time as Celtic manager.
Even after Tom Rogic's wonderful winner in the Scottish Cup Final, Rodgers immediately went into a confab with Chris Davies to alter the tactics and make a change to see out the last 30 seconds.
Yet last night he was off like one of those greyhounds that would run at nearby Shawfield. That was a win that was a long time coming and very much needed for Brendan Rodgers as a manager and indeed everyone at the club and in the stands.
"I'm always looking at the development of the team and we're measured against the best in the world," Brendan said.
"That's what we have at European level here at Celtic.
"It's the competitions we want to be in but we're always tested to the limit.
"I'm measuring how we've been developing since those first games and the confidence, courage, bravery and every aspect of our game was good tonight.
"It's always about the players. I thought they were tactically outstanding tonight. You saw the concentration. In a first leg it's important you stay calm and play your football, and they did that."
Charly Musonda, who was disappointing at the weekend, was perhaps Rodgers' surprise choice as the first substitute of the evening. If I was a betting man I'd have had a fiver on Rodgers giving Scotty Sinclair the nod.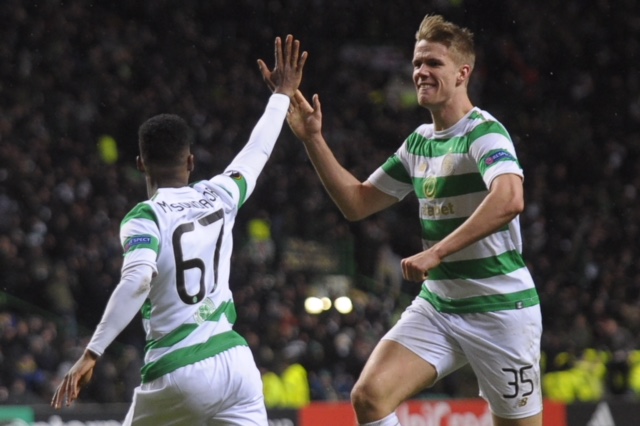 But Brendan made his call and oh how well it worked. The pass to McGregor, for a world class finish was world class itself. If Brazil score a goal like that in the World Cup this summer they'll be showing it for years to come. It was that good a goal.
"I said yesterday to the players that between 60 and 70 minutes we were going to need a change in the game because of the work you put in at this level," he said.
"We might need something different in the game. It was just a case of who we could bring on.
"Charly, watching the game, we felt he's a guy that can run with the ball, take the ball and take a bit of pressure off the team. His skill and ability for the goal was sensational."
The one goal lead that Celtic take to Russia is slender but Zenit's failure to threaten Dorus de Vries in the Cetic goal and grab an away goal might come back to haunt them. 1-0 at home in Europe these days often proves to be a decisive advantage. Let's hope that this is the case in this tie.
"They're a good side with very good players but I thought we were well deserving of the win," Brendan said.
"It's a big result for us. We maybe could have had one or two more goals with a better final pass.
"They'll have to come after us, which will suit us because we've got good pace in the team and technique. It's all to play for in the second leg."
The manager even had time for a wee laugh at himself for letting himself go when the goal went in. Rodgers, is a supporter too and it was the Celtic fan rather than the gaffer that took over for that magical moment. He had earned his moment of triumph.
"I'm very fortunate that I'm a supporter of Celtic and I've got the good fortune of managing the club so there was a bit of supporter's emotion in there," Brendan said.
"It was obviously a great, great win for us.
"But very important for me was the performance. To perform that well was very significant and again show the development of the team."