This could only be Rotterdam! The third and final part of Matt Corr's Champions League Diary…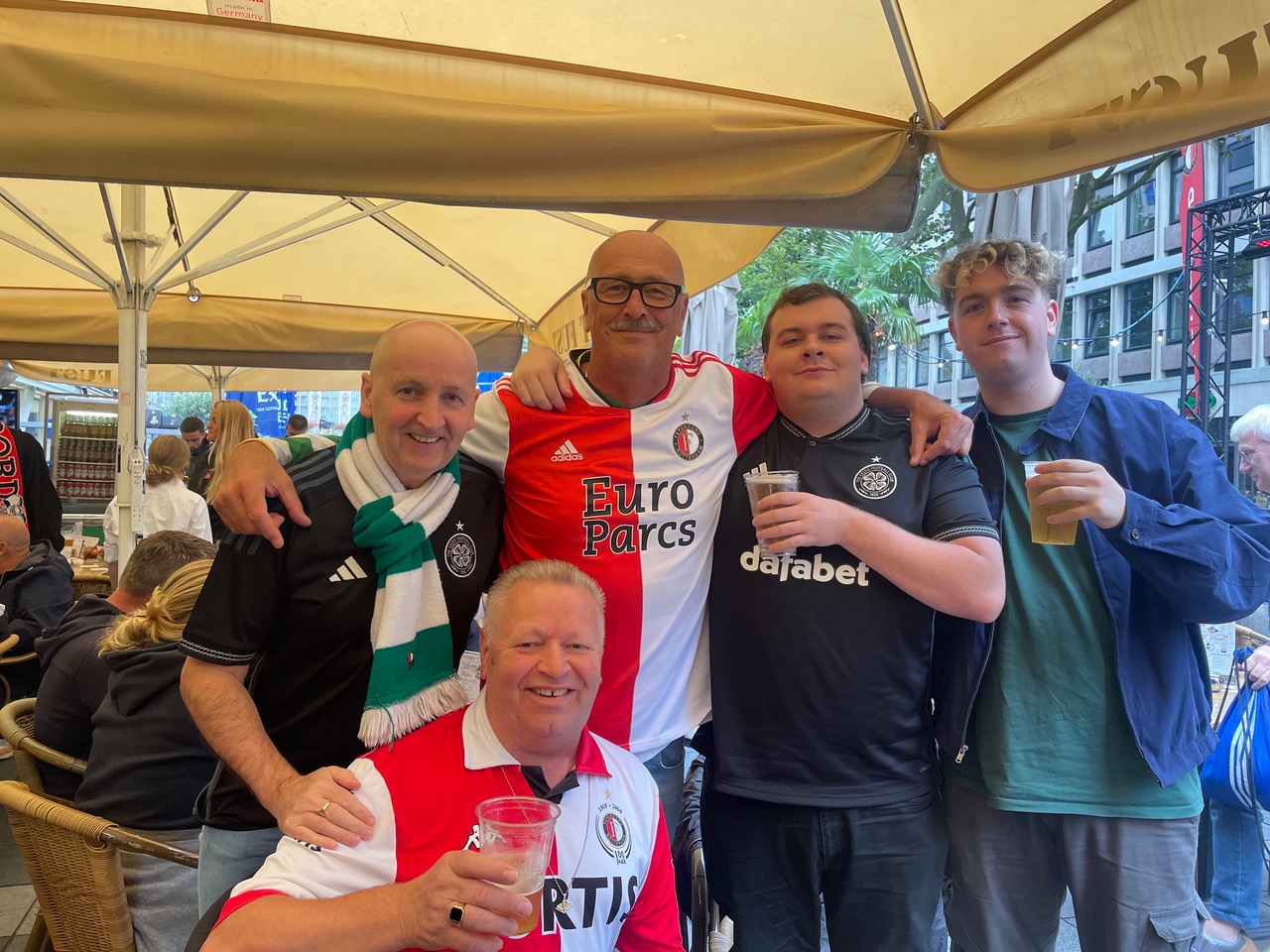 5am Tuesday.
Showtime.
It's the European Awayday which has been 53 years in the making, as Celtic and Feyenoord clash in elite competition for the first time since the Milan final of 1970.
I'm flying out from Edinburgh to Amsterdam so it's a scary car journey through the aquaplanes of the west of Scotland on a morning where Noah would have stayed in bed. Even the Kelpies look brassed off as I pass them in the dusk. That would explain the long faces.
I've been drowning in prep work for our latest Celtic Star Books release, the story of Gordon Strachan's remarkable first season at Celtic, so this trip has been a bit last-minute even by my standards. The only flight which works for me is a KLM offering with a price which makes my eyes water. But as I say, it's been a long time coming and I'm hooking up (pardon the pun) with a very special friend for the first time so it's a case of grit your teeth and away we go.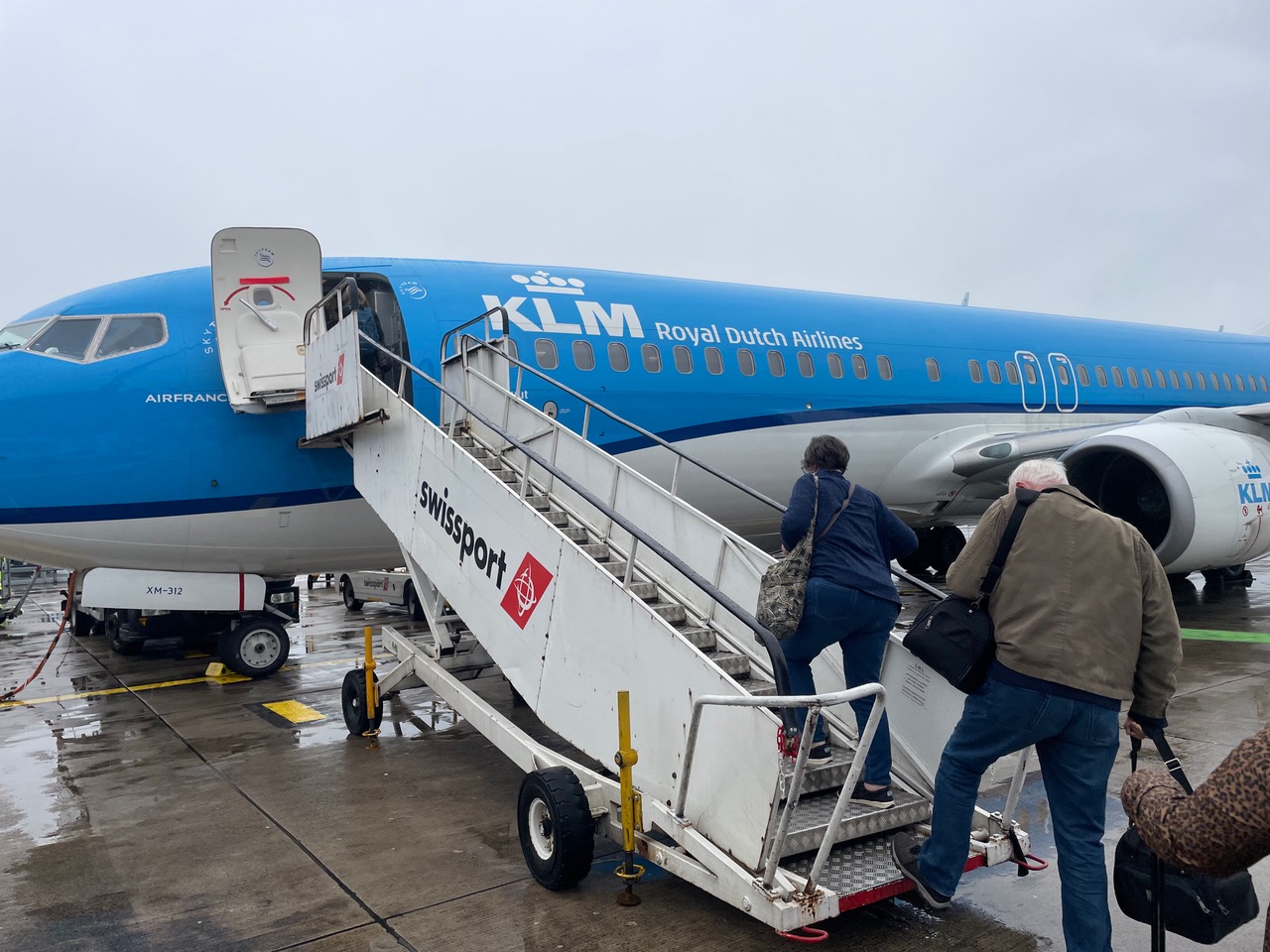 An hour or so later I'm back in Amsterdam for the first time since a defeat there about a decade ago, I trip I made with my sons and which is sadly remembered for events in the city centre rather than the match itself. The infrastructure at Schipol Airport is superb and Glasgow could surely learn a lesson from a set-up where you walk through passport control onto a high-speed train which has you in central Rotterdam within half an hour. Rotterdam Centraal Station is quite a sight in itself, all glass and ultra-modern shapes, with an imposing female statue positioned in the Stationsplein. This is known as Moments Contained and the official blurb advises that it is 'dedicated to the representation of minorities, particularly black women, in public spaces.'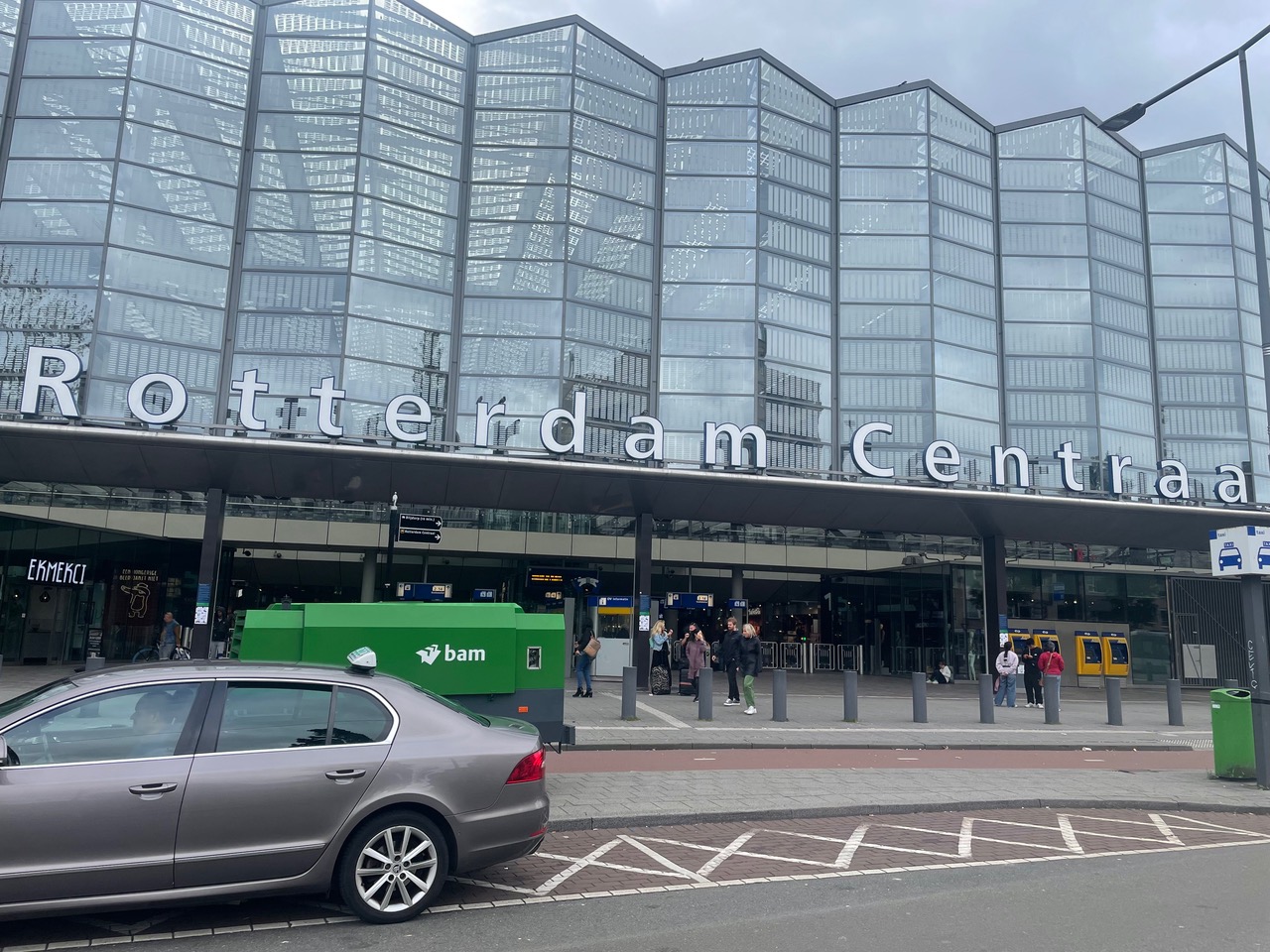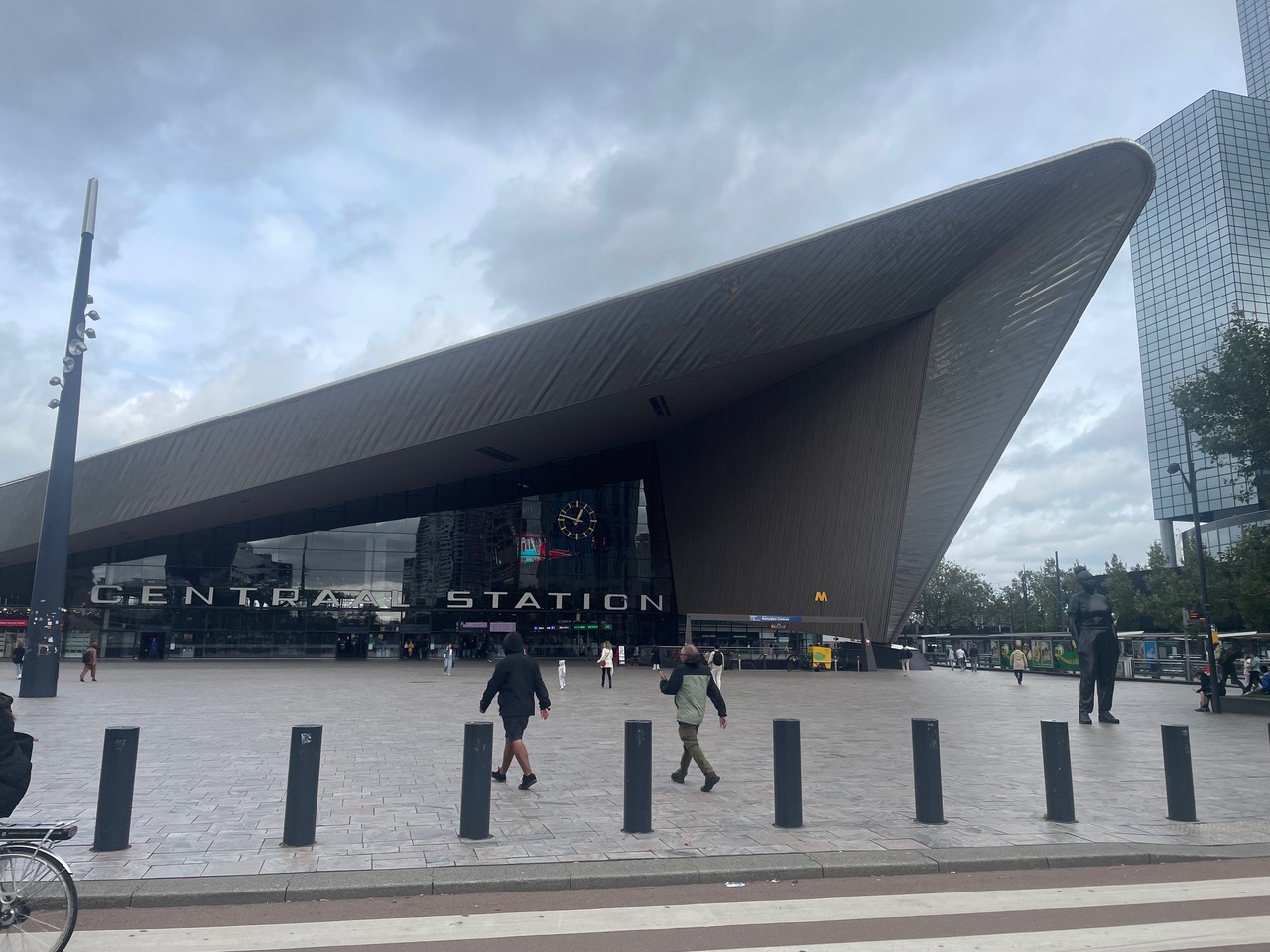 This is my first trip back to the city since the summer of 1982 and first impressions are impressive. It's the coolest of places where everyone seems to be over six foot tall and immaculately dressed in a jacket, collared shirt, jeans and boots combo. The men don't look too shabby either.
Despite the late booking, I congratulate myself on my choice of hotel. I guess the Rotterdam Hilton doesn't have the fame of its Amsterdam sister, where John and Yoko staged their bedroom sit-in back in the days when I was approaching cool, but location wise it's perfect, just a five-minute walk from the station, and better still there's a huge green and white flag flying outside the entrance, especially to welcome me. A lovely touch.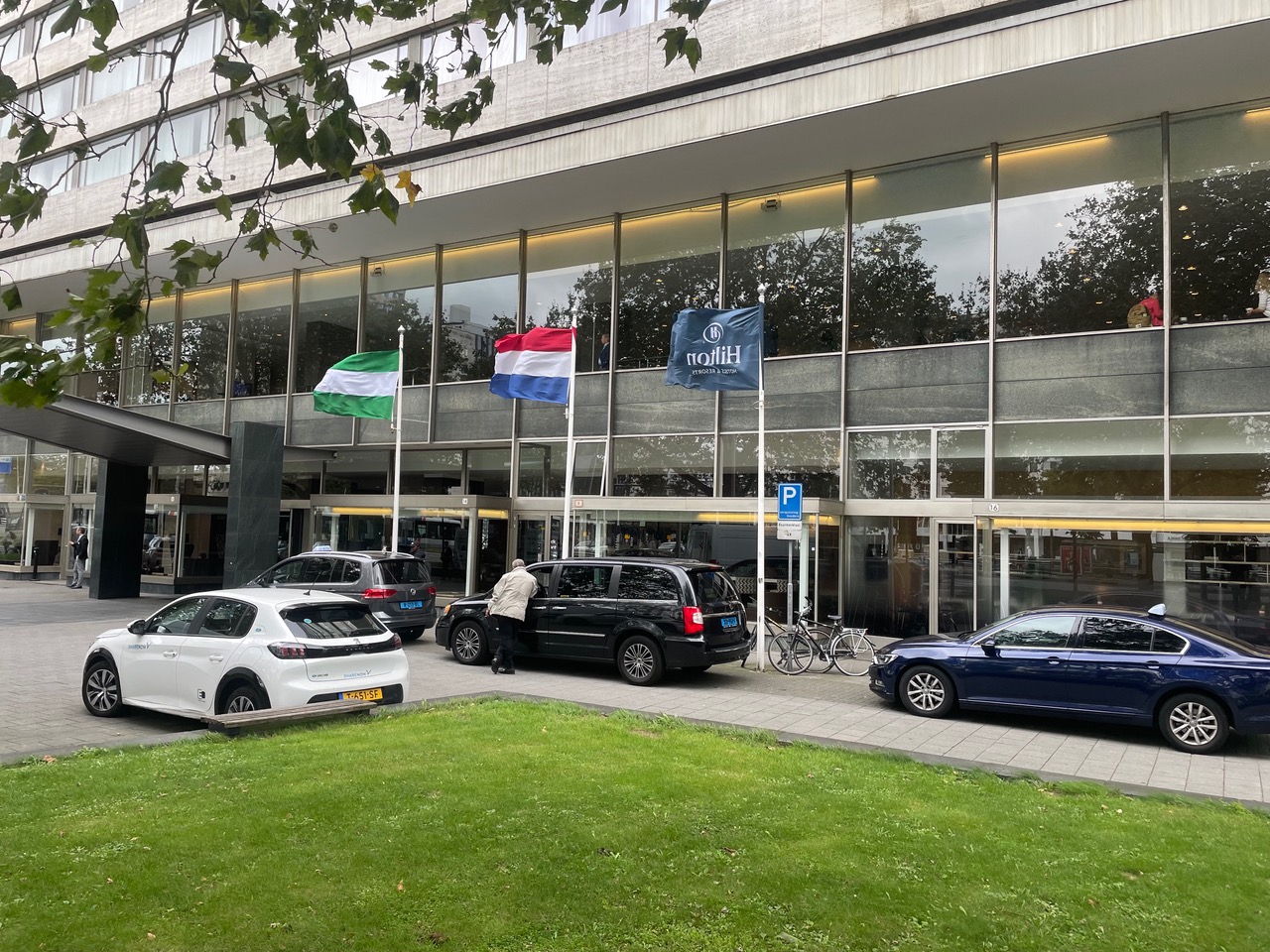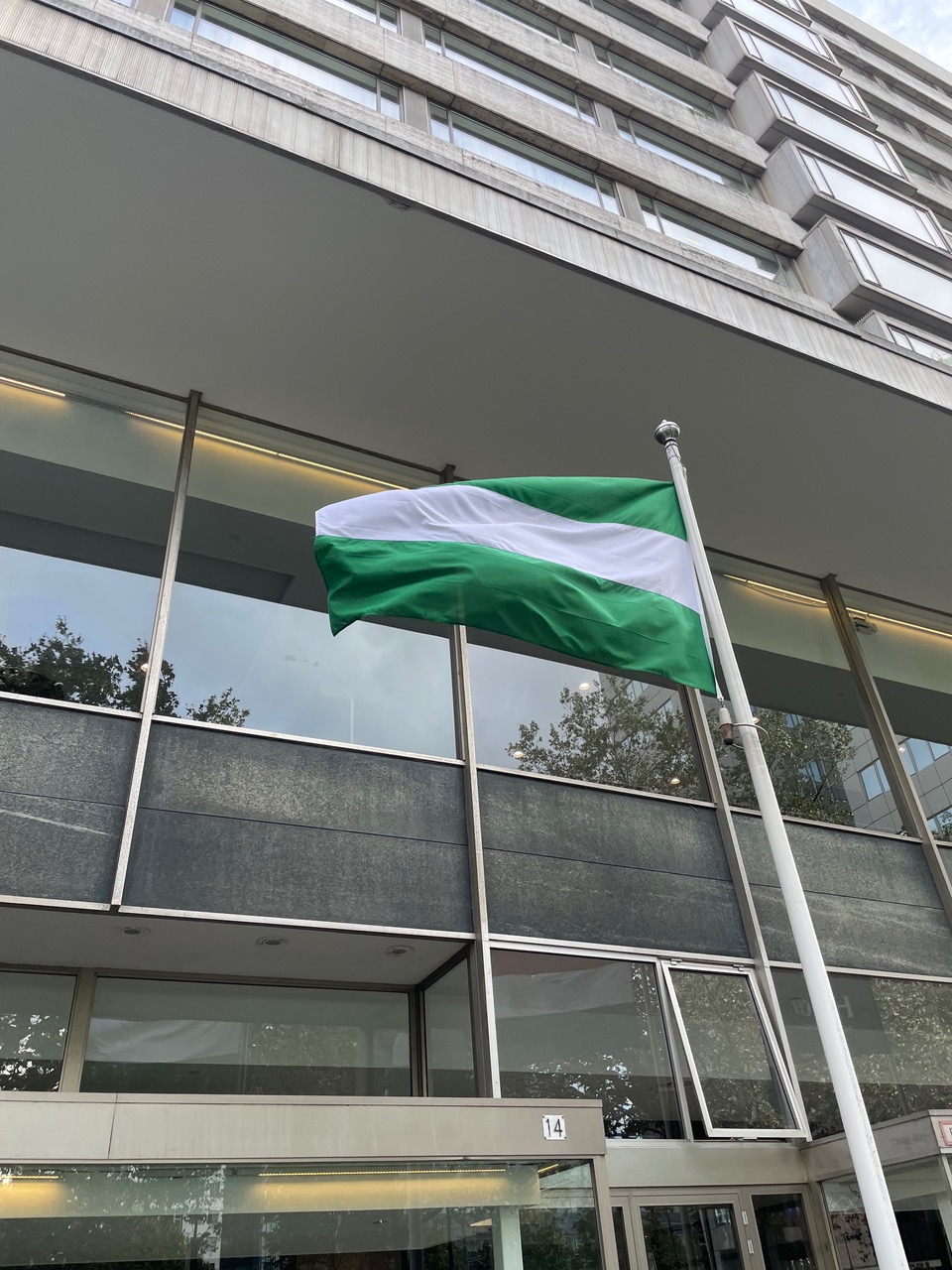 Inside the hotel reeks of quality and I'm soon speeding skywards in a lift to my room. Dirty Bins View or Staff Having A Smoke View is my normal luck so it's a lovely surprise to find I have a panoramic view of the city. We're positioned above a busy roundabout where cars, buses and trams box for position on a giant Scalextric layout below. I text my Dutch friend to let him know I've arrived safely and agree a rendezvous point, the eatcafe Fust, which is a five-minute walk away apparently. Quick shower and change into matchday gear and I'm on my way to finally meet up with my big pal.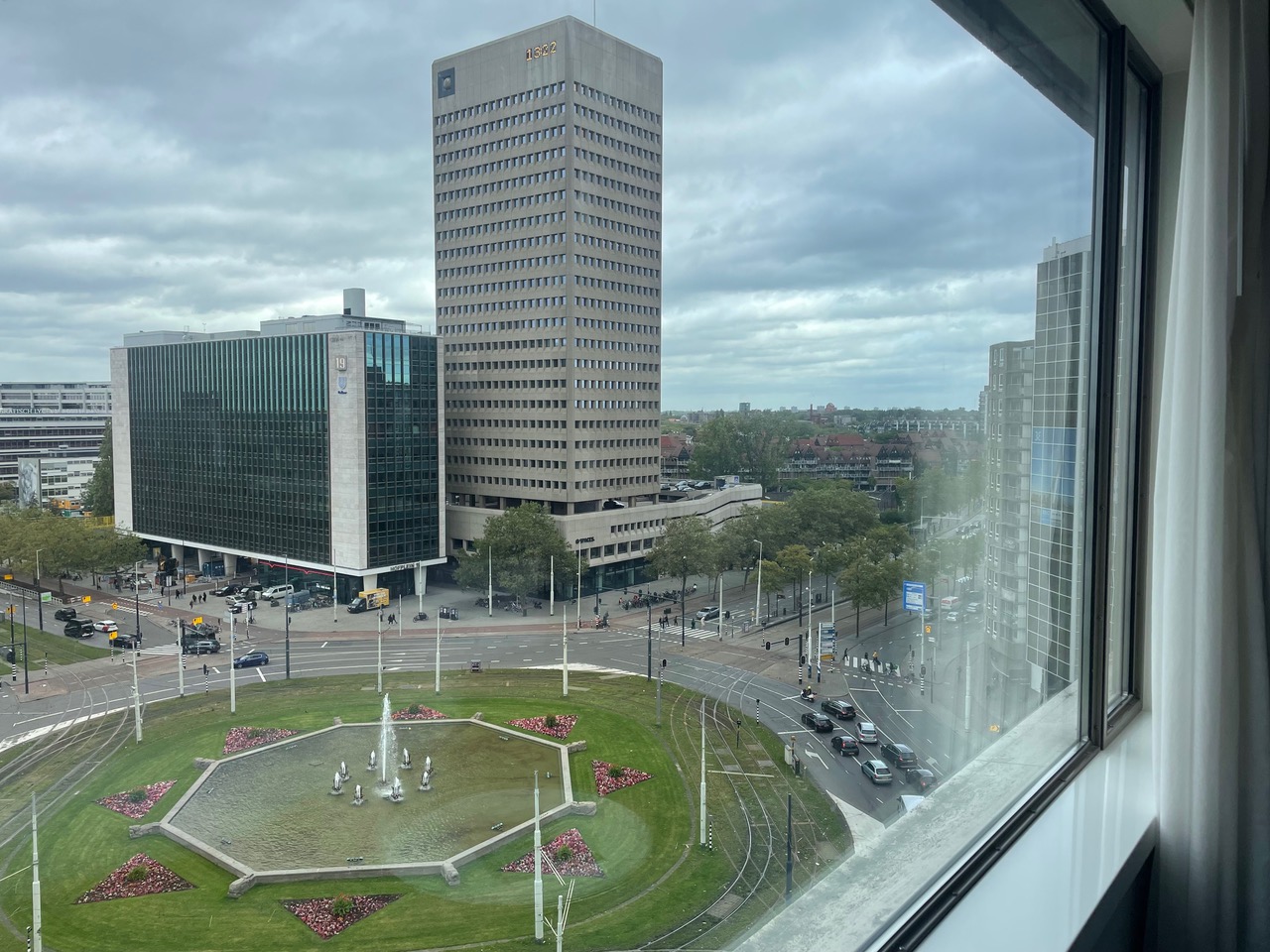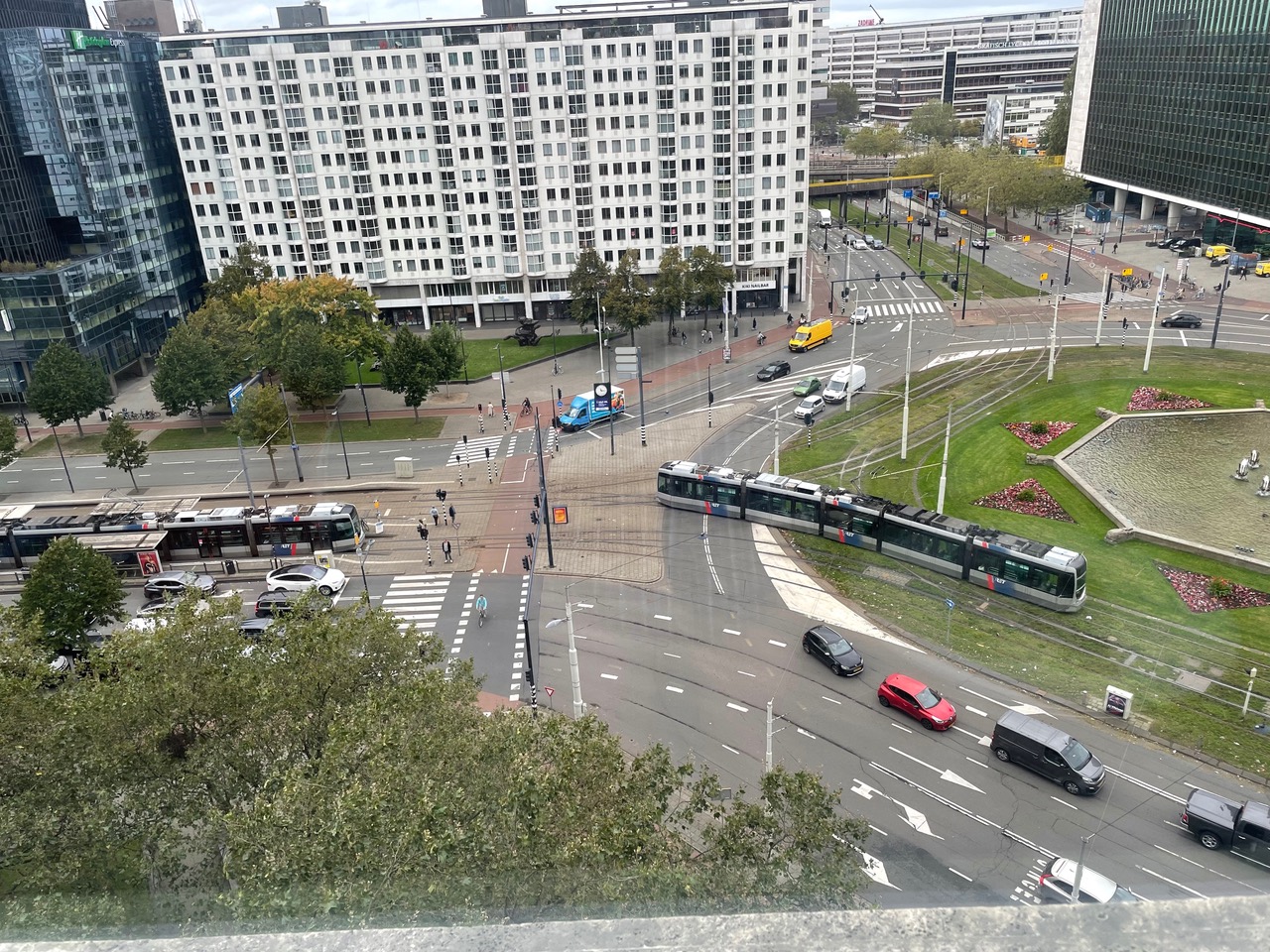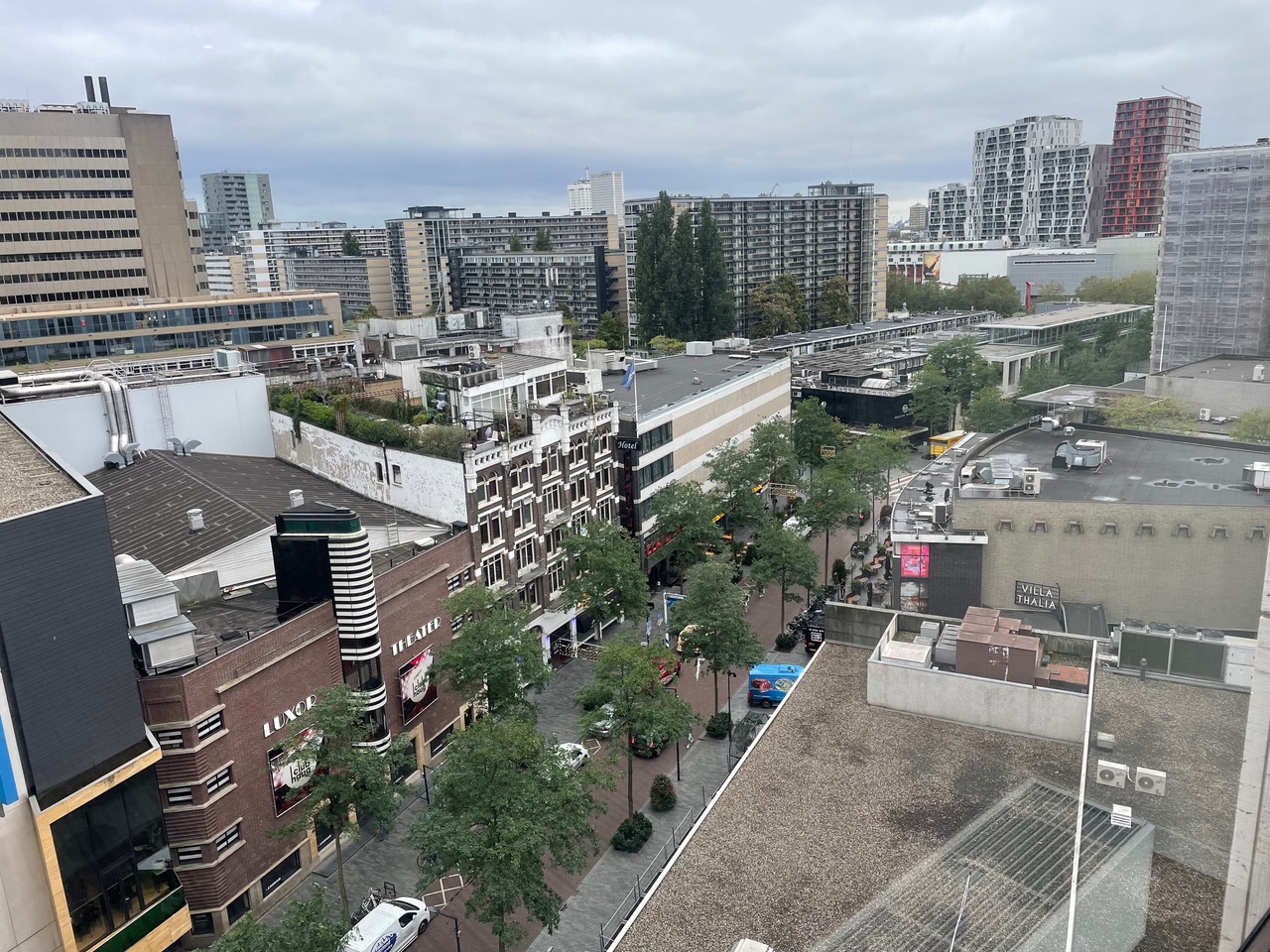 The gent in question is Marcie and we got 'talking' through social media a while back. Marcie is a lifelong Feyenoord supporter with a huge affection for Celtic which dates back to that Milan final match between the clubs all those years ago. That was enhanced further when the clubs met again in Rotterdam in 2008 and a visiting Celtic supporter gave him his Hoops shirt on one proviso, that Marcie wear it to Feyenoord games. So he did. Still does, as you'll see.
The walk takes me past the city's famous Town Hall, the Stadhuis. It's a stunning building and Marcie had mentioned in his instructions that this was the place where the Feyenoord team appeared before 200,000 supporters to celebrate its Eredivisie title win in May.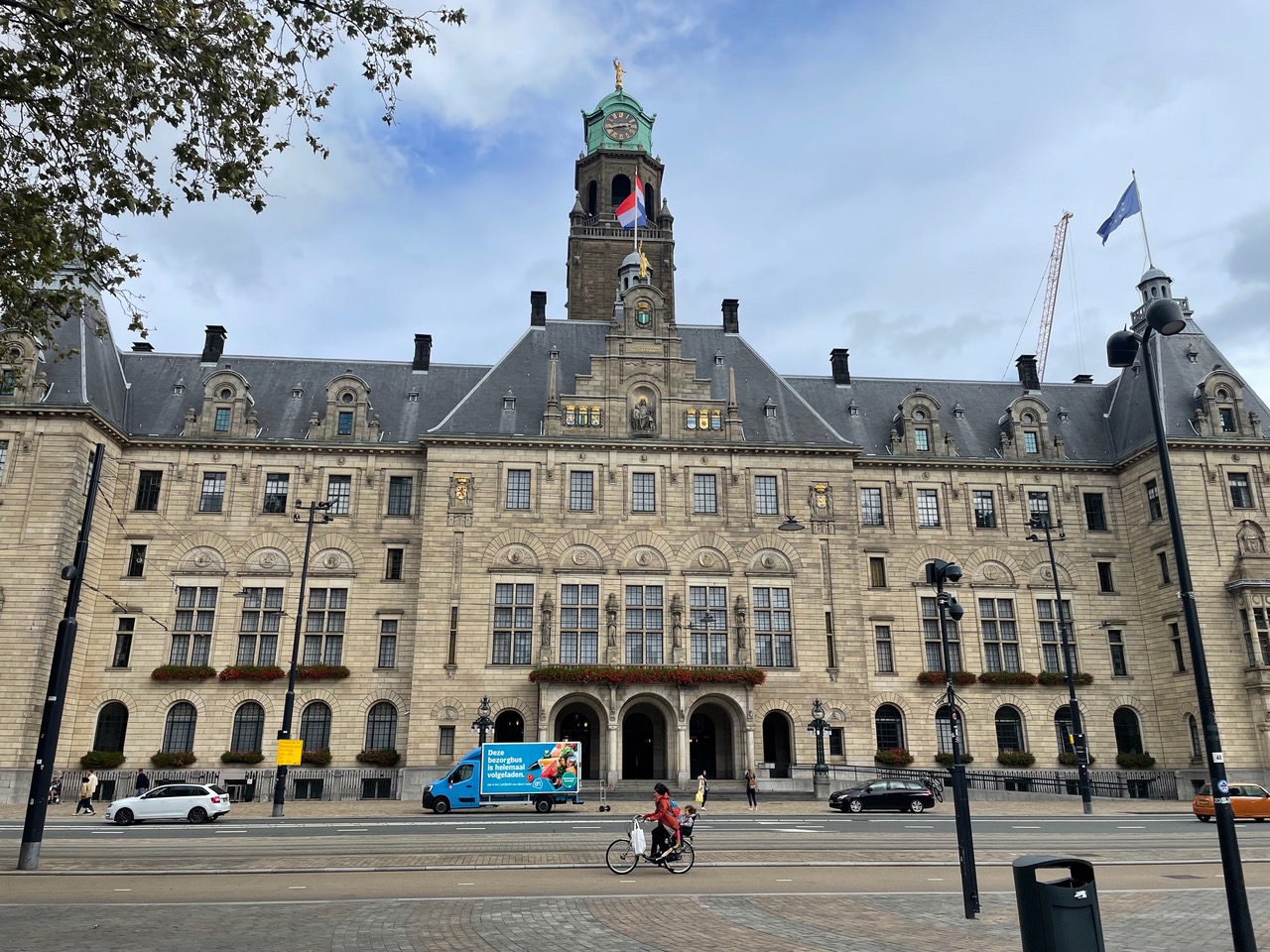 I've walked too far so decide to stop and ask directions from a security man outside a hotel. He seems surprised that I'm going to Fust until he hears I'm meeting a Feyenoord fan there. He then adds that the supporters are mixing well in the city today. Always good to hear. It's a couple of minutes away but before I reach it there is another striking sculpture on the pedestrian precinct. This is the Monument Voor Alle Gevallenen 1940-1945, or the Monument to all the Fallen 1940-1945. As the name implies, it is dedicated to the men and women of Rotterdam who gave their lives for freedom during the Second World War.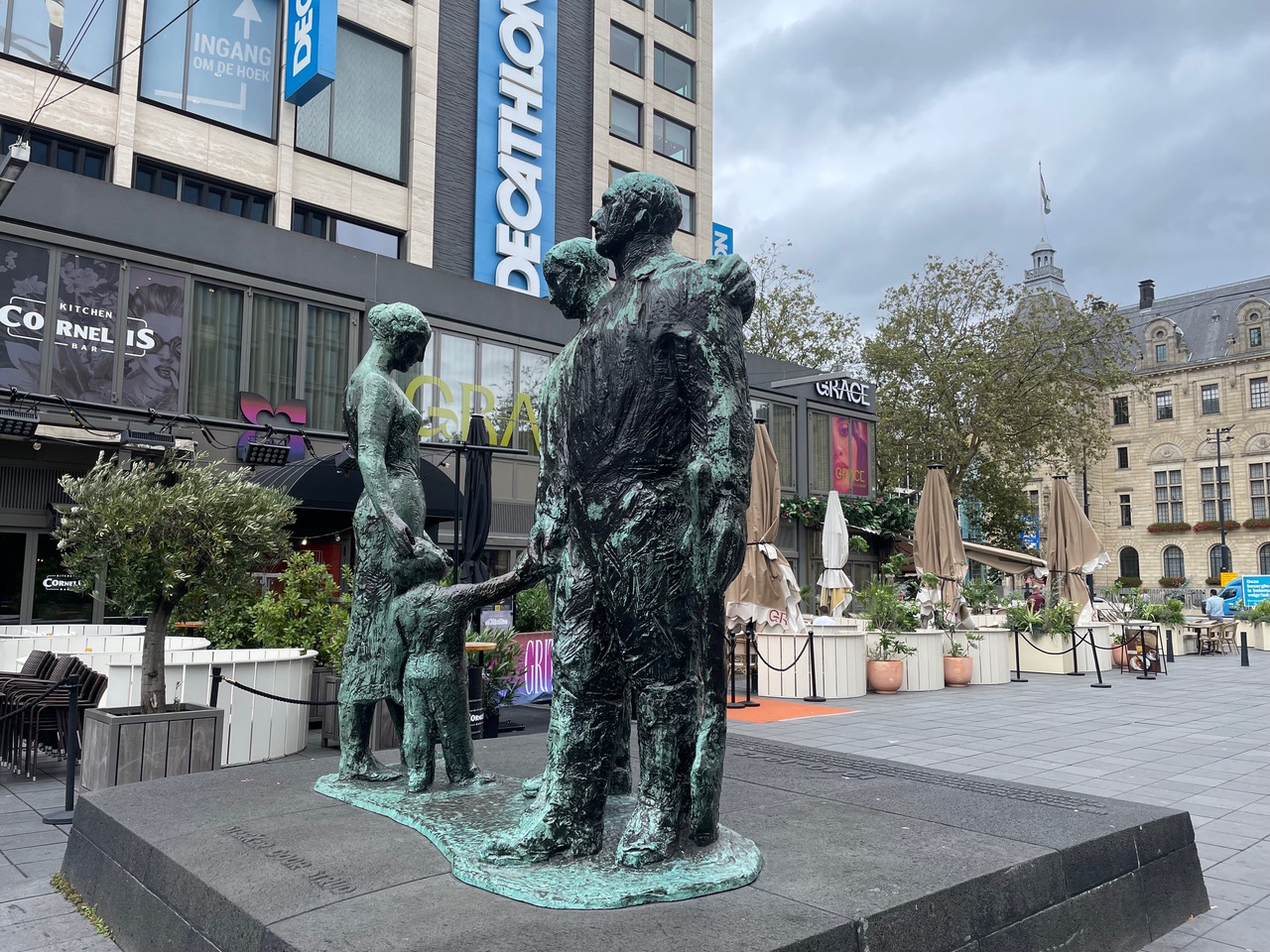 The security man's surprise now makes sense as I arrive at Fust, complete with Feyenoord flags above the entrance and pretty much dotted everywhere around. It's only 2pm but the place is already busy with supporters and not just the locals. There's a healthy contingent of green and white in there too. I order and a beer and some food as Marcie has advised he's around 40 minutes away on a train.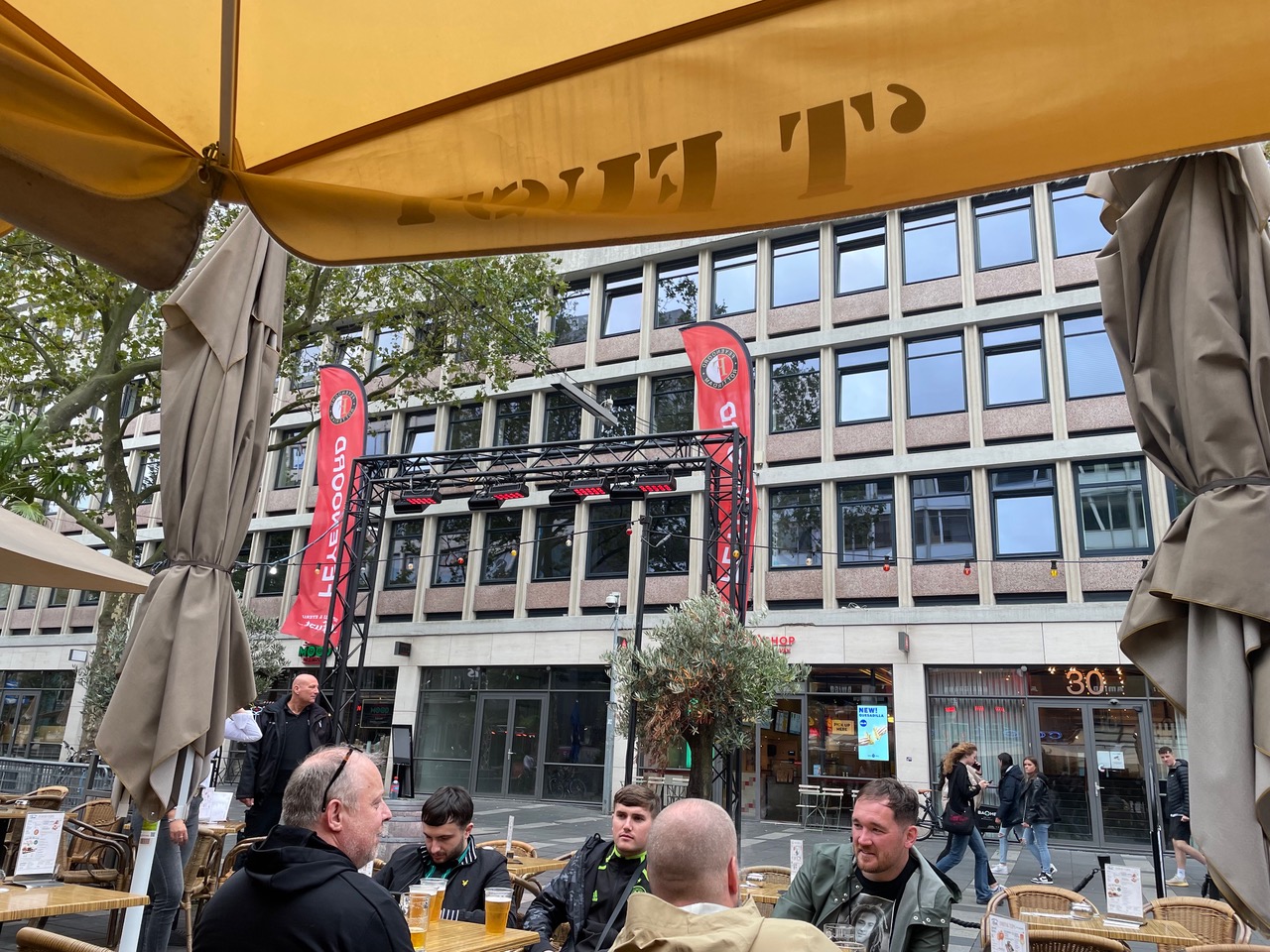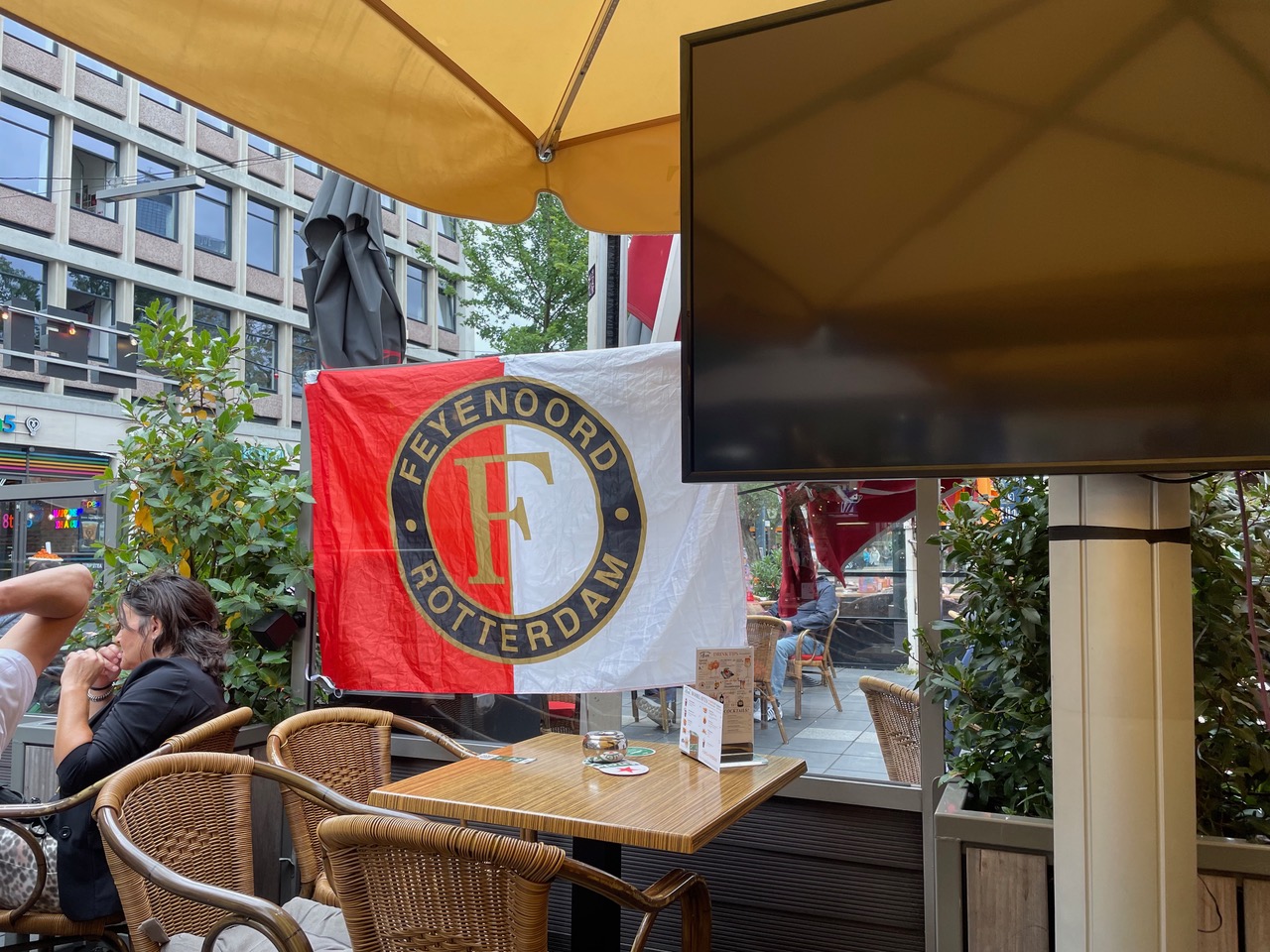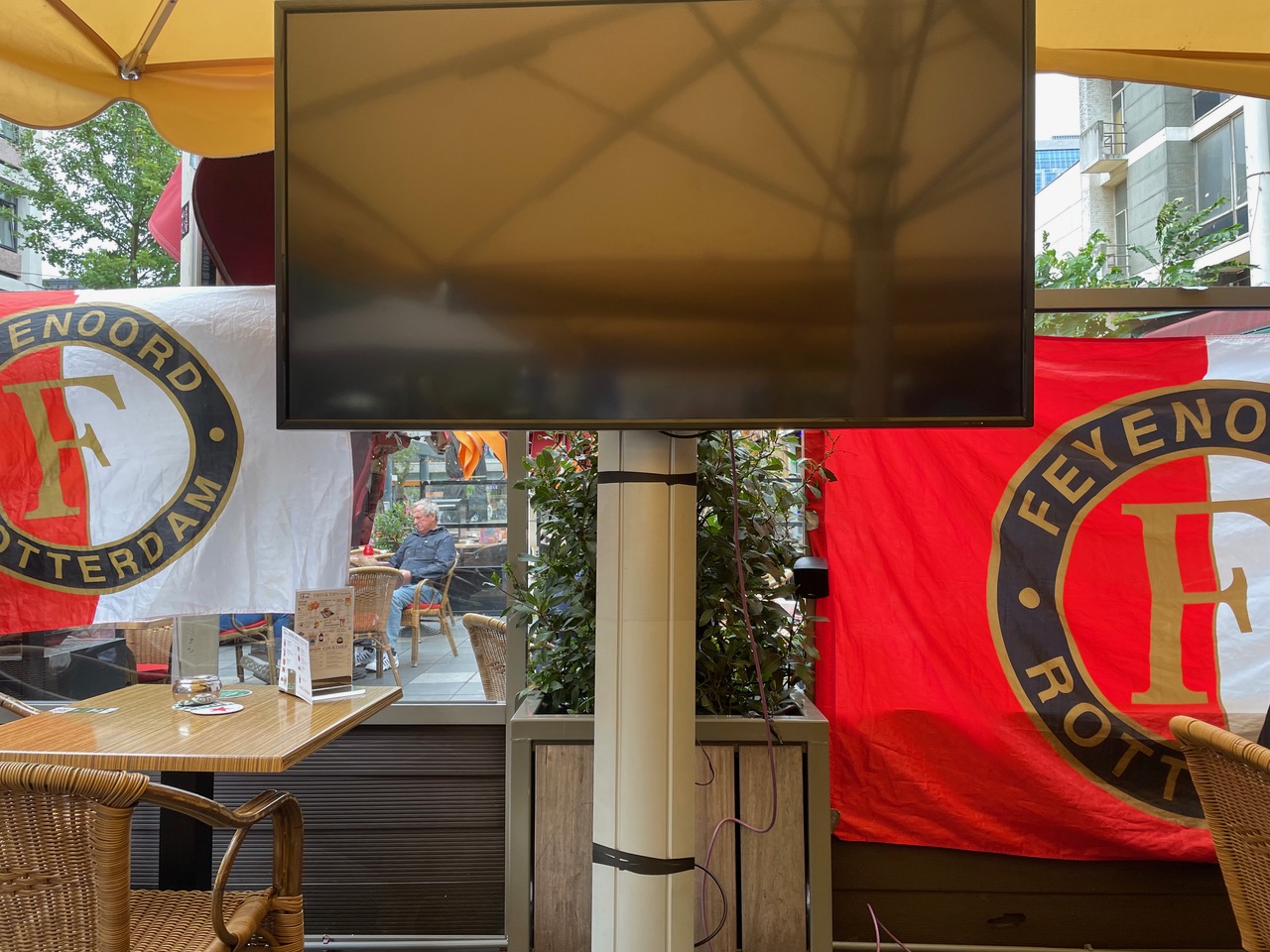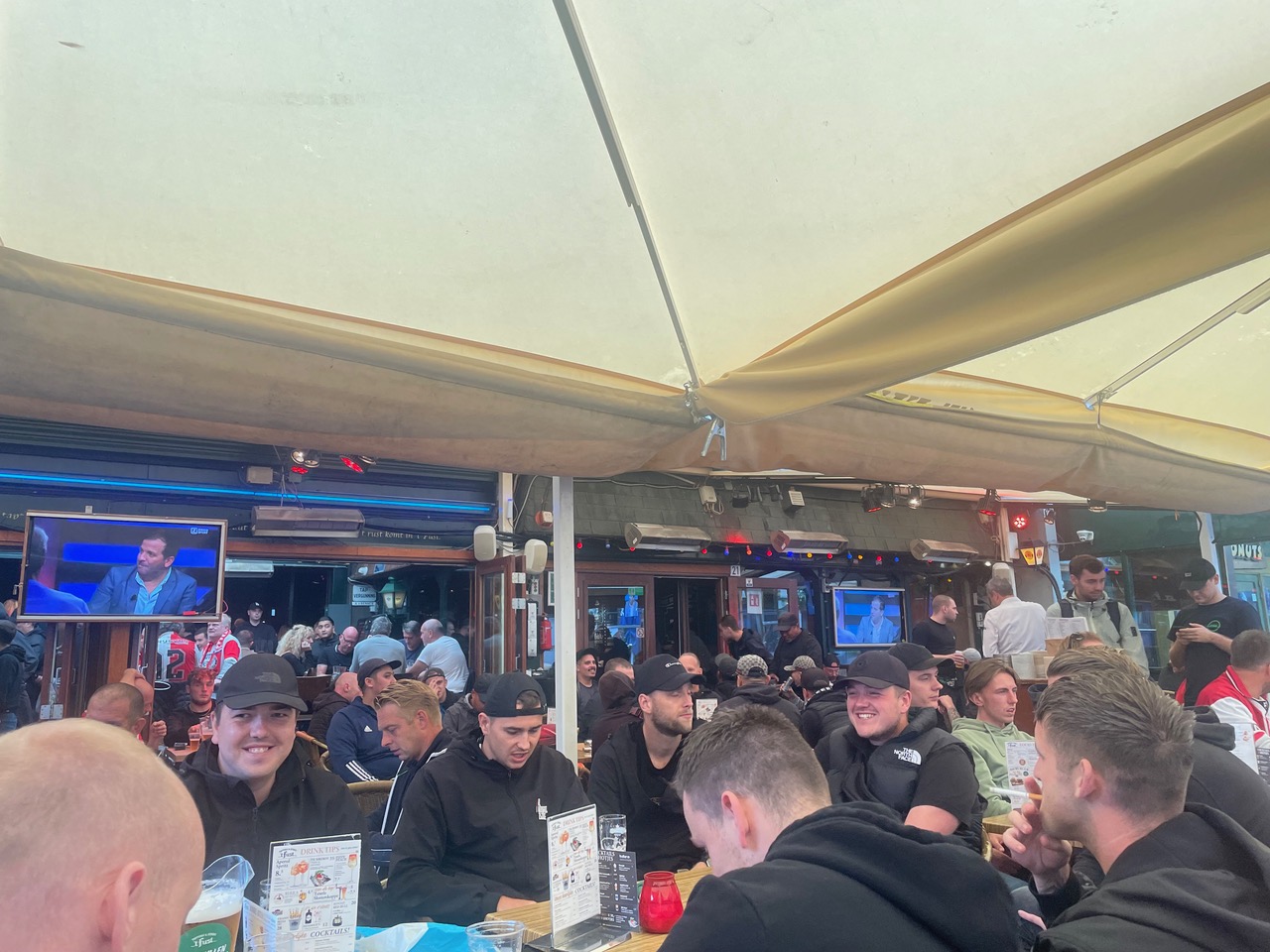 There's a crucial part of this story which I have not shared as yet. Some months back, Marcie took seriously ill with a kidney problem, and the photos he sent me of him hospitalised filled me with some concern, if not dread. It didn't look good at all so if I'm being honest, I'm expecting to meet a guy very much still on the road to recovery. Instead, what I get is this giant of a man who beams broadly as he spots me from the street outside, and within a few minutes there is a hug and a warm welcome as football once again acts a force for good. Marcie is accompanied by his long-time pal Hans and they are accompanied by two Celtic supporters. They introduce themselves as Declan and Dominic from West London and I have a real sense of deja-vu, as I have definitely been in their company on another European awayday over the years. A quick run through some recent trips fails to establish where and when but we have absolutely met up before, and the Hayes CSC is mentioned. I ask what the connection is between the two guys and Marcie and the answer is none! They simply emerged from the railway station together and Marcie suggested they come along for a few beers, so here we are! And then there were five, as a Scotsman, two Dutchmen and two Englishmen enjoy the afternoon speaking the international language of football in a Rotterdam bar, the noise cranking up several levels as kick-off draws closer.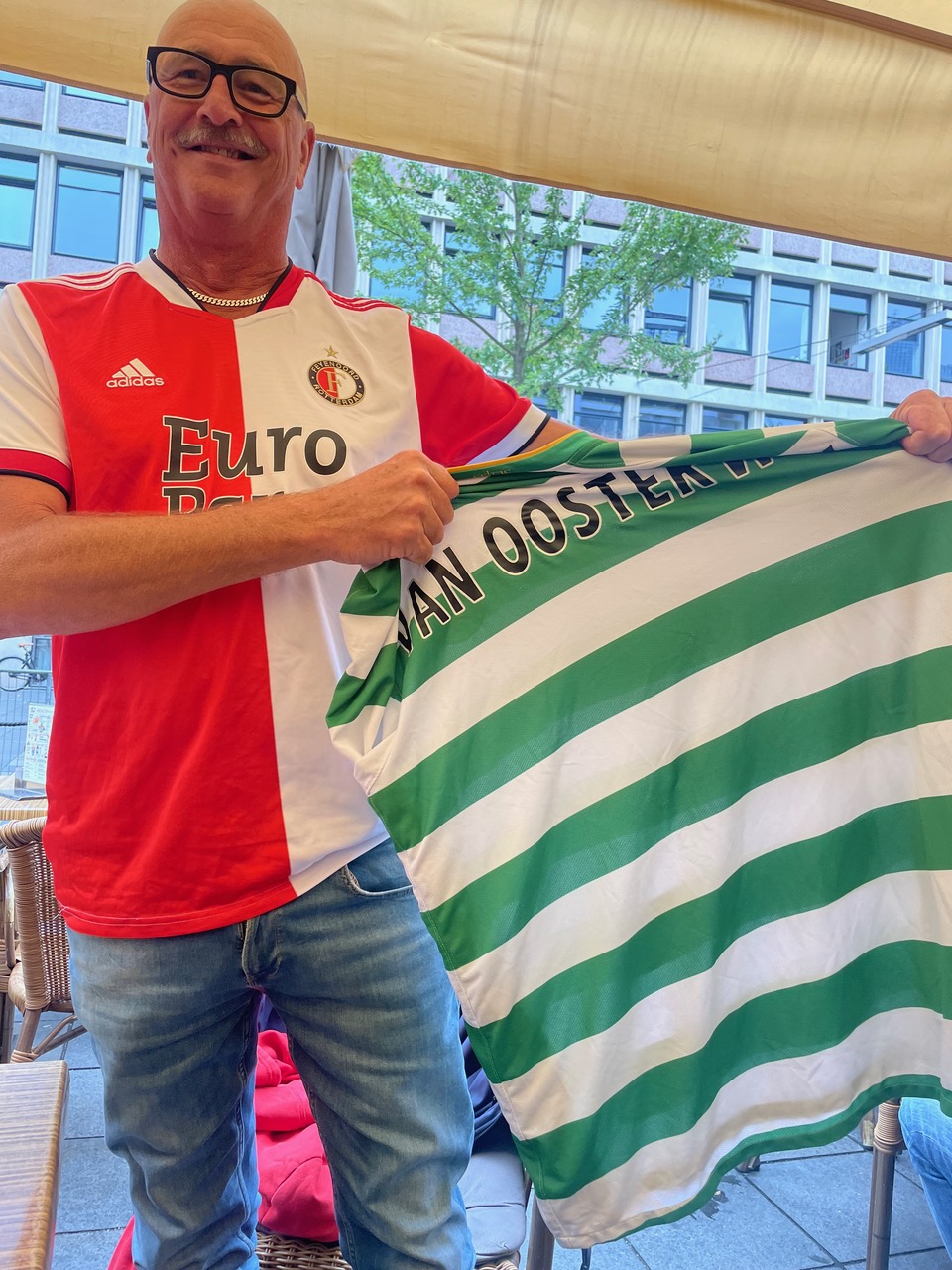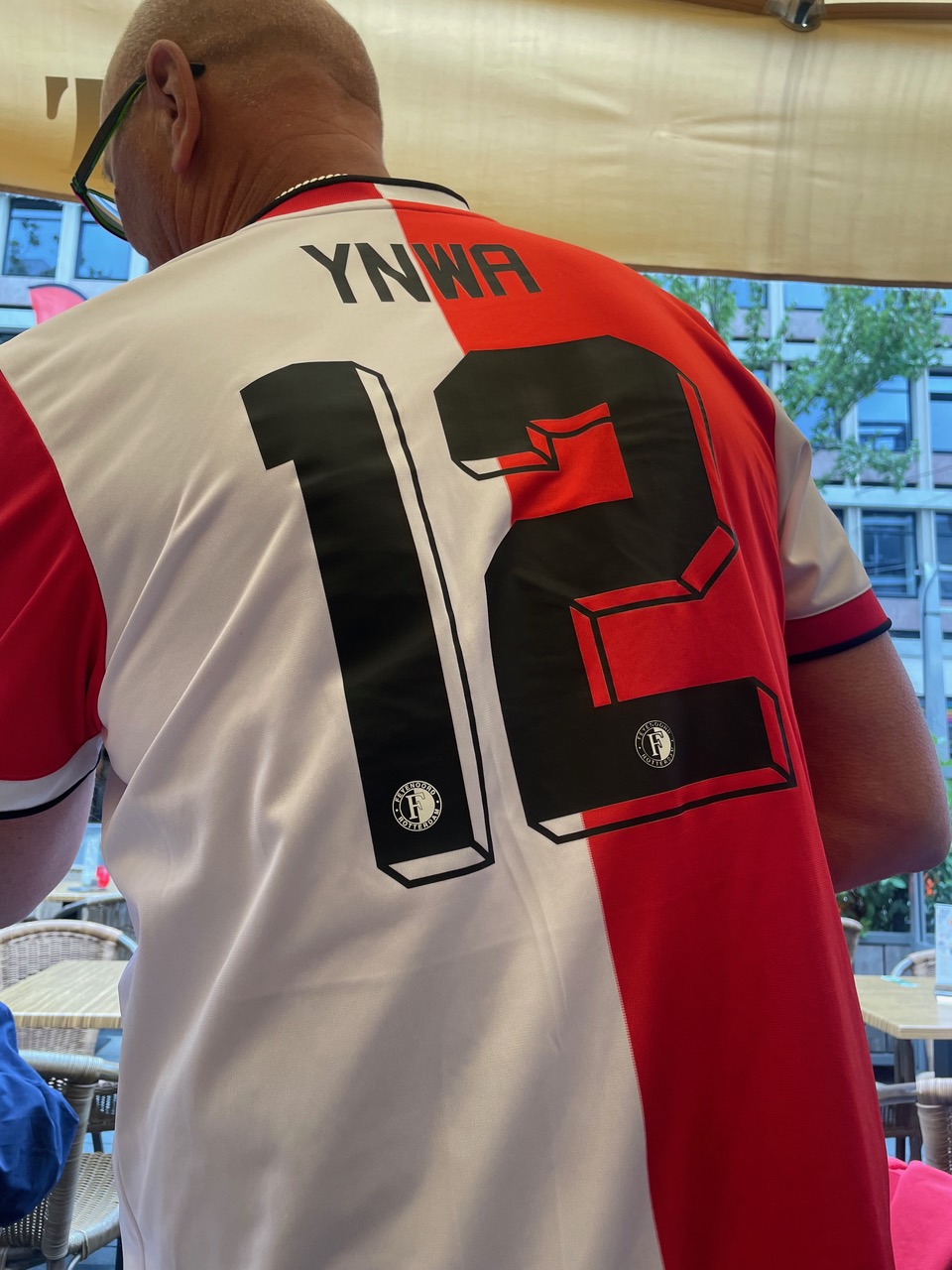 Marcie is in great form as he reaches into a bag and pulls out his Hoops top, the one given to him by a Celt all those years ago, surname proudly emblazoned on the back. He then spins around to reveal the back of his Feyenoord jersey – which has YNWA and the number 12 emblazoned. Explanation? The support is the 12th man, and this was a gift from his friends when he was ill. He then blows me away with a statistic. I was aware at the time of his illness that he had received a few messages of goodwill from Celtic supporters on Twitter. Marcie advises me that he actually received more than 88,000 such messages from the Hoops support. Think about that for a moment. That's a packed Wembley Stadium, where every single supporter has taken the time and trouble to write a message of support to a complete stranger in another country who follows a team whom we last met competitively in 1970, where we lost perhaps the second most important game of our entire history! It is a quite incredible testimony to the goodwill that exists among good people. Not surprisingly, Marcie could not keep up with his intention of responding personally to every message and was seeking a way to say thank you to every Celt who willed him on to recovery.
You have just done so, Marcie.
The Big Man then decides to do an impromptu strip to address the dilemma of which kit to wear on the night, by putting the Hoops under the red and white jersey of his first love. Cue much hilarity.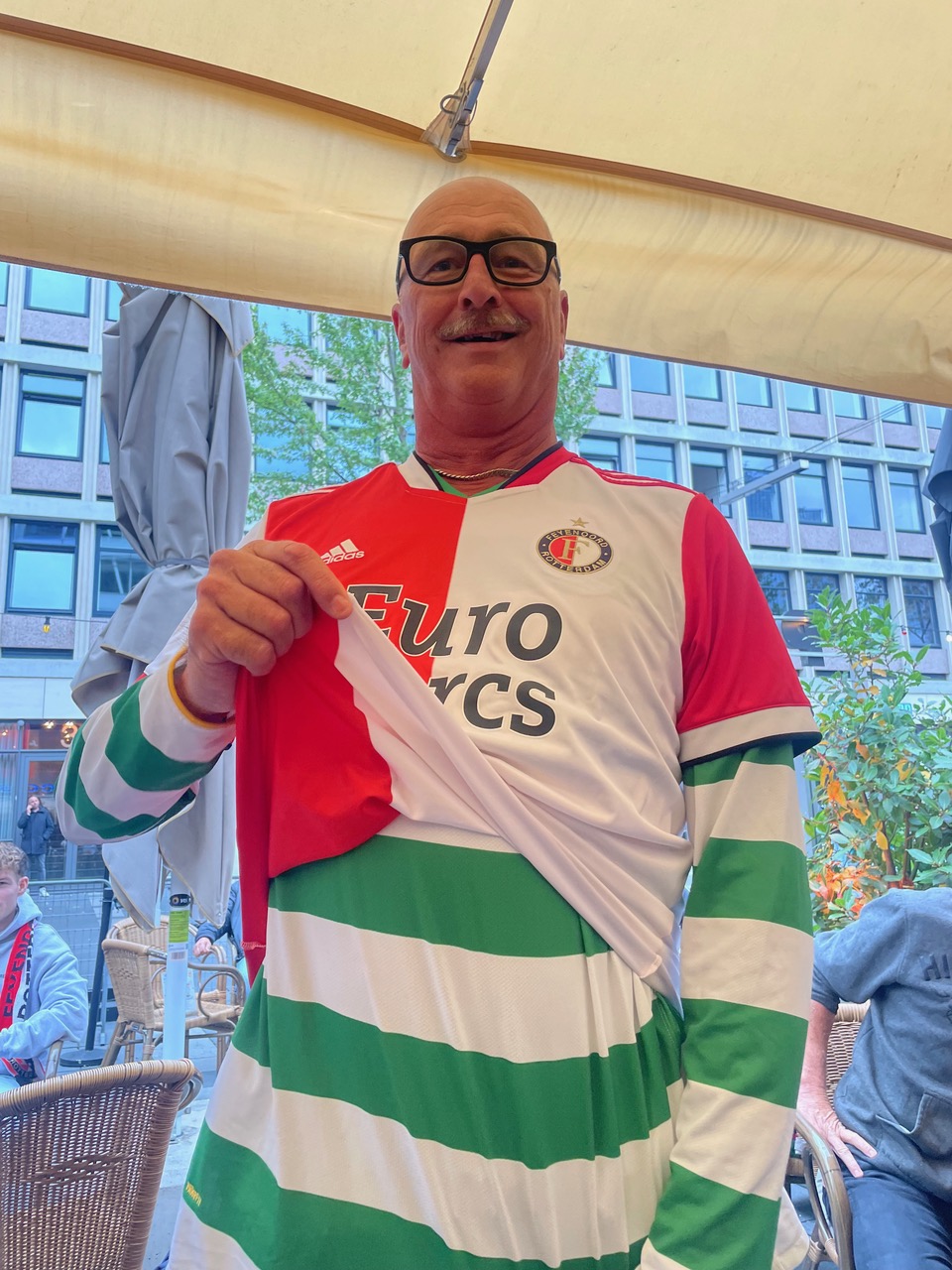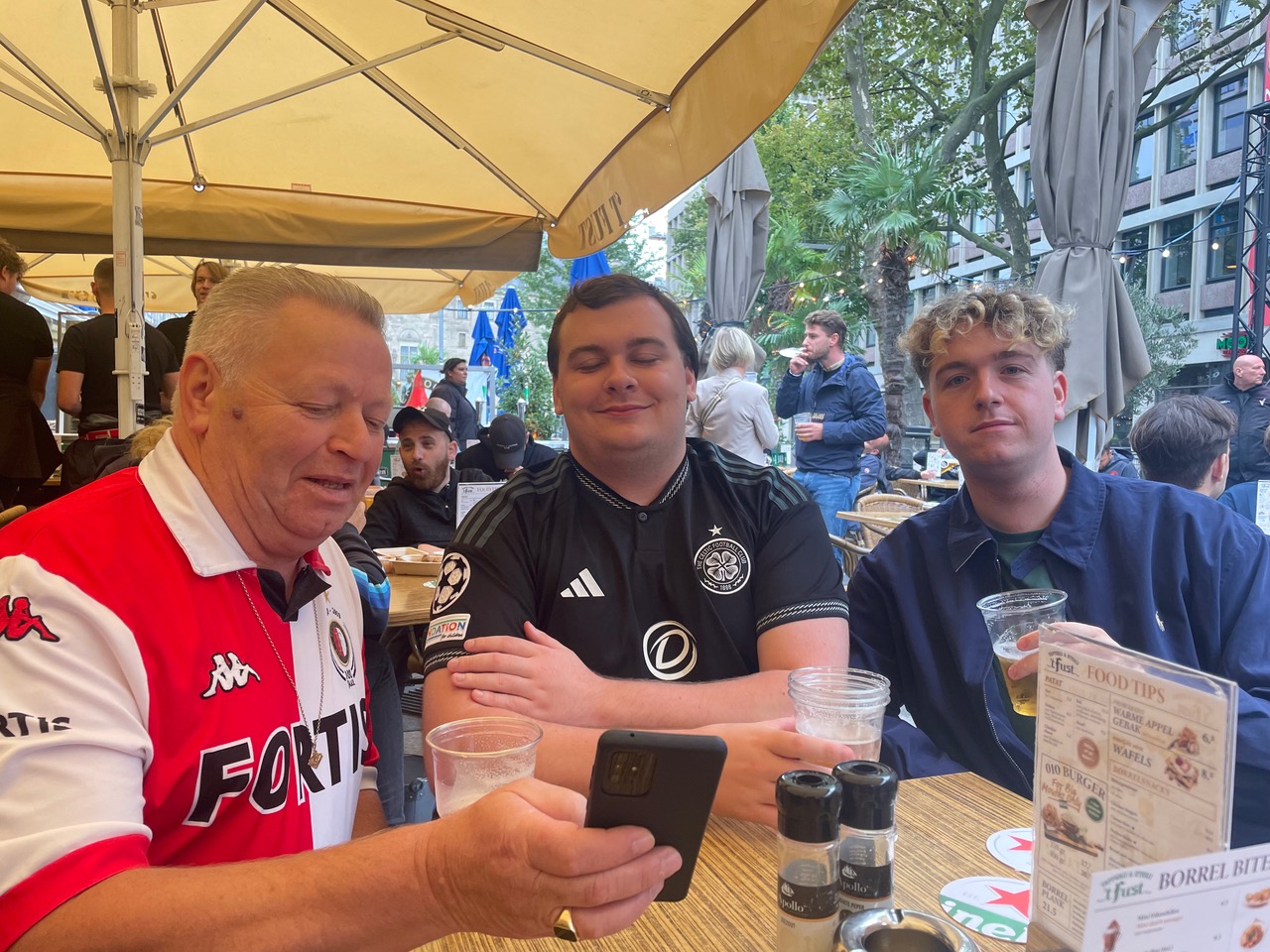 We now have the obligatory group photo before Declan and Dominic decide to try the nearby Irish bar in search of match tickets, whilst we keep an eye open in the pub. But sadly there is nothing doing. There is a gift from me from Marcie in the shape of an enamel Feyenorrd badge which is quickly pinned on to my Hoops scarf.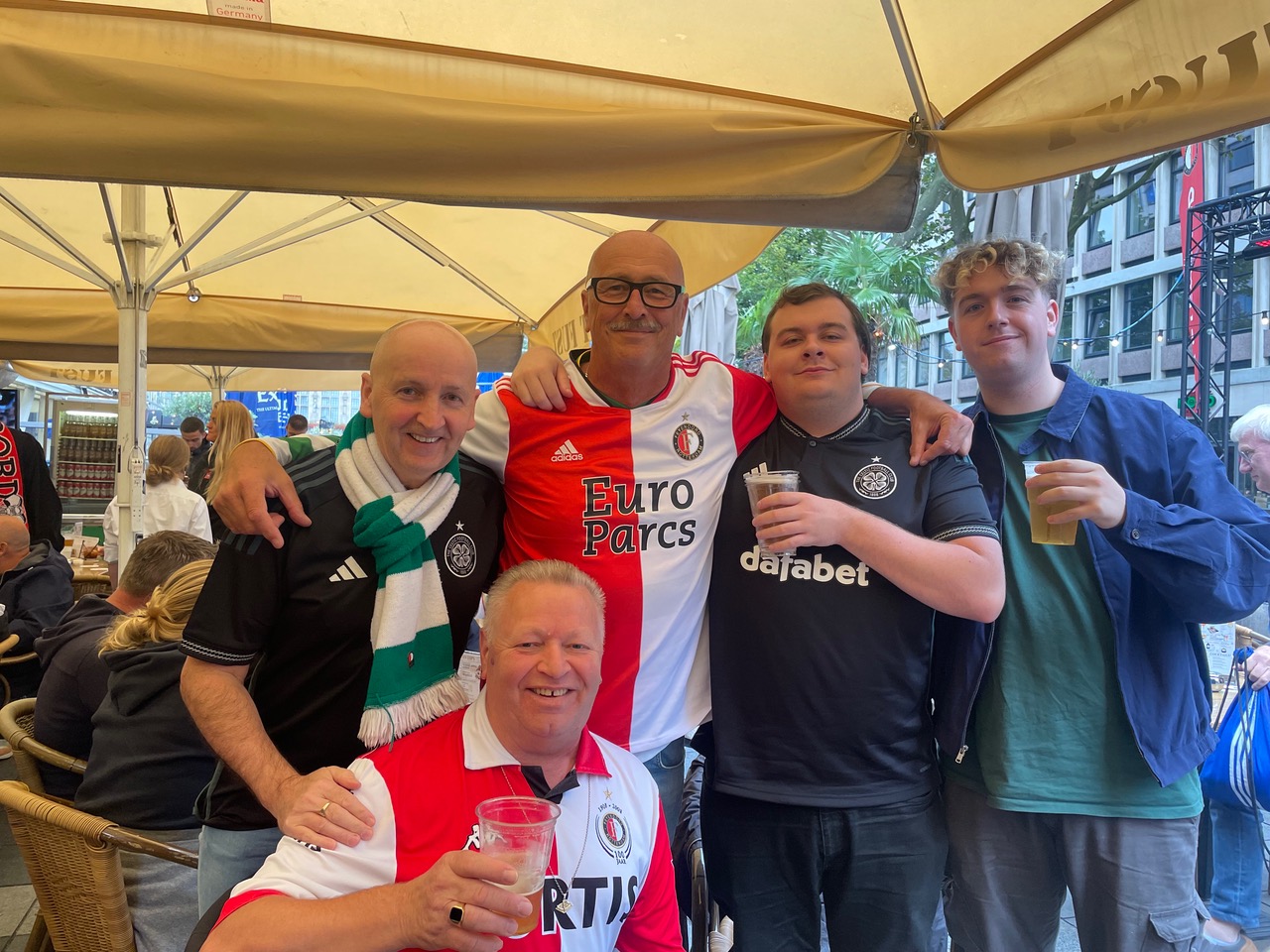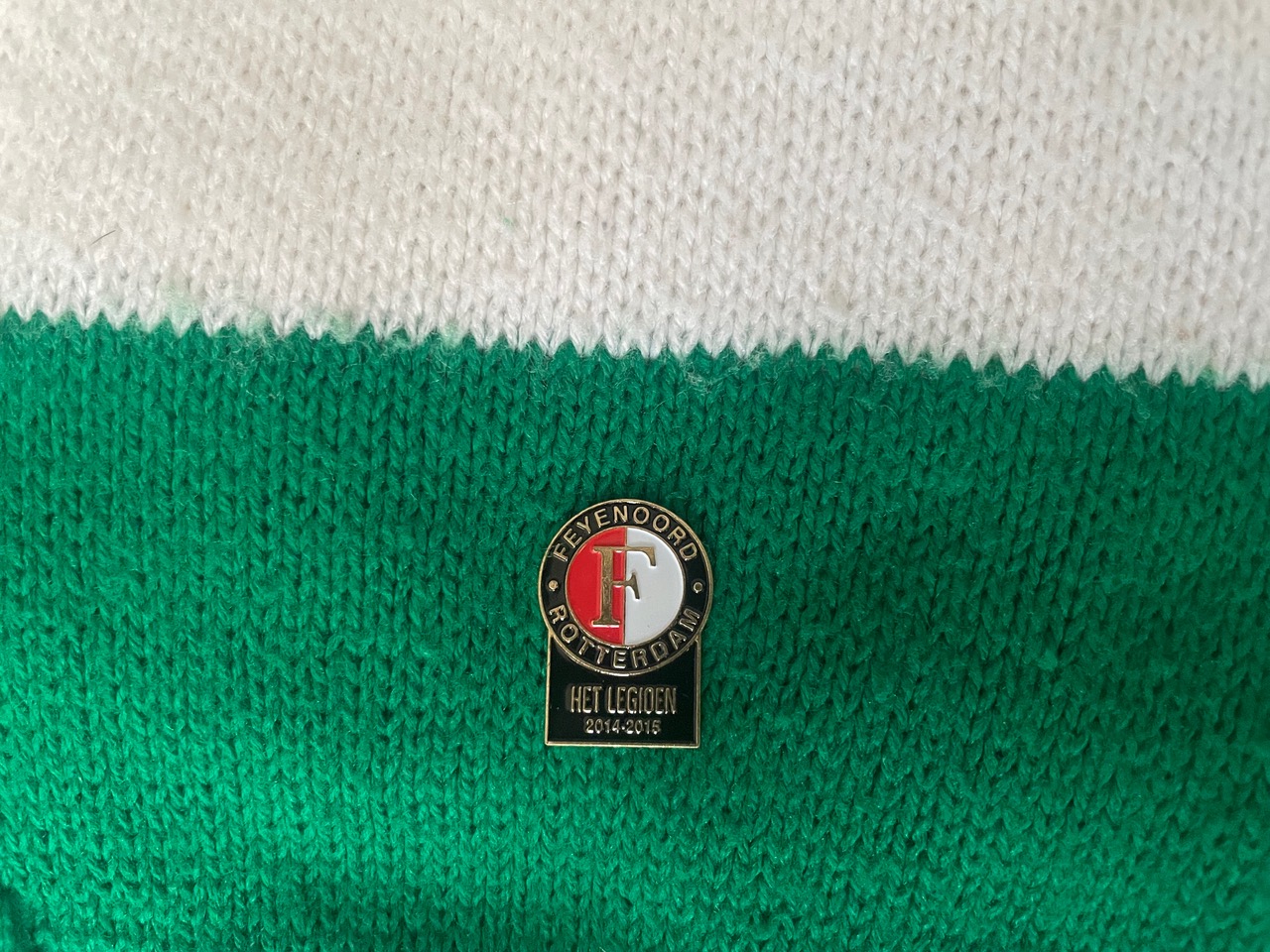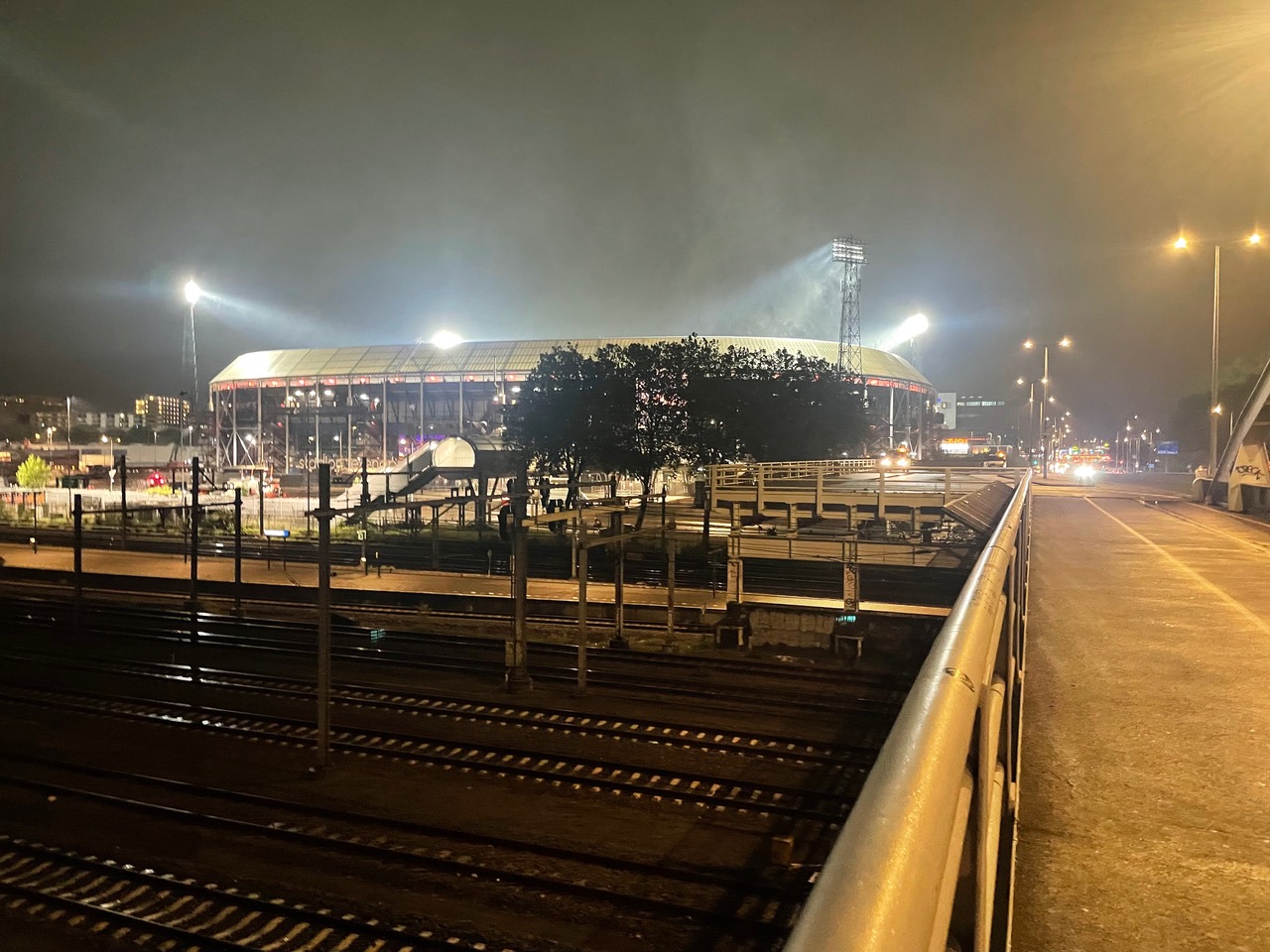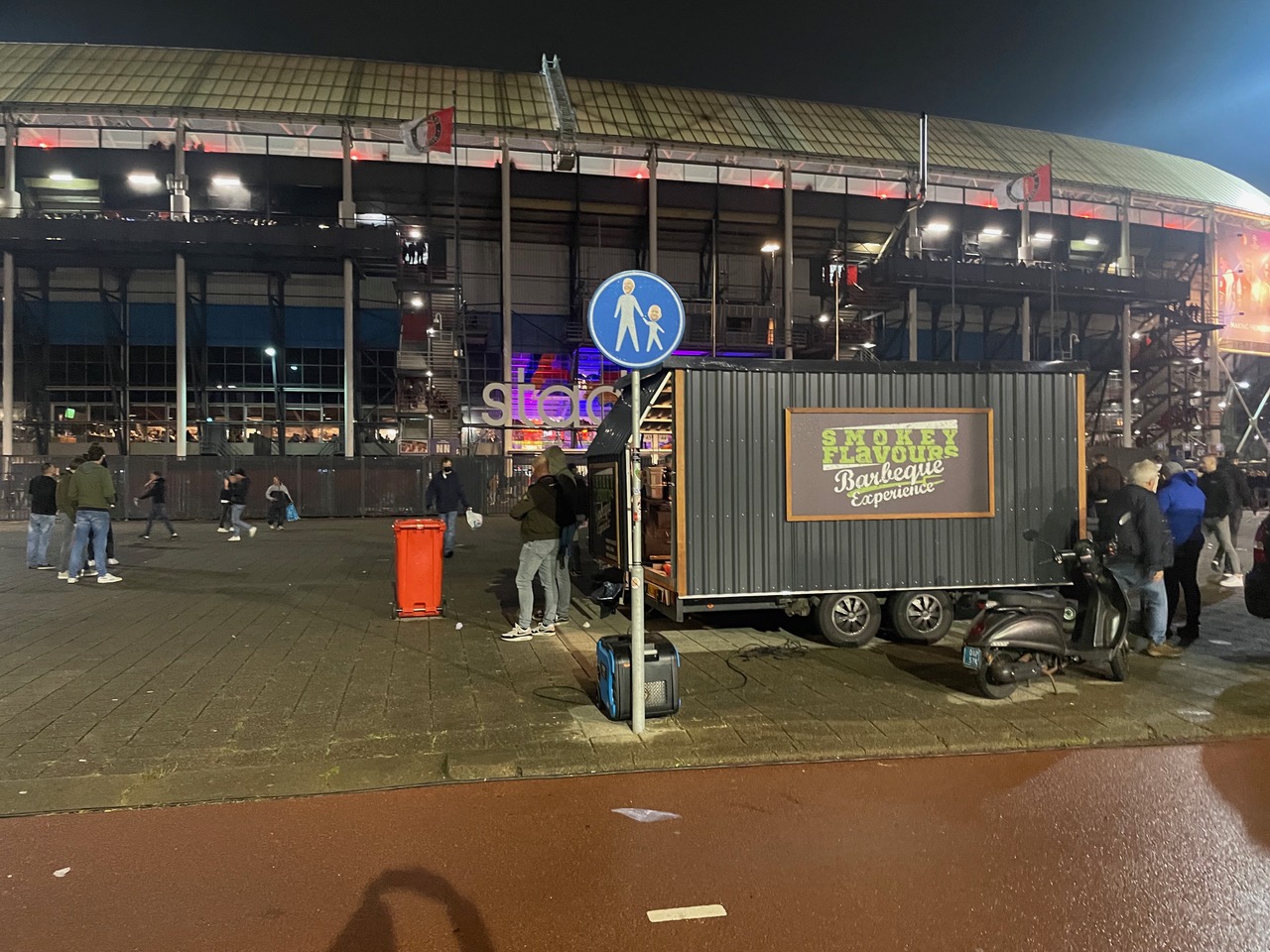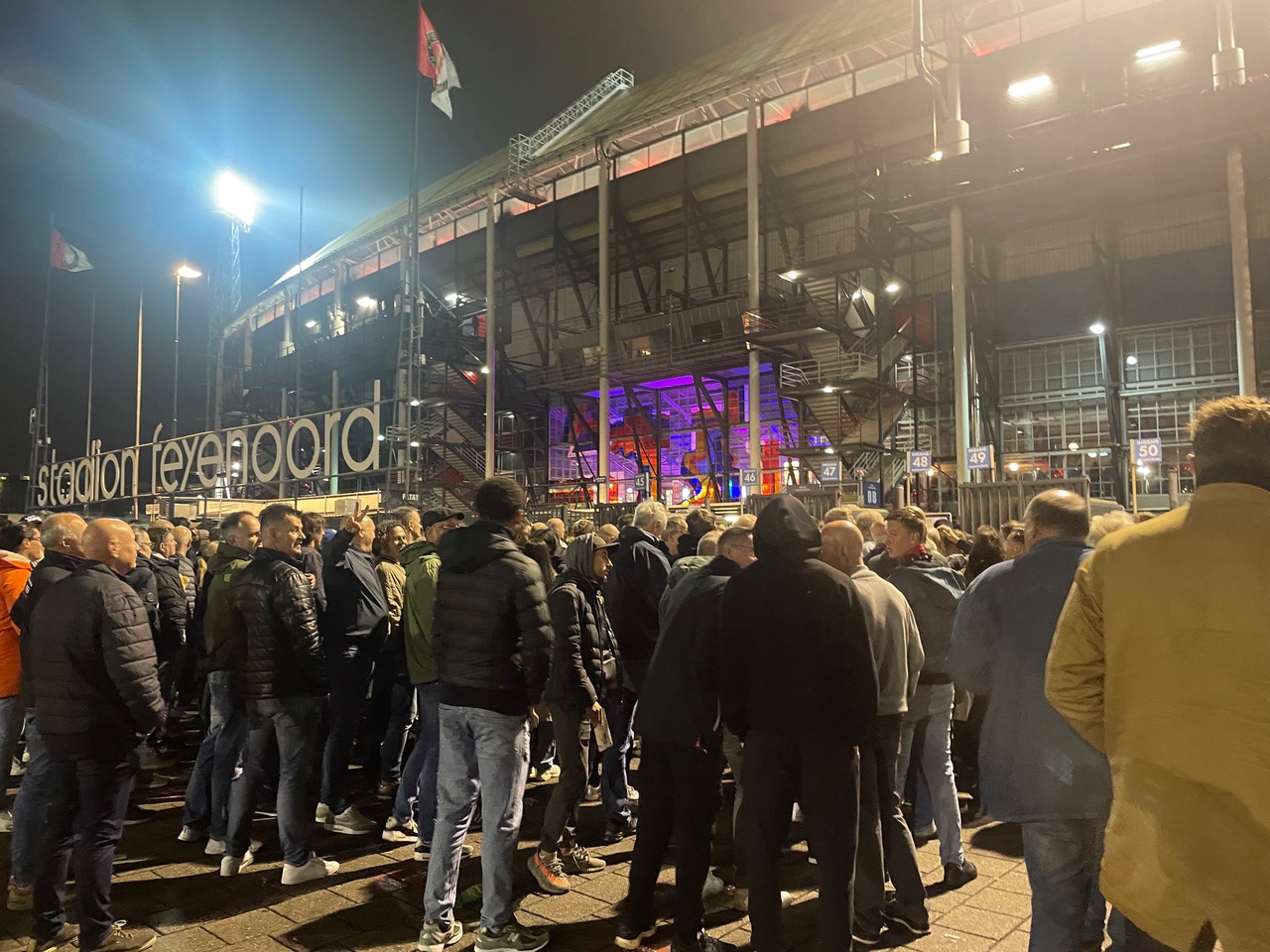 For those of a sensitive disposition, I'll restrict the narrative on the next two hours to two highlight photos below.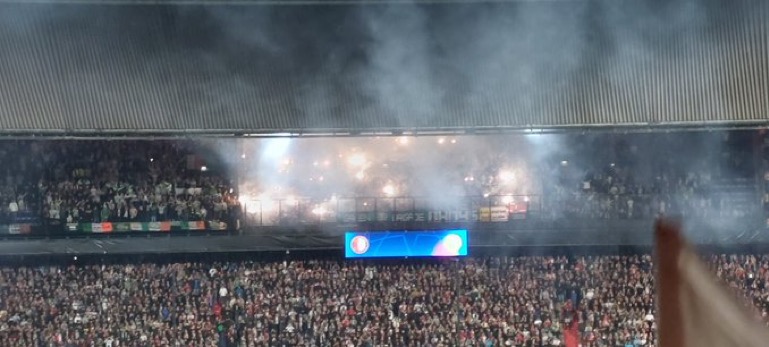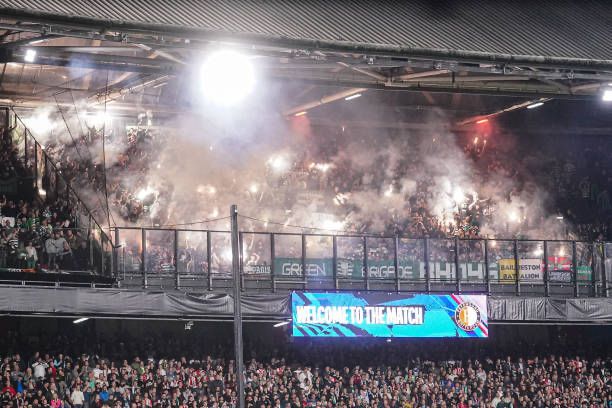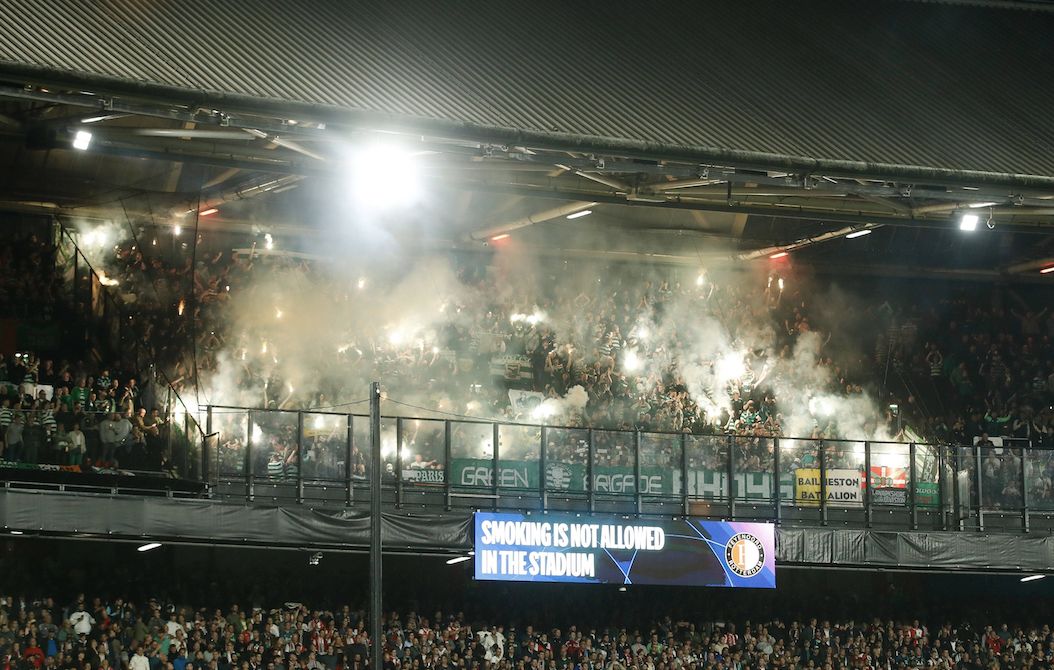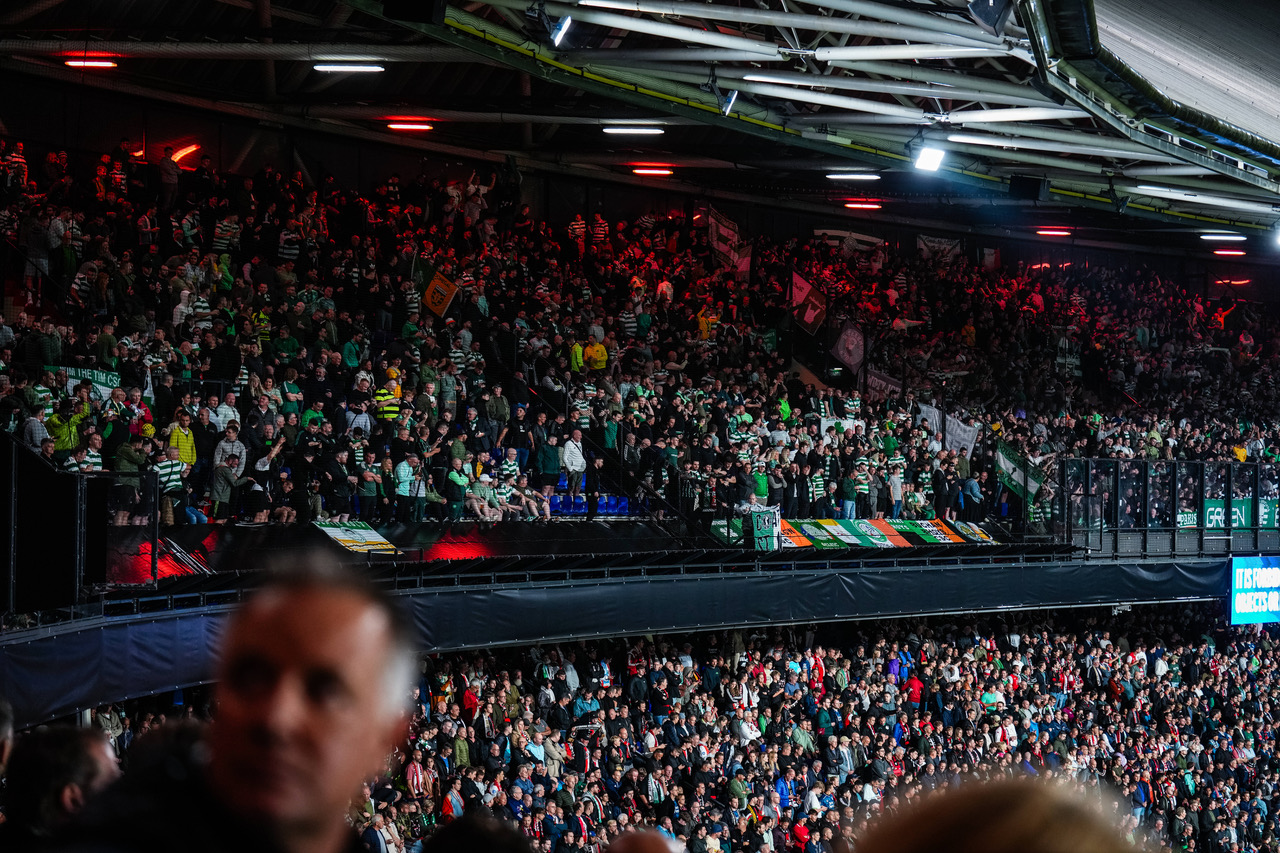 The De Kuip is in the distance as I start the long walk back to central Rotterdam, disillusioned and a bit disoriented with only my thoughts for company. I end up in a railway station which is full of home supporters but with no threat of hassle, in fact a few sympathetic smiles. Eventually I'm back at Centraal and from there I have my bearings. No more beer tonight. Only sleep. The only consolation being that on so many occasions we are herded immediately back to the airport and onto the flights of the damned. At least tonight there will be food, sleep and the promise of next time.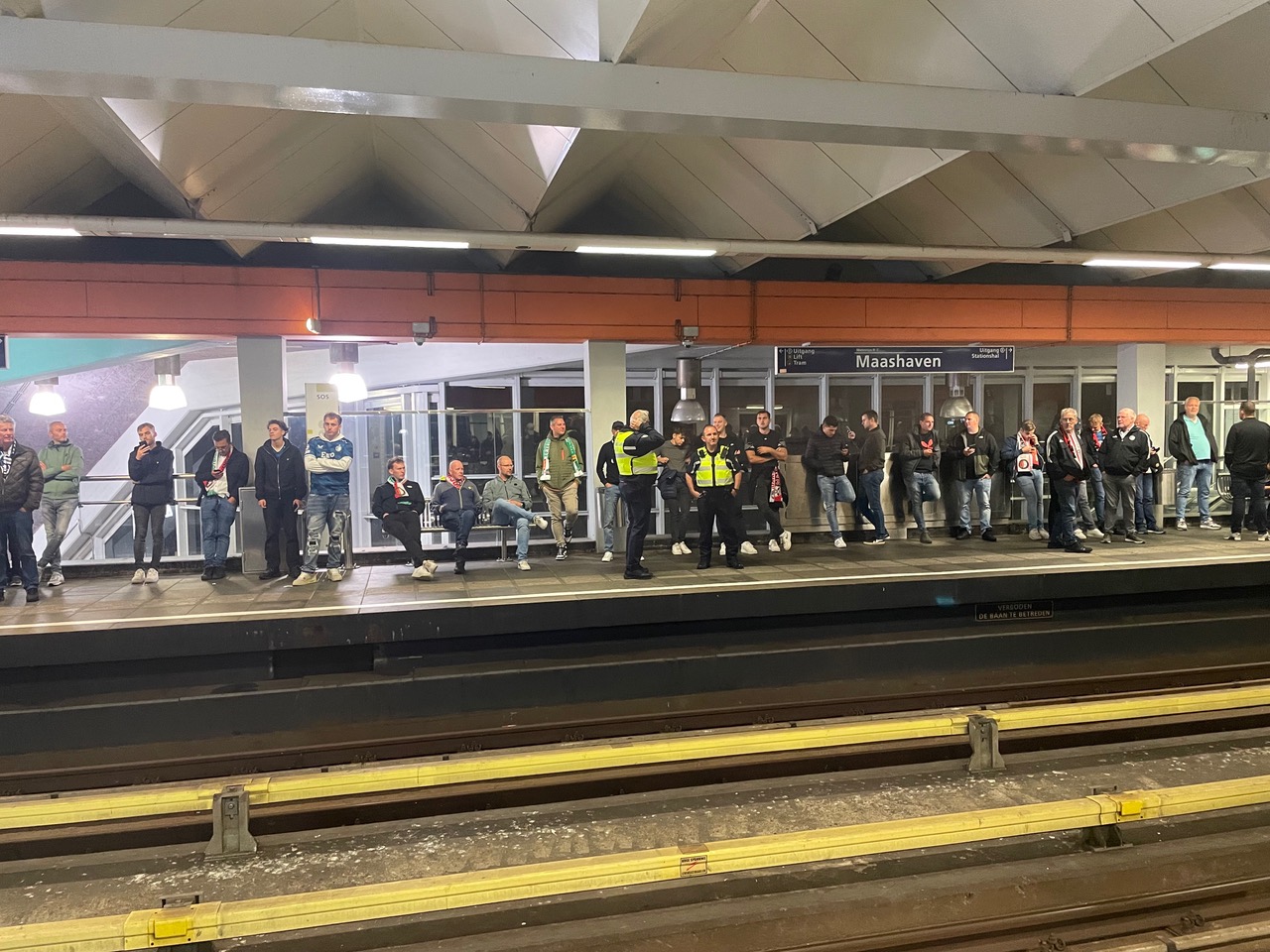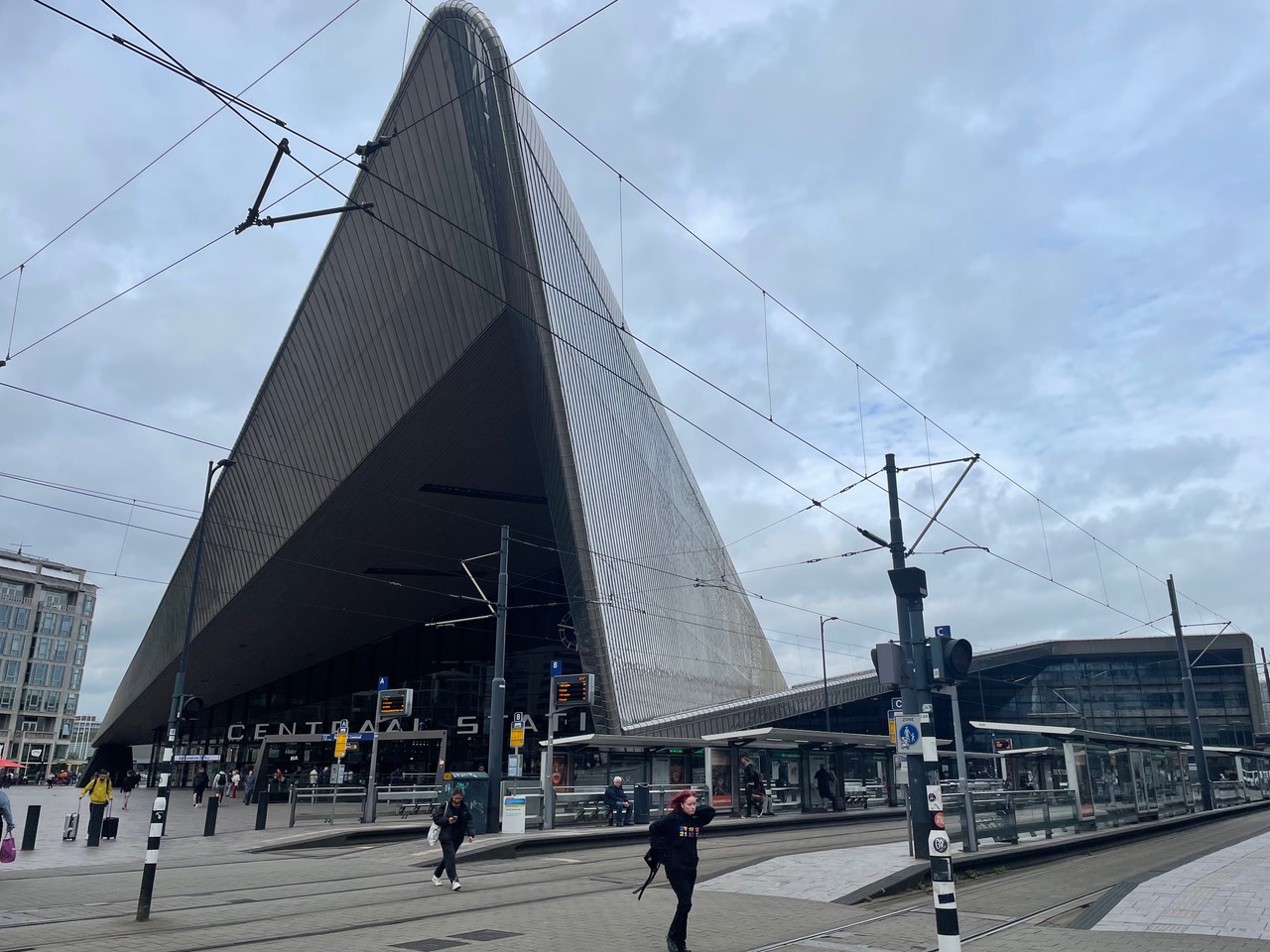 Wednesday morning is lazy and soon the return journey is underway. I know the drill now and before you know it I've taken the obligatory windmill photo from the train and I'm heading into the departure lounge where I can set up the laptop and start pulling together my notes and photos for this diary. Heading towards the gate there is a final act of defiance as a group of Celts are enjoying life in the Heineken Bar as the recovery process starts. This is how it feels to be Celtic – European Awayday style. Never again…until the next time.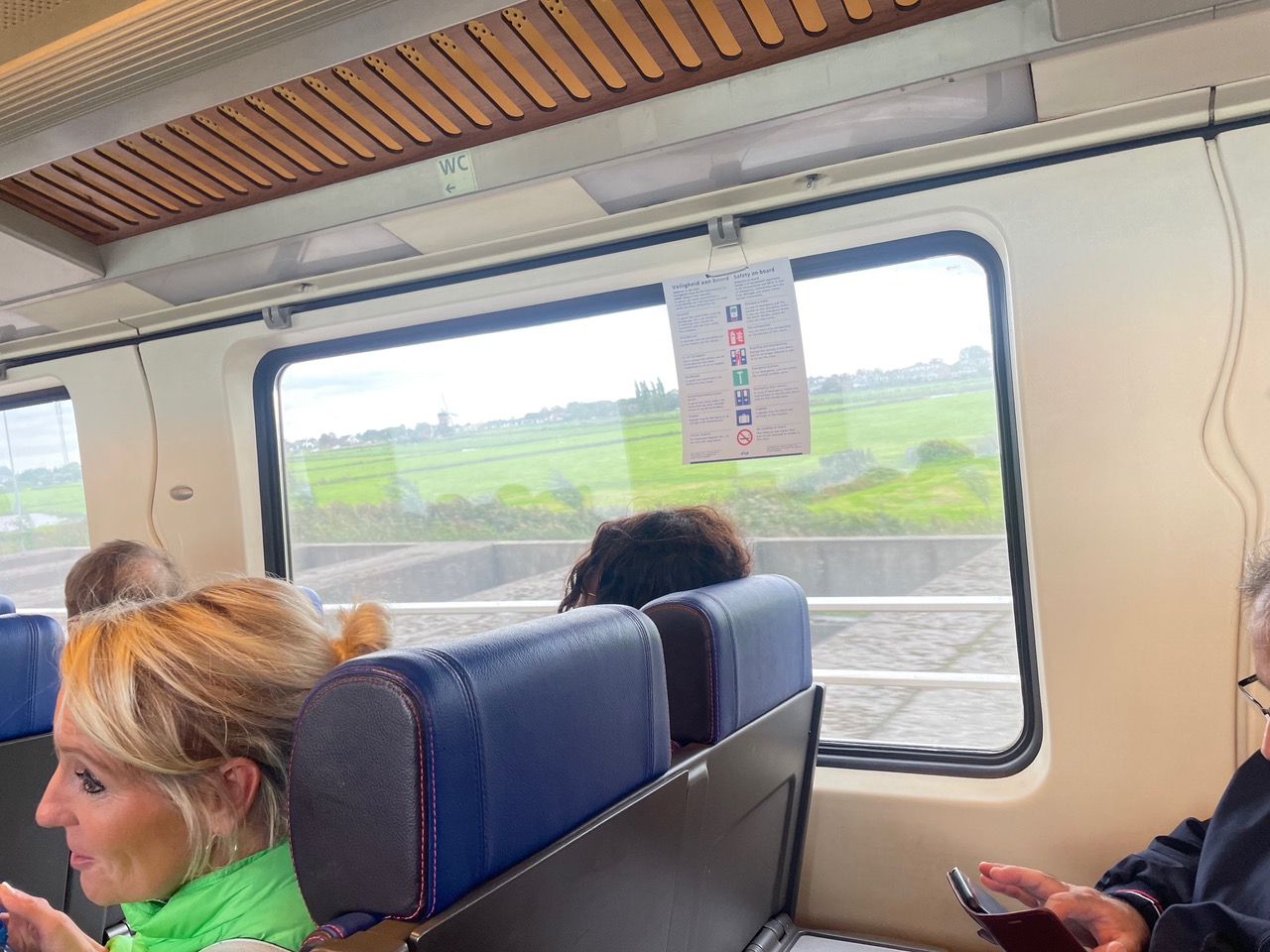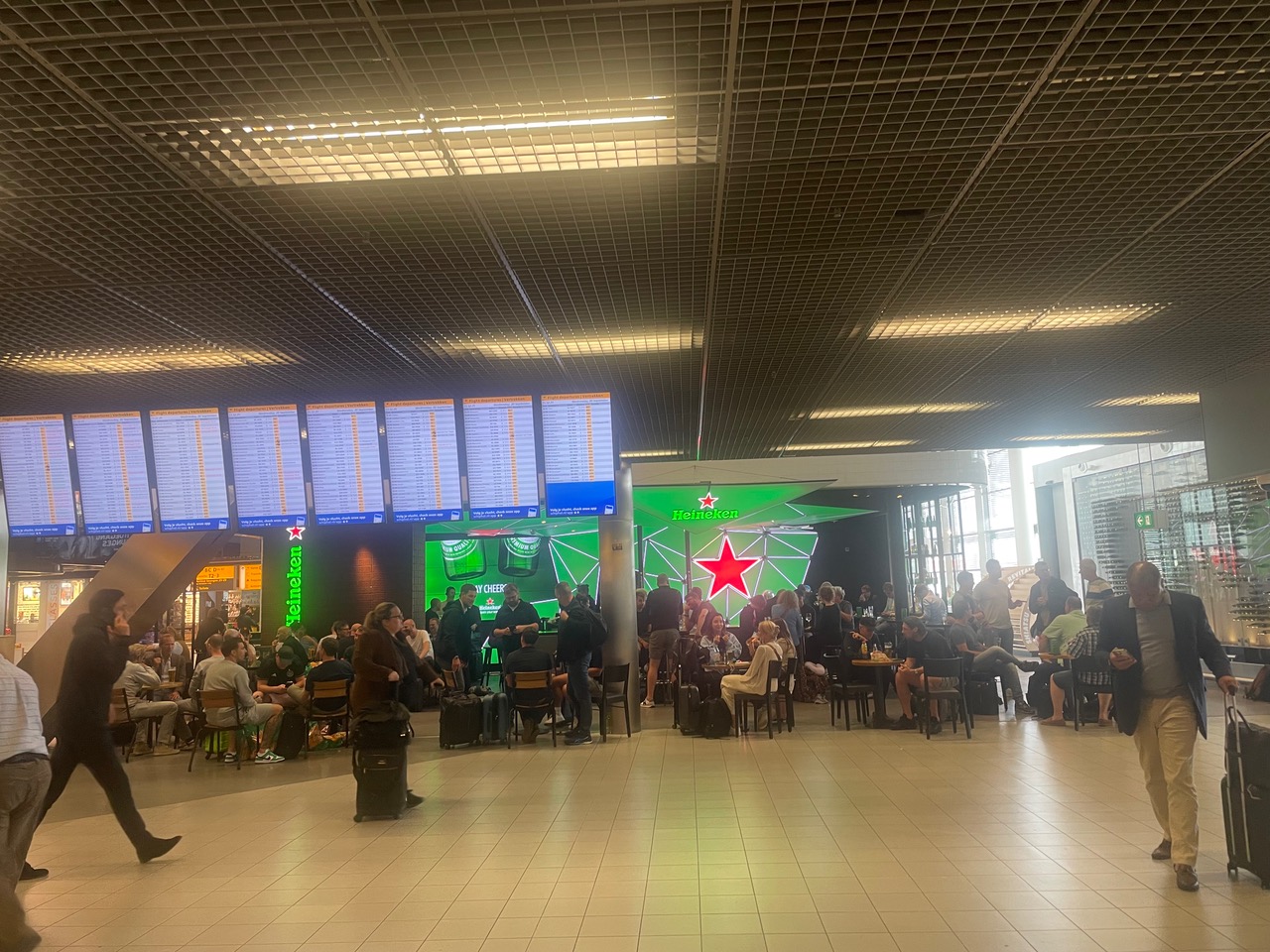 Epilogue
1pm Thursday.
Celtic FC Training Centre, Lennoxtown.
Rested if not recovered, I am here this afternoon for the Media Conference. To hear Brendan Rodgers' thoughts on both the midweek match and the weekend trip to Livingston. I am representing The Celtic Star, as fan media has the welcome opportunity to participate in the wider briefings, a good move by the club.
Brendan is the consummate professional, handling enquiries with a refreshing honesty whilst fully explaining his answers and the rationale behind them, rather than the soundbites you often hear elsewhere. He is insightful and upbeat, choosing to focus on the positive whilst not dismissive of the midweek reverse. One such positive is the emergence of Liam Scales in the two high-profile matches in Govan and Rotterdam, neither for the faint-hearted given the current prevailing circumstances. He is courteous and polite in response to my question, which gives him the opportunity to publicly boost the performances of his Irish defender.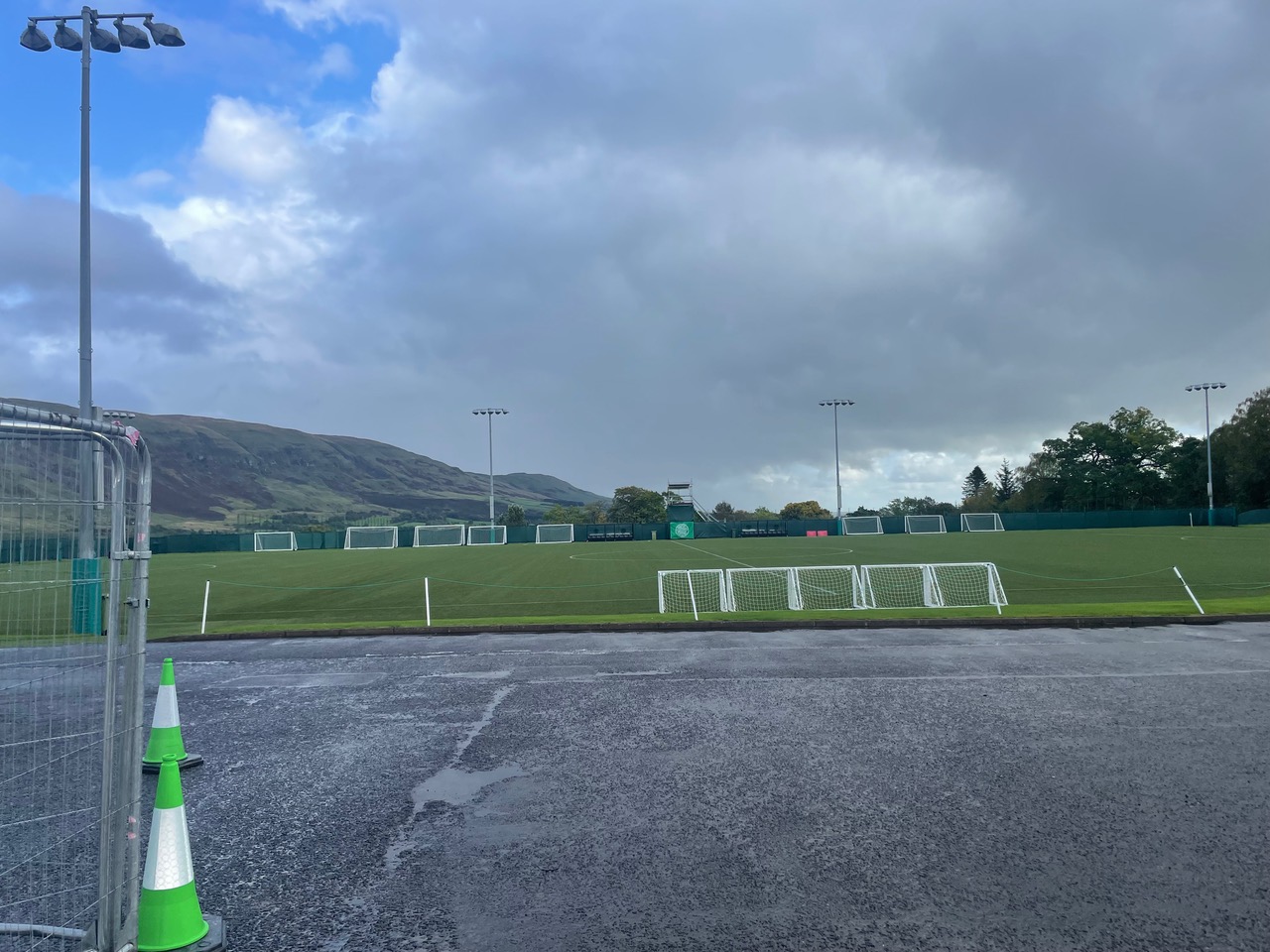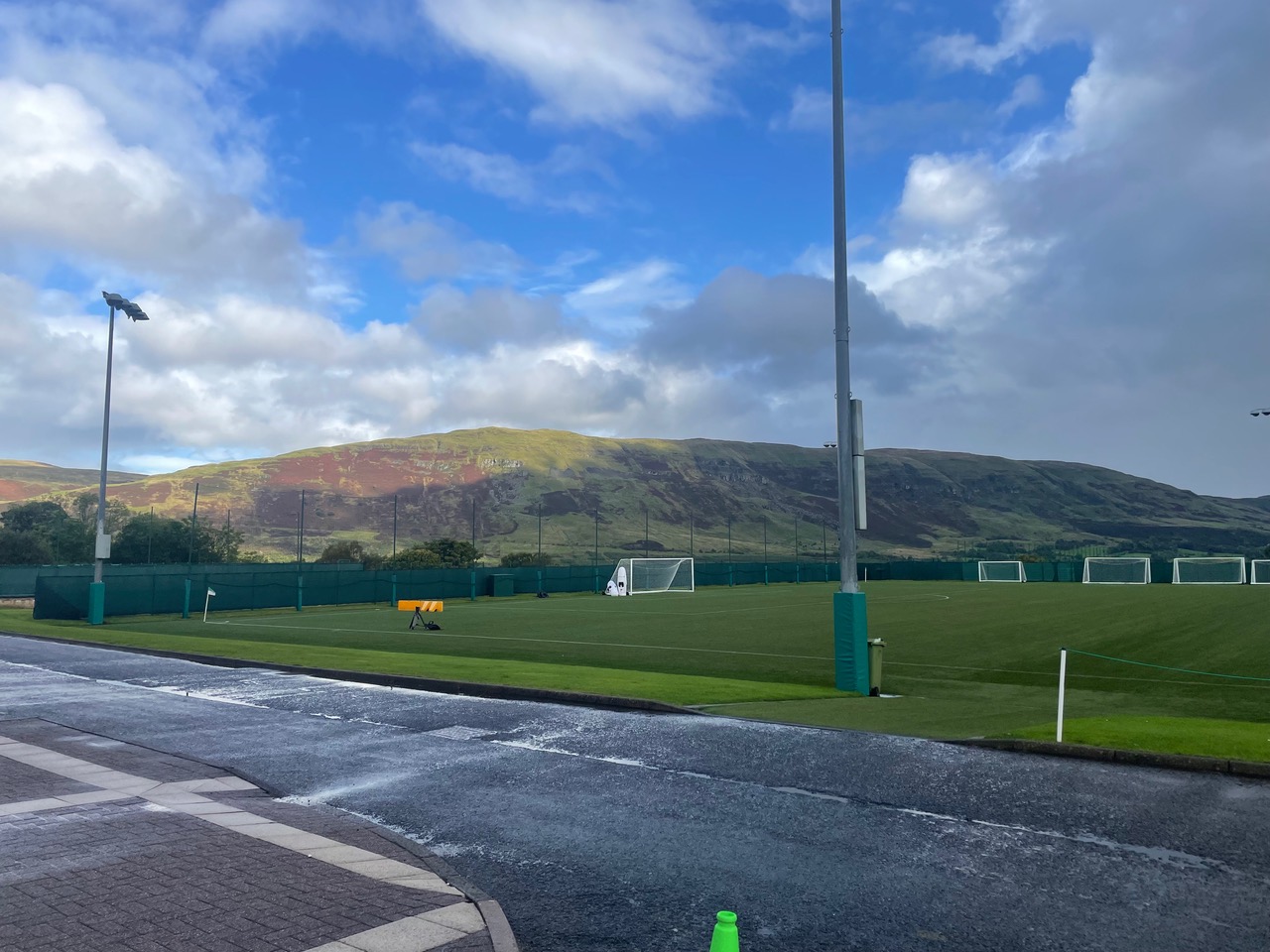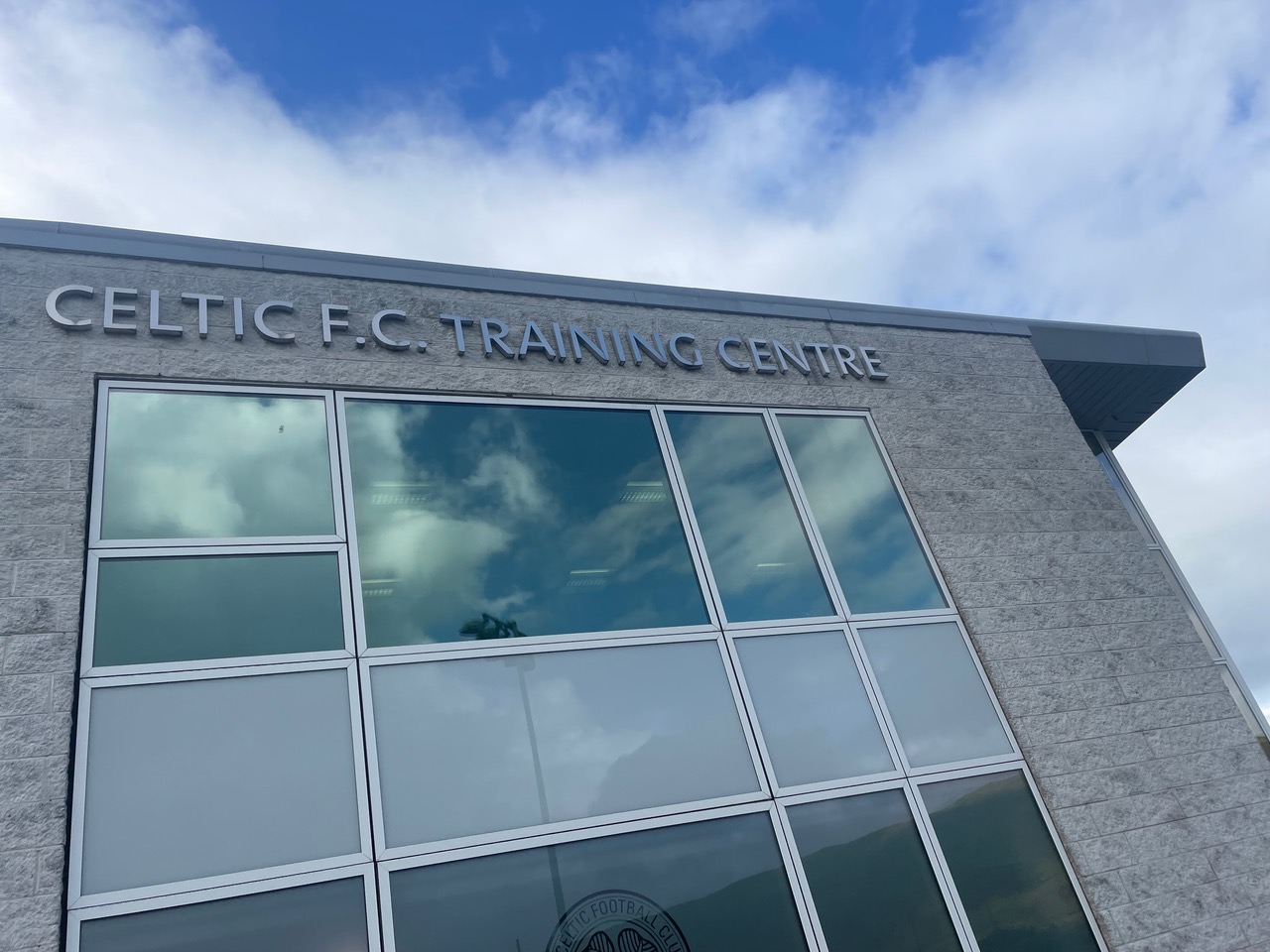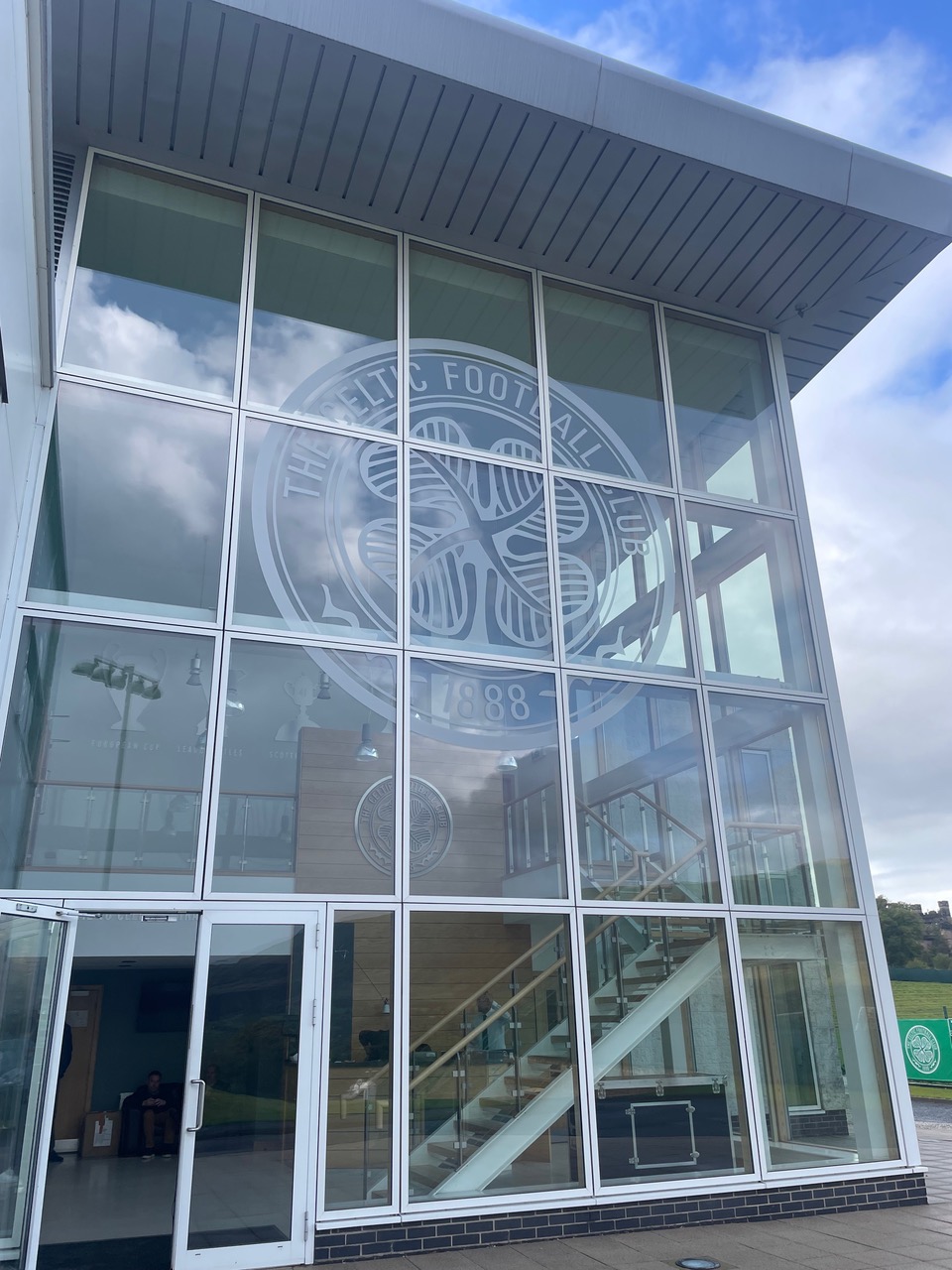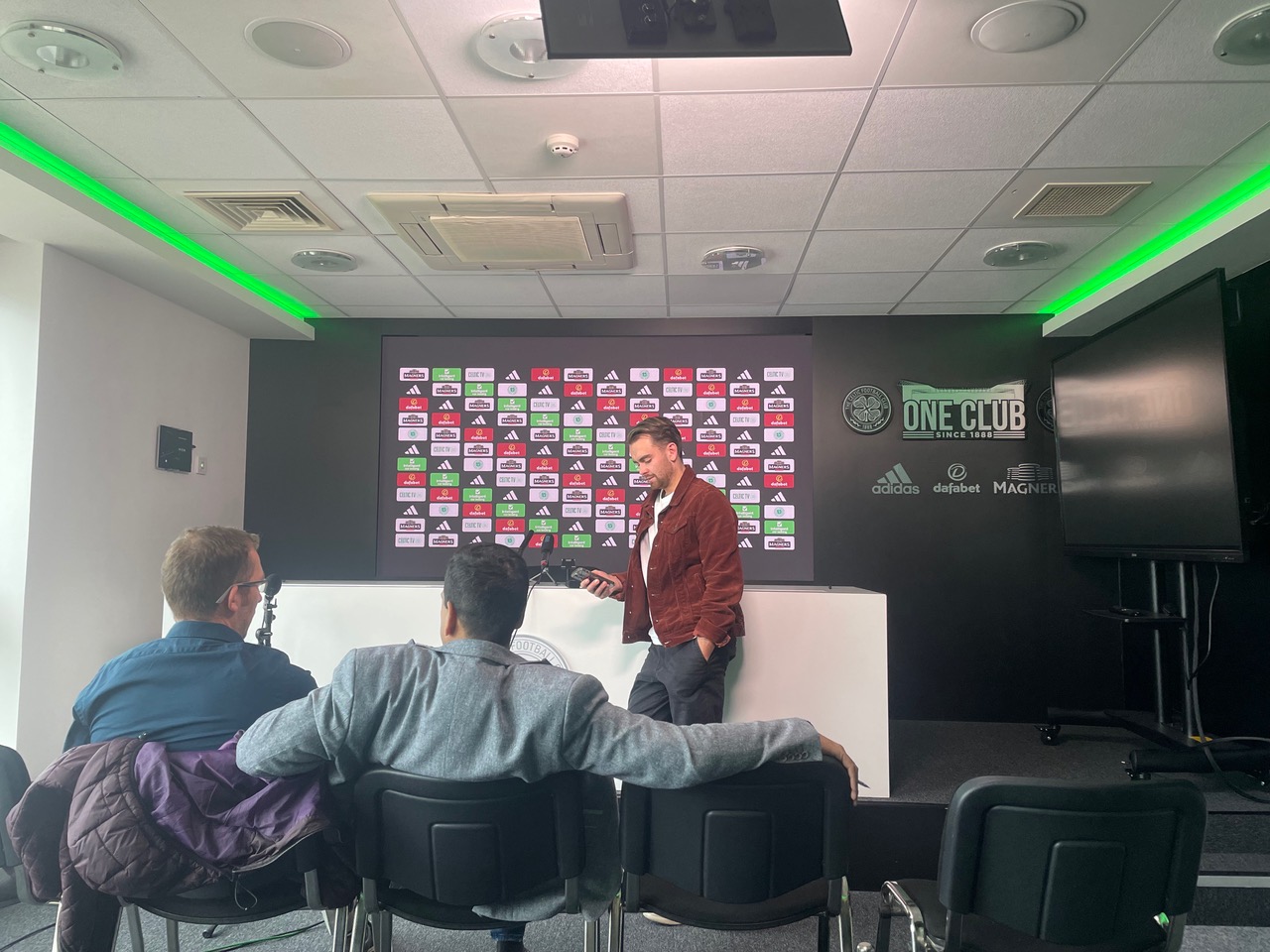 I asked Brendan Rodgers about the emergence of Liam Scales in this Celtic team…
Then it's time to prepare for Livingston, both for Brendan and myself.
There's another game to be won. An opportunity to lift us back up again.
Bring it on.
Hail hail,
Matt Corr
Follow Matt on Twitter @Boola_vogue