The first visit of the season from theRangers followed immediately afterwards by a home European match against AC Milan in normal times would have seen 60,000 inside Paradise for each match and two almighty scrambles from ticketless supporters desperately trying to get to these games.
But these are far from normal times as Neil Doncaster attempts to get some clarity into how the SPFL clubs would want to handle the potential situation of the leagues having to be called early again. Fat chance of any agreement on that with the likes of Ibrox chancers going to have to consult the league table at the time to see whether they are in favour of the leaders being awarded the title – if it's them – or opting for their disgraceful Null and Void stance from earlier in the year.
To be clear Celtic always expressed a desire to have the games played to a finish.  This latest development, and remember Doncaster has already tried and failed to get agreement that the SPFL Board should have the power to decide on these matter should the leagues have to end early again, makes next Saturday"s game against the Null & Voiders (if Celtic win) even more crucial.  Three points will see Celtic go two points ahead with a game in hand and the Ibrox board will revert to their Null & Void position until such time as Gerrard can turn that position around. If that happens and they get to being even one goal ahead then they'll be screaming to be made Champions backed by the likes of Inverness Caley Thistle, Hearts and the rest of them.
Winning the three points on Saturday is therefore absolutely vital for Celtic and Neil Lennon knows it. The Celtic manager has been speaking to the media about the absence of fans and admitted that playing in such circumstances would have been very tough for him as a player.
"We will work with the players as best we can to deal with that and prepping them as best we can for the games," Lenny said as reported by Glasgow Times.  "They are amazing games to play in so we have to adjust without supporters as best we can.
"They have done remarkably well. I don't know how I would have dealt with it because I thrived on atmosphere. I thrived on the crowd and some players do really thrive on it.
"That is missing at the minute but we are still winning games and winning them well. We have had four clean sheets as well which has been overlooked. We have tidied up defensively and I can't ask any more for what they are giving me.
Celtic's love of a last minute winner has re-surfaced in recent weeks with Moi Elyounoussi grabbing the vital winner against Riga Fc while both Leigh Griffiths and Patryk Klimala got in on the late, late action at Perth last Sunday.  We featured some of these fabulous late Celtic winners yesterday and if you missed those please catch up now, you won't regret it – links are below.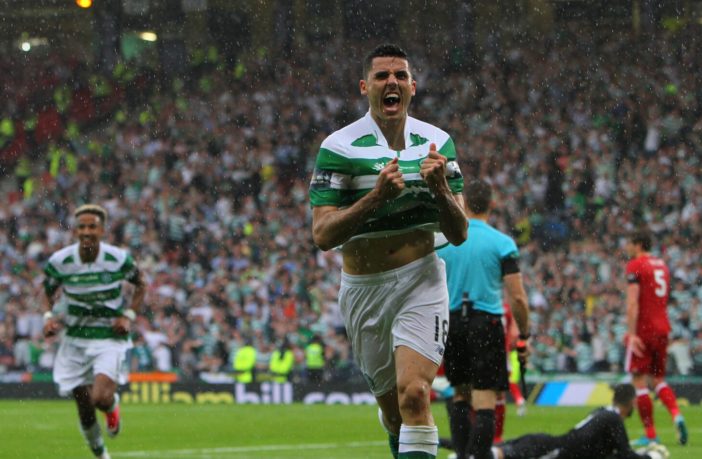 "A lot of it has to come from self-motivation," Lenny said. "You try and get them to adapt to the circumstances as best as possible.
"It is new to everyone and all coaches and managers are going through the same thing. I'll be delighted if and when we can get supporters back into the stadium because I think it would be a huge help for the supporters here but they have done brilliantly with what they have had to deal with and I can't ask any more of them.
"They can play better but I think if there is an atmosphere subconsciously you are just on point more. Having no fans can affect performances but they have handled it very well, as well as anybody," the Celtic manager added.
"The squad has played very well. I think there is far more to come from them in terms of level of performance but I do think still that the lack of supporters in the stadium doesn't help at times with the intensity of the play. You can see that with other results around Europe – you look at Liverpool and Manchester United, Man City. We have been pretty consistent in our results and we have adapted as well as anybody to it.
"We were disappointed with the Ferencvaros result. We dominated the game and we could and should have won the game but the response has been magnificent and I am thrilled with their mentality and the amount of work they have done in between the games and in between travelling to Sarajevo and Riga.
"My backroom team have done amazing work with the players and the preparations for the games so we are in a good place at the minute and long may it continue."