Celtic and their attacking relentlessness blew away Hamilton Accies on Sunday afternoon. As the league flag was raised to celebrate the success of the 9-in-row season the Bhoys went straight to work on securing the Ten, with an attacking display that Hamilton couldn't live with over 90 minutes.
The Lanarkshire side had a good game despite what the scoreline suggested, but as you'd hope and expect Celtic's quality in attack soon wore down a team who were disciplined out of possession and pressed –particularly in the first half- like men possessed.
There was only going to be so long an energy sapping tactical approach like that would work, you can do all the circuit training in the world, no team can keep up that level of resilience and resistance for 90 minutes, but it certainly caused Celtic a few problems in that first half.
As Celtic head for Kilmarnock – and our first visit to the dreaded plastic pitches that embarrassingly continue to adorn the Scottish top flight – there are signs that Celtic will need to up their game defensively.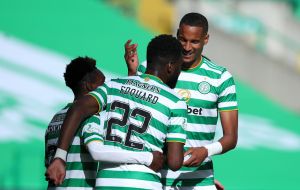 In possession we were a joy to watch but out of it and defending set plays we were rusty to say the least. A better team may take advantage and Kilmarnock are a better team.
In the first half the contrast was evident. Ryan Christie's set piece deliveries almost saw Jullien score with a header, Ajer soon followed suit and then Jullien, again at the back post, came agonisingly close with a volley.
Christie's deliveries are perhaps the deciding factor at present between he and Ntcham and a starting shirt at present and we'll touch on that in a later article, but at the other end our main men were not nearly as aggressive in attacking the ball as they were in the opposition box and that would be a concern.
Hamilton had two clear headers as both Ajer and Jullien lost their men at corners. It was only Accies profligacy when afforded those opportunities that stopped them from scoring.
And from the goal they did score you can forgive the two deflections past an unsighted and wrong footed Scott Bain, but Brown was culpable from the initial delivery as he was caught under the flight of the deep cross, and as the ball made its way to the edge of the box where Accies Scott Martin was waiting the midfielder took advantage of Celtic's Captain covering elsewhere.
Was Brown to blame in terms of losing the flight of the ball?  Possibly, but it was clear that Accies were getting joy in wide areas when hitting Celtic on the break and it was obvious from the start they intended to attack those areas to get cross balls in or force corner kicks.
Taylor in particular was unconvincing in stopping cross balls down his flank and Frimpong, a great attacking full back as he is, was struggling when Hamilton advanced down his. As such Brown – who himself had a job to contend with Scott Martin in the middle of the park – found himself having to vacate that area to assist both his full backs, exposed as they were on occasion.
Brown can't be expected to be in two places at once, although he's made a good fist of it in previous seasons. What he needs is determination and dedication from his defensive players.
The same bravery and resolve Taylor and Frimpong show as attacking outlets has to be matched on the turnover when we're called to defend, and from set pieces Ajer and Jullien have to show the same aptitude for defending their area as they do for hurting the opposition in their area.
There were signs in pre-season that our shape without the ball and ability to be aware of danger on the break was wanting somewhat, yet against good quality opposition we've become accustomed to that.
It was reminiscent of some of the home European performances where the discipline was lost a little to a gung-ho offensive priority, but it's something that becomes more of a concern when it is domestic opposition who will be fighting relegation who cause such obvious concerns to our backline.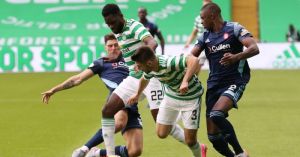 Come Sunday Celtic will face, on last season's form at least, a better side than Hamilton. We'll also face that dreadful pitch that offers the home side such an advantage, but we'll have to deal with that.
I'm sure we won't be quite so aggressive in our attacking and it may be the full backs won't be as exposed if we start from a deeper starting position, but we will still have to defend set pieces and our full backs will have to be more aware of their defensive duties.
When it comes to defending corner kicks and free kicks both central defenders have to utilise the height and strength advantages they have against the opposition and win their individual battles.
It was evident from pre-season that Celtic's attacking play was already sharp. In the second half in particular on Sunday Hamilton struggled with Celtic's movement and interchanges. Forrest and Frimpong, with Christie supporting where necessary were wonderful.
Taylor as an attacking threat on the other side was a joy to watch, though Moi Elyounoussi perhaps didn't link quite so well with Taylor as Forrest did with Frimpong. Christie was a constant menace such is his industry and endeavour and as mentioned his set piece delivery is vital at the moment given our lack of quality elsewhere to deliver dead balls.
And what can you say about Edouard? He is simply the stand out footballer on the books at Celtic, indeed in the whole of Scottish football. He scored a hat-trick and barely broke into third gear at any stage.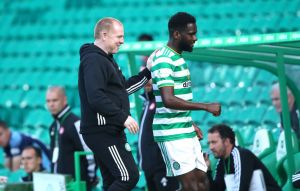 A 5-1 victory in the quest for 10-in-row cannot be given short shrift. We were a joy to watch at times on Sunday but there were also warning signs of which we need to take heed of going forward.
It may just be rustiness but our awareness when teams hit us on the break will be tested more by better teams. In defending set plays we need our main men to be stronger in protecting our box. With European football coming into view that will be all the more required, and tested.
Niall J