ON the day Celtic play Hibs for a place in the League Cup final, The Celtic Star's look back at the early 90's brings an Easter Road Connection with it.
In July 1990 Celtic made a very public statement of intent in their attempts to challenge a very wealthy Rangers side, now very much bedding is as the dominant force in Scottish football.
Celtic made their first ever £1million signing when they stole in ahead of Rangers and Bordeaux to sign the most talented young player in Scottish football from Hibs.
At 22 years old John Collins by his own admission was ready for a 'bigger stage'. The rumours had it that that stage would apparently be even bigger than a struggling Celtic side. It wasn't to be. John Collins might have come from Galashiels in the Borders and playing for Hibs, but his family were from Glasgow and Celtic through and through.
Fresh from a place in Scotland's Italia 90 World Cup squad he signed for Celtic after Billy McNeill made several visits to the player's home to persuade him Celtic was the right destination. Could you have turned down Cesar? That personal touch may have been the ultimate persuader.
To supporters of my generation John Collins became Celtic's star midfielder. Paul McStay always held a place as the Rolls Royce midfielder in the hearts of older supporters but by 1990 he was playing a deeper role, he'd become affected by injury and Collins played a more advanced role, getting much more involved in goalscoring and creating goals. The truth is they needed each other and considering the paucity of talent around them the midfield became one area that Celtic could lay claim to being every bit as good if not better than our Glasgow rivals.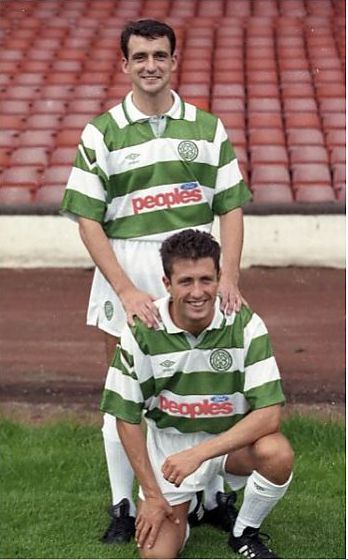 His first game was against Ayr United in a 4-0 league Cup win but he had to wait for his first goal in a 3-2 defeat to St Johnstone in December that year.
Collins talent stood out like the proverbial sore thumb during his time at Celtic. In particular his hat-trick against Hearts at Celtic Park in 1995 stands out for me. His first goal came after a somewhat questionable penalty award, but his two goals to seal a Celtic 3-1 victory after half time were immense. His finish from the edge of the box for the second goal is good enough on any other day but the goal for the hat-trick was genuinely World class. Have a look for yourselves. A left footer from the corner of the box into the keeper's top left corner of the net. Words can't do it justice. It needs to be seen.
His status as Celtic's main man at the time was underlined by 2 goals against Rangers. A match played without an away support due to a David Murray imposed ban on Celtic. A punishment apparently for damage done to the stadium on previous visits. Pot, kettle and black comes to mind.
It's also famous for being the first free kick scored with the new predator boots from Adidas. It was a big thing at the time! The commentator says the goal is met with deafening silence, but we all know of someone or other who got their way into Ibrox that day, but it certainly quietened down the masses. It was a piece of art.
27th August 1994 saw the carbon copy, this time past a rather perplexed looking Andy Goram, possibly making it even better. This one was in a 2-0 win at Ibrox and this time we had a full complement of Celtic supporters to witness it first-hand. With his midfield partner McStay scoring a brilliant second to seal the win it's a game worth revisiting.
John Collins was interviewed by The Celtic View in June 2015 and asked about his favourite goal. Not much surprise in his ultimate decision.
"There's a few that I like. I scored one for Scotland against San Marino where I picked the ball up in my own half and beat a few players. I scored against Columbia with a right-foot volley, which was unusual for me, so that one was a bit special too. But nothing beats scoring against Rangers at Ibrox. Putting it in the top corner and silencing the whole stadium – that was pretty special."
In 218 league games John Collins scored 47 goals for Celtic. It is an indictment of just how poor Celtic were at the time that Collins had only a 1995 Scottish Cup medal to show for his talents.
While we had individual talents like McStay and Collins the depth of the squad and quality of the first 11 was sadly lacking. The off field issues were very public, though by the time he left on a Bosman transfer to AS Monaco, Fergus McCann's long term planning was starting to bear fruit.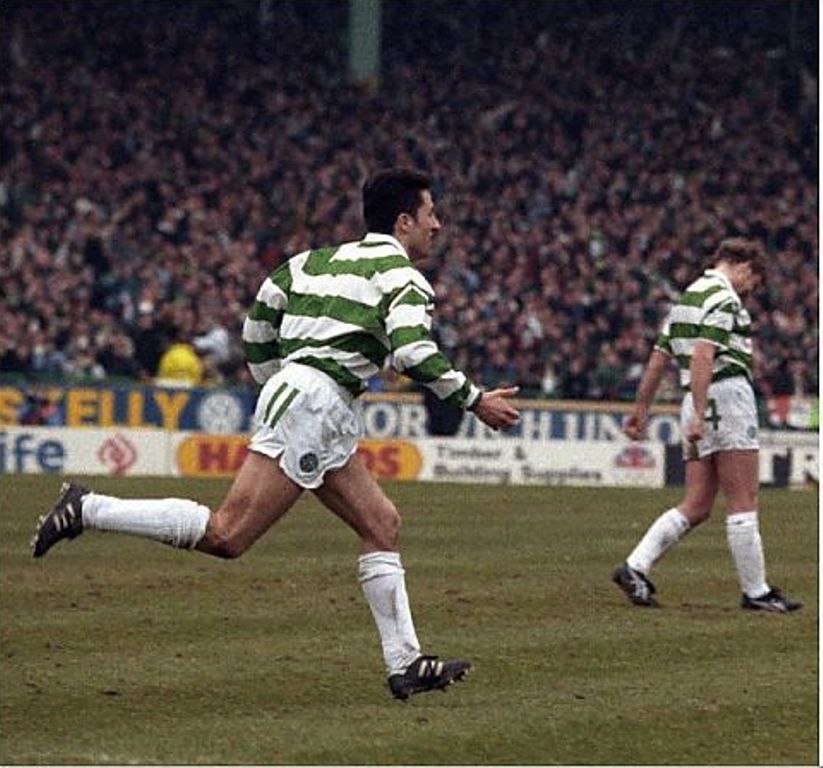 Collins exit in 1996 led to Fergus McCann attempting, in vain ultimately to get a transfer fee for the player as Fergus claimed Monaco were not French as Monaco was a principality. It was never likely to be successful but Fergus fought Celtic's corner at every sign of what he perceived as an injustice to the club. The current Board may run a tight ship financially but there is much they could learn regarding the defence of Celtic's honour from Mr McCann.
It is a shame Collins left when he did as had he stayed he'd have bagged silverware to match that talent but given the career he had post Celtic at Monaco, Everton and Fulham I'm not so sure there was much in the way of regrets on his part. For me his leaving however left a few 'what might have been' thoughts.
In some barren years we still had individual brilliance at times. John Collins was a stand out in that regard.
Niall J
YOU MIGHT ALSO LIKE THIS FROM NIALL FROM LAST NIGHT ON THE CELTIC STAR…