Tom Rogic made the judgement call to reject an international call up in order to get himself fit for Celtic's European Qualifiers earlier this week. The 28-year-old snubbed the Green and Gold of Australia to hope that he can prolong his career in Glasgow after a tough two years under Neil Lennon. Rogic was one of Brendan Rodgers' big game players, trusted to sit behind the striker and offer a spark in the middle of the Celtic midfield.
Rogic is likely enthused that his former boss Ange Postecoglou has emerged as the front runner to replace Lennon as the club's permanent manager in the wake of the breakdown in talks with Eddie Howe. Postecoglou coached Rogic at international level with The Socceroos, becoming a mainstay in his teams from 2015 to the manager's resignation in 2017, playing 24 of 29 games under Postecoglou.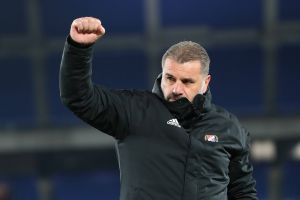 Rogic compared Ange to then Celtic boss Brendan Rodgers in an interview with ESPN from 2016.
"It's almost a bit of a similar feel as I see the managers being a little bit similar in ways — both quite positive and both quite intense to work under.
"The way it crosses over, it's good for me to have that similar mindset going into both.
"The environment's good, the team's good; when you're playing, you're happy and, when you're winning games, it's all good."
The playmaker clearly admirers the 55-year-old and that is reciprocated from Ange to Tam as he said after the win over Honduras sealed passage to the World Cup in Russia, shortly before Postecoglou's departure.
"Tommy Rogic, he was brilliant tonight. I said to him before the first game, I knew this was going to be his night.
"He wants it so badly; part of the problem with him is he wants it so badly he gets really frustrated. But he's a fantastic young player and he's going to become more and more important with the more games he plays.
"Tonight, he was the one who provided that spark. We needed him to, because it was going to be tight, and we needed someone like him, or an Aaron, to break it open, and Tommy was outstanding."
Rogic was in spectacular form under Rodgers in two and a half years but the trip to the Asia Cup in 2019 seemed to slow Rogic down entirely at Celtic. He returned to the team at the end of the season under Neil Lennon as the interim boss helped win the Treble Treble but required surgery again that summer, which effectively limited his involvement in the Quadruple Treble season. This last season saw Rogic used sparingly, he provided assists in a poor run of form as Celtic's season tailspun towards mediocrity but the arrival of Ange could result in Rogic becoming a big player for the club again.
Rogic and Ange clearly rate each other and if it is the Aussie that takes the job after quite a laboured search, we can expect a rejuvenated Tam in the first team picture again.