NEIL LENNON learned a lot in a superb 5-0 victory in the League Cup against Partick Thistle tonight.
"Trust is hard to come by. That's why my circle is small and tight. I'm kind of funny about making new friends".
Eminem might have said it however Neil Lennon learned that his circle of trust has expanded tonight. Up to now the manager has been somewhat shy on squad rotation. This evening he learned he has a group at his disposal he can now count on beyond the up to now, chosen few.
There was a glance from Tom Rogic over his shoulder towards Olivier Ntcham standing just behind him as Jeremie Frimpong was announced as the sponsor's man of the match. The nod and wink was Tom telling Olivier it was his award but you couldn't deny the youngster the shout from the sponsors and nor would Tom or Olivier.
Both the Wizard of Oz and the Marseille Malcontent both showed reports of their own personal demise for contrasting reasons have been greatly exaggerated. In fact both laid down serious markers as to their future involvement not only being warranted but also possibly too difficult to ignore. Lennon has the sort of selection headache pounding in his brain that previous Celtic managers' will now be looking at with a great deal of envy.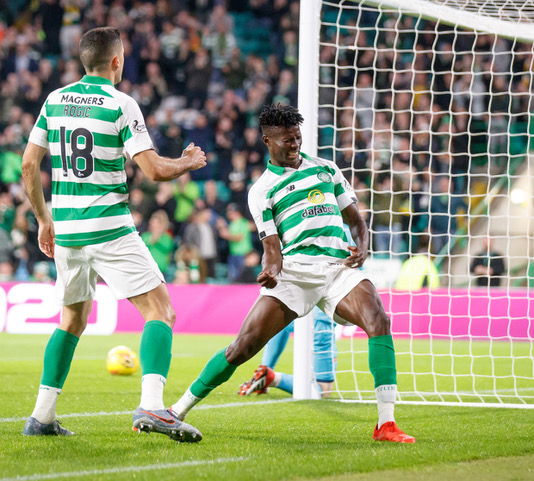 Celtic scored early in a physical first half. Bayo's brilliant header to open the scoring was quickly followed up by a fractionally early jump for a second opportunity at the back post. That chance resulted in his header hitting the ground too sharply and flying over the bar.
At the back Frimpong's defensive flying header at the expense of a couple of Kenny Miller's ribs and a Chris Erskine shot just wide was the extent of Thistle's involvement first half. All Celtic missed was a little more composure in choosing the final ball. In the second half that minor issue was fully remedied.
A minute in and the signs were immediate that Lennon had pinpointed the problem. Ntcham fed Bayo who laid off perfectly for Rogic who in turn nonchalantly placed the ball beyond the keeper. Composure had arrived.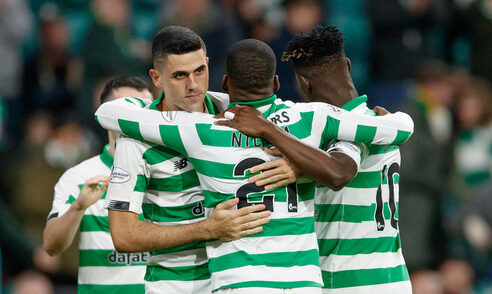 Anyone who saw Rogic huff and puff through the first half couldn't fail to be surprised and delighted by the second half that came with his own second wind. Rogic even looked laborious running out for the second half. The big Aussie came to the fore though and the second half was like a trip down memory lane. Tom is back and in a few short weeks he'll be breathing down the necks of Ryan Christie et al for a shot at a first team shirt. Rogic was simply breath-taking second half.
Ntcham then took it upon himself to hit an absolute Worldy into the top right bin that I must admit I hailed as the goal of the season, before he followed it up with a low finish including a nutmeg into the bottom right corner of the goal that immediately moved my original choice to second place. Two simply beautiful, artistic and mesmerising goals.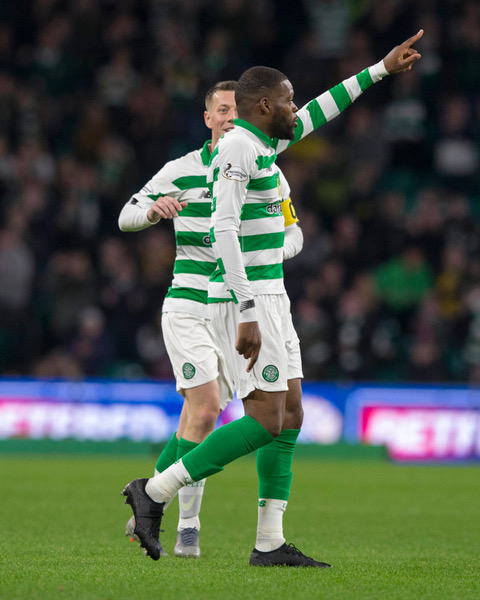 Substitute Scotty Sinclair then arrived like a derby winner released on the gallops after a winter of over-nursing and scored a fine goal himself before passing up an opportunity for a second when trying to tee up Bayo for the striker's second goal. A bit more ruthlessness and Neil Lennon would have been having to ask the governing body for permission to extend the starting team to 13 players on the grounds of sheer entertainment and public demand. Lenny does like his technicians.
Look at how much it means, he's a unit btw pic.twitter.com/csj9C76e74

— Tam sellics son (@gibbogibby1) September 25, 2019
This may well by be seen by some as an expected win and a scoreline Celtic should be dishing out to lower league sides and they may well be right, however life isn't like that certainly not in a football dressing room.
What should be taken into account is that some of these players are rusty. Some have also been side-lined for quite some time.
You only have to look south of the border to Spurs and Stoke City on Tuesday night or Manchester United taken to penalties tonight to see it is not easy to keep players on their toes when they are not getting minutes under their belt. Grumps and groans can lead to a multitude of moans. Unhappiness at a lack of game time can be reflected when unhappy players are called upon and feel they are outside that circle of trust.
Celtic showed tonight that is not an issue. Not yet.
The Bhoys in fact evidenced rather clearly that there is a depth to this squad of not only class but also togetherness. Both those qualities should have our Scottish rivals expecting a slow demise to result from Neil Lennon's appointment believing that they may have another think coming.
Neil Lennon has a team and a squad, he has genuine competition for places, he has a hunger and he has a solidarity that belies the competition for places.
Yes you may well say it was only Partick, and it was only a League Cup tie. The second half in this 5-0 victory and brilliant performance will instil a belief in those who played and place a warm fire under the backsides of those who up to now may have taken their place for granted.
"The best way to find out if you can trust somebody is to trust them". Hemingway said it and Neil Lennon discovered just that tonight.
A special mention to young Frimpong who was simply wonderful at right back. On a night however where two of the goals were simply sublime, I'm in agreement with Tom Rogic and his nod and wink over his shoulder.
Take a bow Olivier Ntcham. A masterclass.
Niall J
ALSO ON THE CELTIC STAR…
Celtic's five goal thrashing sets up semifinal against Hibs…see HERE.
'Hail Hail, les Celts sont ici' – Matt Corr's Rennes Diary…see HERE.