There does not seem to be any doubt about what TV channel to watch tonight. It has to be the BBC Scotland Channel. First of all we have Raith Rovers v Hearts, which is sadly now a "dead rubber" game (sort of like Sunday's game) but I'm sure it will still be worth a watch, and then there is Still Game, for those of us who like vulgar Glasgow humour (that is most of us, by the way!) with Victor and the other chap who live in a Glasgow block of flats on the same landing as Isa, and who have dealings with the rascally pub owner and the Asian grocer whose command of Glasgow idiom is brilliant. Always some sort of a laugh there.
But that merely sets the scene for the Scottish Cup final of 1988. I presume you know what happened, and if you don't, watch it and find out, (I won't give the game away) but I will be interested to see how the BBC do it.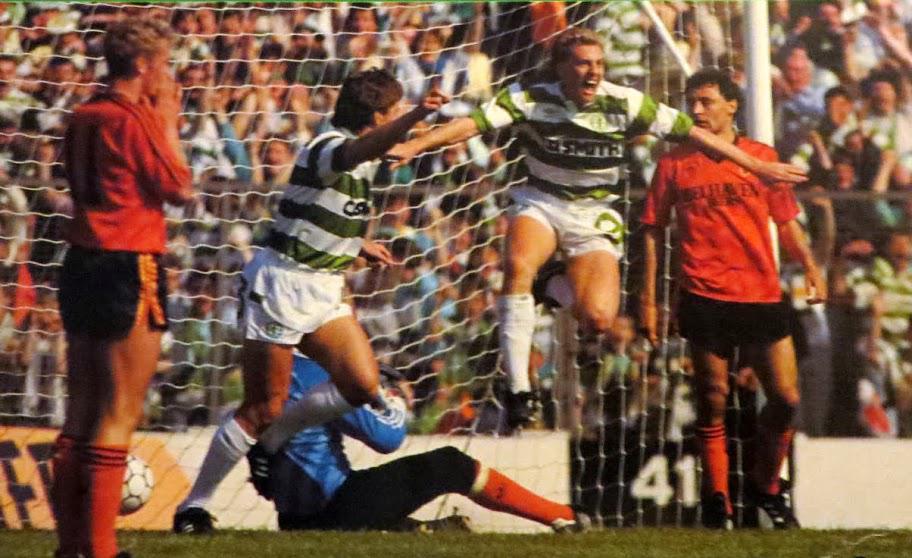 The BBC have never really been notorious for their Celtic bias, although to be fair to them, there was never really been a strong Rangers slant either (at least not since Peter Thomson retired with a broken heart in the late 1960s) but there tends to be a "plague on both your houses" motif, something which Tam Cowan, for example, carries to extremes apparently under the delusion that no-one really supports either of the two Glasgow giants anyway, and that everyone offers their love to Motherwell, St Johnstone and Albion Rovers.
The last few programmes of this series (none of them involving Celtic) have certainly shown the necessary footage and have done a great deal to recreate the atmosphere, but there has also been a tremendous amount of crass stupidity shown by some of the pundits. So, we look forward to tonight. If you have forgotten 1988 (or were not even born then) I won't give too much away, although the word "centenary" might give you a clue… and it was a happy occasion.
Should be worth watching.
David Potter
"I used to go up and chap the door and his dad would answer and I'd be like, 'can we get Joe's autograph?'" 🤣

Tonight's Scottish Cup Classics episode looks back to the 1988 final between Celtic and Dundee Utd 🏆

⏰ 10.30pm, Fri 30 April
📺 @BBCScotland channel pic.twitter.com/6coROLk2UU

— BBC Sport Scotland (@BBCSportScot) April 30, 2021