My favourite Celtic resurrection is a comeback in a game we were never actually behind! August 1997 UEFA Cup, 2nd Qualifying round. Trailing 2-1 from an away first leg against Innsbruck Tirol in Austria – where Alan Stubbs had scored his first goal for the club – the second leg was a helter skelter night of Partizan Belgrade proportions – although at least this time we went through – despite being 'out' on away goals with 8 minutes left .
The King of Kings was in his early days and marked the occasion with his first goal at Celtic Park – an own goal -meaning his first and last goals (scored for Barcelona) at the ground were against Celtic.
He also hadn't yet earned the right to be on penalties ( and free kicks , throw ins and half time draws etc) so it was the 'young Dalglish' Simon Donnelly who put Celtic level on aggregate – and ahead on away goals from the spot. Their best player, Mayerleb, scored however and then the calamity Larsson og – what with slack goal conceding passes at Easter Road and own goals – who the hell was this clown?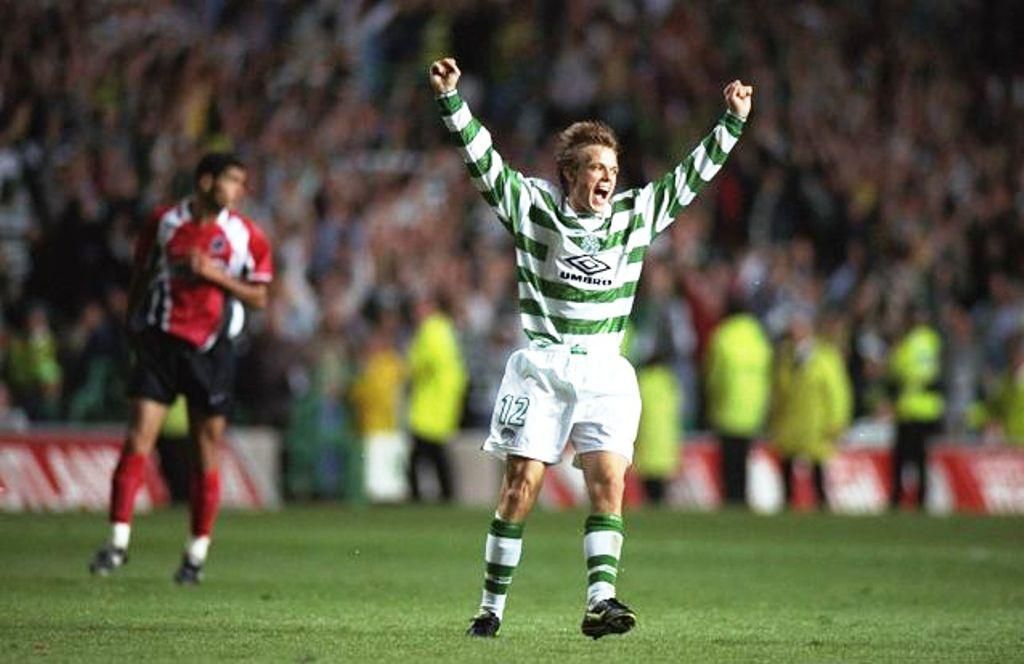 The Austrians had lost their goalie with an early replacement – who just before half time then became a rare victim of the then 6 second rule and from the indirect free kick the ball was rolled to Andy Thom who placed it beautifully into the goal. 2-2 and level at pie and Fanta break time maybe but still going out on aggregate.
Second half was a scorcher – young Simon and other new signing Craig 'smiler' Burley put us 4-2 up on the night with 20 to go. Being Celtic however there was no hope of shutting up shop old Rangers style. So, inevitably, a hopeful cross to the back post with 8 minutes left and their sub just on the park nodded it in. 4-3 but 5-5 overall and the exit door lying open.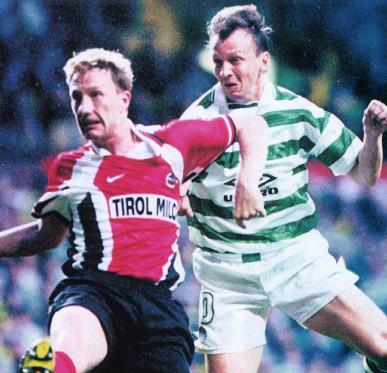 But we turned back into traditional Celtic after all. For all the brilliance and ability we saw from Henrik over those happy years this night was our first demonstration of arguably his biggest qualities – his work rate and determination. He drove the team forward and on 90 minutes it was his big Scandi chum Wieghorst who scored the coolest, classiest goal you would ever wish for.
Cue mad uproar in the new stands but 4 long injury time minutes still loomed. We scrambled our way through that as nerves pulled tight as bow strings all around. Happily, Craig Burley, as he often did, banged in another and all could finally relax. 6-3 and 7-5 overall – more Centre Court than UEFA Cup qualifier.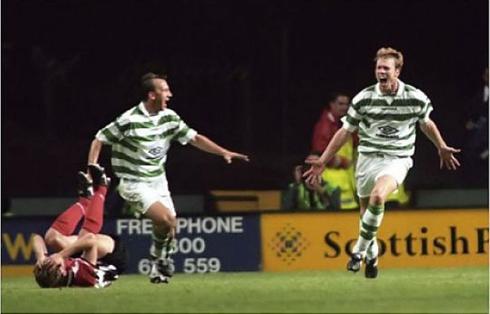 So, brilliant night as a spectacle, proof we could actually get through one of these goal strewn pantomimes and reassurance that we had added some class to a good squad already blessed with local talent like McNamara, the late, great Phil O'Donnell and Donnelly. Good servants too like Malky Mackay and step forward David Hannah. Notable personally also for my favourite Andy Thom being replaced on his feet rather than atop his usual stretcher waving farewell horizontally.
A thrilling and portentous start to what would be a fabulous season.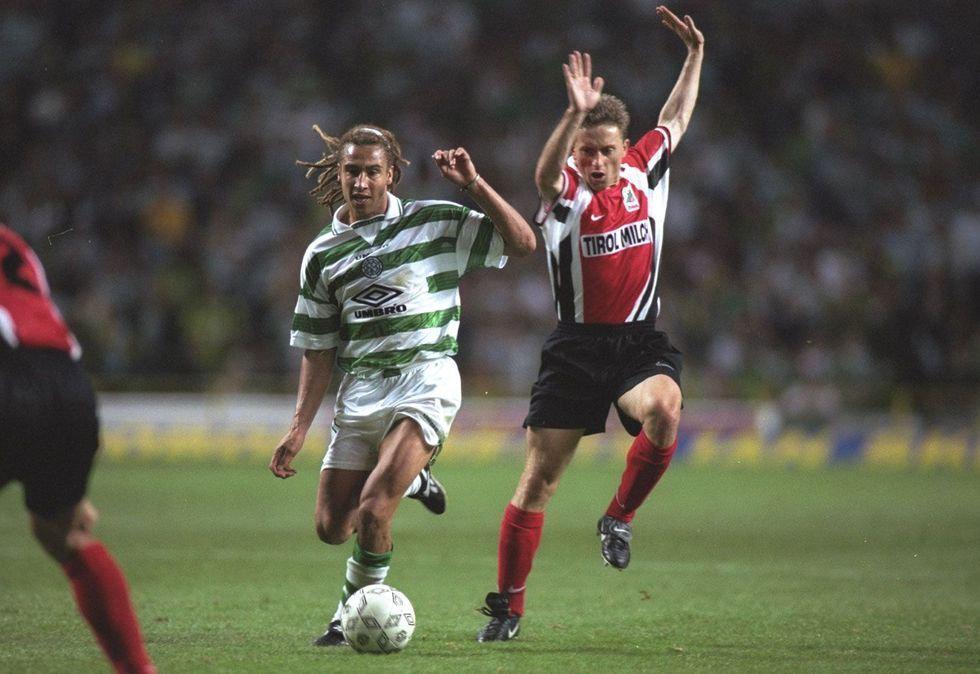 So crushed by that night and by the phenomenon that is Celtic the Austrian club went out of business some years later. Sounds familiar.
The Celtic team that night was as follows:
Gould, Boyd, Mahe, McNamara , Mackay, Wieghorst, Donnelly, Hannah, O'Donnell, Larsson and Thom.
Here are the highlights from Celtic 6 Innsbruck Tirol 3 and they are well worth watching!
Big MaZ