We're all off to Transylvania in the green, in the green…
The draw for the third qualifying round had thrown up the stuff of nightmares for my kids, a trip to Transylvania for Celtic, a field day for the King of Bad Puns. I'm immediately thinking of how many I can squeeze into an away-day diary, lots at stake, blood-curdling roars and dangerous crosses etc. I'll do my best not to include any more as we go through the story of the trip, just don't Count on it.
I can't believe it's been a month since the heart and mind-blowing experience of Sarajevo. In the interim, there was a possible trip to Tallinn but work and childcare commitments mean that the only practicable way for me to do that was via a one-day trip.
Once Iain Hynds then Nirvana/Celtic Travel confirm they won't be running one then I'm missing out. I've had a brilliant run over the past year or so which I've loved but I'm still gutted. I live for these European challenges with Celtic. Always have.
At the risk of sounding like a broken record, UEFA really need to take a good look at this qualifying process. Eight games in eight successive midweeks, four of them on the continent, some of which where the venues and dates are known less than a week before the game itself. Total madness. If UEFA had gathered their top brains together to plan a schedule which would make it as difficult as possible for supporters to follow their teams abroad then they would do well to beat this one.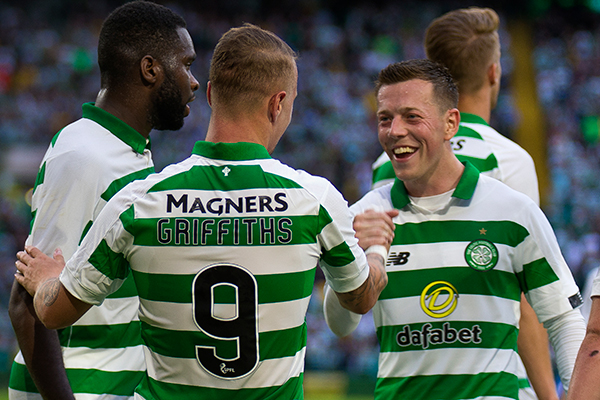 Anyway, rant over. Thankfully, Celts did the business at home with a 5-0 win over Nomme Kalju to render the Estonian second leg less meaningful than could have been the case. So we can start to cautiously think about the next round. It will be Tel Aviv or Cluj, with the Israelis the seeded team. That tie is in the balance after CFR's 1-0 home victory and an early Maccabi goal in Netanya tilts it briefly towards the seeds. Then the Romanian champions score two away goals before the break and so we're all off to Transylvania in the green, in the green…
Again I'm hoping to do a day trip but Iain advises that a few days notice will be insufficient for them to make that happen and despite Nirvana exploring costs and things looking hopeful, they eventually concede defeat. Iain had pointed me in the direction of Wizz and I find a route to Cluj via Luton that I can make work. Of course, as usual, by the time the lack of a 1-day option and the actual match date are confirmed, the prices have increased. I bite the bullet and book the flights and hotel. Trip on.
By a complete fluke, I have booked onto the same early morning flight as one of my daughters. She's heading to Watford for a training course with her business partner and fellow beauty consultants. So the Norman Naemates CSC table in Beardmore at Glasgow Airport is looking a bit more glamorous than is usually the case for the traditional 6am Guinness. They stick to coffee and tea. Lightweights!
I have a 4-hour stopover at Luton Airport, the only slight downside of my schedule. I plan to use that time to catch up on the writing of my Celtic book and decide that one of the private lounges will be the best option. It's £27 for three hours, which represents good value as I'll squeeze in breakfast, lunch and a few beers as well as having some privacy and peace to write. However, as the old saying goes, a good idea has many fathers. As I head to my table I see that I'm not the first Celtic fan in the lounge. There are at least a dozen of the troops already working on their £27 target. The patter and the drink are flowing. It's a distraction albeit a pleasant one, and I do get some work done.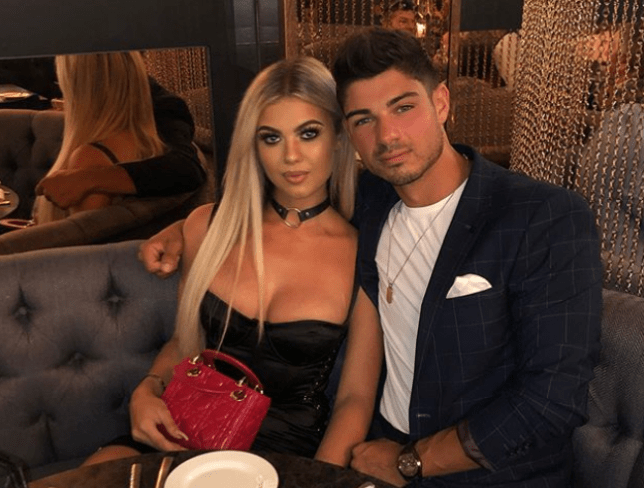 There's a surreal moment whilst queuing to board the flight at Luton. A guy passes who looks like a mini-Cristiano Ronaldo and is immediately greeted by shouts from the Lounge Bhoys of 'Hey, there's Anton. Alright Anton. Can I get a photo, big man?' Cue cuddles and laughter as poor Anton is huckled for a photo by the Troops. The look on his face was absolutely priceless. I have no idea who the guy is, so I have to ask a couple of girls wearing Hoops just in front of me. 'It's Anton from Love Island!' A Google search shows that the exotic-looking Anton is actually from Airdrie. There's hope for me yet.
It's just as well I didn't plan to do any work on the flight. The trip to Transylvania is the journey from hell. It starts badly as first I am asked by a smiling mother if her son can have my preferred window seat and I do what any gentleman would do, plank myself on the aisle. Then a helpful Cockney with about a dozen kids boards the flight at the last-minute and promptly starts to remove the smaller bags which are already in the locker – including yours truly's complete with iPad – as he attempts to find space for his collection of large suitcases.
As I even more helpfully tell him to put it back where I had left it, the stewardess intervenes. I will now spend the best part of three hours with a rucksack jammed between my feet, as large bags take priority apparently. I am seriously p…cheesed off and it's about to get worse. The noise of the plane taking off is drowned by the sound of screaming kids, as I find myself the only guy amongst a crowd of mothers and distressed babies. I feel like Hugh Grant in the film About a Boy but without either the yummy mummy's or the humour. Huff declared.
We finally land in Cluj and I seek out a taxi, as I don't know any Transylvanian therapists. As a solo traveller who is not in the first flush of youth, I am always a bit wary when arriving in a new country. A taxi driver catches my eye and we agree a price for the journey into town, 50 Romanian Leu, £10. As with Atif in Sarajevo, the conversation very quickly turns to football. Turns out the driver, Alin, is not a huge fan but his son is and they are both going to the game tomorrow. He thinks it will end up a draw.
He tells me about the bitter rivalry between CFR (pronounced Che-fe-ray) and Universitatea (known as 'U' and pronounced as 'ooh'), which creates a bit of tension in Cluj whenever the two sides clash. This doesn't happen as often these days as U Cluj are currently in the second tier after going through some financial difficulties, despite seeing themselves as the bigger club in the city.
I'll just leave that one hanging there.
Alin is helpful in terms of giving me the lowdown on the city. Apparently, I'm about 15 minutes' walk along the main road into the old city, where most of the sights and the nightlife are. Best Romanian beer is called Ursus (he shows me the logo on his mobile!) and there a few pubs which sell Guinness, so I will probably survive until Thursday.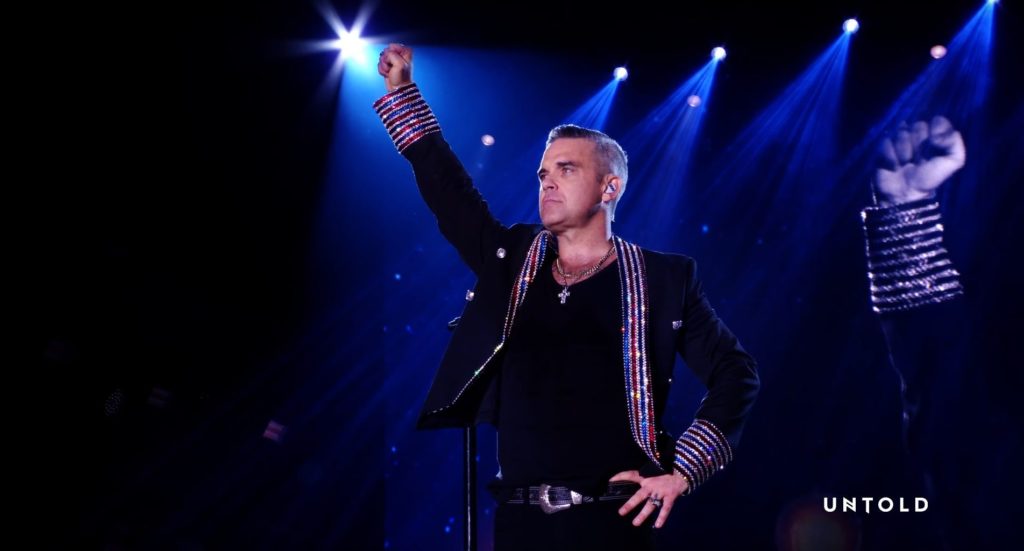 He drops me off at the Hotel Platinia after a slight detour to point out the Cluj Arena, home of U, and the general direction of CFR's stadium, high up in the hills. Just two nights earlier, Robbie Williams had played to 80,000 fans in the Arena, as the headline act in the weekend Untold Festival. The Cluj Arena looks quite spectacular. It is a 4-star UEFA stadium just around the corner from the hotel, whilst the ground where the game will be played tomorrow night, the Dr Constantin Rădulescu, is apparently much more modest and is around a 40-minute walk.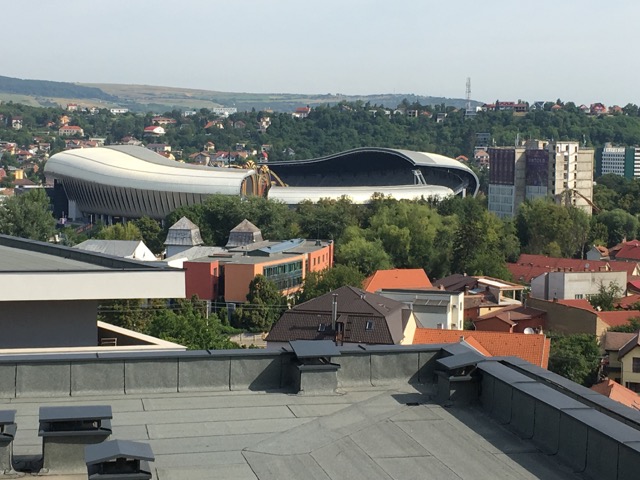 I check into the Platinia Hotel and I have absolutely landed on my feet. It's a suite, rather than a room, complete with office area and a stunning view. Possibly the nicest hotel accommodation I've ever had. Result. I will surely get some work done here with a bit of luck. Gabriel is on reception and very tactfully says that he likes to see both Cluj teams do well. Bet he says that to all the Bhoys.
Showered and changed, I head into the old town to explore. It's around 9pm local time, which is two hours ahead of Glasgow. Lubeck Joe has been here since yesterday. As always, he is making the most of a visit to a new country and has already included a trip to Dracula's castle in his itinerary. I guess travel is in his blood.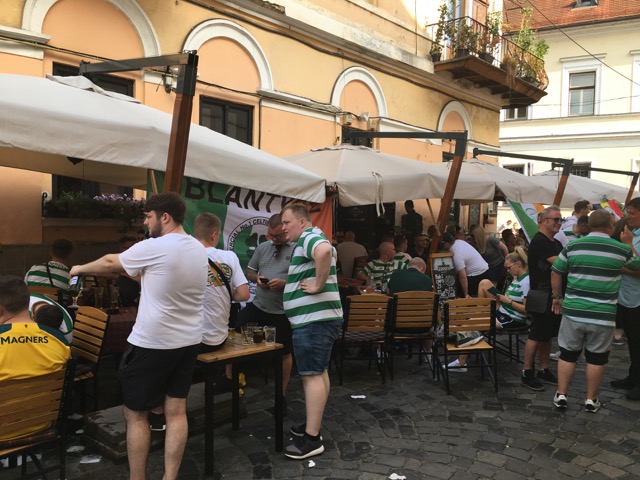 Joe has helpfully texted me the 'go to' places. I find the recommended Irish Bar, O'Peters, which is located at the end of a cobbled street which looks like Ashton Lane in Glasgow's West End. The troops are already there in large numbers, sitting in a terraced area outside the pub on the narrow street. This will do nicely. I head downstairs and order a pint of Black Gold.
On the way into the lane, I've stopped a guy in Hoops to confirm I'm in the correct general direction. To me he's a stranger but as I make eye contact he comes over. 'Hi Matt, I'm Tony. I like your stuff!' I tell him to pop in for a pint when he's finished doing what he's doing and sure enough he does. We chew the fat over a couple of beers and a portion of chicken wings, the athlete's diet.
Tony has been here since Sunday and is staying in a hostel. It must be the world's biggest, as every second guy who comes into the pub seems to know him and is brought over for introductions and a chat. He orders two Palincas from the bar, explaining that the local delicacy is 50% proof and should be taken slowly. I'm thinking that at 50% proof it probably shouldn't be taken at all but nevertheless I have a sip. When I finally recover my sense of taste, I wash it down with some Guinness. That will be it for me and Palinca, as Tony happily offers it to each of the various guests who wander across to their fate.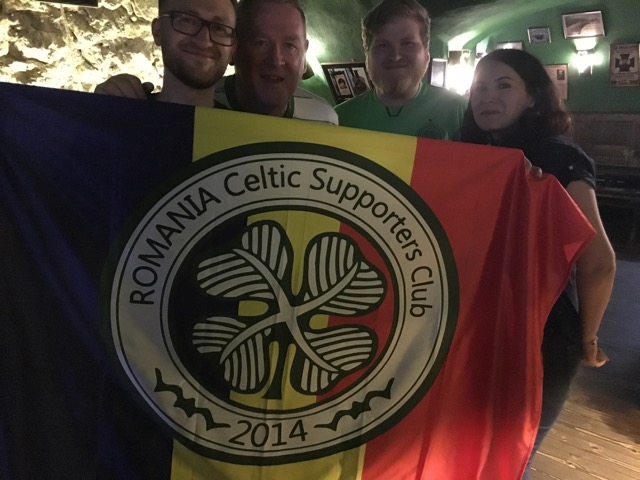 Tony moves on eventually – presumably to rehab – and I find myself standing next to a young guy draped in a Romanian flag with a Celtic crest. I ask him what the story is, as you do. Owen is from Forres but lives and works in Cluj.
He currently teaches primary kids at the local international school. With his friend, he set up the Romanian CSC and this is the dream draw for him as it allows his dad, Tam, and brother, Rurairidh, to come for a visit and take in the match. Also there is Owen's beautiful Romanian girlfriend, Alex. She is from Bucharest but they actually met in Copenhagen, on a previous work assignment. There is a great photo opportunity taken and Rurairidh gives me his Romanian CSC lapel badge for my tour blazer. They spend a couple of hours with me in the pub. Lovely company.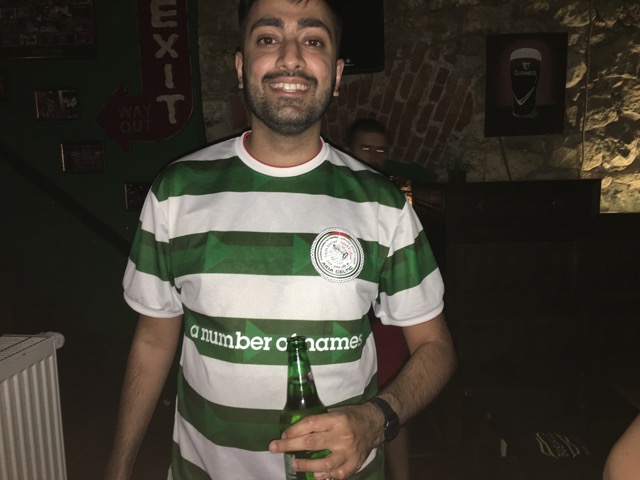 Joining us at one stage is Zeyn from Glasgow. I had noticed him earlier – on the flight presumably – due to the distinctive Hoops shirt he was wearing. The badge says 'Aida Celtic' and I want to know more. Zeyn tells me the story of the Aida refugee camp in Bethlehem and the money raised by the Green Brigade's efforts to 'match the fine for Palestine', following UEFA charges for the display of an 'illicit banner' at the home match with Hapoel Be-er Sheva in 2016.
That same 'illicit banner' – the flag of Palestine – is cut into the design of this classic shirt, worn proudly by Zeyn. The tremendous sum raised by the GB helped to buy kit for a football team to represent the Aida refugee camp in the Bethlehem youth league, the club then named as Aida Celtic.
Despite UEFA's response, the view of the wider world was much more appreciative of such principles, as I have witnessed personally on recent trips to both Athens and Sarajevo, and would now do again in Cluj. More than a club indeed.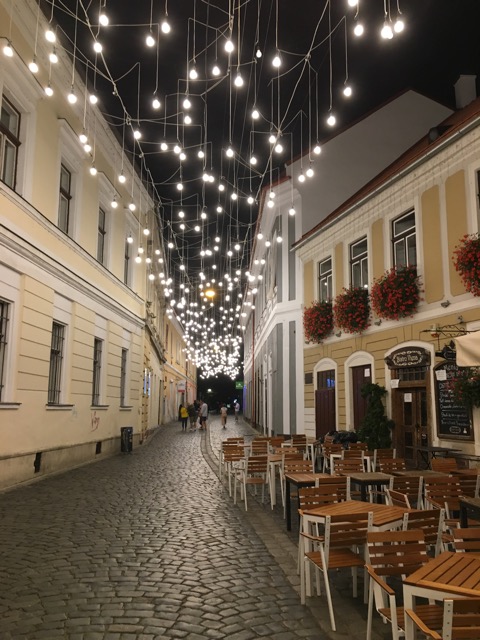 It's 2am local time and that will do it for me. I head out into the street and it is a complete contrast to earlier, now deserted and beautifully lit up, another classic photo op. Around the corner, there is a sign saying 'Street Food' outside a crowded shop.
My son often talks of street food and I'm down with the kids after umpteen pints of Guinness and a Palinca, so I'm in there. As I near the counter, I realise that this is simply Cluj's version of that classic Glasgow night-out ritual, the Kebab shop! You can take the Bhoy out of Springburn… To be fair, it is huge and delicious and I enjoy sitting in the corner with the giant health risk, whilst people-watching in the early hours, before my walk home.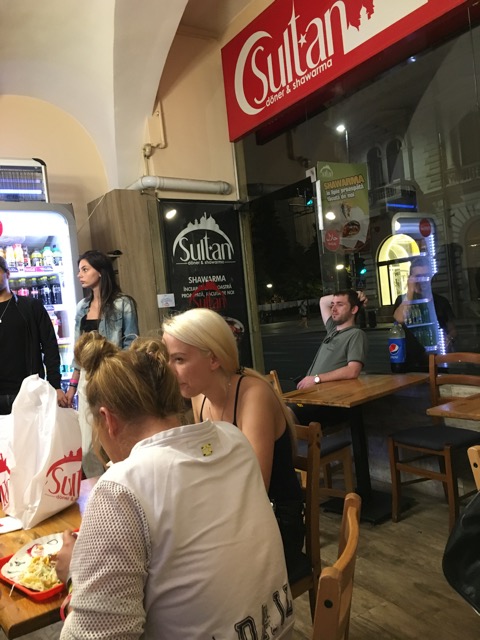 Next day is match-day, so after breakfast and a spot of writing, I head back into the centre of town. It's baking hot and numpty-brains has again failed to pack any shorts, as in Sarajevo. I'm the hottest guy in Cluj, not in the accepted sense of the word obviously, and I'm heading for the Opera Plaza hotel, where the match tickets will be distributed.
A few minutes out from there I meet a group of Celtic supporters, one young guy greeting me with, 'are you here on your own again?' I know him but can't immediately place him, something that really bothers me increasingly as I get older. As we queue in the hotel foyer, I suddenly remember that he was the lad in the new away kit from the café in Sarajevo, next to the Pope John Paul II statue and the cathedral.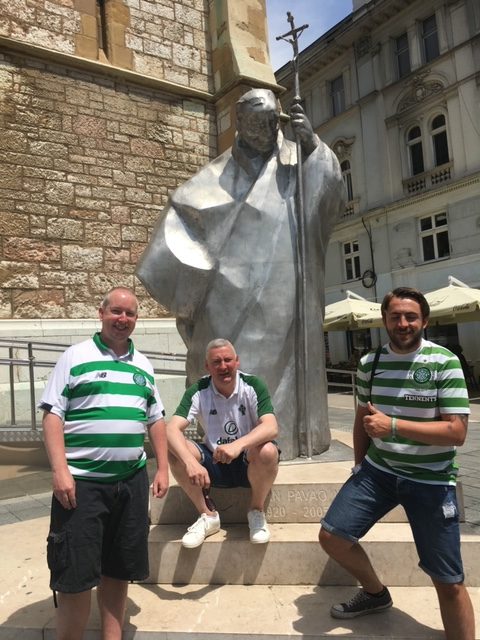 I also meet the aforementioned Iain Hynds from the Milngavie travel agency who have been taking Celtic fans abroad since the early days of his father, Harry. We have a quick chat about possible future trips. Small world.
Having picked up my brief, I bump into @paulthetim then SamtheBrit. Sam is actually John and we go back a long way. His son was at school with my older Bhoy a lifetime ago, then his daughter met up with my nephew and they now have a lovely son together. The name is a wind-up as John is one of the most dedicated supporters you will find, and like Paul, he travels everywhere to follow Celtic.
I then walks into the old town for some food, stopping first for a pint of Guinness in Klausen. I get a message from Lubeck Joe, who has been eating up around the stadium but is now planning a few beers in the centre. I met Joe in St Gallen, sitting at a table with Pedro the Belgian, Bob from Portsmouth and Steven from Coatbridge, a sitcom in the making if ever there was one.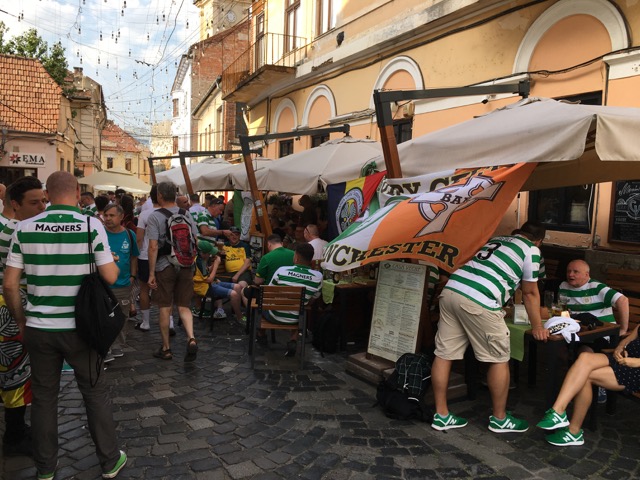 O'Peters has now spilled out onto the street and is bouncing, so I grab a table at a little place nearby for some £5 pasta and the obligatory beer. I do eventually attempt the assault course which is the Irish pub, perched at the end of a table looking on as the first Cluj fans join the party. There are banners everywhere and from everywhere, the Romanian flag flying beside those of Carfin and East Kilbride. Bemused locals squeeze through the madness. It is noisy but good-natured fun, as always.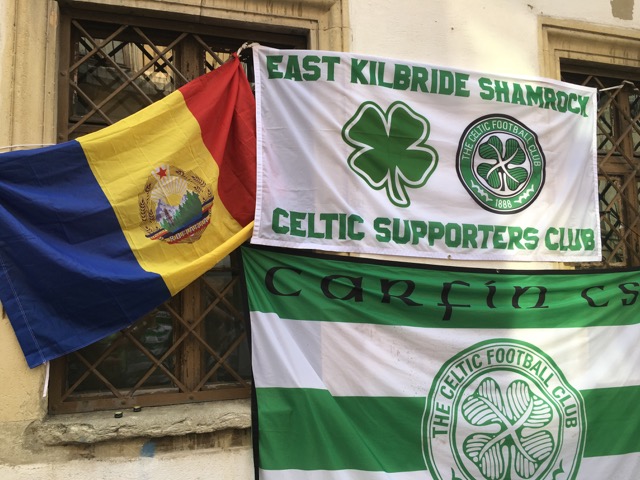 It's after 6pm, less than three hours until kick-off, so I decide to start heading towards the stadium. The fan walk was going to arrive a bit too early so I've worked out the route and I reckon there are a couple of decent stopping points. Whilst waiting to cross the road in the main square, I get talking to a couple of lads in Hoops.
Like me, they have had enough of the madness and are looking for a quiet pint so I leave them exploring options. Having walked through the square to take a couple of photos of the main cathedral, statues etc., I hear the distinct sound of Gerry Marsden coming from one of the cafes on the periphery. It's your duty. You have to go in. No surprise to find the two bold chaps from earlier enjoying a beer and some Celtic songs. We get chatting. They are Mark and Brian from Tollcross.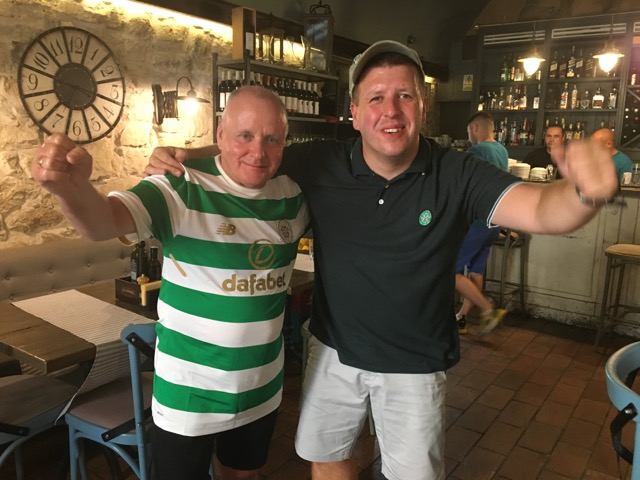 Brian recognises my name and is very complimentary about the Sarajevo article, which I really appreciate. There's a laugh as the music changes from the good stuff to a weird combination of Jimmy Shand v Runrig. That's soon voted off and normal service is resumed.
There's also a 'pure Glasgow' moment as the lads see a friendly face. He emerges directly from the gents toilet to offer a handshake with the immortal greeting, 'my hand's wet but it's ok, it's no pee!' We get The Celtic Star photo sorted than I take my leave. The best part of these trips is the great people you meet.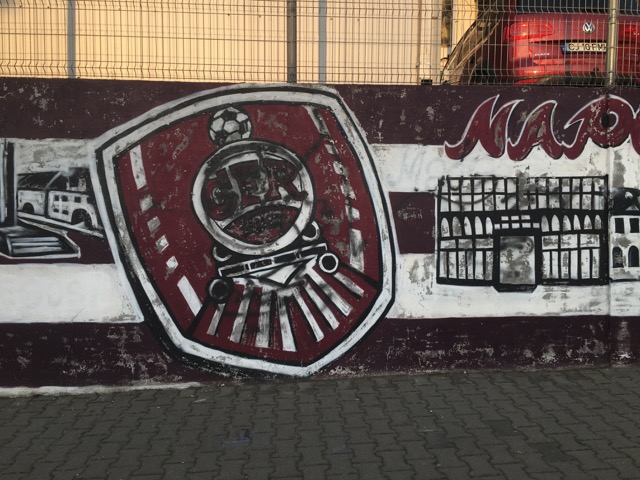 The walk to the ground is straightforward if a bit hilly. Soon I am the lone Celt in the crowd as the stadium draws near but the Cluj fans seem a friendly lot. Some smiles and curious glances but no hassle whatsoever. Owen had said in O'Peters that we would be welcomed as friends to their city. I have inadvertently walked in at the wrong end and am directed around the back of the stands to the visiting section. From the outside the ground looks old, graffiti-clad. For once, I have arrived in good time and walk through after the most intimate body search I have ever enjoyed…I mean endured.
Taking my seat in the stand, I find myself sitting immediately behind John/Sam. Like a couple of naughty schoolboys, we decide to wind up my nephew, sending him a photo of us both with the message, 'real Celts are in Cluj, not Spain', where he is enjoying a family holiday. Marc is Celtic-daft and so I'll pay for that later no doubt, next time I need a homer or another favour. Lubeck Joe also wanders over for a chat, a meeting we had failed to achieve all day. He's in good form as always.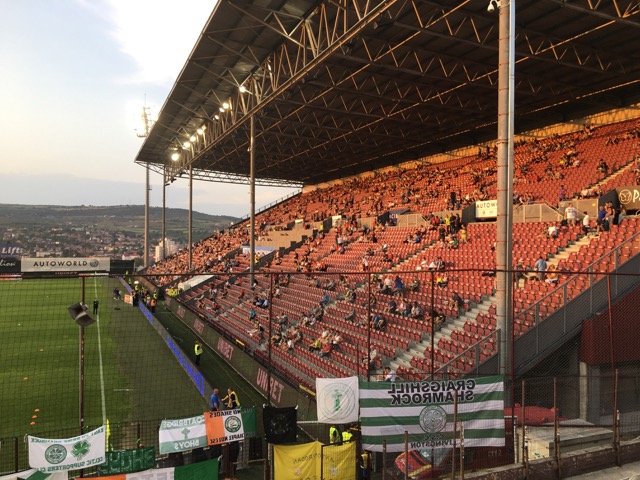 The stadium is a bit unusual. We are in a section behind the goal but to the right, towards the corner at that end. It's part of a larger 'Tynecastle-like' structure, with the home support on the other side of the fence. To our right is a similar stand, which is packed to the rafters, including several wearing Hoops. Many of the Cluj fans are banging those clapper things together which make a loud racket, like you see at athletics meetings. On the left-hand touchline is what appears to have been the original main stand and behind the opposite goal is just a fence, a la Hamilton's New Douglas Park.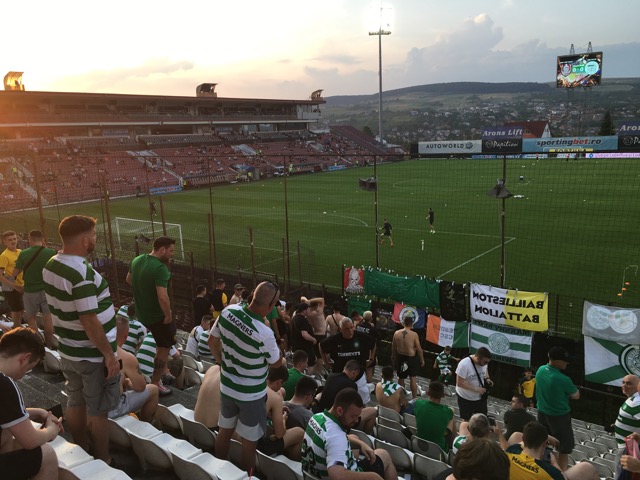 A look at CFR Cluj's history goes some way to explaining the old and new sections of the ground. It is only recently that the club, formed in 1907 as the Kolozsvár Railway Sports Club, has operated at the top level both domestically and internationally.
When Transylvania fell under Romania after the First World War, the club changed its name to CFR Cluj, CFR being the acronym for the state railway. The club has spent the vast majority of the time since then bouncing between the lower leagues and it was only eleven years ago that they won their first national title, taking the championship outside of Bucharest and its trio of Steaua, Rapid and Dinamo for the first time since 1991.
CFR Cluj have since won a further four Ligue 1 titles (including the last two) and four national cups, reaching the Group Stage of the Champions League three times and enjoying victories over Roma, Basel, Sporting Braga and Manchester United. They are currently managed by former Steaua and Chelsea defender, Dan Petrescu, and this year they have already eliminated seeded clubs, Astana and Maccabi Tel Aviv. This will be a real step up in class from the earlier qualifiers. CFR will be extremely dangerous opponents for Celtic, even without their star Argentinian midfielder, Emanuel Culio, who is currently injured.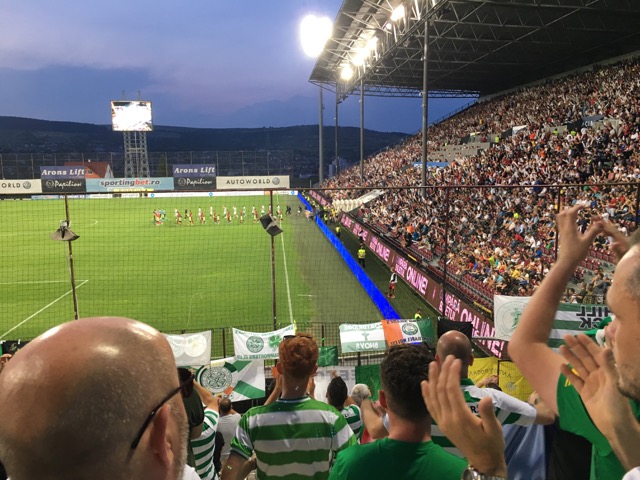 There are maybe 400/500 Celtic fans in the ground as the teams emerge and Celtic start well for me, on the attack more than has been normal over the years. Defensively, whilst the left-side has been a bit exposed, there are good signs.
Young Ajer is looking immaculate at the back with Simunovic and Elhamed is playing out of his skin in front of us. Our midfield is busy with no little skill, some nice turns and passes and up front, I feel like we are troubling them with our pace with Edouard linking the play well.
Perversely, it's actually from a Hoops attack that the first goal arrives.One minute, Forrest is having a shot and the next there's a lightning breakaway down the far side, ending with a shot which arrows between Bain's legs to give the hosts a largely-undeserved lead. We will be under real pressure now I suspect.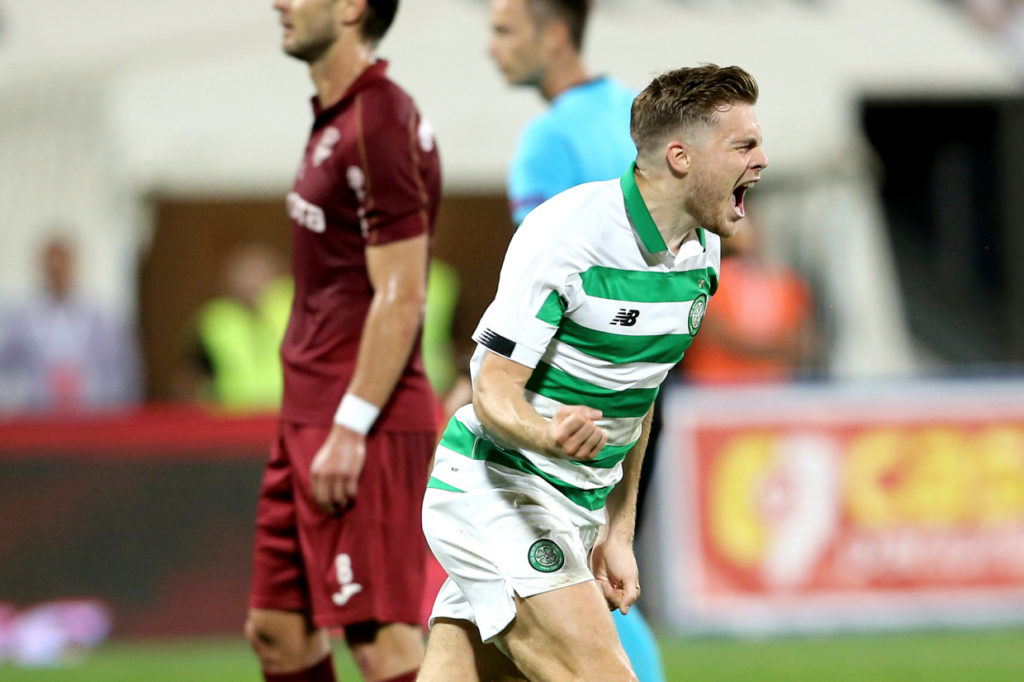 However, just as in Sarajevo, Celtic hit back shortly afterwards as this time Forrest scores an excellent equaliser in off the post at the far end. There's nothing quite like a meaningful away goal in Europe and the Troops celebrate accordingly. There's no further score as the half-time whistle sounds but most fans around me are happy with what they have seen so far.
The second half follows a similar pattern, Celtic looking dangerous going forward but Cluj keen to seek and exploit openings whenever possible, particularly down our left, where sadly Bolingoli and Morgan have toiled. There are chances at both ends before the referee ends proceedings for the night in the 95th minute.
Whilst I feel that we have missed a great opportunity to kill the tie tonight, I would have taken 1-1 before the game. Sets it up nicely for next Tuesday. After the obligatory 15-minute wait behind, we are released onto the streets for the long walk home.
For once though, the talk was not about the game. As we entered the final stages of the match, John/Sam turned around to advise me Sky were announcing that Kieran Tierney was signing for Arsenal. Whilst this was not entirely unexpected, as the end of the English window approached, I was hoping that the move wouldn't materialise. This time around anyway.
The romantic in me so hoped that KT was different. A Bhoy for life, a future captain and legend, like McNeill, McGrain and McStay. Word quickly spread and the mood of the visiting support visibly changed. Very much subdued. A sad end to what had been a decent performance and result.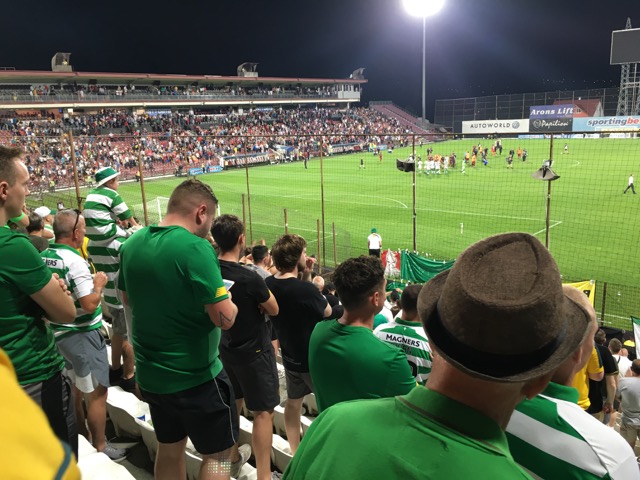 Plenty to think about as we trudged back into the city. I decided that I was not in the mood to head into town for a beer so I continued on my less-than-merry way, past O'Peters and the Street Food joint. It was well after midnight before I arrived back at the sanctuary of my hotel. Home tomorrow.
Hail Hail!
Matt Corr
Follow Matt on Twitter @Boola_vogue