A traumatised, emaciated and dehydrated theRangers support will bravely, but no doubt tenderly, make their way from Seville to Hampden today, to watch their heroes/bottlers (delete as appropriate) see if they can summon up the energy their fans will be understandably be lacking, with a first cup final win in six years, following the famed defeating of the Blue Toon of Peterhead in the Petrolhead Trophy of 2016. Good times indeed – well, for the rest of Scottish football at least! That incidentally remains the only trophy that they've ever seen their new club win.
Burst out laughing like a no-righter in the hairdressers!!!! F'kin hell 🤣🤣🤣🤣🤣 pic.twitter.com/Lmv0wndzfG

— ちょっとカースティ (@csc_bigangeball) May 20, 2022
After travelling to Seville in their tens of thousands (around 30k made the trip) – and outnumbering their Frankfurt adversaries in the stands of the Ramón Sánchez Pizjuán Stadium – theRangers fans seemed somewhat subdued in comparison to their outnumbered German rivals.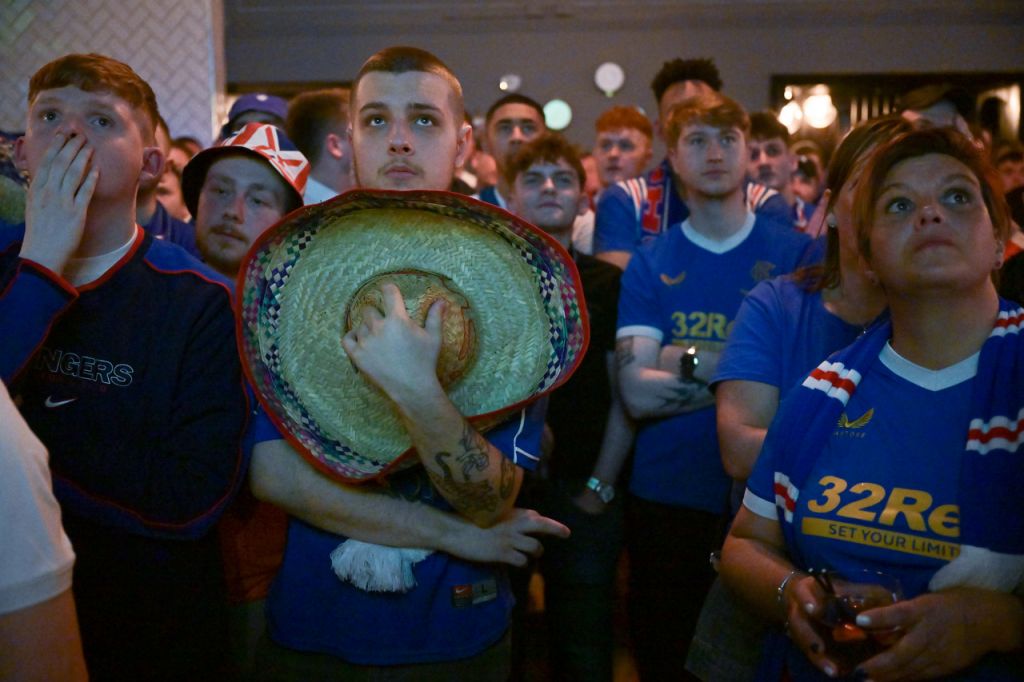 Now, what was assumed to be the biggest sponsored silent disco in Spanish history, has instead explained as being a silent protest, as it appears theRangers fans were forced to drink both their own and each other's urine, rather than pay over the odds for non-alcoholic beer.
Hello, hello we are the bidet boys https://t.co/wmofTWrg1G

— Tam sellic son (@TamsellicsonIII) May 20, 2022
Well, everyone has their limits, I guess – yes even them – and it only takes one person to say 'non-alcoholic? I'd rather drink ma ain pish' before thousands of others follow each other like lemmings over a cliff and into a sea of orange wee. The only real surprise was that the hordes had any left to share, considering their team had been taking it out of them all night on the pitch.
And to blame their Spanish hosts for this situation is harsh to say the least. After all the Spanish have been dealing with hospitality for tourists for years, and much like you can buy a 'Sunday Roast' any day of the week at any British tourist spot in Viva Espana, it's hardly a surprise – when thousands ask for directions to the stadium and enquire 'Pizjuan?' – that the Intuitive and hospitable nature of those in the Spanish service industry simply took it as a request, and ensured travellers to their country got what they asked for when they reached their destination.
What's Spanish for 'Haste ye back'?
Trophy free, we'll charge for Rangers tears instead. https://t.co/PJnz58qToL

— Ryanair (@Ryanair) May 20, 2022
This one completely done me 😂🤣@Ryanair account has been hilarious 😂 pic.twitter.com/6ZfweN1H8z

— Kerry (@wee_kezza) May 20, 2022
Hampden had better be just as prepared as their Spanish compatriots for this one, after all, have you ever seen the catering kiosks at the national stadium have pies after kick-off? A scary thought indeed, as based on recent evidence, it could be we are about to see the biggest showing of modern-day cannibalism since the Argentinian Rugby team crashed in the Andes. But given the amount of XXXL replica shirts Castore sell to the Ibrox hordes, if they choose their prey accordingly, at least a few should emerge 'Alive'.
Yet you can always rely on someone sensing a gap in the market and ensuring their customer base is satisfied. And it seems there should not only be plenty to drink at Hampden today, for those visiting from Govan, it also appears there will even be a menu, as Hampden goes two for one on public convenience cocktails at Mount Florida – although the initial idea of bring your own bottle and simply charging corkage appears to have been dispensed with – probably a wise move.
⚠️ Calling all @RangersFC fans:

Tomorrow for The #ScottishCupFinal we are launching our new cocktail menu, just for you. 👌🍸😋 pic.twitter.com/B1MT0x407c

— HAMPDEN PARK TOILETS 🧻 (@FatihFoot) May 20, 2022
And Hampden has further prepared to satisfy the needs of their paying public by ensuring they have installed extra urinals today – as well as ordering thousands of paper cups, several buckets and extra match-day stewards to collect the left-overs to sell for £2 a pint – waste not want not and all that.
Reo Hatate with a big bottle of John Lundstram tears. pic.twitter.com/V6DLQ3dVIJ

— 🏴󠁧󠁢󠁳󠁣󠁴󠁿 Boyle🇻🇦 (@Boyle_67) May 20, 2022
And by 5pm today we should know if theRangers season that promised so much can result in the first real cup final win of their short existence, or if it will all be pissed up against a Hampden wall – and then you'd assume licked clean.
It's a bit of a Hobson's choice when you have Hearts and theRangers to pick from when choosing who to back in a Cup Final. But in this instance, we'll all be on the side of civilisation. Although with the stench of a tough week emanating from theRangers end, it may be a bit disconcerting for the Hearts support who may well think they're back in Auld Reekie!
'mon the Jambos!
Shaun Riley
The 'rangers' fanzone. Like a works Barbecue. pic.twitter.com/Eb3eKPGDlK

— Searriagh (@searriagh67) May 20, 2022
Great family fun eh @GrahamSpiers . Let's take the kids. pic.twitter.com/rjSuLO8Xjj

— Sloany 🍀 (@Sloany1977) May 19, 2022
OUT NOW! WILLIE FERNIE – PUTTING ON THE STYLE BY CELTIC HISTORIAN DAVID POTTER
ALL PRE-ORDERED COPIES HAVE NOW BEEN POSTED AND YOU CAN ORDER YOUR COPY BELOW….