There's plenty of talk in the Scottish mainstream media about the pressure being on Ange Postecoglou's Celtic side this weekend as they face a Sunday afternoon test in the Highlands against Malky Mackay's Ross County side who have been unbeaten at home since Celtic's dramatic win in Dingwall in mid December when an Anthony Ralston winner in the 97th minute gave ten-man Celtic the three points in what was a significant night in the Scottish Premiership title race.
At that time Ross County were embroiled in a relegation battle with Dundee and St Johnstone but their subsequent excellent form under the guidance of the former Celtic defender resulted in them achieving a top six spot and a chance to win the final European spot open for next season. That's going to be a five match battle with Dundee United and Motherwell with the Tannadice outfit one point ahead of the other two challengers on 41 points.
And the first of the three contenders for that remaining European spot to play is Motherwell who face current Champions theRangers at Fir Park on Saturday lunchtime with the game having been moved forward by a day to help the Ibrox outfit ahead of their Europa League semi-final first leg in Germany next Thursday evening against RB Leipzig. And looking at the latest betting and odds, the Bundesliga side are clear favourites not only to win the semi-final but to go on and lift the trophy in the final in Seville next month.
Yet while the Scottish mainstream media are concentrating on Ross County's aspirations ahead of the Celtic visit to their place on Sunday, it's worth noting that Motherwell have exactly the same target as the Highlanders and have a great opportunity to jump ahead of both their rivals with a win over theRangers tomorrow. That would allow the North Lanarkshire side the opportunity to sit back and watch the action in the Highlands on Sunday and also the Dundee Untied v Hearts match at Tannadice on the same afternoon.
The former Rangers captain Barry Ferguson outlined his thoughts on the title race and sees little chance that Celtic will throw away their six point advantage, something that the latest Ibrox club have done themselves since the turn of the year.
" I realise the title is a long shot with only five games to go," Ferguson stated in his weekly column in Daily Record, as he consider theRangers chances of winning the title, "but, after tasting defeat for the first time in almost seven months on Sunday, Celtic are now facing some very different questions as they head up the road to Ross County this weekend.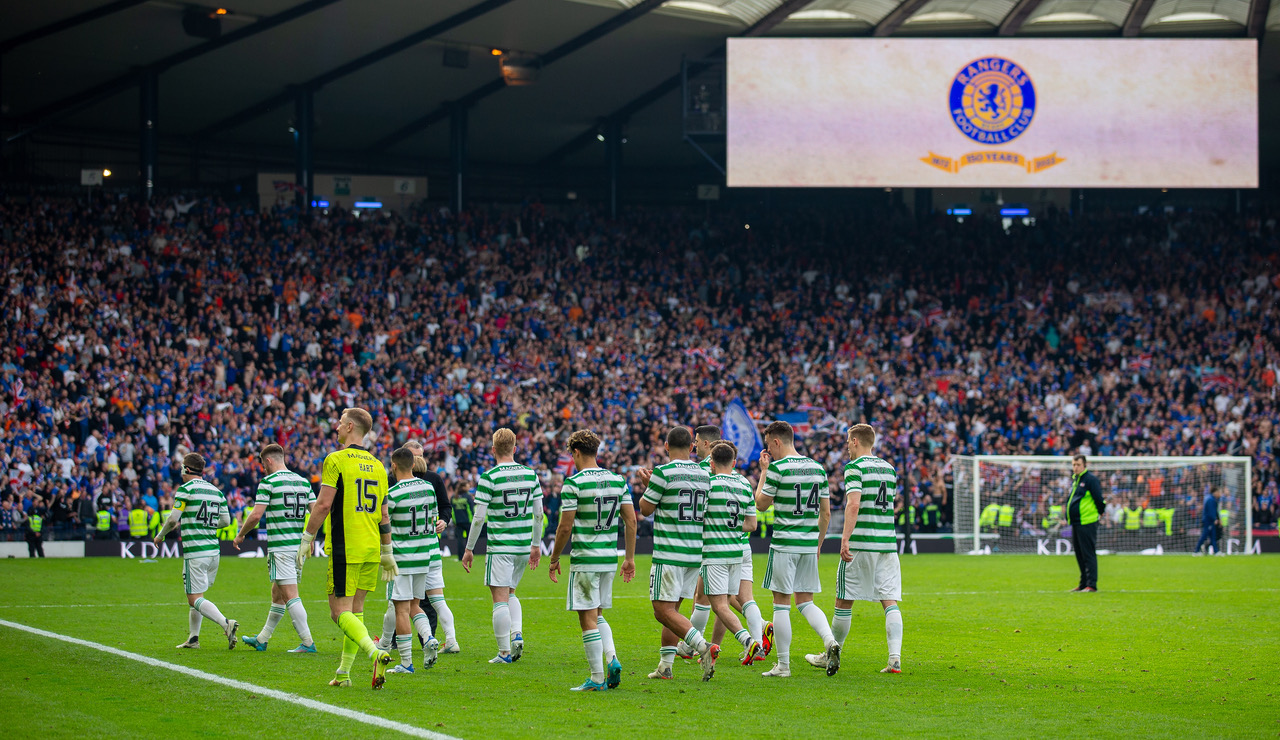 "How do they recover from such a crushing disappointment? Have they really got the bottle for this battle or not 
Personally, I think they do. I fully expect them to come back from Dingwall with all three points.
"But you just never know how players are going to react when they've had the wind knocked out of them and are then plunged straight back into a high pressure scenario. It can all get too much for some. (the)Rangers can't look any further than Fir Park on Saturday. They need to win that one then sit back and see if Celtic can handle it. 
"Who knows? Sunday might have taken more out of them than even they realise. There could even be an element of self doubt creeping into their own minds. Are they getting tired? Are they running out of gas? We'll only find out the answers when that whistle goes on Sunday afternoon. But it could be about to get very interesting," Ferguson said , more out of hope than expectation. 
There's no denying that the previous two results achieved by theRangers – extra time wins over Braga in the Europa League quarter final and Celtic in the Scottish Cup semi-final – were impressive and highly significant on both fronts as the Ibrox outfit eyes some silverware from what has been a somewhat inconsistent league campaign, having competed last year unbeaten in the Scottish Premiership.
Those cup triumphs though do nothing to change the position at the top of the league this season where Celtic remain six points clear and with a superior goal difference on +19 going into the remaining five games. So while there will be pressure on Celtic to show an appropriate reaction to the Scottish Cup defeat at Hampden on Easter Sunday, the actual context of that will be influenced by the outcome of the game the day before at Fir Park.
A win for theRangers reduces Celtic's lead to 3 points and also reduces the goal difference advantage but it seems unlikely that this is going to be caught over the five games. That though would pile pressure ion Celtic where a defeat in Dingwall would present theRangers with the opportunity to level things on points at least at the top of the table the following Sunday with a win at Celtic Park.
Then there really would be a title race to report on but for that theRangers need to beat Motherwell, hope Ross County turn Celtic over and then go to Celtic Park after their Europa Cup semi-final first leg in Leipzig and win, yet they's still not be at the top of the league looking down on Celtic.
The alternative scenario is that Motherwell draw first blood in that under reported battle for the remaining Europa League spot by beating theRangers, Celtic take full advantage – with the pressure off – by winning in Dingwall to go nine points clear and a goal difference advantage of 20 something and that would give Celtic the opportunity to effectively wrap up the title next Sunday by beating theRangers at Celtic Park.
So there are many scenarios in this title race that should be considered and it's worth keeping an eye on that sub-plot between the clubs in fourth, fifth and sixth position as they fight out their own battle for a place in Europe next season.
The only thing that is ever guaranteed about Scottish football is that there will never be a dull moment. It's a huge weekend ahead in the title race and a Celtic win will go a very long way to bringing the trophy back to Paradise where it has been in 9 out of the last ten years.
morestories category=8]