"Better to remain silent and be thought a fool than to speak and to remove all doubt"…
A quote attributed to everyone from Mark Twain to Abraham Lincoln, derived from Proverbs and currently a tactic those at Celtic Directors must be finding increasingly difficult to stick to as the days tick by. Though when they consider the alternative, they may feel reverting back to plan A makes sense. Silence and perhaps a couple pencils up the nose is a preferable look to having to admit there is no alternative to offer and no positive message to communicate you'd assume. Except it's now no longer an acceptable play.
Celtic are quite simply an on field shambles this season. The drop off from last season has been shocking, embarrassing and humiliating. Yet what is remarkable is that off the field of play we also seem to be in a race to see who can damage the club the most, Neil Lennon and his roulette wheel first eleven or the CEO and board of directors.
One thing is certain all is not well front of house or behind the scenes at Celtic right now. The manager has seen his reputation slump this season, the players are a shadow of themselves and it appears past glories are being used as a historical evidence as to why patience should be shown rather than it being a cause for concern as to why control over trophies, we've fought heard to earn are being relinquished with little more than a whimper.
Yet where are the explanations or the plans afoot to address this collapse in standards on and off the field that would allay fears and quell discontent? Celtic instead employ digital 'radio' silence. The gaps are filled by whispers, rumours and let's be honest who can tell the difference anymore anyway? All the more reason for clarification that someone somewhere at Celtic has a semblance of control.
That silent treatment has repercussions. Remember when Celtic used the line that they didn't want to say too much about the collapse of the old Rangers because they had a duty of care to the club's staff? That argument was cowardly enough at the time but now Celtic silence is currently putting Celtic staff in harms way – on line at least. The supporter facing staff at the club – especially the social media staff – are being subjected to the most awful abuse and we understand that morale is currently at an all time low.
After this site's Editor posted this tweet on Sunday one of the Celtic trolls actually asked for just one example of any abusive post to be shown.
It's been a terribly disappointing season, the first in a long time. However the absolute abuse that @celticfc & the club's staff are getting on here is disgraceful. Get a grip FFS.

— The Celtic Star Editor – Walfrid & The Bould Bhoys (@CelticStarMag) January 24, 2021
Later that day the sad news broke of the passing of former Celtic Star Johannes Edvaldsson and on Monday Celtic's social media team paid Celtic's respects on Twitter.
We are saddened to hear of the passing of former player, Johannes Edvaldsson, who has died at the age of 70.

The thoughts and prayers of everyone at #CelticFC are with Johannes' family at this very sad time.

RIP, Shuggy 🍀

— Celtic Football Club (@CelticFC) January 25, 2021
Even in a tweet like that, where Celtic Supporters pay their respects and share their memories of a very popular former player on his passing, the crass trolls appeared – one saying "Sack Lennon, it's what he would have wanted!"
It was actually a Rangers supporter who was first to comment on that saying: "That's not right to say that."
The other tweet Celtic made at the weekend was to wish Shaun Maloney a happy birthday – pelters followed. Yesterday's only other tweet was to wish everyone a Happy Burns Night with a photograph of Tommy and this morning Celtic have just tweeted to wish Brendan Rodgers a happy birthday – watch how that one goes today.
🎂 Happy birthday to former #CelticFC manager, Brendan Rodgers! 🍀 pic.twitter.com/O4CddZnpIU

— Celtic Football Club (@CelticFC) January 26, 2021
It's also Gary Hooper's Birthday and the club has subsequently tweeted about that too.
Celtic supporters on social media do need to stand up for our club a little but more amid the trolling that is reaching unacceptable levels. All that pathetic Celtic Da's patter from an entitled young team insulting fellow supporters describing them as 'Faithful Through and Through Brigade' and the 'Hail Hail crew' is so ironic.
It's when things are tough that the Celtic support has traditionally always rallied round our club and we must stand up for Celtic now folks. If not us then who?
That said, the club's silence at Board level and above is unacceptable.
Celtic need to speak to the supporters and soon, with the promised January review now looking a stalling tactic to buy short-term time in the hope the things would improve. Things got worse. 2021 has been one disaster after another and for anyone who hasn't read the very worrying speculation published yesterday by etims.net then you really should. But be prepared to be angry after reading it.
Yesterday our Editor tried to get a response from the club, these rumours surely could not be true and the fact that they had been made on a long established Celtic site really had to be corrected with denials issued and so on. Apparently no such denial was forthcoming.
A question we'd like Celtic to answer about Dubai. Who was the most senior member of staff on the trip?
And each of the allegations made on ETims.net needs to be addressed by Celtic if they are to convince the support that this is all nonsense. And if it is not nonsense, forget all about the terrible results, how can Neil Lennon still be the Celtic manager if this stuff is true?
So things seem to have gone beyond the promised Review. Nothing uttered on that – other than one or two snippets leaked to the usual sources – despite being yet to win a game this year. What is left to review?
David Low the chair of the Celtic Trust believes that the Celtic board are choreographing the departure of Neil Lennon, is that something we're considering? The chap is well connected after all. Still no comment.
Meanwhile on the back of this frustration the social media team get bombarded with brutal negativity on a daily basis, and goodness knows our SLO must fancy a recruitment drive for temporary staff to support him in his quest to respond the many questions being thrown his way.
We hear there's a group of under 18's on furlough with a grasp of social media that could be put to good use. They might be able to enlighten Celtic that Twitter has a block button that they can use.
But still the sound of silence from the club. And more and more the frustration builds. It could easily turn to direct action if it's not addressed. Oh yes, we've gone past even that – and still nada.
It does make you think as that saying goes, there is a fear if they do open their mouths, if they do try and explain, they'll be shown up as being blindsided by this season's collapse and look like an organisation who had no plan B, still have no Plan B and are now left without a clue. Perhaps the boardroom is divided, it certainly seems the dressing room could be going by these latest rumours via E-Tims website.
The strange thing about that particular piece is it was almost like a slap across the face of Celtic and yet there has been no word, no denial, not even a partial denial, nothing at all publicly from Celtic.  This despite this story alleging that the trip to Dubai had more than a wee half hour for a beer after a long flight, resulted in apparent nightclub Covid transmissions, a players and staff drinking culture and a worrying undercurrent of younger players being bullied? Any truth in any of it? Who knows, it's a heck of a worry and genuinely concerning regarding the very culture of the dressing room and club, but still nothing from the club.
This Silence is killing us, social media abuse goes unanswered, a neglected block button on Twitter still not deployed and the ETim.net story that is conspicuous by its non-denial. This is Celtic's Circus of Silence.
Yet when a publication like The Athletic allegedly try and run a story of divide and disharmony amongst the dressing room Celtic can spring into action, certain big hitters at the club, often conspicuous by their absence, make calls ten the story gets watered down. Is this rumour true?
Celtic can certainly ensure silence is maintained that's for sure, it's the communication that's the problem. And while there is no update, no plan for the future, Celtic's season disintegrates. And the worrying thing is the longer this silence continues it starts to impact on next season, never mind this one.
We all know Neil Lennon's time is up – even before the ETims.net story is considered. His position is untenable, so where is the communication, where is the plan to stem the bleeding at Celtic? How long does it take to review the blindingly obvious? Because the longer we sit on our hands, the longer we keep the fans in the dark the more impact on the long-term this will have.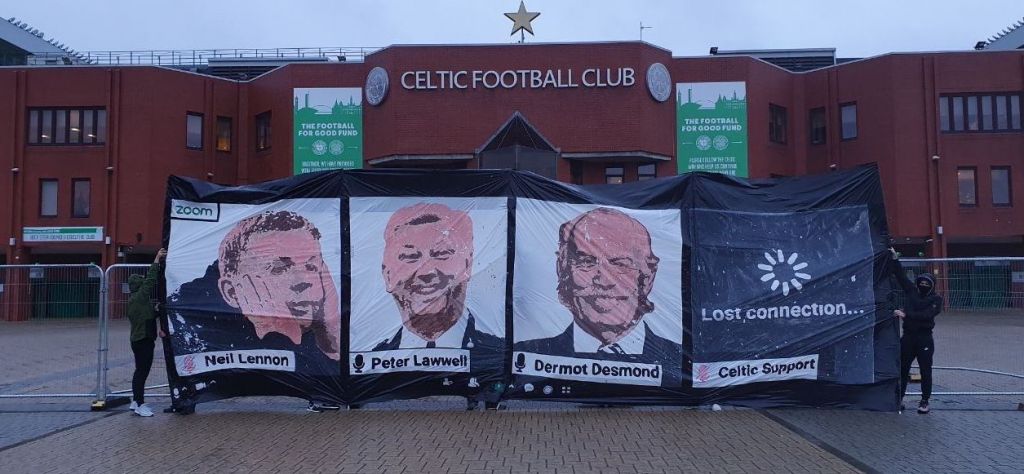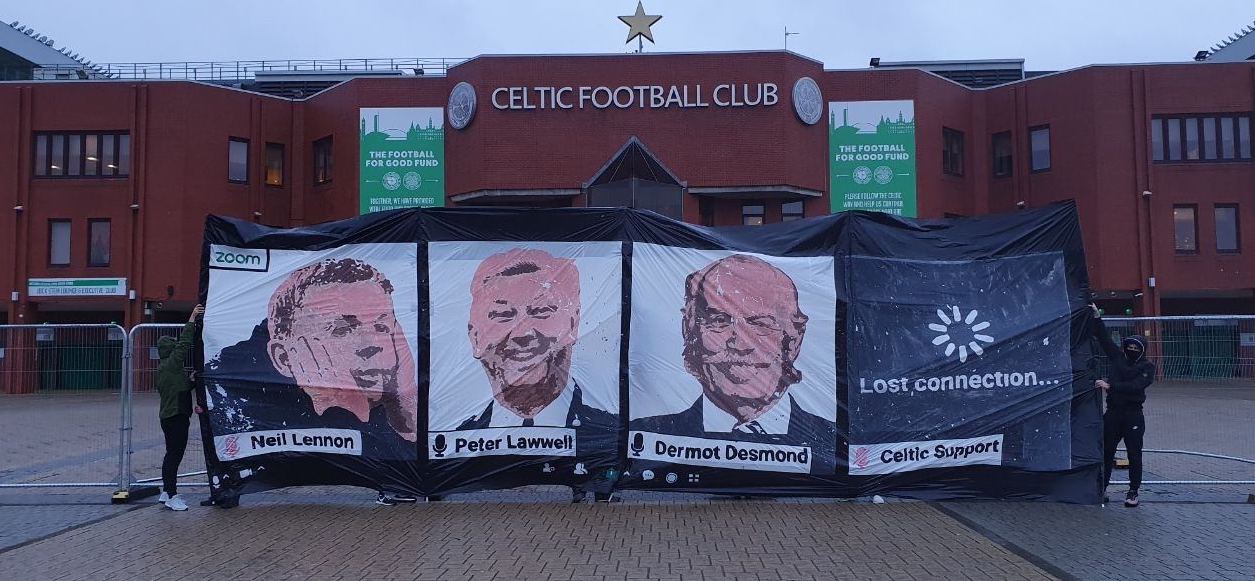 So we encourage Celtic Supporters to stand up to the social media trolls who are damaging our club. Criticism is one thing, abusive behaviour is another and we believe that it is not acceptable to the vast majority of the Celtic support.
More importantly we believe that Celtic must now speak directly to the support and answer the questions on where our club is headed. THIS SILENCE IS KILLING US.
We have said this before. It is time to talk Celtic. It is time to deliver as custodians of OUR club. You may well be worried about opening your mouths and being derided for fools, but the alternative, the sound of silence, is far, far worse.
Niall J