HOPEFULLY you have been following David Potter's Seven Magnificently Random Celtic stories series on The Celtic Star. There are three earlier articles from this series published yesterday and over the weekend so why not look back and catch up. Some great Celtic stories in there for you to enjoy from the Celtic historian David Potter, who incidentally has a new book out and it's all about fifty fabulous Celtic wins over the various clubs who have played out of Govan and call themselves Rangers. More on this below, but for now here are the Seven Magnificently Random Celtic stories for Tuesday. More to follow tomorrow….
1.THE JUNGLE
The "Jungle" was a hideous barn-like structure which stood on the North side of the ground from 1907 until 1966, then it was replaced by a better enclosure which lasted until the ground was redeveloped in 1994 (seating was installed for the 1993/94 season).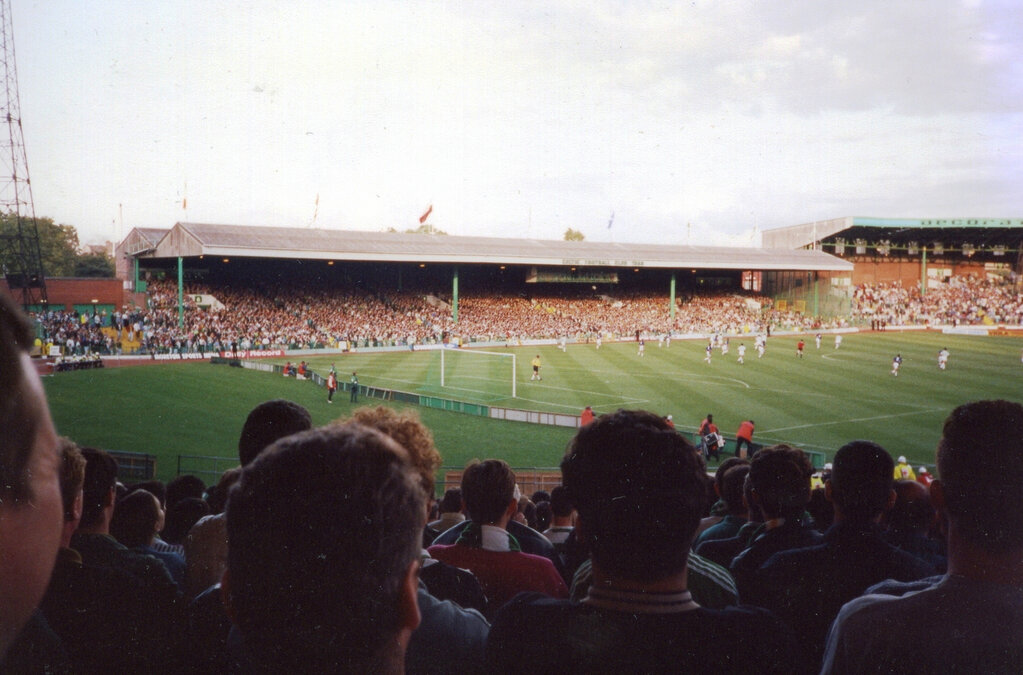 No-one seems to know why the name "Jungle" was coined, but it was believed that it owes its genesis to ex-servicemen returning in 1945 from Burma and comparing the enclosure unfavourably to what they had experienced in the Far East!
Not only was the "Jungle" ugly, the cover provided did not reach the front of the terracing and there were also holes in the roof which grew progressively larger season by season. Little was ever done to repair the damage until it was at last demolished in 1966.
The "Jungle" however had a certain amount of character and saw some great football players in its time.
2. FRANK AND NUMBER NINE
Supporters tore their hair out at the thought of Frank Haffey. On his day a brilliant goalkeeper, other times capable of some tremendous howlers. He played twice for Scotland against England, saving a penalty at Hampden in 1960 but being the man who had to fish the ball out of the net NINE times at Wembley the following year.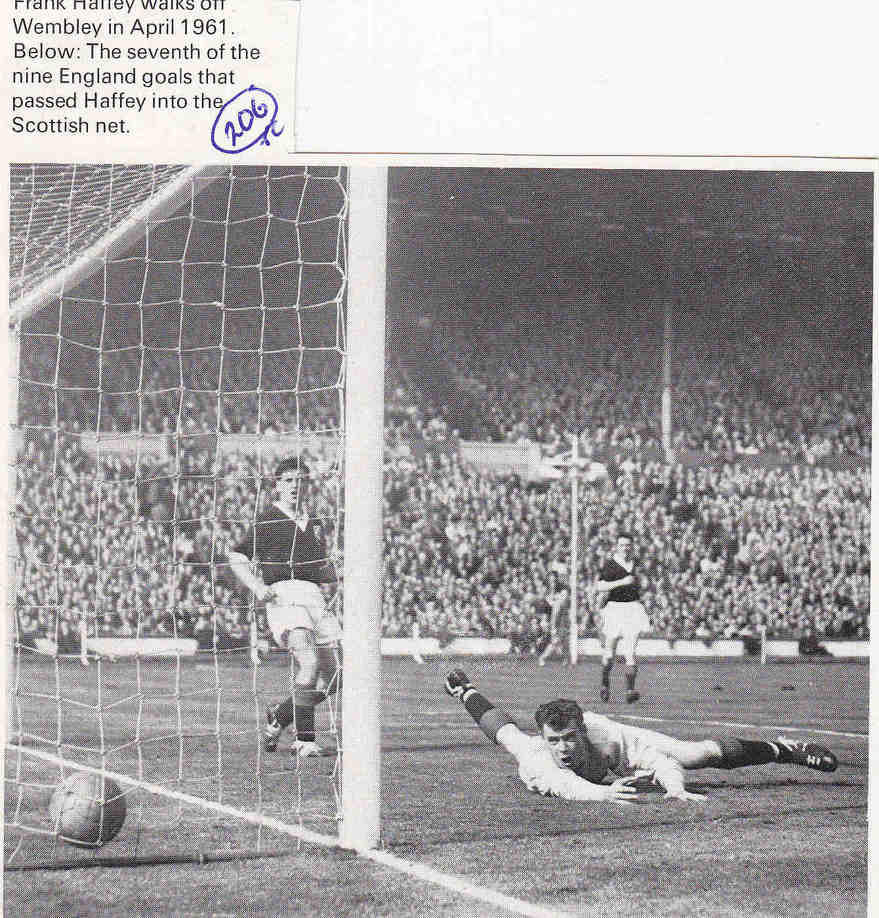 Not all the goals were Frank's fault – but some of them were, and poor Frank had to shoulder far more of the blame than he should have.
He played in two Scottish Cup finals in 1961 and 1963, both of which went to replays. In 1961, only a matter of ten days after the Wembley fiasco, Frank gave away the goal which effectively won the Cup for Dunfermline, but in the first game in 1963, he gave a tremendous performance denying Rangers again and again and earning newspaper headlines like "Franktastic" "Haffey the Hero" and "Fantastic Frank".
But then in October 1963, the number NINE came into his life again. It was 26 October, and although everyone at Parkhead was aware that Rangers were winning the League Cup a little over a mile away at Hampden, the Celtic team, having recovered from their awful start to the season, delighted their fans by putting NINE past Airdrie. It was 9-0 and late in the game, Celtic were awarded a penalty that they scarcely needed. Frank was invited to do the needful and put Celtic into double figures. Out of respect for his fellow goalkeeper Roddy McKenzie, he missed!

Frank also fancied himself as a singer with "The Dear Little Shamrock" and "Slattery's Mounted Fut", but later emigrated to Australia like "The Wild Colonial Boy"!
3. NO ROAD THIS WAY
Willie Loney was a powerful centre half, called not without cause "The Obliterator" for the way in which he could break up opposition attacks, simply by reading a situation and being in the right place to deal with it. He was also called "No Road This Way".
Yet he was an unlucky player as well. A broken arm kept him out of a large part of the 1906/07 season and another injury prevented him playing in the latter part of the 1909 season and may have indirectly caused the Hampden riot for Loney would surely have stopped Rangers from scoring in both the Final and its replay in a way that the young Joe Dodds (as yet inexperienced and a far better left back than a centre half) didn't.
Thirty-three is a surprising amount of goals for a centre half to score, but we must remember that many teams, including Celtic, played the attacking centre half game, and there was the additional factor that Loney would often change places with his great friend Jimmy Quinn to deceive the opposition, for they both shared the same massive build.
He arrived from Denny at the turn of the century, was tried now and again at right half (he played there in what is sometimes called the Coronation Cup Final of 1902) before settling down at centre half with Jimmy Young and Jimmy Hay on either side of him, forming the most famous half back line in Celtic's history.
It is surprising that he was capped only twice for Scotland, but his habit of being injured in the spring (1907, 1909 and 1911) when internationals were played did not help and in any case, Scotland had fine centre halves in Charlie Thomson of Hearts and Sunderland and Alex Raisbeck of Liverpool. It remains a pity that Loney never played against England, but he did play in the fine 3-2 win for the Scottish League over the English League at Ewood Park in February 1910.
He left in 1913 to play for Motherwell, Partick Thistle and Clydebank before finally retiring in 1917.
4.CELTIC PARK
Celtic Park has existed on the same site since 1892. (The original Celtic Park which was in use from 1888 until 1892 lay a few hundred yards to the east of the present ground). The first game played on the current Celtic Park was on 20 August 1892 when Celtic beat Renton 4-3 with Johnny Campbell scoring all four goals.
Johnny Madden had a less happy day, for he and McQuilkie of Renton were "invited to retire" (ie sent off) for fighting.
5. IRISH  FLAG
An Irish flag has always flown at Celtic Park in honour of the nationality of the club's founders. From time to time bigots have tut-tutted at this sort of thing, and never more so than in 1952 when in the wake of some hooliganism at the New Year fixture, the SFA tried to persuade Celtic to remove the flag.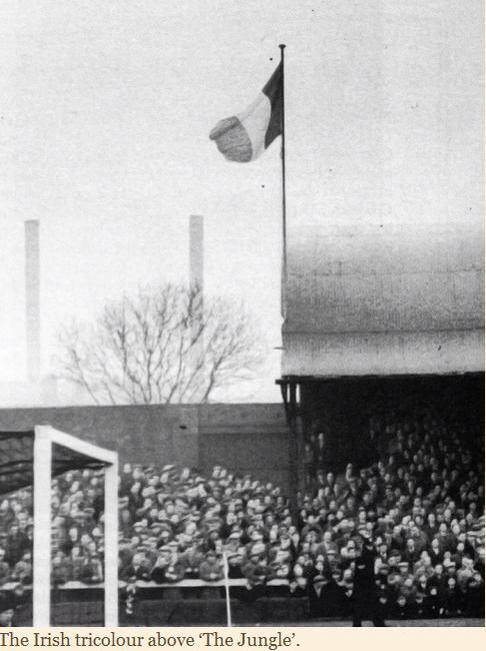 Celtic, under Chairman Sir Bob Kelly did not so much refuse to comply with the order as quietly and calmly and with great dignity, ignore it. The SFA were supported in their absurd  stance by, of all people, Hibs (yes, Hibs whose very name means "people of Ireland"!) but Celtic enjoyed the support of Rangers (old friends always stick together and not without cause did we speak about the O** F***!) and eventually the general public opinion of Scotland who began to rather enjoy the spectacle of the SFA making a fool of itself in insisting on something that they could not enforce!
The flag remains to this day.
6. TOM "TINY" WHARTON
He was called "Tiny" because he was anything but. He was a huge figure of a man, matching Jock Stein in bulk, and he was the foremost referee of the 1960s. He had many encounters with Celtic. On New Year's Day 1965, it was his duty to send off Jimmy Johnstone who had had a spat with Theorolf Beck of Rangers, a man who recovered astonishingly well. "Tiny" said "Well, Jimmy, I'm afraid you have to go for that one. What's your name?" Jimmy, about half the size of "Tiny" said "Roy Rogers" (a well known cowboy singer of the 1950s). "All right, Roy, away you go and join Trigger in the stable!" (Trigger was Roy Rogers' horse).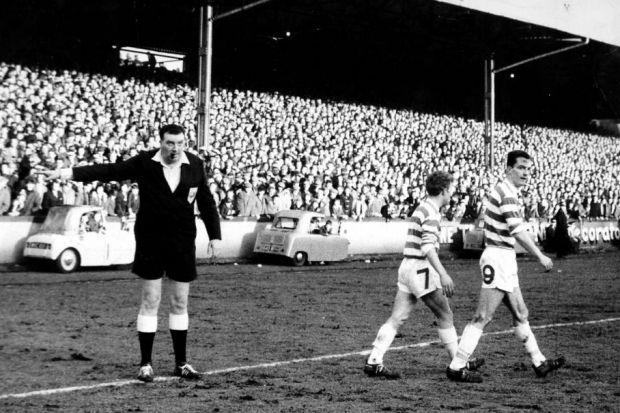 On another occasion, "Tiny" (incredibly) was refused admission to Parkhead for a game he was meant to be officiating in because he had forgotten his pass. "Tiny" said to the jobsworth who clearly did not recognise him "Tell, Mr Stein that, if he wonders why there is no game today because the referee has not turned up, I will be waiting in the car park to discuss the matter with him".
It was one of the few times that Jock Stein was ever known to apologise to a referee.
7. ANDY WITH THE BILLIARD TABLE LEGS
Andy came from Croy, a younger contemporary of Jimmy Quinn. He was a fast right winger with a devastating shot from the legs that were said to resemble those of a billiard table. He joined the club in 1910, and very soon made his debut, impressing all who saw him with his speed and ability to score goals from tight angles.
By the end of season 1910/11, a disappointing one for Celtic in which they lost their League title but nevertheless managed to win the Scottish Cup, Andy won a Scottish Cup medal, being introduced into the replayed final against Hamilton Accies, and thus being part of the three Crojans (men from Croy) in that team alongside the mighty Quinn and his near namesake Tommy McAteer.
Very soon after that he teamed up with Patsy Gallacher to become the most devastating right wing partnership in the business, their finest hour being the Scottish League and Cup double of 1914.
Being a miner meant that he was in reserved occupation for most of the war and thus was able to play for Celtic in the four Leagues in a row team from 1914 – 1917, but he was conscripted at the end of the war and saw service in the forgotten theatre of the Italian Alps. He returned in January 1919 to play a great part in the League Championship victories of 1919 and 1922.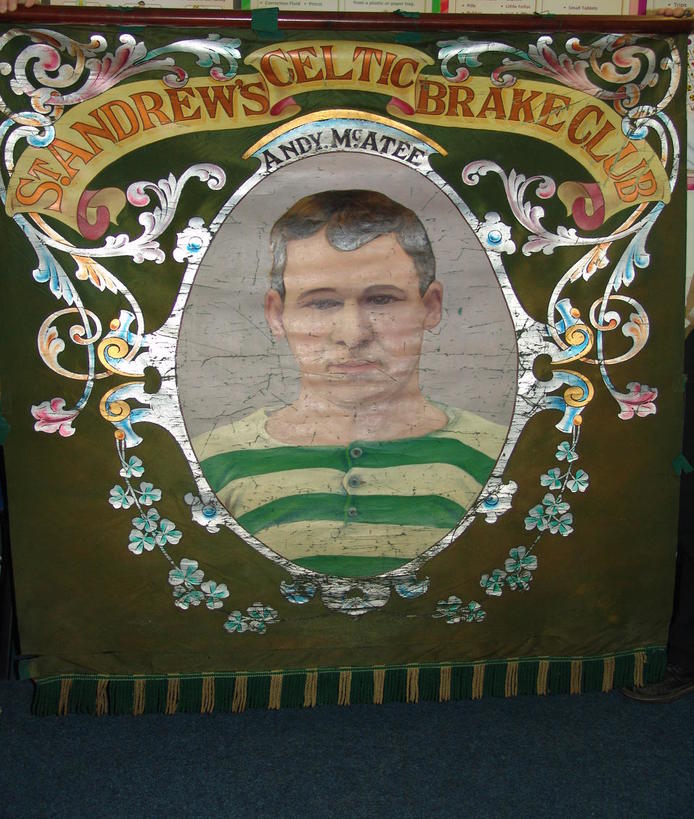 But for the war, he might have won more Scottish caps than his solitary one at Wrexham in 1913, but he appeared many times for the Scottish League. After he left Celtic in 1924, he played in the United States. He died in 1956 and is buried not far from Jimmy Quinn in Kilsyth Cemetery.
The Kaiser, they say
Watched Andy one day
And remarked, it is said
"Dearie me!"
My German artillery's
Just fit for the pillory
They can't shoot like young McAtee!
David Potter
CELTIC v RANGERS – THE BHOYS GREATEST VICTORIES
*David Potter's latest book which I was delighted to receive a copy of this morning, is titled Celtic v Rangers – The Bhoys' Greatest Victories. Having had a quick flick through it does exactly what it says on the cover. The Celtic historian has selected 50 notable and most enjoyable victories over the various clubs playing out of Ibrox and calling themselves Rangers.
There's Jimmy Quinn's hat-trick in 1904, the astonishing Scottish Cup semi-final skelping in 1925, the 7-1 League Cup final from 1957, the 4-0 Scottish Cup Final doing from 1969, the 6-2 'Demolition Derby'Game in 2000 and there are even victories over the new club established by 'founding father' Charles Green in 2012.
David accurately uses the O** F*** term, referring to the wins against the Ibrox club that died in 2012, so please don't let that put you off. Book review to follow in a few days…
David's new 'feel good' Celtic book is out now on Pitch Publishing and you can order via Amazon.